Tracy Choi was born in Macau (5th December 1988) and grew up to be a prominent award-winning local filmmaker. Her movies focus on gender and feminist issues, a matter which is still a taboo in several places. She says Macau is becoming more open, but there is still a long way to go. Macau Lifestyle sat down with Choi in a local coffee shop tucked away in Saint Lazarus neighborhood to find out what inspires her and what makes her tick.
So let's start with some basics. Where and when did you graduate?
I completed my Film Production undergraduate program in Shih Hsin University, Taiwan. After that, I came back to Macau and worked for TDM (Teledifusão de Macau).
You also studied Cinema in Hong Kong…
Yes, after working in TDM for one year, I went to Hong Kong to do my master's degree in Film Production as well. I graduated in 2013, after which I returned to Macau and started some freelance jobs as an assistant director in small productions, including music videos and advertisements.
When did you start doing your own feature films?
I applied and got the funding from the Government for my first feature, Sisterhood.
You also took interest in documentary filmmaking…
Yes, I shot two. The first one is called Right Here, and the second, Farming on the Wasteland. The first one narrates the story of lesbians coming out in Macau, which is a more personal one. Farming on the Wasteland talks about a female local author.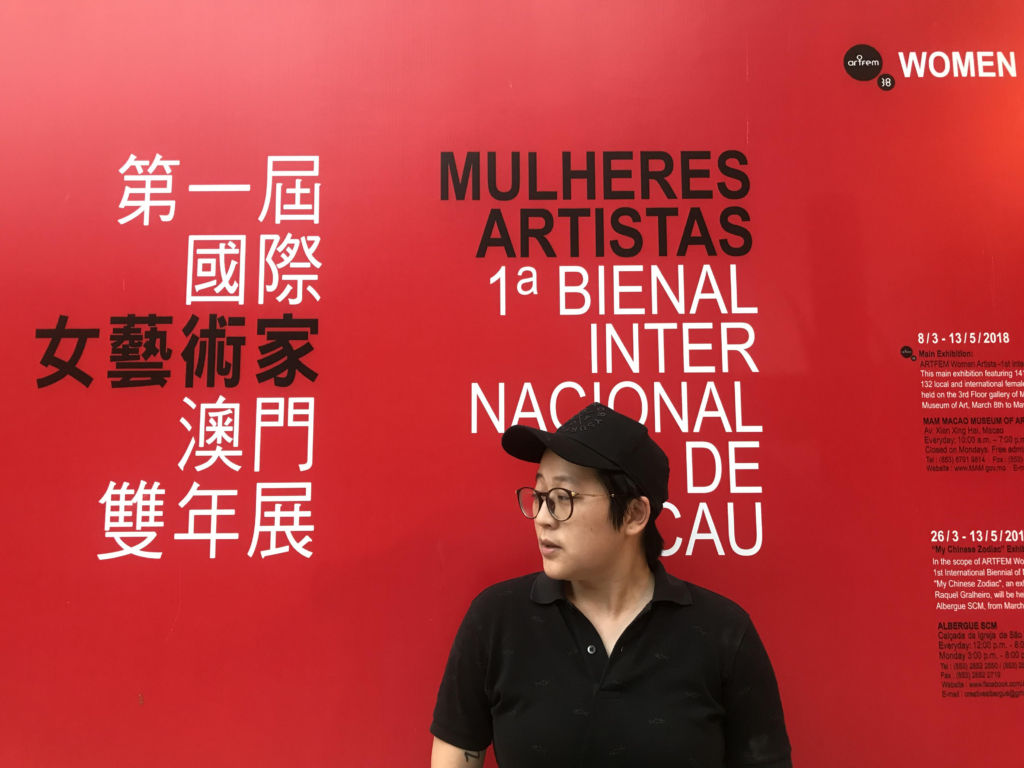 When did you become passionate about filming?
When I was in high school, there were some video shooting competitions which got me interested. It was fun doing it with my friends, so when it was time to choose my college field, cinema was the one. My decision also took into account the fact that back then in Macau, nobody believed filmmaking had a future. My own mother was afraid I'd be too disappointed with our industry once I came back.
But you did it anyway…
Yes, because I thought that even if I'd never had the chance to do filmmaking in Macau, at least I tried and was already a step closer to what I wanted.
So what do you think of culture and creative industries in Macau nowadays?
It's really hard for local artists. Take musicians, for instance – recently I talked to a friend who's a singer, and she is sure she can't survive with only her music, so it has to be kind of a hobby for her, because no one buys CD's anymore, and there are very few concert opportunities here. Regarding the film industry, we're still finding a way, especially financial aid. There is always the problem of not being able to have enough of an audience to generate revenue. To have theatres full, you have to have a wide distribution system and stars as actors, which Macau lacks. On the other hand, if you choose to get recognized actors from Hong Kong, you'll have to raise your budget.
What solutions do you think there could be?
It takes time, but financial aid is a real issue. It's getting better over time because lots of interesting people are coming back after graduating abroad and they have real talent and knowledge. However, it's a vicious circle – if there's no money, you can't shoot movies and you'll have to find a full-time job, which takes up the time you need to shoot…
Why do feminist and women's issues interest you so much? Macau is such a small place and there is still a lot of prejudice against these…
I think it started with my experiences while studying in Taiwan. I was very narrow-minded before going there because I wasn't aware of things. Taiwanese culture is much more open and I had several classes relating to gender issues, including female film and literature. In the beginning, I wasn't very conscious about some matters and it was interesting to discover these.
Do you think those issues are explored enough in Macau?
No. People seldom talk about it.
Right Here is a documentary film that documents the story of lesbians coming out in Macau. What were your conclusions?
That film was shot in 2012, and I started shooting it when I discovered that there was no local LGBT organization here, which I found strange. I wanted to talk to people relating to those themes, but it was difficult to find. Luckily, Hong Kong was starting to have debates about it, and we were able not only to find useful information but also have screenings there. We also did some screenings in Macau and I was happy to see reactions were positive.
Who was in your film?
My mother, for example. We were very lucky because some mothers were open-minded enough to be fine with their daughters being lesbian and to be interviewed as well. I also interviewed some of my friends.
How do you view Macau's reaction to homosexuality?
In Asian culture, male homosexuality is harder to accept than a female one. At least for parents of gay sons and daughters, it is. Some of my friends still go for the "don't ask, don't tell" – they can't talk with their families about it. It's becoming more open, but there is still a long way to go.
That must be complicated to manage in Macau, such a small place…
Yes, it is, because everyone knows everyone. I think it's sad because people can't bring their boyfriends to meet their families, for example. I think us and our parents' generations still say they are open about LGBT issues and the community – but only if it's not related to them. There's still a stigma around it.
In a previous interview, when asked about whom you would have dinner with, you replied Virginia Woolf. Is she your favorite writer?
In A Room of One's Own, Woolf talks about the independence of women. Also, several of her books became movies. What I like is how avant-garde she was for her time, and how she thinks.
What current projects are you involved in?
Right now, I'm producing a new film, I've teamed up with a Portuguese director. We might try to sell it to European or American markets to have money to at least cover the productions costs.
Watch the trailer of Tracy's award-winning film, Sisterhood, here.
And you can follow Tracy on Instagram @iansin1205
Share
Tags
Related Posts