Vincent Cheang is a designer, media producer and musician as a vocalist in his band L.A.V.Y. He is also the founder of the Live Music Association (LMA) in which he promotes his music as well as other talented musicians. He is also the founder of Workers Playground, which is one of the local fashion labels here in Macau.
What made you decide to create "Workers Playground"?
Ever since I was young I had this strong desire for drawing and fashion which is why I studied and graduated in graphic design at Macau Polytechnic Institute. Since then I have been practising a lot of project work for almost 20 years. Before my design studio, I was creating works for clients but in the later run I came to a thought that I should change my career, that instead of me designing works for others and getting the money for it I decided that I would create my own work since I love fashion design and the year 2011-2012 felt like the perfect moment to start a brand which is Workers Playground.
How does Macau inspire the fashion style of Workers Playground?
Looking back on the idea of starting a brand, I really focused on the name, it has to have spirit and I wanted it to be related to Macau.  The genre of 'street fashion' was its main concept but the thought of how it could represent Macau was the real question. A thought popped right into my head and immediately directed me to the worker's location, which now stands the Grand Lisboa Casino, I used to spend most of my time as a kid around that area and it used to be a really cool plaza where everyone would meet up and just have fun. So I said to myself that's a very sentimental location which represented a very rich historic era in Macau.
Could you tell us more about your slogan – "Be True To Your Playground" and "For Boys Want to Be Men, For Men, Want to Be Boys"?
My collection is mainly for men, and every individual has a different playground whether it be sports, motorcycles, music etc – But then after a few years I wanted to target different age groups and decided to add another slogan, because it is known that in every grown man is the desire to be youthful again and in every boy the desire to be a man.
Do you have any plans on creating a wardrobe applicable for women as well? Or a unisex category?
Yes, we actually did a fashion show at the Parisian and in Hong Kong featuring ladies wear but for now, it's only for show. We are currently perfecting it for the future.
Can you tell us more about your partnership with Macao Grand Prix?
We collaborated in 2016 to create the "50th Macao Motorcycle Grand Prix" collections and instead of focusing on the daily operation business, I found that this partnership was the most efficient and successful one. I am very grateful for this partnership and it is the one that I spend all my time and effort on. Every year I strive to create new designs for the wardrobe and we have our loyal customers from the event that would come visit and purchase. Which gives me more time in preparation for the next event of merchandise.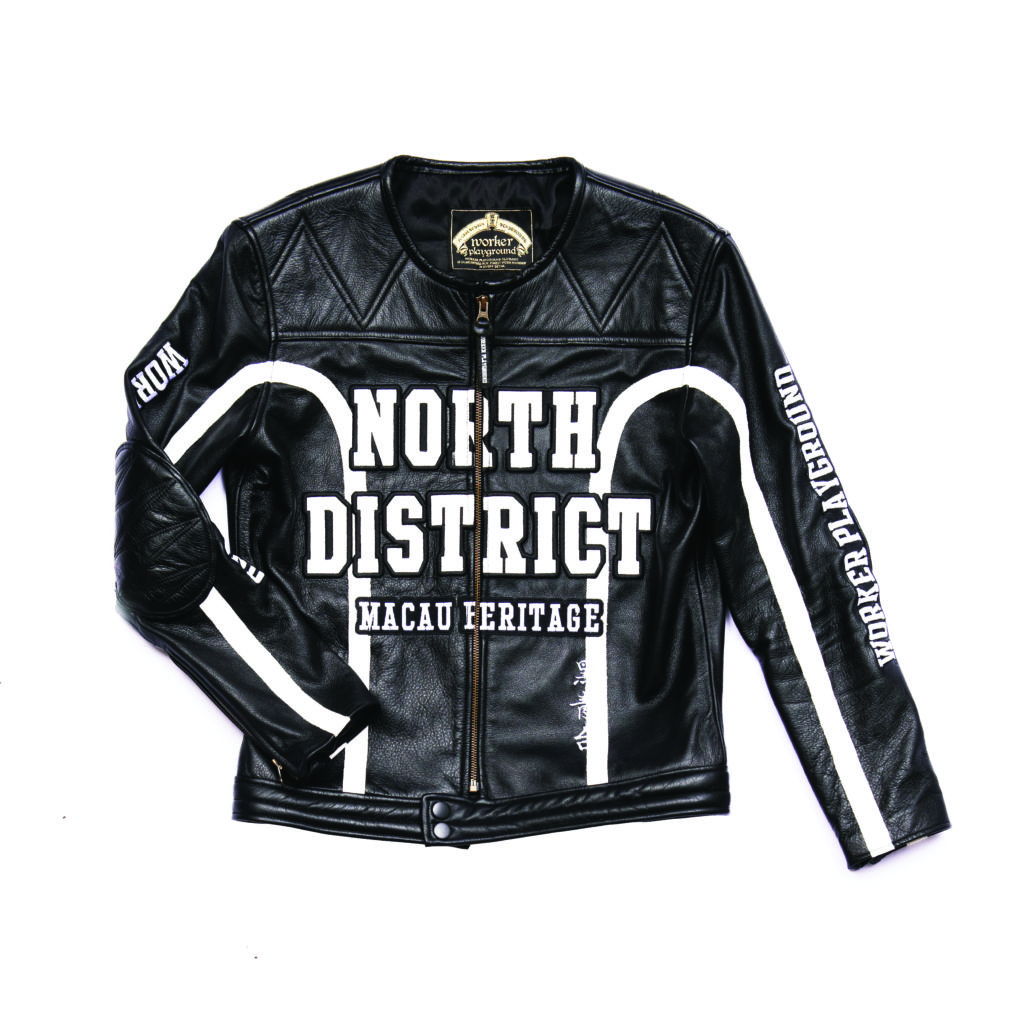 Are there any upcoming projects for Workers Playground? What are you working on at the moment?   
We have our watches that are in a prototype status is the project we are currently working on. We have collaborated with SHARK sports watches which is one of the best online watch sellers on Amazon and on eBay. They sparked an interest to collaborate with us when they saw my Grand Prix designs. Stay tuned in July for our first collaboration collection of watches called "Night Raiser".
What are your best selling items?
I would have to say our leather/baseball jackets. It's what we're known for.
What is workers playground in 3 words?
Rock and Roll, Motorcycle and Spirit.
How do you see the fashion community in Macau? What are your thoughts?
I think the fashion community in Macau has multiple mentalities on the idea of fashion. But I've noticed that they are leaning onto the trendy side, going with the flow constantly changing every year. But for me I feel that it's unnecessary for these changes, with Workers Playground it doesn't have to change, I'd like to keep the spirit of the 'all-time-favorites' as long as there's quality, style, and standard details and it's not about the trend but the originality of how you can be your own trend.
---
Check out Workers Playground's Facebook page for inquiries and follow their Instagram account.
Tags
Related Posts