The Amsterdam x Macao Art of Illustration Exhibition brings together a total of 20 talented illustrators from Macau and Holland. Earlier this year the exhibition took place in Amsterdam (Holland) and now in December Macau. The illustrations on display are graphical representations of real or imagined worlds, created using an array of techniques ranging from photography to painting.
For this exhibition linking cultures, the Macau artworks were curated by Christine Hong-Barbosa, the founder of YunYi Arts & Cultural Communications Association, and the Dutch ones by Ana Neves, who came all the way from Amsterdam to the opening of the exhibition here in Macau, at Rui Cunha Foundation Gallery. Ana took the time to speak to us at Macau Lifestyle – we welcomed her to Macau and asked her a few questions.
Tell us about Amsterdam x Macau Art Illustration Project. What is your role and how you got involved?
I got an invitation from Christine (founder of YunYi Arts & Cultural Communications Association) to be a curator representing the city of Amsterdam. Christine was aware of my work and experience in the field and she fortunately found me to be the best match to pursue the project.
I immediately accepted the challenge as I found it to be a wonderful opportunity for artists with different backgrounds to come together and exchange experiences. Also, it was an amazing change for the Dutch audience to learn about Macau and its talented artists.
How long did it take to make the project happen? From the conception to the exhibition, from Amsterdam to Macau?
It took us a couple of months between choosing the perfect venue the concept and also to find a solid group of Amsterdam artists, mostly new up and coming female artists still looking for their place in the artistic world. After a lot of research we came together with a strong group of artists from totally different backgrounds (from fashion to graphic design) with different techniques but with a common love for the arts in general.
Most of the works we are presenting were made especially for this project. We choose Nieuw Dakota art gallery as the venue, a new and international space for contemporary art in Amsterdam, the perfect venue for this project.
Is this your first trip to Macau? What intrigues you most about this city?
It's my first time in Macau and I'm looking forward to discovering the local art scene, the history, and this unique blend between oriental and western influences – it makes it all extra fascinating.
You've already met some Macau artist that came to Amsterdam – do you see a big difference between artwork?
There's no nationality when it comes to art. Every artwork we are presenting is totally unique to their author and his or her personal creativity and style.
You are also giving workshops on business in arts – why is it important to think about the commercial side when one creates beauty?
I'm still working on this next project. After some years managing and producing artists in different fields I came to find out that there's a huge challenge for artists to make their own artwork a successful business. It's important to balance business and art, and one should not overlook the business mindset. Most artists would like to turn their artwork into a fruitful profession, but turning your talent and passion into a full-time job is an absolute dream.
The knowledge of the real value of one's artwork, how to promote it, how to sell and even how to transport it is extremely important information for an artist that just came out of art school and has no resume or track record of sales. In the end, you have to sell your product.
What are some of your favorite artworks from the Amsterdam x Macau Art Illustration Project?
I'm a fan of all artworks and artists but I do have a special personal admiration for Leong U Pou (Takara), the Macau-based artist and Kim Raad from Amsterdam. Be sure to check them out.
Where are you off to next after Macau? What's exciting?
My future plans are no doubt to train upcoming Amsterdam-based artists to get into the art scene successfully and later broadening my spectrum into international artists.
---
When: December 10–25, 2018
Where: Rui Cunha Foundation Gallery, GF 749 Avenida da Praia Grande, Macau
How much: Free admission
For more information, check the event's Facebook page, or their official page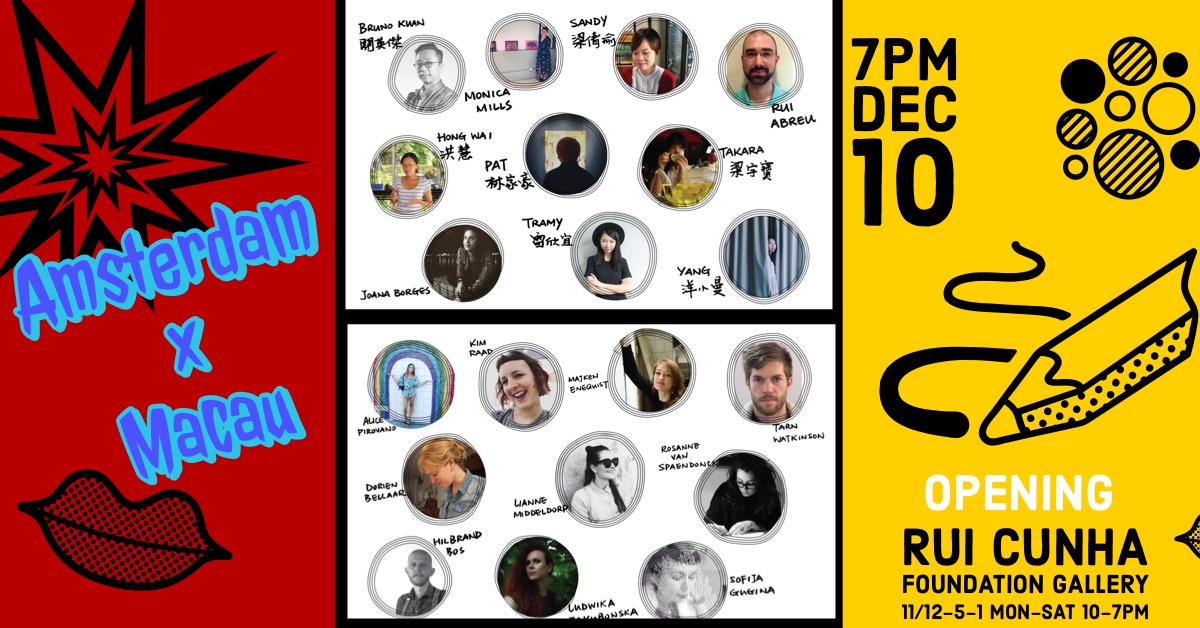 Tags
Related Posts