Pokras Lampas is one of the most successful contemporary Russian artist specialising in "Calligraffiti". His repertoire includes producing the biggest calligraphy artwork in the world at the Russian football stadium "Lokomotiv", painting the rooftop of the Fendi headquarter in Rome and numerous collaborations with international brands, such as Levi's, Reeebok and Lamborghini.
We met Pokras Lampas at the DFS Masters of Time X gala event where he was one of the official ambassadors of the 10th anniversary edition. He speaks to us about Calligraffiti and how timepieces inspire him.
Welcome to Macau! How does it feel here?
It's my first time in Macau but I am very excited. I've heard about Macau from a lot of friends that it is vibrant, the architecture is interesting and of course about the casinos. It's rather different and during this trip I've been taking a lot of photos as a reference for my future work and projects.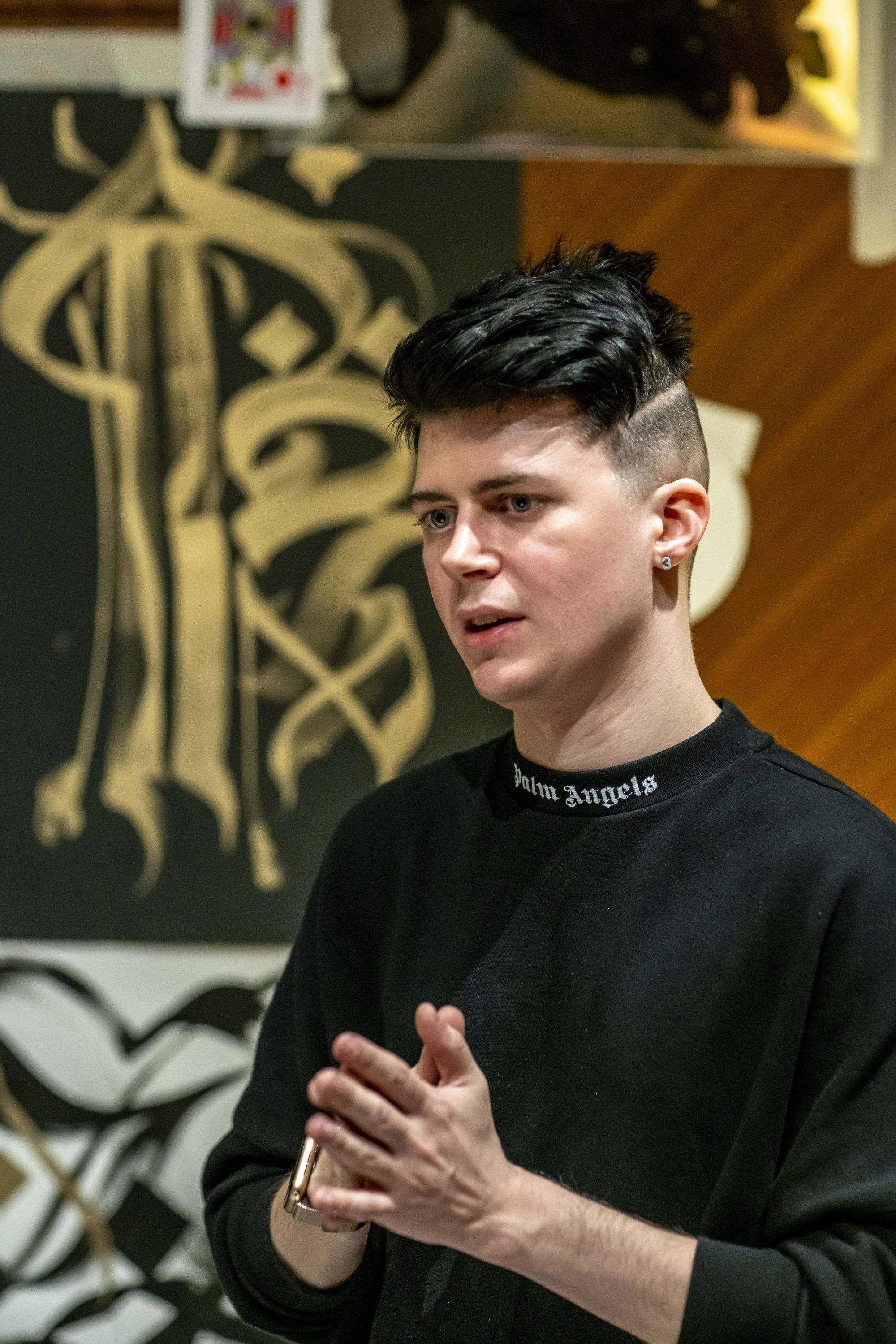 What's it like to be one of only four ambassadors for Master's of Time 10th anniversary?
It's a great pleasure. As an artist I try to show how culture, my calligraphy work and experiments can fit together. For me China is a very important place and it's great to do it with DFS.
Before coming to Macau, what were you up to?
I've just arrived from Moscow where we are doing a big project with Yandex. We've been working a lot—10 to 14 hours a day shooting a special video. Yandex.Station is a smart wireless speaker with a built-in virtual assistant—Alice—and it is very exciting. After that, we jumped on the plane and came to Macau for DFS Masters of Time.
What is calligraffiti and how did you get into it?
It's a style, a movement, an art form that combines calligraphy, typography, and graffiti. Niels Shoe Meulman came up with calligraffiti more than 15 years ago. The idea is to merge together calligraphy and graffiti and to show how letters can be created in a large scale and with different latitude. For me it is a way to express myself, not only in the studio but also in public spaces, where visitors can go "inside" the artwork.
How did you become Pokras Lampas?
I started to use this artistic name more than ten years ago when I started doing graffiti. "Pokras" comes from the Russian word "pokrasit'" which means to draw or to paint, where the roots of my work come from. In 2018 I've changed all my legal documents and now Pokras Lampas is my real name.
What was your breakthrough moment?
Every year there are big changes in my artistic career as I am continuously growing. But the first big breakthrough was in 2015 when I did a project on the rooftop of the Red October factory in Moscow, which became the biggest piece of calligraffitti in the world. After that I've done a large number of collaborations and experimental stuff as well as two big solo shows in Dubai and Hong Kong.
2018 has also been big for me as I did my first museum show, in Moscow's New Manege. I've dedicated a lot of time and energy to this project —it is very exciting as it's not only about my art but also education. We had over 30,000 visitors in less than three weeks! It got a lot of attention from the cultural departments and raised more awareness of a new scene of artists.
You've been collaborating with Saint Laurent, Lamborghini, Fendi, Levi's, Dries Van Noten and Nike—this is impressive. Which projects are especially memorable?
I did a big project with Fendi on top of their headquarter building in Rome—such a wonderful and historical place. I am also very proud of my collaboration with football club "Lokomotiv". Over 11,000 sqm of public space next to the stadium and anyone, not only football fans, can enjoy it. It is marked on Google Maps as its own object and I am very proud to bring more life to the cities through my work.
From the DFS Masters of Time collection, which timepieces and jewelry are on your wishlist?
I am very curious about Bvlgari's work. I like the idea of eight-corner screen for a timepiece, it's a beautiful shape, very artistic and also inspiring.
You are also known to have an extensive collection of timepieces. What are some of your favorites and what is the value they carry for you?
My first watch was gifted to me by my dad and I have very sweet memories about that. Time is also something that I incorporate in my art. I had a piece called Eye of Time that was exhibited in Hong Kong's Opera Gallery last year. It is inspired by a watch's shape and how the space between every digit can have some power.
You are a calligraffiti artist, a millennial and definitely a social media influencer so how do you manage your public life?
To be an independent artist you need to be strong on social media because you are creating your own community, your own impact and influence. I manage all my social media by myself and create different content, not only about my life but also my work sharing different concepts and ideas
What is the message you are sharing through your work and social media?
The idea behind my work is to create a sort of an alphabet that will unite the cultures together. I travel around the world, meeting different kind of people, researching the streets and signature street graphic designs, advertisement, modern and traditional art. Additionally, I am working on creating a conversation and building a community. The movement I've created is "calligrafuturism" and over three years we have more than 10,000 artworks published with the hashtag #calligrafuturism.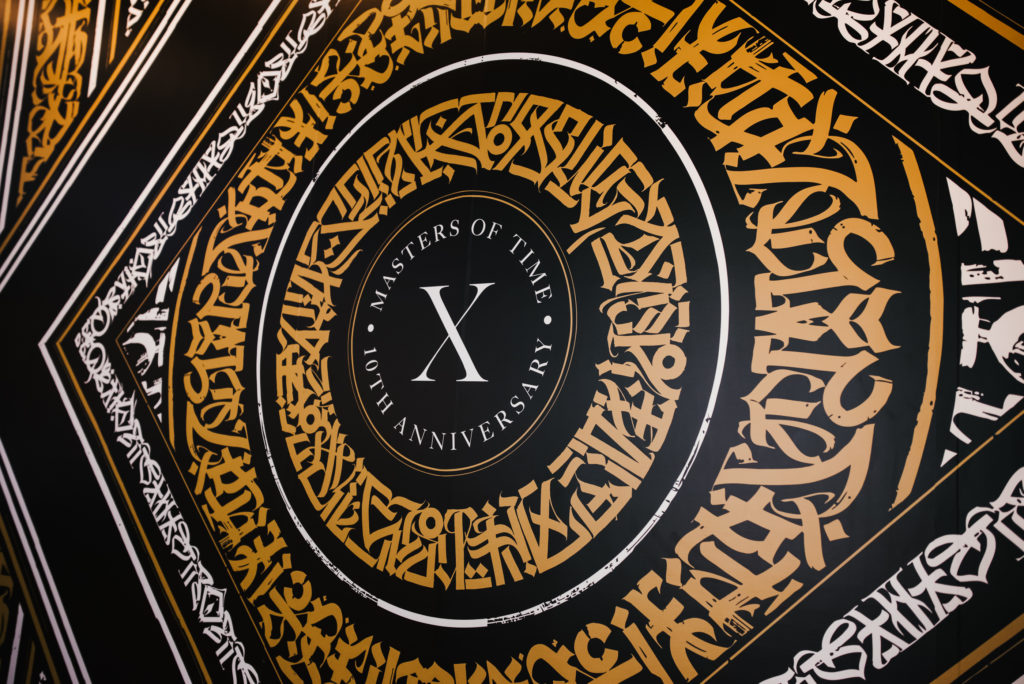 Between your commercial art work and ones that cost thousands of dollars, what is your contribution to the art world?
For my latest show at New Manege exhibition hall, I covered all the costs myself getting only the space support from the Department of Culture as well as having the entry free of charge. It's my principle to let people know more about modern art with no boundaries or cost. People came from other cities and different backgrounds, the impact was huge!
What's next for you? Anything cool and exciting?
We are working on Pokras Lampas fashion label which requires a lot of time, effort and energy. Then I want to take a few months off to focus on art in my studio. It's very exciting.
---
Visit www.dfs.com to shop Masters of Time timepieces.
Visit www.pokraslampas.com to learn more about Pokras Lampas artwork and projects and follow Pokras Lampas on his Instagram at @pokraslampas
---
The Masters of Time X collection will remain on display at T Galleria by DFS at Four Seasons Hotel Macao, Cotai Strip until February 28, 2019.
When: December 7, 2018–February 28, 2019
Where: T Galleria by DFS, Shoppes at Four Seasons Hotel Macao, Cotai Strip, Estrada da Baía de Nossa Senhora da Esperança, Taipa
How much: Free admission
For more information, visit the event's official website
Tags
Related Posts