Eric Wong is a Macau-based curator, interior designer and exhibition producer who was always fascinated by art and intrigued by the behind-the-scenes of the art world. Eric is currently the curator of Yunyi – Arts and Cultural Communications Association, the organizer behind "London x Macau Art Illustration Exhibition", an illustration exhibition divided into two parts–one set in London and one set in Macau–showing works by 20 artists from the UK and Macau.
Keen on bringing people and ideas together, supporting emerging artists and challenging preconceived ideas, the Macau-based curator has been playing a key role in the city's art scene. We talked to Eric Wong to find out more about his work and the "London x Macau Art Illustration Exhibition".
Tell us about yourself as an artist. What brought you into illustration art?
Being a curious, empathetic, imaginative, concerned and humanist individual, I have always been fascinated by art. Thankfully, Christine (Christine Barbosa from Yunyi – Arts and Cultural Communications Association) has enabled me to further this interest. I have always been intrigued by the behind-the-scenes of the art world and was eager to know how an exhibition came into being. Thanks to Christine, she has led me to think about art, not only from the perspective of aesthetics but also about how art institutions operate.
Where do you seek inspiration for your illustrations?
The inspiration for my two respective illustrations is from my day to day life. Having a newborn baby two years ago has completely changed my life. This is why I named it "Game Changer". Being a father is not easy. My other illustration is focused on my change in surroundings. When I began my career in Macau, I faced many temptations.
You are the curator of Yunyi – Arts and Cultural Communications Association, the organizer behind the "London x Macau Art Illustration Exhibition". How is it like to put together an exhibition taking place on both sides of the world?
Curating is a profession that puts art in context and interprets works from a third person's perspective. Having the opportunity to put together these two exhibitions in UK and Macau has truly opened up the possibility for us to participate and this is exactly what Yunyi is about.
The London edition took place in July. What were your initial expectations for it, and were they met?
The July event was a huge success! However, the toughest part for me is probably managing my own expectations. Although my expectations have been met. It's taken a lot of internal reflection and debate during the early period and to become the space it is now at Leyden Gallery.
Can we expect some of the London artists to be visiting the Macau edition?
Yes, we will invite one of the London artists to participate in our Macau event in December. Stay tuned!
What was the idea behind this project? Does it act as an exchange platform between artists with different backgrounds?
The entire idea behind the event is to promote Macau artists and to give them an "eye" to look at things from different perspectives. It's a new way of thinking.
From a curator's point of view, when you think of an exhibition, what is your main goal? What impact do you wish to create on the audience?
Originating from the Latin word "curare", meaning "to take care", my role as a curator is to bring our illustration event to life. To create a memoir.
One of your goals as a curator is to challenge preconceived ideas. Would you say art (and artists) play a crucial role in challenging these notions?
This year, the 20 artists who have participated have also successfully challenged the preconceived notions about art and truly defied commercial wisdom with their impractical and unwieldy creations. I do believe that this new movement in art needs to be supported.
Being an artist advocate playing an important role in supporting emerging artists, how do you find Macau's current art scene? Would you say there are growing opportunities for local young artists?
We are very lucky in Macau to have lots of resources even though we are in a tight-knit and supportive community and opportunities are everywhere for local young artists.
What piece of advice would you give young artists in order to succeed?
Illustration is a form of self-discovery. Experience life through art and stay true to your vision, that's what it is about.
Follow Yunyi –  Arts and Cultural Communications Association on Facebook or visit their website for news on upcoming exhibitions.
Yunyi – Arts and Cultural Communications Association www.facebook.com/yunyi.org
---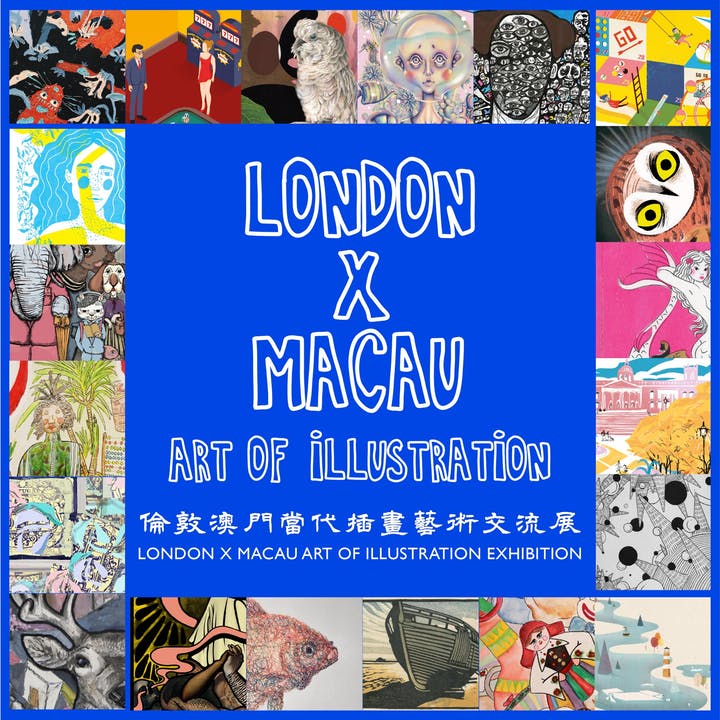 Illustration is graphical representations of a real or imagined world, including an array of techniques used to depict, such as photography to painting. It is used to convey thoughts, feelings, facts, feelings, and emotions. Its role is to attract attention, persuade, create context, inform, enhance understanding or entertain an audience. This exhibition brings together a total of 20 charming illustrators from Macau and the UK. The exhibition takes place in London and Macau in August and December 2019, respectively. It includes works from Angela Ramos, Dilys Leong, Ella Lei, Eric Wong, Hac Sec, Sanchia Lau, among others.
Through this event, Yun Yi Arts & Cultural Communications Association's goal is to create a network between a community of established and emerging artists providing them the opportunity to exchange information about new developments in their work field and to promote each other. At the same time through seminars and workshops held during the exhibitions, the idea is to raise awareness of this particular art form to the general public.
When: December 12, 2019–January 4, 2020
Where: Rui Cunha Foundation Gallery, GF 749 Avenida da Praia Grande, Macau
How much: Free admission
For more information, check their website
Tags
Related Posts