Clara Brito studied fashion design and has been branching out over the years. Working across different areas that connect and communicate with each other, Clara owns several businesses and is involved in countless projects, most of them related to fashion, design, and art in general. From exhibitions curator to fashion designer, founder of companies, and co-founder of local Macau associations, this Macau-based Portuguese woman has been paving her way to success through collaborations and partnerships with Portugal and cities around the Pearl River Delta area. Although based in Macau and spending some time in Portugal, Clara's work also takes her on frequent travels to nearby cities such as Zhuhai, Shenzhen, or Hong Kong. We sat down with the fashion designer and business owner to know more about her craft, her thoughts on the importance of sustainability, and much more.
Let's start with your life experiences. You were born in Lisbon, studied in Milan, and ended up living in Macau for several years. How did Macau come into the picture and how long have you been living here?
After I finished my degree in Industrial Design, at the Lisbon University Faculty of Fine Arts–at the time I was also very involved with and passionate about fashion and textile design–I went to Italy and studied at the Politecnico di Milano (Milan) under the Erasmus program to develop fashion and textile projects. My passion for fashion and textile started to emerge and grow with the relationship I had with my grandmother, which is a very experienced and sensitive tailor who created and worked on countless garments for clients. In a way, I grew up surrounded by fashion, fabrics, colors, textures, sewing machines.
You co-established Lines Lab. What is it about and what is the story behind the name?
I came to Macau in 2004 after completing my university degree. Lines Lab was founded by Manuel and me–my partner at the time–shortly after we arrived. Lines Lab is a fashion and a fashion and design brand, and also a creative agency where we developed several projects, namely cultural, creative, fashion, and textile ones. In 2005, we opened our own shop in Lan Kwai Lau (area in the city center connecting Rua das Estalagens and other old streets), a street where you can see several old shops selling antiques and other items like those. Since the beginning of my Macau experience, I've been working with fashion, culture, creativity, design, events, development, and production of objects and collections production. The shop was also where we started the This Is My City cultural festival.
The name behind the brand and the creative agency was mainly because it was a laboratory of lines of ideas, thoughts, and projects that could be further developed.
Munhub is another one of your businesses. What is it about?
After several years working with Lines Lab, I also co-founded, in 2014, Munhub. It's a creative platform established through my experience of several years working my own fashion brand, using my know-how about the Asian market. Munhub was created to open the door to other brands and projects related to fashion and design, mainly based in Portuguese-speaking countries and that were interested and saw an opportunity to explore the Asian region. Munhub also looks the other way: it also looks for brands–especially design projects–that are Macau-based or based in the region of Pearl River Delta and are interested in entering the European market.
I lived in Zhuhai between 2014 and 2020, an experience that also influenced a lot of my work connections and projects. A lot of Munhub initiatives included showcases of fashion brands–from Portugal, Macau, and the Portuguese-speaking countries–through Chinese cities such as Hong Kong, Zhuhai, Shenzhen, Taiwan. These were called Design Asia Tours.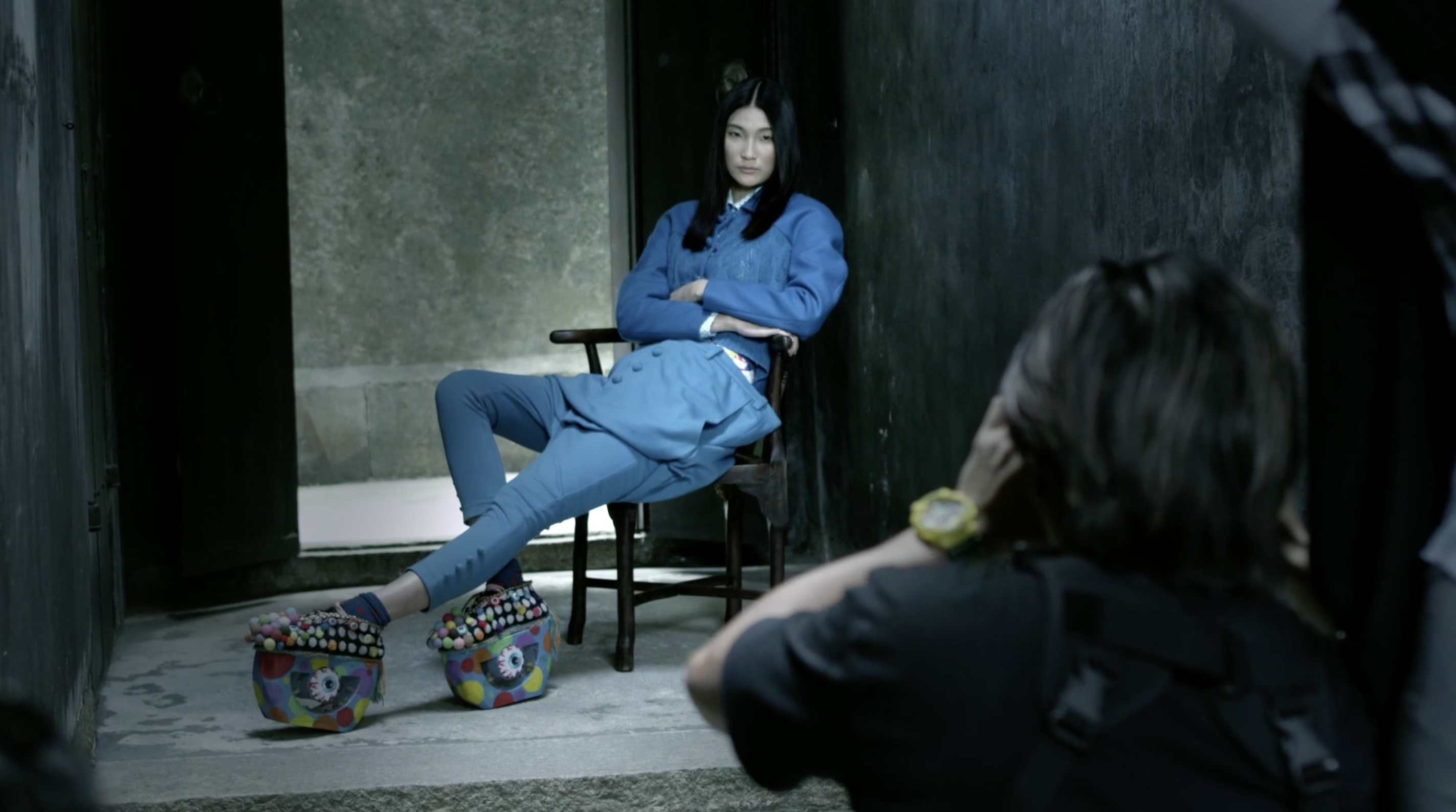 Can aspiring designers contact you to be featured on the fashion shows you organize? How does the process work exactly?
Yes, indeed. Fashion designers and brands–including well-established ones–can contact us through Munhub's Facebook page. We're always open and excited to welcome new brands to join the events, activities, showcases, or talks we organize.
How do you select the brands to go on shows? Do you have specific criteria?
We're always open to new brands that are developing and focused on their work. In regards to the criteria, we're open to the work of every kind of designer and brand. I'd say we search for quality and for the direction of values and processes such as sustainability, considering global issues such as climate change but also regarding other areas. We are aware that fashion is the second most polluting industry in the world after the oil industry–I'm quite conscious and aware. Nowadays, it's not so much about what we do, but the way we do it. Criteria also include looking for brands that also value sustainability. When I refer to the importance of "how we do it" and how sustainability can play a role, it's also thinking about how fashion and design can also support different processes and systems in terms of production that can be less destructive to the environment. But it's also important to look at all the resources that are available. When I talk about this, it's not only materials or processes of production; it's also about the people. About how we can be more socially inclusive and more thoughtful on the impact it has on the whole process from the start till it reaches the interested communities and audiences.
The attention and sensibility towards sustainability are two of the things I look for in brands. Also, creative people who are pro materials and processes that have a history behind them, so in a way that is related to some kind of heritage, defined by its geography or story. It's interesting to think about this, about processes and production systems that combine heritage, social inclusion, and ecological consciousness.
Fashion is a constant element in your life. For you, what is fashion?
Fashion, for me, is a way to express one's self. It's also a communication tool, not only visual but also in terms of the garments and brands you choose to wear. It can also be a statement in the way that you communicate through how you dress; it can also be used as a tool to show who you want to be and how you want to present yourself. But more importantly, nowadays, it's also linked to how conscious you are with the brands or products you use and consume. And, again, the impact they have on the sustainability cycle.
The "why" you wear is also important, in terms of how these garments were produced. This consciousness in terms of sustainability is quite important and I think they also define a lot of who you are, how you think, how you view the impact of the fashion industry.
For me, fashion was also a very present subject and field. I truly love fashion but I'm also a critic in the sense I never felt very related to fashion just for the sake of style because I think it can also be very vain and I don't relate to that much. When we look at haute couture (high-end fashion), it can also be a statement, the kind of garments you have. They can also have a lot of detail, history, craftsmanship, heritage. Not only in terms of the materials but also the way they're produced, they can bear a lot of stories and be very scenographic. I would say like a piece of art in a way.
You're also a fashion designer. Where do you draw your inspiration from?
I draw inspiration from many things. From the daily life that I see and observe in books and around me. But materials have been, since the beginning, my main source of inspiration; not only their look but also the story and heritage behind them. I always paid much attention to materials used around here such as the Chinese mud silk, which is a very specific and beautiful silk produced in Guangzhou and originated in China. The process of production is quite sustainable and, again, respects tradition because it's an ancient material. I would say shapes also played an important role, as well as details of the city. The brand was also very involved in looking at the city exploring Macau's corners, and the regions around. I took a lot of inspiration from the visuals of the landscape and the culture of cities.
Does Macau inspire you in some way? If so, how?
I'd say Macau was always a big inspiration for me, as well as the other cities I visit around. The exotic side of Asia and this region, which are very different from the environment where I grew up and started getting interested in fashion design. All the experiences of living in Macau and traveling are very important to me. Macau is a very charming place due to its strong contrasts. The contrast is a very appealing thing to me.
Which materials do you love working with the most and why?
I explored silk a lot, especially because it's one of the main materials produced around here and it's part of the region's heritage. It also relates to looking forward to what's available nearby. It will enhance not only the garments but also the brand's value and history.
I also work with other materials. One of my other projects is the Tufa brand, connected to Burel, a kind of Portuguese wool, extremely rich in terms of tradition and heritage. The slippers, specifically–home footwear developed exclusively with burel–emerged after these years of living in Macau. In a way, they are the result of my experience working here and the know-how of designing in Macau and Asia. It's also a crossover of materials from Portugal very connected to the tradition and history of the country. We produce them in Burel's factory, a factory with more than 500 years of history.
Do you believe there's room for creativity and creating in the fashion and designing field in Macau?
I think there's always room for creativity, especially nowadays, where it's even more accessible to get products from anywhere in the world. I do believe that what can make us distinctive and give us a competitive advantage is our ability to be extremely creative in our approach to things. Not only to look for creativity but also to look for the combination between creativity and innovation. It's also important to see the results these two bring together; in what way can this lead to new projects, products, objects, garments, processes that can also enrich and upgrade the living standards and quality of life we have. When I talk about "living standards", I'm not referring to the idea of having more, but mainly to having better and to be conscious of the processes, which legacies and stories are being protected and lifted. I do believe that process of how it's made is much more important than what we do.
How can it be improved?
Particularly now, with this very challenging pandemic situation, we are living in, I also think communities, people, and creatives feel the need for togetherness. This is also making the concept shifting clearer: it's not about having or doing, it's maybe about valuing the most important thing, about being closer to others, and about how inclusion and socialization are extremely important.
Can you share with us some upcoming projects you are working on?
Upcoming projects including other things related to cultural and creative exchange, especially between designers and brands in this region and other countries.
What are some of your favorite things to do in Macau during your spare time?
I enjoy walking around the older parts of the city, especially Rua dos Mercadores and nearby streets, where there's a strong Chinese heritage and history. I also love trying the food as well and hanging out with friends. And because I love decoration–especially pampering my home–I like looking for and buying traditional objects and antiques.
Which are your all-time favorite places in Macau?
The older areas, but also The Mandarin House and enjoying the city from above, which includes places with city views and rooftops.
Which are some of your favorite restaurants in Macau?
I like Chinese food, but also the variety Macau offers with many restaurants serving great Asian and Western food. I love going to Thai restaurant Naam, in Artyzen Grand Lapa Macau!
---
For more information about Clara and her work, check Munhub's Facebook page or send an email to [email protected]
Munhub www.facebook.com/munhub888
Tags
Related Posts