A year ago, UNESCO awarded Macau the Creative City of Gastronomy status, shining a light on Macau's unique culinary heritage. While many who live or have visited Macau are familiar with the local dishes, there are plenty of things people don't know about Macanese cuisine, especially its history. Read on to discover the history of Macanese Cuisine in our city and find out when this fusion cuisine first appeared and the secrets about the local culture it hides!
Origins
To truly understand the deep roots of Macanese cuisine, one needs to look further than just the Portuguese influence and look back into history books. As much as it greatly contributed to local culinary traditions in the city, Portugal has been itself influenced by other cultures. 
For example, olives, garlic, and onions, while inherent elements of Macanese cuisine which are indeed included in many Portuguese dishes, were actually originally brought to the Iberian Penninsula during the Roman Empire occupation. Olive groves and endless wheat fields of the still fertile Portuguese South first appeared as one of the major agricultural regions for the Roman Empire.
Another obvious influence is Arabian. Bringing their forces to Europe, Arabs also left a significant trace on European culture (most prominent in Spain and Portugal). From spices (such as saffron) to fruit (like lemon and grapes), there are many elements that live on today, and the influence even seeped into the Portuguese language (açúcar means sugar, berenjela means eggplant, and arroz means rice — all these words have Arabic roots).
Sephardi Jewish customs also contributed to Portuguese cuisine. In the 14th century, the pressure of Catholic inquisition forced the Jewish population to emigrate, and many of them fled to Portugal. However, at the end of the century, the King of Portugal demanded all the Jews convert to Christianity or face harsh consequences. Proving they renounced Judaism, Christians had to change their gastronomic customs. Eating shellfish dishes and meat sausages was one of the tests for the converted. Problematically, Portuguese sausages were mostly made of pork, so Sephardi Jews created their own versions, Alheira (chicken sausage) and Farinheira (flour and spices sausage) which are now some of many types of sausages eaten in Portuguese cuisine.

Arrival in Macau
When Portugal sailed to discover new territories in the East they took all their culinary luggage and influences with them and in 1557 they settled in Macau. They were the first nation to establish trade routes with Japan and China. During that era, Macau was a peninsula and a few tiny isolated islands inhabited with only fishermen and farmers and they had no culinary traditions. 
After settling in Macau, the Portuguese brought gastronomic components, ingredients and cooking methods, and these accumulated in their colonies which spread from Goa to Southeast Asia, and later on, to South America and Africa. As a small peninsula and two islands, Macau has always had to rely on export products. Historically, ingredients imported from the Portuguese Empire and spices such as cloves, cinnamon, and peppercorns picked on the way were the basis for Macanese cuisine. 
The Initial Creators
Since not many Portuguese women took the long journey, it was quite common for Portuguese settlers to marry or cohabit with Christianized ladies from the colonies or nearby territories. Chinese women, often Muitsais (hired or enslaved from their household at a young age to become servants), African slaves from Angola and Mozambique, Malay, Goan and Japanese women became life partners of Portuguese settlers.
Mixed couples traveled back and forth between the colonies, leaving traces of tradition on the way. Basically, these women were the ones responsible for creating the first form of fusion cuisine, combining recipes and methods of comfort food taught to them by Portuguese men, mixing in their own culinary traditions with what was locally available.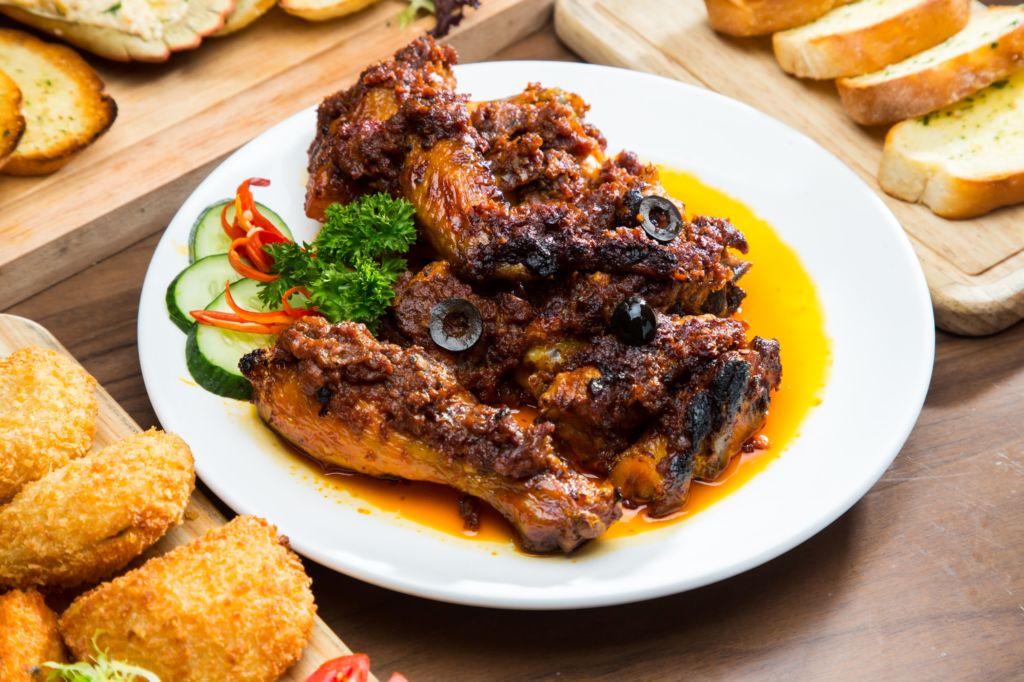 Dining Influences
Portuguese
Obviously, Portuguese cuisine had a big influence on Macanese food, and it was mainly country-style techniques that built the foundations in Macau. Dishes like Feijoada, Empadinhas, Capela were favorites. While some of the recipes fundamentally transformed into something distinctive when they were brought overseas, others remained pretty close to the originals. These expatriates filled their overseas pantries with products from their homes that were familiar to them, so there was olive oil, onions, garlic, bacalhau, chouriço, and countless others. The heavy use of eggs and nata (cream) in the desserts also came from Portugal.
Chinese
The Chinese influence on Macanese cuisine is notable. Most modern Macanese recipes have Chinese ingredients that were used as a substitute for Portuguese ones that were not available. Availability and cost lead to soy sauce being used instead of salt, Chinese sausages being used instead of chouriço, Chinese kale used instead of Galician cabbage, peanut oil instead of olive, rice wine instead of Port, and so on.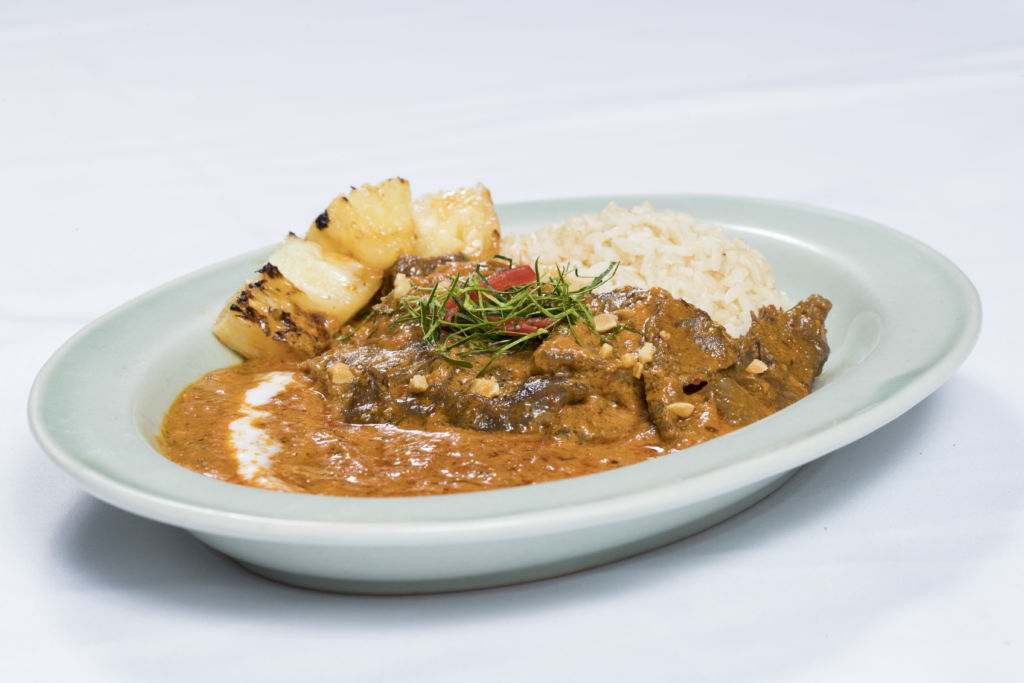 Goan and Malay
The Goan and Malay contribution to Macanese cuisine is strong with items like coconut milk, desserts like bebinca and, of course, spices being heavily used. 16th century Malacca was the biggest spice market of the time. Various types of pepper were quite commonly used in both Malacca and India. However, the merchants who produced it made the spice too expensive for the poor. So when the easy to grow and store South American chili was introduced, it quickly spread all over the region. It soon became the most used spice of Goan and Malay women, who made it popular in Macau as well. Curry (usually a mixture of turmeric, cumin, coriander, ginger, and chili) also came to Macau from the Indian Peninsula. Although, the term was created by the Anglo-Saxons and some believe they are even responsible for the creation of curry we know today, before the British came to India, each region actually had their own authentic stew-based dish that was not considered curry.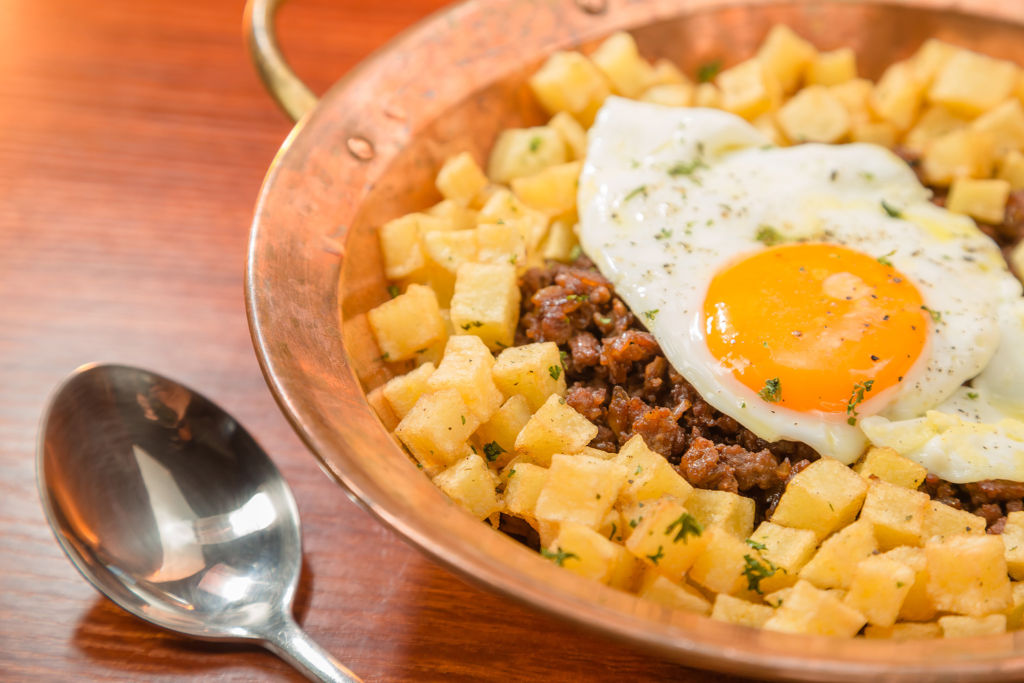 British
It would be strange if the nearby British Hong Kong neighbors didn't contribute to Macanese cuisine, but they did, helping to create the renowned dish we now know as minchi. The world came from the English word "minced" because minced meat (not ground pork and beef) was originally used. Worcestershire sauce was also often used in Minchi instead of molasses which obviously also came from Great Britain. For the best minchi in Macau, check out this article.
African 
The origin of Galinha Africana (African chicken, see the featured image above), a renowned Macanese dish is blurry. Some say it was invented by a local chef, some claim the recipe was passed around for centuries. Some are confident the Portuguese who moved from African colonies to Macau brought it with them. Nevertheless, the use of piri piri pepper sauce clearly points to African roots. 
The Legacy of Macanese Cuisine
Macanese cuisine is built on handwritten recipes and oral instructions passed down from generation to generation. The true keepers of these recipes did not really share or spread them around and so it is hard to find records that exist before the 20th century. Luckily, today we do have culinary books with authentic Macanese recipes and restaurants shared by master chefs who are happy to spread the legacy of their ancestors.
Macanese cuisine built up over many years is a reflection of its history. "Fusion cooking can have its cause in history and it is not something that creativity alone can make happen." This is written by Wilson Kwok in the introduction to the "Taste of Macau" by Annabel Jackson. Unwrapping the mysteries behind Macanese recipes can help to understand the multicultural layers that formed Macau and the cuisine that we know and love today. The best way to enjoy Macanese cuisine and its years of history is to taste it and here's where to find the best places for Macanese food in Macau.
Also read: Best Places for Macanese Food in Macau
Tags
Related Posts