What better way to discover more about China than via snacks? With the advent of online retail and logistics, people can munch on snacks from anywhere in the world at the click of a mouse or a tap of a finger. You cannot understand the real China without tasting popular Chinese snacks! Here's a round up of what we think are the most popular Chinese snacks you most definitely should try.
DaoXiangCun (稻香村)
(See featured image)
Go big or go home! This Chinese pastry is one that emperors used to eat during the imperial era. Bite into one of these soft, doughy pastries and experience how an emperor lived in the Forbidden City. The renowned and time-honored Daoxiangcun Bakery has deep roots in Beijing that dates back to 1895.
Guo Yusheng opened the first shop in Guanyin Temple on Qianmianwei street, selling authentic Beijing pastries and snacks. As a non-local visitor, you may have walked past a Daoxiangcun store countless times and never even realized! However, for the locals, this staple chain is home and brings back fond childhood memories. It has accrued many loyal customers through superb cake-making craftsmanship and techniques passed down through generations. Don't hesitate to try some classic Chinese pastry like lotus seed shortbread (莲蓉酥), pea shortbread (豌豆酥) or beef tongue pastry (牛舌饼). Daoxiangcun has a flagship online store on Taobao so time to place an order!
Daoxiangcun daoxiancn.tmall.com
Rose Cake (鮮花餅)
Originating from southwestern China's Yunnan province, "rose cakes" have won many Chinese foodies' heart in recent years due to their sweet flavor and pleasant fragrance. The traditional and classic Yunnan snack tastes best with Yunnan's pu'er tea (普洱茶) which is great for cleansing the palate.
According to Chinadaily, flowers from Yunnan account for more than 70 percent of the flowers in the markets of nearly 80 large and medium-sized cities in China. In addition, they are exported to more than 40 foreign countries and regions. The locals take advantage of the bountiful flower resources in cooking and roses are particularly popular. In fact, roses are actually an indispensable addition to the locals' meals. Rose cakes can be purchased online from Taobao too!
Rose Cake Taobao
Pineapple Cakes (鳳梨酥)
As a sweet traditional Taiwanese pastry, pineapple cakes has become one of the iconic snacks that almost every visitor would buy during their visit. Highly recommended brands are Sunnyhills (微熱山丘) and Chia Te Bakery (佳德鳳梨酥) which can subvert your impression on pineapple pastry. Their pineapple cake is made from local Taiwanese pineapples, and the stuffing is made with the most natural ingredients, without artificial additives. Baked carefully, the pineapple cakes are made to taste simple and authentic–a little sour and mostly sweet, just like biting into real pineapple pulp. The outer pastry is fragrant and not-too-sweet, which goes great with a cup of tea in the afternoon.
Sunnyhills 8 Chancery Lane, Central, Hong Kong, ztore.com
Three Squirrels (三隻松鼠)
Featuring a wide variety of nuts, Three Squirrels is the first choice for those nutty for nuts. In fact, its snack sales ranked first in Taobao last year. The Chinese has a tradition of eating nuts and melon seeds when people visit their homes or during some traditional festivals such as the Spring Festival or Mid-Autumn Festival. Thus, it is imperative to have some melon seeds or nuts handy just in case some friends decide to drop by impromptu for a chat.
Three Squirrels sanzhisongshu.tmall.com/view_shop.htm?
Luoshifen/Snail Rice Noodle (螺獅粉)
Luoshifen, a Chinese rice noodle dish and a specialty of the city of Liuzhou, southern China's Guangxi Zhuang Autonomous Region, is one of the iconic comfort foods for overseas Chinese students. The cooking method is exactly the same as cooking instant noodles, but a pack of luoshifen usually offers more ingredients and a richer taste compared to conventional instant noodles. Feel free to extras such as chilis, green onions or white vinegar to suit your own taste.
The dish does not usually contain any snail meat but it's served in a soup that's made with river snails and pork bones stock stewed for hours with plenty of seasoning such as black cardamom, fennel seed, dried tangerine peel,  cloves, white pepper, bay leaf, among others.
Zhou Hei Ya (周黑鴨)
For those who enjoy a spicy kick, Zhou Hei Ya has a variety of choices ranging from spicy braised kelp to spicy duck wings, necks, tongue and more. These snacks are amazingly spicy, enough to cause a runny nose and for some, like their mouth is on fire. Zhou Hei Ya International, a Chinese fast-food chain famous for its spicy braised duck, made its debut trading in Hong Kong in 2016. Its founder and chairman, Zhou Fuyu came from a humble rural background and he is now a billionaire, all from selling spicy braised duck!
Zhou Hei Ya www.taobao.com
Bubble Tea (珍珠奶茶)
The grab-and-go bubble tea street shops have been a part of the daily lives of Chinese people for more than a decade. Bubble tea was reinvented and transformed for a new generation of consumers with eye-catching colors, a wider variety of tea, chewy tapioca pearls, and different toppings like cream or cheese. Office workers are also huge fans of bubble tea and would order these sweet treats via food delivery services during teatime.
HEYTEA (喜茶) is the first maker of "cheese tea" and gained huge popularity among the youth in mainland China. They make their teas with high-quality tea from all over the world, trying to renew traditional tea culture. In Hong Kong, popular Taiwanese bubble tea brand, Tiger Sugar (老虎堂) has opened a street shop nestled in between two others near Times Square last year and HEYTEA has since opened four street shops here as well.
HEYTEA Sha Tin Centre St, Sha Tin, Hong Kong
Shop B216, B2, Times Square, Causeway Bay, Hong Kong
Shop B104, K11, Hanoi Rd, Tsim Sha Tsui, Hong Kong
Tiger Sugar 36 Jardine's Bazaar, Causeway Bay, Hong Kong
Dried Fruit(水果乾)
With more Chinese people caring about their health and enjoying fitness, dried fruits have become the latest favorite snacks that provide beneficial nutrients. Dried fruits can help people maintain a healthy weight, and are the perfect snack for any occasion, particularly for the fitness fanatics.
Being a good source of B-complex, dried mango snacks helps boost energy and reduce stress. The fiber in it improves digestion and overall heart health. Diets incorporating dried fruits have been linked with lower rates of obesity, diabetes and cancer. The best dried mangoes come from the Philippines because of its unique climate and rich soil and many famous Philippine snack brands such as Cebu or 7D are popular in China.
Dried fruit Taobao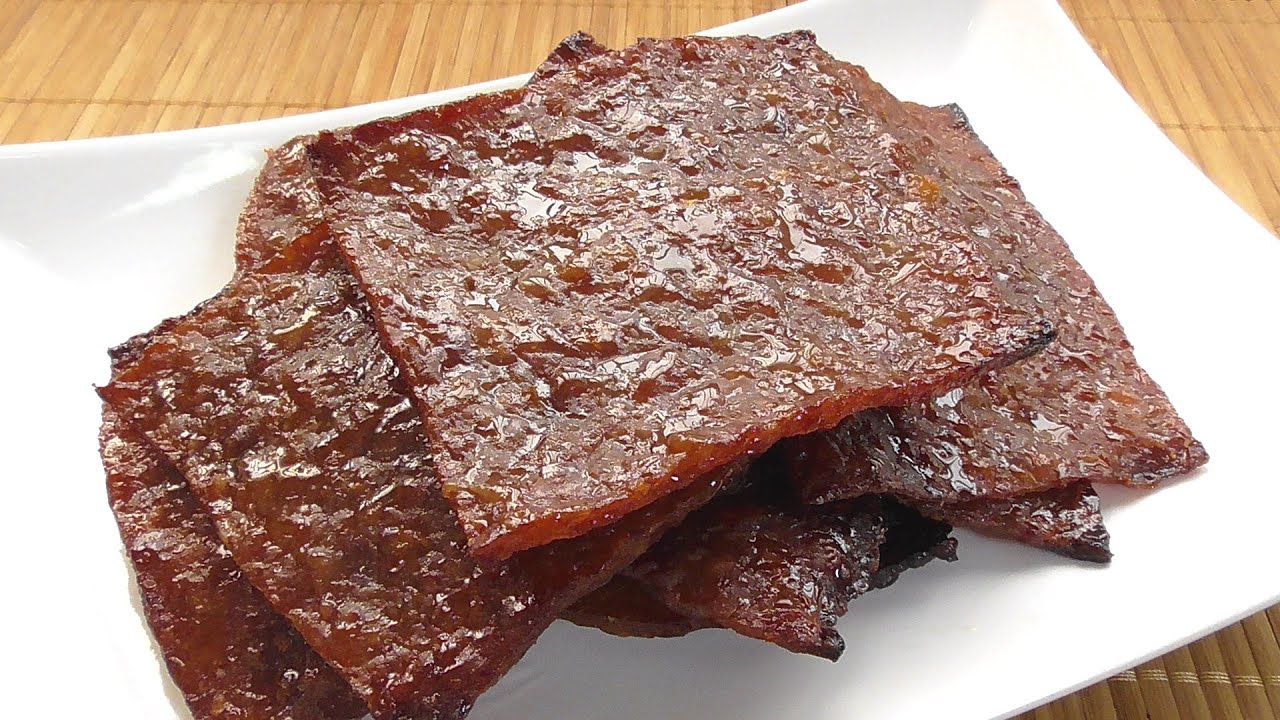 Meat Jerky (肉乾)
Chinese consumers have a preference for dried beef slices when it comes to the dried meat market. Dried beef was originally a Mongolian exclusive delicacy. As early as when Genghis Khan established the Mongol Empire, dried beef played a very important role in expeditionary combat. Nowadays, dried meat has gradually become some people's daily snack. However, do be careful because Mongolian dried beef can be quite hard to chew. If you visit Macau, meat jerky is one of the best souvenirs to take back home and it's sold all over Macau.
Koi Kei Bakery 23AA–23AB, Rua de S. Paulo, Macau, +853 2835 8230, www.koikei.com
Spicy Gluten (辣條)
Dare you to try this pretty weird snack? Spicy gluten or La Tiao is definitely one that brings back fond childhood memories for almost every Chinese person. Only 5 cents or 1 RMB per pack, Chinese pupils like to buy these spicy snacks after school on their way home. It tastes sweet, salty and spicy at the same time but it's pretty oily and some people have complained of a tummy upset after eating these so do proceed with caution.
Spicy Gluten Taobao
Tags
Related Posts