Sheraton Grand Macao Hotel has outdone themselves this time around with the launch of the all-new Palms Café and Bar with a fresher look in the lobby. With a more welcoming vibe that invites you to a transformative location, you're guaranteed a different dining experience at any time of the day.
We've broken it down into 5 parts of the day where Palm's Café and Bar is the number one place to go for all your cravings. Boasting an easy access location at the center of attraction of Sheraton Grand Macao Hotel, it features a design of modern space and a tropical twist setting filled with natural light from the elevated atrium and surrounded by tropical plants to provide a relaxing atmosphere. The newest dining destination provides an easy access to fresh gourmet food without hassles, a delicious range from salads, soups, pastries, and desserts.
Take-Me-With-You Breakfast
Be ready to quench your breakfast cravings with classics such as freshly baked loaves of bread, cronuts, croissants, all-day breaky and their uniquely big mac-n-cheese croissant which is undoubtedly carb-o-delicious. Of course, if you are more on the healthier fandom, be sure to try their sourdough fruit and nut toast with ricotta and honey, or the tropical jungle's signature matcha smoothie fruit bowl. Don't belittle the size of this fruit bowl because it'll really fill your morning up. And the name really speaks for itself, all you have to do is just walk up to the counter choose your heart's desire and go get ready for the big day!
Try out their breakfast for champions; Big-breaky with warm mozzarella, black forest sausage, chorizo, baked beans, fried egg, potato bash, and toast. It is available all day long for MOP $138.
How much: Sandwiches and croissants are MOP $80. And, the rest of their muffins, croissants, cronuts, and donuts are MOP $48 while Smoothies and fruit bowls range from MOP $58–$98.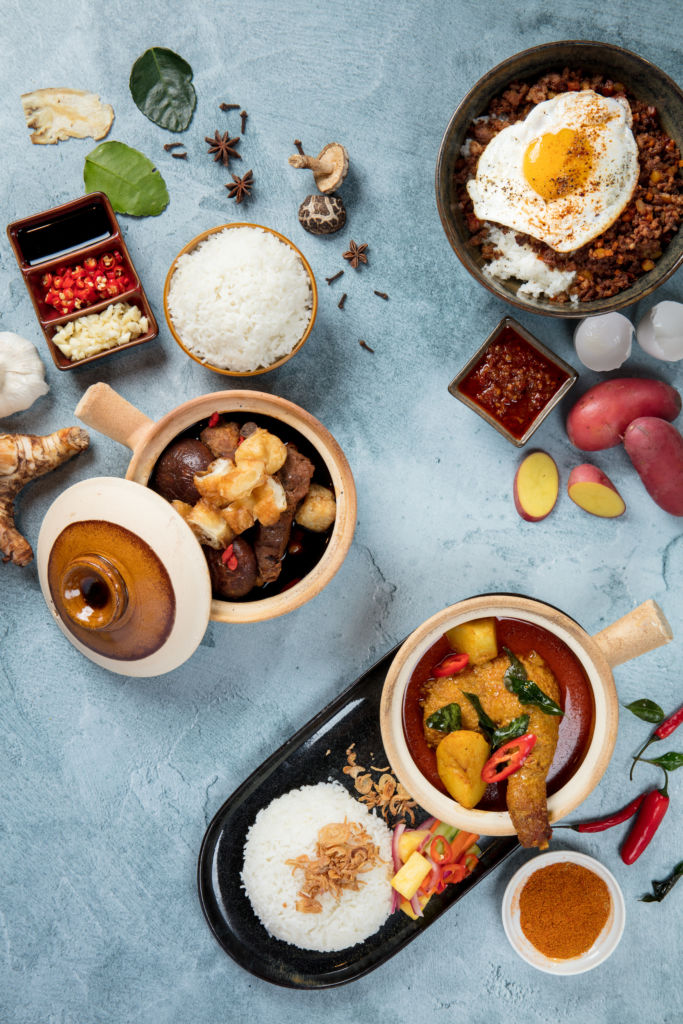 'Go Asian' Lunch Menu
It gets exciting in the afternoon at Palms Café and Bar, as your taste buds take you on a journey to some of the Asian countries with their "Go Asian" menu. Dive into the menu list of heart rice and noodle dishes from the region, reaching from the' oh so popular' Hainanese chicken rice, curry laksa to their Korean army stew. Our favorite here is their bak kut teh, a famous Malaysian dish, and Singaporean pork rib dish. The name literally translates as "meat bone tea" from Hokkien (dialect) that consists of meaty pork ribs simmered in a complex broth of spices and herbs such as star anise, cloves, cinnamon, fennel seeds and garlic for hours resulting to an exploding mix of wonderful flavors in your taste buds!
How much: Noodle bowls prices range from MOP $90–MOP $118, while rice bowls are from MOP $118–$138.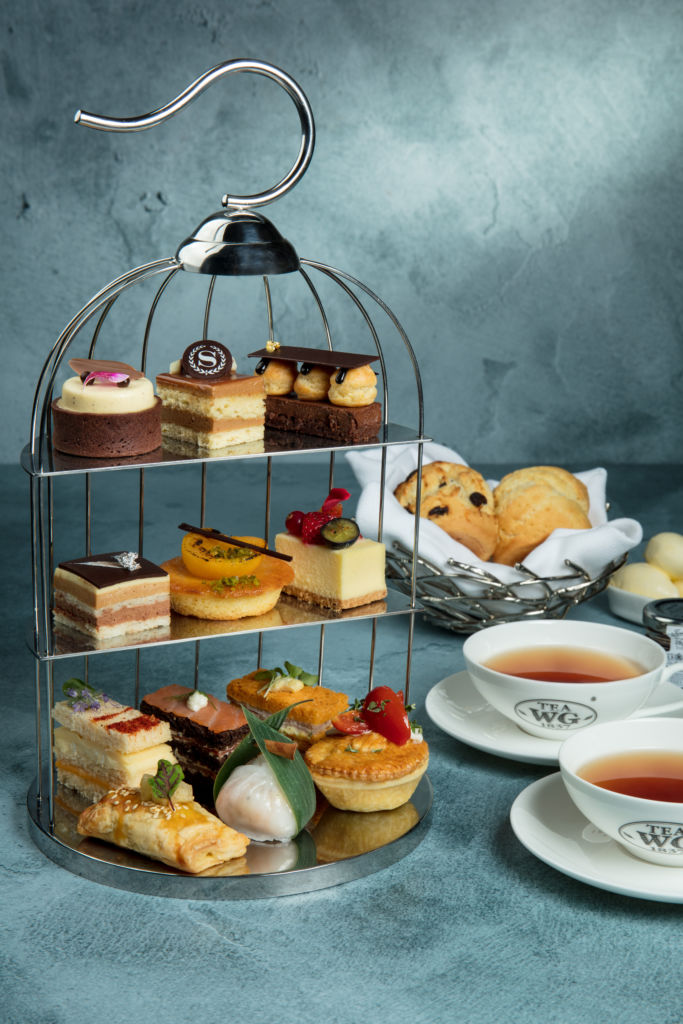 Afternoon Tea Set
The excitement soars and if you're a real foodie their revamped festive afternoon tea set is a must-try. We recommend a pairing with their wide range of TeaWG teas. You can enjoy a delightful selection of tasty sweet and savory treats and nibbles including their irresistible white chocolate and grand mariner cheesecake, dark chocolate truffle cake, tandoor chicken ranch wrap, and duck liver and wild mushroom ragout tart. Embark on a tropical getaway with our review here.
How much: MOP $398+ (set for two includes their regular tea, coffee or hot chocolate)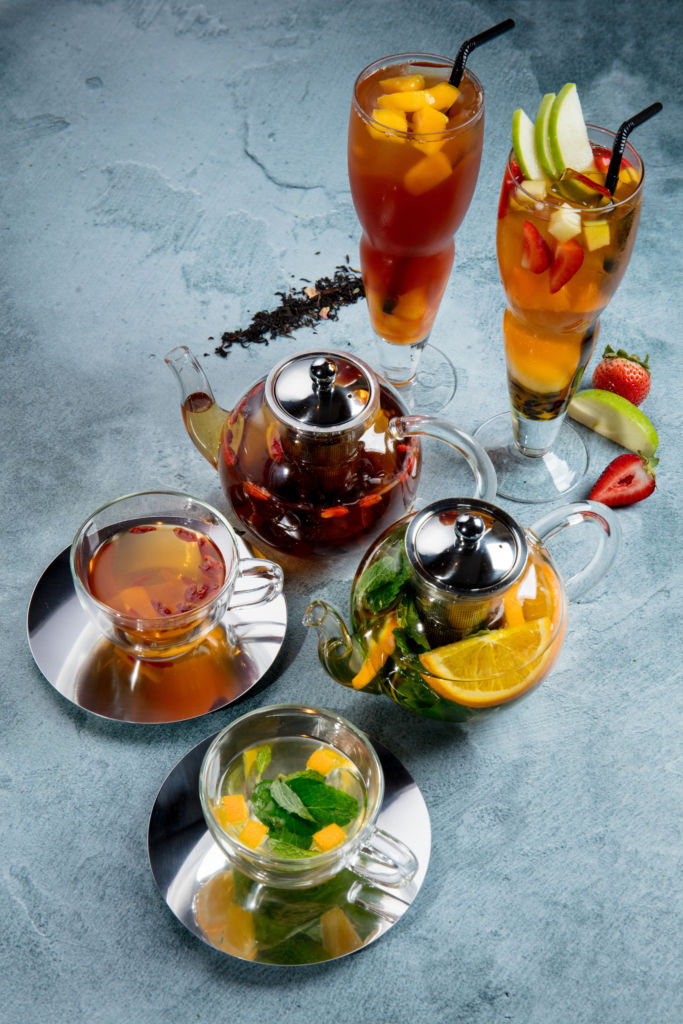 Coffees & Teas
If you're always on the lookout for a great caffeine fix, then look no further because they also provide freshly brewed Kimbo coffees, cappuccinos, espressos you name it. If you're more of a tea person, Palm's menu also varies extensively from tea infusions such as berry tea and of course the local's favorite 'bubble tea' milk tea with tapioca pearls as well as smoothies blended with fresh fruits and healthy squeezed fruit juices to give your day a head start. We like their taro bubble tea and their signature Palms fruit tea where it plays as an innocent sangria where you play around and watch the pretty actual fruit cuts stir and dance around the iced glass.
How much: Palms signature coffee and frappes are from MOP $58–$78 and regular coffees are MOP $48; Palms signature tea is priced at MOP $78 while Premium Chinese teas costs MOP $120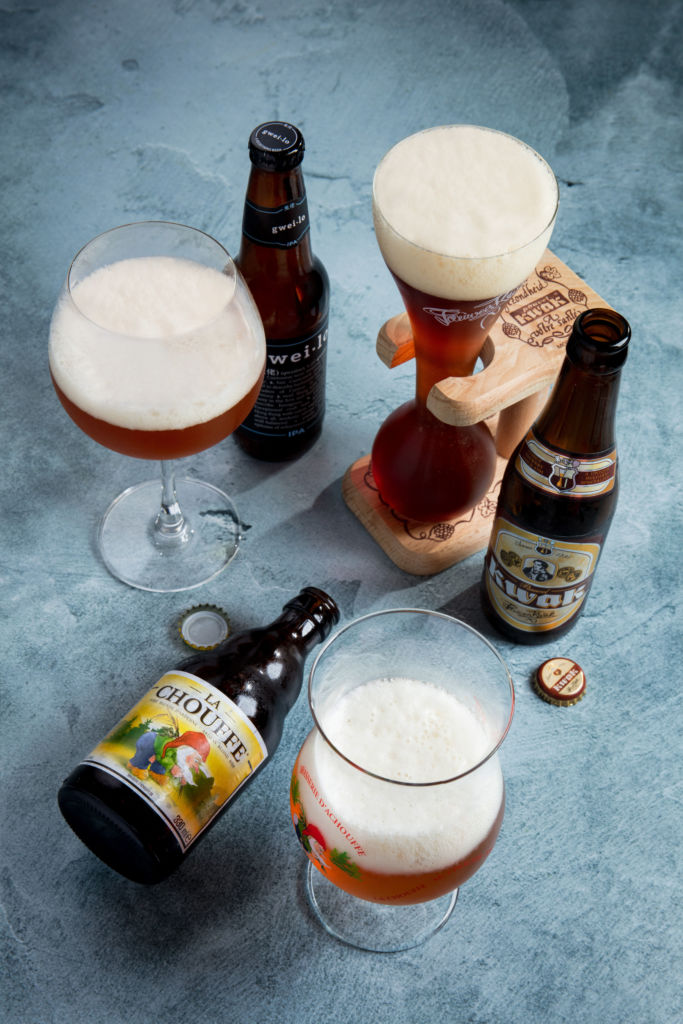 Evening Craft Beers
Sundowners are a classic way to relax after a long day and with some post-holiday blues, Palms Café and Bar is the ultimate hotspot after work. Serving a selection of craft beers, wines, and spirits as well as Palm's signature cocktails created by talented mixologists, you can also expect a seafood bar serving fresh air-flown oysters, poached lobsters, snow crab legs, crabs and prawns with a variety of dipping sauces the perfect bar snacks for your evening, a casual bar where you can enjoy cocktails, craft beer and more.
How much: Bottled beers are MOP $48 and craft beers range from MOP $78–$108.
Palms signature cocktails and cocktails price ranges from MOP $78–$88
Be sure to take photos and share it on either Facebook or Instagram or both! And tag #iLovePalms for you to enjoy promotional discounts and #MacauLifestyle to be featured.
For more information please visit www.sandscotaicentral.com or follow @macaopalms on Facebook.
Palms Café and Bar Sheraton Grand Macao Hotel, Estrada do Istmo, S/N, Cotai, +853 8113 1200 or visit www.sheratongrandmacao.com
Brought to you in partnership with Sheraton Grand Macao Hotel, Cotai Central
Tags
Related Posts