The Ritz-Carlton Bar & Lounge is the mixology star in the Galaxy Macau™. From its opening in 2015 the Bar & Lounge has been attracting a sophisticated crowd to enjoy the city skyline, cocktails and a classy vibe.
This July Macau's bar scene is going to be shacked by renowned mixologist, Luca Cinalli who is coming to The Ritz-Carlton Bar & Lounge for four days only, July 14–17.
Luca Cinalli is a name synonymous with high-end bars that have transformed the intricate style of drinking and dining. The world-class mixologist hailing from Italy considers opening and shaping Oriole in London a career highlight. Having also established Nightjar—selected as one of the top 50 best bars in 2016—he is indeed the master of contemporary cocktails. This July, for four days only Luca Cinalli will be in Macau, exclusively at the Ritz-Carlton Bar & Lounge. From July 14th to 17th, he will showcase his craft and also host must-attend mixology masterclasses.
Gaining global acclamation, Luca maintains a humble approach to his skillful creation of cocktails. Talking to him ahead of his first ever visit to Macau, we instantly felt his passion for perfection when it comes to the art of mixology.
What are you looking forward to in Macau and this pop-up at The Ritz-Carlton Bar & Lounge?
It will be my first time in Macau although I have been to Hong Kong and China before. I am not yet sure but I did look on the internet to have an idea [laughs]. I am absolutely excited and I am definitely looking forward to a beautiful atmosphere at The Ritz-Carlton, Macau.
Tell us a bit about your journey to being a mixologist. What inspired you to be on this path?
I had the chance to work in every department of the hospitality business and at one point, I chose to mix them all and start to create my own way for guests. It was possibly my close interaction with customers, that I wanted to change the style of drinking and bartending. I was a keen listener and observer and the drive to create was slowly cultivated within me.
What was the biggest challenge of building your reputation and career?
We had to gain the trust of customers. They want a story to tell as with every experience. I am meticulous with time, preparation and service and I continue to implement the same high standards. To improve and to learn with every circumstance is hard but understanding the guests is how you come up with new and innovative drinks.
Do you feel you are at the peak of your career now?
No, not yet. I am aiming for more beyond what is now. It's my natural character. I am eternally unhappy and I want to always innovate and continue to come up with a new way to improve my style. My happiness revolves around researching and innovating.
Does the presentation come first? Or do you create a cocktail and then think about how to present it?
I sit at the table and study everything intensely. For me, the presentation comes second but it has to be eye-catching and outstanding. It makes a valuable impact within a few seconds and it gradually disappears at one point. Garnishing spice is a major element of drinks and guests will sip it for 4-5 minutes and that's an integral part for me.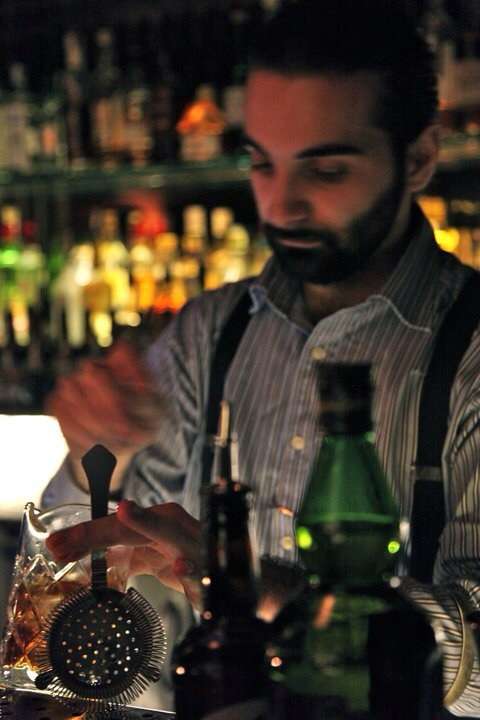 You're also doing the masterclass. What can we expect to learn from the experience?
My style of mixing, the knowledge of creation and quality of service is what I want to impart. Every year we change topics when it comes to a masterclass. We will improve our presentation, how to setup, maintain efficiency, and execute a successful style of mixology.
Will you be infusing Asian ingredients in this class?
I tend to do what people cannot normally get in the region. In London, we infuse durian, miso, tofu and green teas. We are coming from abroad and we want to see what's happening on the other side of the world. I brought diverse and extraordinary ingredients from Nigeria, Italy, Paris, Arizona, and Mexico. I'd like to give them an inviting ambience of Oriole's specific design and quality right in the heart of Macau at The Ritz-Carlton Bar & Lounge.
There's still some confusion about mixology and bartending at times. Do you identify with both platforms? And which one are you more passionate about?
The guests are the only ones calling us mixologists. We believe we are not as bartenders but I do in some ways. We are most certainly in the business of the art of mixology.
What's the most important skill that a mixologist should have?
For me, that would be continuous study and practice. I would research for hours on end when I want to create something new and I practice a lot and try something different and unusual all the time.
What's your mixology style in three words?
My philosophy on this would be observation, precision, and efficiency.
You are known for rather complex cocktails, what are the liquors and ingredients you like to work with?
I am fond of chartreuse, osmanthus, corn mushroom and salt.

What would you recommend for us from your creations? And what are the ingredients?
The Nanjing Cooler is something I would definitely recommend. It is comprised of Japanese whisky, aloe vera wine, clarified watermelon juice, osmanthus syrup, and lemon juice. It is special because of its freshness and bitterness that are well balanced. It has a sour and digestive note for whisky lovers.
What do you drink on your night off?
I drink mainly water. I wouldn't mind a glass of wine now and then.
What's the best cocktail for a date night?
I would say the Mary Pinkford.
What is the latest trend in cocktails?
The new trends in cocktails are constantly changing but the use of unique ingredients and customized vessels is something that will continue to grow.
If you could choose only four ingredients for a cocktail – what would be your winning mix?
I would opt for Ratafia liquor, lemon juice, peated whiskey and tonic water.
You seem to be travelling a lot for workshops and pop-ups. How does it feel to be a star mixologist? Do you get a lot of attention from ladies?
I haven't noticed any ladies attracted by my frequent travelling. I will definitely let you know if I do [laughs]. My job still hasn't changed and I focus on that.
Why should we come to your pop up at The Ritz-Carlton Bar & Lounge in Macau?
It's going to be a splendid evening with incredible drinks. My collaboration with The Ritz-Carlton, Macau, will just bring a beautiful and memorable experience to every guest.
•••
When: July 14–17, 2017, mixology experience: 9pm–12am; masterclass experience: July 15, 3pm–4pm, July 16, 2pm–5pm (for industry professionals)
Where: The Ritz-Carlton Bar & Lounge, The Ritz-Carlton, Macau, Galaxy Macau™, Estrada da Baía da Nossa Senhora da Esperança, s/n, COTAI, Macau, China
How much: Cocktail starts at MOP $118, masterclass on Saturday: MOP $198, masterclass on Sunday: MOP $238 (for industry professionals)
Prices are subject to 10% service charge and 5% government tax
For more details, contact +853 8886 6712
Tags
Related Posts