Curry, masala, tandoori, and naan–these words are not foreign for any experienced foodie. It's hard to find a cuisine that can compete with Indian food when it comes to spices and colors. And that's what we love it for, even when we can't handle the level of heat! There is no burning tongue that a glass of lassi can't save. To learn where to get the best and the most authentic Indian food in Macau, check out this list. 
Goa Nights 
(See featured image above)
It's not uncommon for new spots to become the talk of the town for some time. When the vibrant three-story Goa Nights appeared in Taipa Village in 2018, it instantly attracted a lot of attention. Notably, it hasn't lost popularity thanks to the original concept, delicious food, and some of Macau's best cocktail lists. We love the laid-back atmosphere at Goa Nights and its staff's attitude, who always welcome guests with a warm smile.
As you might have guessed, their food menu focuses on dishes from Goa, but with a modern twist served in the form of small plates, aka tapas. That includes fish and seafood curries, grilled smoky kebabs, dips, bar snacks, and more–whatever you choose would be finger-licking good! Our recommendations are the creamy Goan curry, fragrant and juicy pulled pork vindaloo bao, and vegetarian falafel sliders. The spiciness level is slightly adjusted, so don't be afraid to burn your tongue. As the portions are small, order a bunch and share with friends over a few signature cocktails. While they always have great music playlists, on Thursdays, Goa Nights invites everybody for some themed DJ sets, like retro nights or funk. So if you are into some partying after a satisfying dinner and drinks, mark it in your calendar. 
Opening hours: Tuesday–Sunday, 12:00pm–2:30pm, 6:00pm–11:30pm (Kitchen), 6:00pm–1:00am (Bar)
Goa Nights 118 Rua Correia da Silva, Taipa Village, +853 2856 7819, www.facebook.com/goanightsmacau
Also read: Great Places to Eat in Taipa Village

Indian Garden 
The story of Indian Garden began when its founder Antony Manuswamy immigrated to Macau in 1977. At the time, there was hardly any Indian food in the city, never mind authentic, which made Antony homesick and longing for familiar flavors. But most importantly, it encouraged him to correct that unfortunate circumstance. So in 1990, he opened the first Indian Kitchen. The business turned out to be instantly successful. Now, 30 years after, the restaurant now called Indian Garden is still alive and well in Macau and there are more in Mainland China. 
Catering to the Chinese palate, the chef makes dishes creamier and less spicy. But the cooking team still manages to preserve authenticity. Indian Garden's menu is extensive and contains diverse regional cuisine specialties, from Kerala to Kashmir. That covers southern seafood dishes, northern paneers and mutton courses, Dehli's kebabs, and so much more. As Indian cuisine is one of the most vegetarian-friendly, there are plenty of plant-based dishes, such as aloo and dhal. Hands down, the variety of biriani and rice here is hard to beat. If you are crazy about Indian bread, this restaurant would be heaven for you–the selection of naan, roti, and paratha will blow your mind. 
Moreover, there is delivery to Macau, Taipa, and Coloane. Conveniently enough, you can order online and pay with MPay. 
Opening hours: Daily, 12:00pm–00:00am
Indian Garden Shop 18 GF Block 27, Nova Taipa Garden, Rua de Seng Tou, Taipa, +853 2883 7088, www.instagram.com/indiangardenmacau
5-1 Patio das Palmas, Macau, +853 28257765
The Golden Peacock
The Golden Peacock at The Venetian Macao is an outstanding Indian restaurant indeed. Not only has it received seven consecutive Michelin stars since its opening, but it was the first Indian restaurant to acquire such recognition from Michelin. Furthermore, The Black Pearl Restaurant Guide awarded it with two diamonds. However, such status doesn't make it unapproachable. For an awarded fine-dining establishment, its prices are relatively reasonable. In a nutshell, The Golden Peacock offers authentic Indian food with a modern twist and stunning presentation, with some dishes slightly influenced by international cuisines.
Although The Golden Peacock's chef Justin Paul is from Kerala, his cooks come from all over India. Thus, The Golden Peacock's menu represents the wide variety and diversity of Indian regional cuisine. Some of their signature dishes are Kandari Murgh tikka, curried Scottish scallop soup, and Quilon fish curry with mango, a recipe that chef Justin learned from his father while helping him in the kitchen as a kid. All the chutneys and pickles that they have in abundance are made in-house. To keep surprising the patrons, chef Justin updates the a la carte menu annually, leaving the bestsellers. Also, to showcase regional cuisine, every year, The Golden Peacock introduces a special limited-time menu. To prepare such a menu, the chef personally travels back to India to do some in-depth research and collect spices and other ingredients.
*Temporarily closed*
Golden Peacock Level 1, Shop 1037, The Venetian Macao, Estrada da Baia de Nossa Senhora da Esperanca, Cotai, +853 8118 9696, www.venetianmacao.com
Also read: Chef Justin Paul on Seven Years of The Golden Peacock's Success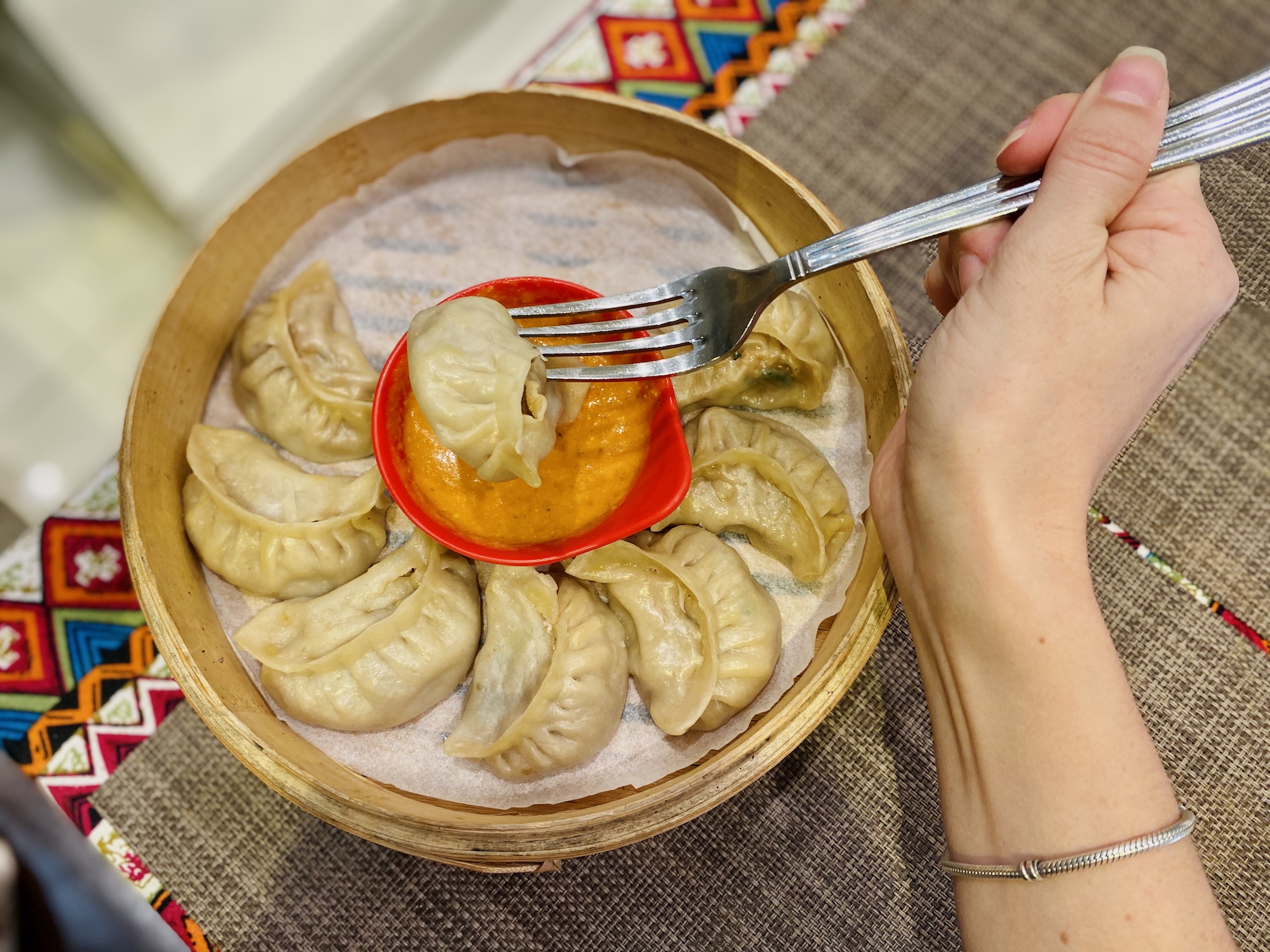 The Himalayan House 
The Himalayan House has been in Macau since 2015, with the restaurant initially only serving Nepalese specialties, becoming the first one in Macau of the kind. Today, they have grown into two branches and offer both Nepalese and Indian food cooked by Nepalese and Indian chefs. 
The Himalayan House menu is considerably long, but not to the extent of getting lost in it. Yet, if you are unsure what to choose, pick something from the chef's recommendations or ask a waitress. The staff does know all the dishes, ingredients, and methods to perfection. The number one must-try dish here is momos, large dumplings filled with chicken, spices, and herbs. That juicy and fragrant filling goes so well with the in-house made spicy sauce. Pair it with some refreshing mango lassi (probably the best one in town) made with the ripest fruit. Apart from that, their curries are a must as well, especially the creamy mutton curry. Last but not least, don't skip the tandoor selection that features many Indian types of bread baked in-house. The thick cheese naan is one of our favorites!
Opening hours: Daily, 12:00pm–00:00am
The Himalayan House Macau 26 Travessa do Auto Novo, Macau, +853 2893 3132, www.facebook.com/The-himalayan-house-macau
Opening hours: Daily, 12:00pm–11:30pm
The Himalayan House Taipa 18-26 Rua de Hong Chau, Taipa, +853 2883 2160, www.facebook.com/thehimalayanhousetaipa
Also read: Interesting Asian Restaurants to Try in Macau

Indian Spice 
Modern design with calm shades, rustic wooden furniture, and Indian art on the walls make up an elegantly simplistic setting for a casual dinner. Indian Spice is another business of Goa Nights' owners. If you have been to one of them, expect the same high quality and friendly service–their key features. While Goa Nights offers a contemporary approach to Indian recipes, Indian Spice focuses on traditional dishes. Although their main focus is Northern Indian food, you will find plenty of dishes typical in other regions of the country. Jain and Gujarati diners will have something to indulge in; halal dishes are available as well. Some of the items you will hardly find in any other Indian restaurant in Macau. Among those are paneer malai tikka, spinach and cheese rolls, prawns tandoori, and more. Even if you are not into spicy things but appreciate Indian spices and flavors, there are platters for you to taste. Go for a chicken malai tikka, tender, and juicy kababs, or opt for one of the delicious paneer dishes. We will keep coming back for that keema matar (sauteed minced lamb with peas) and creamy butter chicken.
With regards to the drink list, besides the classic Indian lassis and chai, they serve decent and standard cocktails, such as tropical Blue Hawaii and New York Sour. 
Opening hours: Daily, 11:00am–11:30pm 
Indian Spice 39, Alameda Dr. Carlos D'Assumpção, Vista Magnifica Court BG/RC, Macau, +853 2872 2784, indianspicemacau.com

Moti Mahal Indian Food 
Relatively a freshman on Macau's Indian restaurant scene, Moti Mahal in Fai Chi Kei is the one closest to Mainland China among them all. Remarkably, it doesn't stop visitors all the way from Coloane to take a long journey (for Macau standards) towards authentic food. Here, they take pride in the quality of the dishes made with ingredients imported from India. The menu covers various cuisines of Bharat, from South to North. Basically, you can close your eyes and randomly point at the menu–your choice won't disappoint you. No doubt, their plump vegetable samosas at Moti Mahal with generous potato and peas filling should go on your order. Paired with spicy mint and sweet sauces, this appetizer is large enough for a substantial lunch! Don't be afraid to ask the staff for recommendations too. The owner is often there, willing to help you out and talk about Moti Mahal's specialties–butter chicken, chicken tikka, South Indian dosa, mutton masala, and mutton bhuna. Even though he claims that decent Indian food has to be eaten right away after cooking, they also provide delivery services to all the city's corners.
Opening hours: Monday–Friday, 10:30am–11:00pm; Saturday–Sunday, 10:00am–11:00pm
Moti Mahal Indian Food Edificio Kat Cheong, 54 Rua um da Bairro Iao Hon, Macau, +853 6299 8565, motimahalmacau.com
Photo credits: Goa Nights, Golden Peacock, Ksenia Kuzmina
Tags
Related Posts