The most important meal of the day is breakfast! Thus, you should make it as healthy as possible so you won't lose your momentum during the day. To help you with that, we have put together a list of the best places for healthy breakfasts in Macau to keep you looking and feeling good.
Lobby Lounge at Mandarin Oriental, Macau
Can't decide on what to have for breakfast between western or oriental? Shall it be a Brazilian açai bowl with yogurt or Singaporean kaya toast with a soft boiled egg? Eggs Benedict with hollandaise sauce is always a good idea as well, especially when with Alaskan crab. Not to mention, congee makes for a perfectly substantial breakfast that would give you a lot of energy for the oncoming workday. Head to the welcoming Lobby Lounge at Mandarin Oriental, Macau for the diverse menu and have something hot to warm up your tummy or açai bowl for a superfood supercharged breakfast. The breakfast is served from 10:00am to 12:00pm and features plenty of healthy options.
Opening hours: Daily, 10:00am–8:00pm
Lobby Lounge Mandarin Oriental, Macau, 1/F, 945 Avenida Dr. Sun Yat Sen, NAPE, +853 8805 8888, www.mandarinoriental.com/lobby-lounge 
Also read: Best Places for a Healthy Meal in Macau

Jam & Butter 
Jam & Butter might not have such a wide variety of breakfast options as some of the other places on this list. However, for people in One Oasis and even Coloane, it is probably the breakfast venue of choice.
If you are determined to start the day right, take a detour from the bakery section and aim for the salmon or spinach eggs Benedict. You can choose any sides from the list, like roasted cherry tomatoes and mixed greens. Moreover, one of the most attractive features of Jam & Butter is the fresh juice bar. Ask for your own juice mix, pick a classic OJ, or choose from their list of vitamin cocktails for a morning boost. We especially love Green Power Mix with bitter melon, celery, cucumber, green apple, and green bell pepper. It is a vitamin bomb without the high sugar content!
Opening hours: Daily, 8:00am–8:00pm
Jam & Butter Shop 12–13 Estrada de Seac Pai Van, One Oasis, Coloane, www.skyconceptmacau.com/jam-butter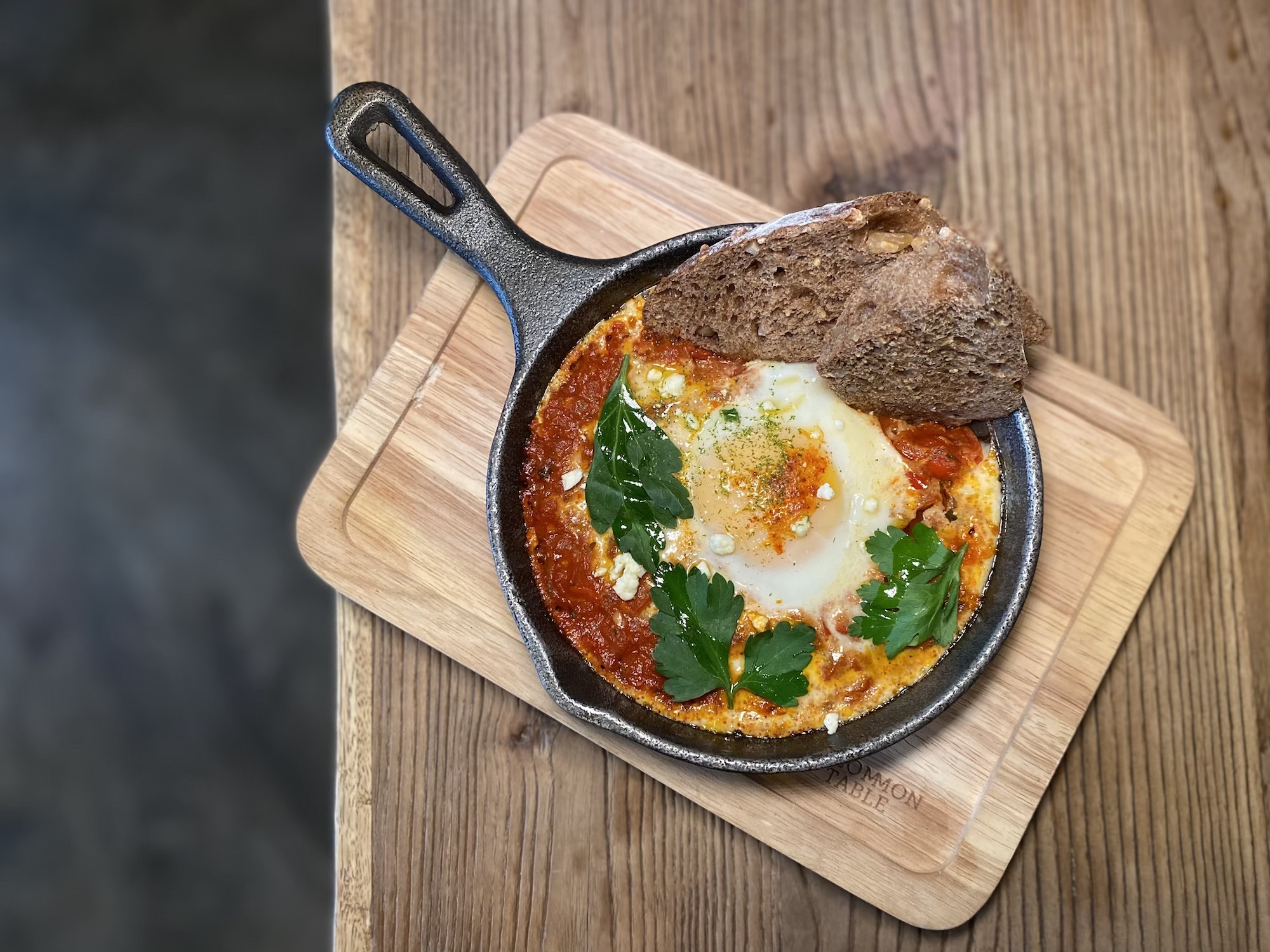 Common Table 
A popular get-together cafe for breakfast and lunch in Taipa, Common Table is a spacious spot with large rustic wooden tables and friendly waiters. When it comes to breakfast, they have it all – from classic egg dishes with both regular and quail eggs to waffles, French toast, and muesli. Among the most delicious ones are homemade smoked salmon with avocado sauce, quail egg, and mesclun salad on walnut bread toast, baked in-house. Here you get your protein, omega-3, and amino acids, fiber, and other necessary elements all in one dish. We also love the Middle-Eastern shakshuka, eggs baked in spicy tomato sauce. 
Note that on busy days it can get pretty full and noisy. So this would not be the right choice for those who appreciate breakfast in a quiet, zen environment. However, it would be a cool place for a Sunday late breakfast or brunch with friends especially considering the breakfast here is served until 6:00pm. 
Opening hours: Sunday-Thursday, 8:00am–9:30pm, Friday–Saturday, 8:00am–11:00pm, Monday,  8:00am–5:00pm, Monday
Common Table Shop A, Nova City, Avenida de Guimaraes, Taipa, +853 2885 6601, www.facebook.com/commontablemacau
Habitbox
If you plan on having a day of exploring the city, especially if Macau's historic center is on the list, you need a place to fuel up first. Luckily, there is a tiny takeaway cafe with a couple of seats that can offer its hospitality and super healthy breakfast bowls. To charge your batteries and get ready for a long day, grab a smoothie bowl packed with vitamins and minerals at Habitbox. Their signature bowl has açai pulp, a well-known Brazilian superfood berry. The list of its benefits includes high nutrition value and concentration of antioxidants, along with the improvement of cholesterol level. Besides, it's just delicious!  
Habitbox is located on the vibrant Rua dos Ervanarios with several cool coffee shops to stop by for a cup of latte to go. Since it opens from 11:00am, Habitbox might not be for the early birds but perfect for the brunch crowd.
Opening hours: 11:00am–8:00pm, Daily
Habitbox 44, Rua dos Ervanarios,+853 6586 8613, www.facebook.com/habitboxmacau, www.instagram.com/habitboxmacau
Cha Bei
When it comes to healthy eating, Cha Bei is one of the pioneers in Macau so it is no surprise that they are on this list. Their constantly upgraded menu features a whole page of healthy wholesome choices. Thus, it would be easier not to stray from the path of a healthy diet.
We guarantee you that everything served in Cha Bei is ultra Instagrammable and beautiful from every angle. Remarkably, Cha Bei team seems to work hard not only to make your breakfast balanced, nutritious, and healthy but flawless to look at and perfect to share on your social networks. While some might not find it important, it is a scientific fact that a good-looking plate boosts your appetite and makes the food taste better.
At the moment, their healthy breakfast offers include the tea egg and avocado toast, a must-eat for the avocado lovers. Served on homemade sourdough bread and sprinkled with furikake (Japanese seasoning), it is a light option filled with microelements. We also recommend tea smoked salmon with scrambled egg and rye toast. Being a restaurant dedicated to tea, teacups, and everything else about tea, there is naturally a large selection of cold and hot teas, coffee, and some refreshing fresh-pressed fruit and vegetable blends, kombucha, and more.
Opening hours: 11:00am–6:00pm, Tuesday-Sunday
Cha Bei 1047, 1/F, Galaxy Macau, Estrada da Baía de Nossa Senhora da Esperança, Cotai, +853 8883 2221, www.galaxymacau.com/cha-bei
This article was originally written by Ksenia Kuzmina in January 2019 and updated in November 2021. 
Tags
Related Posts