The most important meal of the day is breakfast! Thus, you should make it as healthy as possible as your New Year Resolution. To help you with that, we have put together a list of the best places for healthy breakfasts in Macau.
Cha Bei
When it comes to healthy trends, Cha Bei is a pioneer in Macau. So it is no surprise they are featured on this list. Their constantly upgraded menu features a whole page of healthy wholesome choices. Thus, it would be easier not to turn away from the righteous path. 
We guarantee you that everything served in Cha Bei is ultra Instagrammable and beautiful from any angle. Cha Bei team seems to work hard not only to make your breakfast balanced, nutritious and healthy but flawless to look at and perfect to share on your social networks. While some might not find it important, it is a scientific fact that a good-looking plate boosts your appetite and makes the food taste better. 
One of the most attractive breakfast options here is their smoothie bowl. You can choose between acai and carrot and both are sure to impress. While carrot is not a stranger to anyone, acai is more exotic. This berry from the Amazon is becoming popular because of its long list of health benefits that include promoting heart health and anti-aging effects. It really deserves to be called a superfood. Therefore, so many establishments that promote healthy eating have included acai bowls in their menus. Cha Bei's acai bowl is served with colorful edible flowers, seasonal fruit, and granola. 
Besides smoothie bowls, you can enjoy a healthier version of your regular egg brekkie – scrambled egg white and broccoli. Or try a super greens buckwheat crepe, a balanced dish packed with nutrients and vitamins. Do not forget to take a look at the drinks menu with fresh-pressed fruit and vegetable blends, kombucha and goji ginger green tea. 
Opening hours: 10:30am–9:00pm, daily
Cha Bei 1047, 1/F, Galaxy Macau, Estrada da Baía de Nossa Senhora da Esperança, Cotai, +853 8883 2221, www.galaxymacau.com/cha-bei

Healthy Habits Superfood Cafe
The name says it all. Healthy Habits Superfood Cafe is ideal for those of us who truly care about what our food is made of and where it came from. With all-day breakfast, the menu is pretty big and features different types of breakfast dishes from light to substantial.  All of them are cooked with carefully selected ingredients using methods that help to maintain most of the nutrients. Their team strives to use mostly organic products when possible. For egg breakfast fans, they have a regular and a white omelet with smoked salmon, mushrooms, and veggies served with kale salad on the side. Ask for homemade keto bread for additional MOP $10 if you wish. If eggs are not your thing, there are sweet and savory toasts, waffles and pancakes that won't leave an aftertaste of regret, four types of wraps, including a vegetarian one, also served with kale salad.
Moreover, there are many decent dishes out of the breakfast menu that will do just fine in the morning. Acai bowl or chia pudding will provide you with the necessary vitamins and energy for the day. Accompany your meal with a balanced smoothie, cold-pressed juice or a nutritional latte. You can order your latte with plant-based milk.
Another great feature of the place is their delivery option. You can place an order by phone to be delivered everywhere in Macau (minimum MOP $300 order to Taipa and MOP $500 to Coloane).
Opening hours: 11:00am–10:00pm, daily
Healthy Habits Superfood Cafe R/C A, 203 Avenida Comercial de Macau, Edifício La Bahia, Macau, +853 2859 3386, www.facebook.com/healthyhabitscafe

Jam & Butter 
Jam & Butter might not have such a wide variety of breakfast options as some of the other places on this list. However, for people in One Oasis and even Coloane, it is probably the breakfast venue of choice.
If you are determined to start the day right, avoid looking into the bakery section and aim for the salmon or spinach eggs Benedict. You can choose any sides from the list, like roasted cherry tomatoes and mixed greens. One of the most attractive features of Jam & Butter is the fresh juice bar. Ask for your own juice mix, pick a classic OJ or choose from their list of vitamin boosting cocktails. We especially love Green Power Mix with bitter melon, celery, cucumber, green apple, and green bell pepper. It is a vitamin bomb without the high sugar content.
Opening hours: 8:00am–8:00pm, daily
Jam & Butter Shop 12–13 Estrada de Seac Pai Van, One Oasis, Coloane, www.skyconceptmacau.com/jam-butter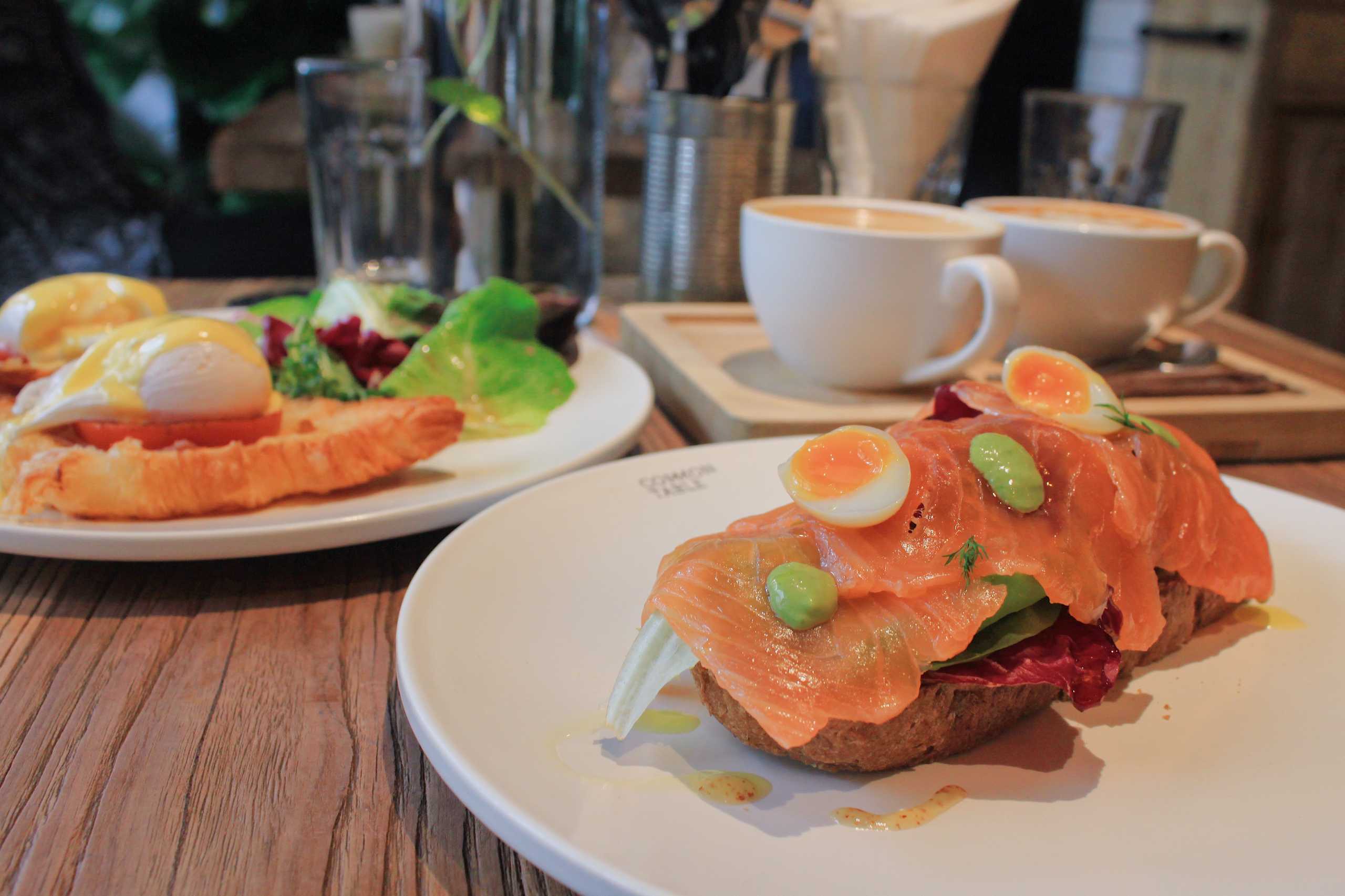 Common Table 
A popular get-together cafe for breakfast and lunch in Taipa, Common Table is a spacious spot with large rustic wooden tables and friendly waiters.
When it comes to breakfast, they mainly serve egg dishes with both regular and quail eggs. Among the most delicious ones are homemade smoked salmon with avocado sauce, quail egg and mesclun salad on walnut bread toast, baked in-house. Here you get your protein, omega-3 and amino acids, fiber, and other necessary elements all in one dish. 
Caramel fig with homemade eggplant on toast could be an interesting choice if unusual combinations of sweet and savory are what you live for. Besides that, some vegetarian breakfast options are on the list too. Check Common Table's grocery section before leaving to grab a healthy snack like jalapeño kale chips to help you through the day.  
On busy days it could get pretty full and noisy, so this would not be the right choice for those who appreciate breakfasts in a quiet, zen environment. However, it would be a cool place for a Sunday late breakfast or brunch with friends especially considering the breakfast here is served until 3:45pm. 
Opening hours: 8:00am–12:00am, Tuesday–Sunday; Closed on Monday
Common Table Shop A, Nova City, Avenida de Guimaraes, Taipa, +853 2885 6601, www.facebook.com/commontablemacau

The Blissful Carrot 
If you want a healthy breakfast in Macau, The Blissful Carrot is all about promoting a healthy lifestyle. Being such a tiny place, these guys have made quite a big impact on the local community of conscious eaters. It is more like a takeaway place, so order one of the yummy items from their menu and enjoy it on the picturesque steps around the corner. Pre-order on Facebook to avoid waiting. 
This vegetarian eatery in Taipa Village offers an extensive list of all-day breakfast dishes. Choose from acai bowl, gluten-free pancakes, chia pudding, hazelnut buckwheat oatmeal, and several egg delights. You can trust Blissful Carrot to deliver 100% healthy, yet tasty and not boring food. Pair your choice with a cold-pressed juice such as Mint To Be, a blend of spinach, apple, mint, and carrot. 
Opening hours: 10:00am–8:00pm, Thursday–Tuesday; Closed on Wednesday
The Blissful Carrot 79 Rua Direita Carlos Eugenio, Taipa Village, +853 6298 8433, www.facebook.com/blissfulcarrot
Tags
Related Posts