Featured photo credit: Healthy Habits Facebook page
There is a health movement in Macau that keeps on giving and growing. Whether you're trying to lose, gain weight or simply improve your lifestyle, eating smart is the best way you can achieve a healthier outlook towards life in general. We tracked down these special spots to help you begin a wellness journey that will transform your dining habits in Macau.
Healthy Habits
(See featured image above)
With an obvious name for this article, Healthy Habits is a no brainer when it comes to healthy culinary options. Low on sodium, sugar, and preservatives, their food is savory, homemade and changes according to the seasons of the year. Winter sees heavier, more comfort dishes such as vegetarian curries and roasts, with some options of salads and such; summer and spring months are good for fresh vegetarian dishes accompanying a steak or fish delicacy. There has been an ever-growing demand for food catering to different ways of eating: be it health issue or personal choices, dietary restrictions are a real thing nowadays and Healthy Habits knows it: besides vegetarian options, there are gluten-free, paleo, raw, low carbs and high protein as well.
A meal here might go beyond your budget, but your belly will surely thank you for choosing to follow this "habit". There is also a comprehensive list of beverages (protein shakes, dietary drinks, freshly squeezed juices) and desserts (homemade healthy cakes, chia pudding with fruit, among others). To check more, head to their Facebook page, where menus are up-to-date. They now have a delivery service throughout Macau.
Opening hours: Daily, 11:00am–10:00pm
Healthy Habits 203 Avenida Comercial de Macau,R/C A, Edifício La Bahia, Macau, +853 2859 3386, www.facebook.com/healthyhabitscafe
Greens Kitchen & Juicery
Some might not know this, but Greens Kitchen & Juicery relocated some time ago, having opened close to the Macau Cathedral. With a minimalistic decor and lots of sunlight, the space is an invitation to be healthy. Some people have a negative attitude towards healthier dishes because they mistake them for what they believe to be tasteless food; others are huge fans. Greens caters to the above, but also the ones in the middle, who think healthy food is great for some moments in life.
Their Greens smoothie is definitely a must-try, as well as their salads, but also their chia pudding, which they have with banana and apple flavors. Yogurt is also one of their breakfast goodies, and lunch highlights include wraps (we recommend the baked tofu one), falafel balls and tons of salads. Nutrition is at its best in here, so be sure to try a bit of every section: every shakes, snack, wraps. They're all worth it!
Opening hours: Monday–Friday, 11:00am–7:00pm; Saturday and Sunday, 11:00am–6:00pm
Greens Kitchen & Juicery 20, Rua da Sé, Edf. Peng On, Shop B, Macau, +853 6288 0870,
[email protected], www.facebook.com/GreensMacau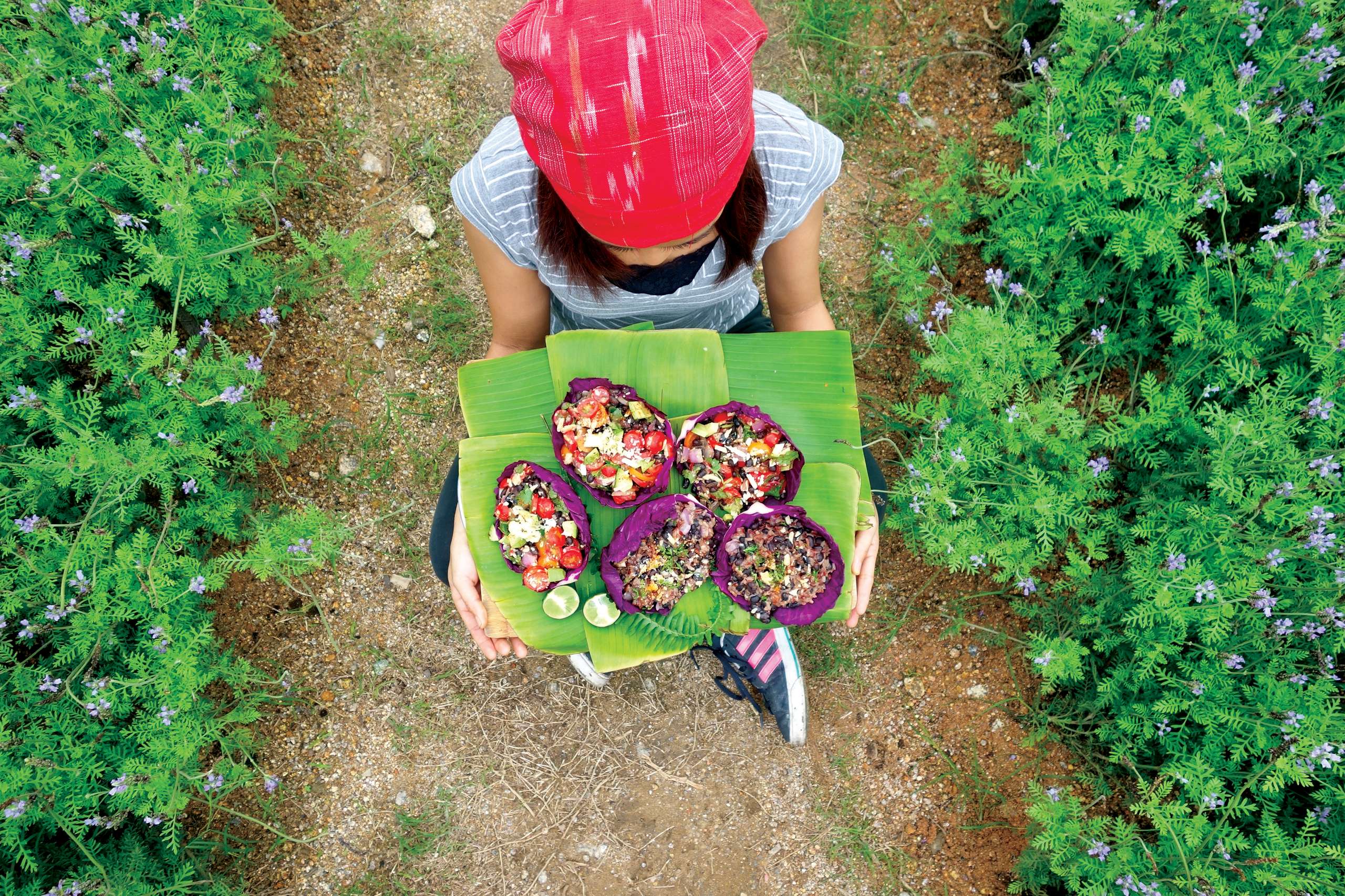 The Blissful Carrot
Located alongside Old Taipa Village, chill out in this bohemian style spot with welcoming warm colors and shades of a paradise feel. Enjoy a wide variety of beverages with various health benefits, including cold-pressed juices, health tonics, elixirs, and smoothies. The menu is one of the widest in town and includes rice bowls, salads, sandwiches, pasta, wraps, tacos, all-day breakfast and an open display of their raw and healthy bakery goodies.
Their Blissful Carrot cake will surely tempt you every time you visit. It's even harder to say no because it's guilt-free and healthy, as most of their flavorsome dishes. Ready for a piece of good news? Blissful Carrot is now crafting their own homemade dishes with the newest "vegetarian meat" in town: Beyond!
Opening hours: Daily, 10:00am–8:00pm
Blissful Carrot 79 Rua Direita Carlos Eugenio, Taipa Village, +853 6298 8433, www.facebook.com/blissfulcarrot
Ting Ting Cafe
Close to the heart of town, it has a good range of healthy choices for burgers and drinks. Reasonably priced and adequate space for open-air lunch and light snacks, Ting Ting Cafe has two locations: the first one to open is smaller in size and has no outdoor area; the second is a tiny kiosk located opposite to the Old Court Building in a public park.
You can easily grab and go or enjoy your meal al fresco in the park. Popular with locals within the area, do expect long queues during lunch hours. Along with fresh juices, Ting Ting's offerings include chestnut sushi and several variations of veggie burgers. All satisfying, all vegetarian and all reasonably priced. You may refer to www.facebook.com/blissfulcarrot to know more about this spot.
Opening hours: Ting Ting Café Kiosk – Monday–Friday, 8:30am–7:00pm; Saturday, 9:30am–7:00pm
Ting Ting Café – Monday–Friday, 8:00am–8:00pm; Saturday and Sunday, 9:00am–7:00pm
Ting Ting Café Kiosk Praça de Jorge Álvares, Macau, +853 6387 7345, www.facebook.com/TingTingCafe
Ting Ting Café 4 Beco das Caixas, Macau, +853 6698 3483
Veggie Macau
Tucked away behind Tap Seac Central Library, Veggie Macau is a great option for everyone looking for something light yet fulfilling, Veggie Macau provides vegetarian, lacto-ovo and vegan choices in their menu. With a thoughtfully put-together menu of healthy kinds of pasta, sandwiches, and salads.
Cafe owner Candy, recommends their pineapple and veg meat quesadilla for MOP $65 or their veg bolognese bottom mushroom lasagna for MOP $78. The cafe even makes its own soybean cheese and sauces. If you still have room for desserts after this feast, go guilt-free with their vegan chocolate walnut brownie or raw chocolate cake. If you're dropping by for a healthy afternoon tea, the chef suggests the caramel sauce pancake (MOP $48).
Opening hours: Wednesday–Monday, 12:00pm–9:00pm
Veggie Macau 1-3 Rua do Tap Seac, +853 2872 3751, www.facebook.com/VeggieMacau
Puffin Café
Easily winning first place for one of Macau's cutest restaurants, Puffin Café is every vegetarian's dream come true. With a wide list of vegetarian and zero meat dishes, there are also some delicacies for those greens' deniers, so head there with friends and family and confirm what's be said about it: it's great for everyone, their juices are some of the freshest in town – and have some original flavours – and the burgers are unique! We also suggest trying the spinach quesadillas and maybe one of their desserts. No everything is meant for someone who's dieting, but it sure has several options for all kinds of people with or without dietary restrictions.
Opening hours: Thursday–Tuesday, 11:00am–9:30pm
Puffin Cafe 16A Rua de Santo António, Macau, +853 2883 6663, www.facebook.com/PuffinCafe
Communal Table
Does healthy food always mean no carbs, no added sugar or salt, no fish or meat? Well, we don't believe so. That is why Communal Table is included on this list: with fresh and savory ingredients, it crafts simple and fresh dishes, that get your belly some comfort. Accompany their salmon and pasta salad with a coffee-based drink, which you can order with a milk substitute, by the way.
Their food menu is not as vast as some other restaurants listed here, but food surely is good and the location, perfect. A few minutes away from Leal Senado square and some seconds from Rua do Campo, it's ideal for a quick healthy fix without sauces, salt or other heavy ingredients getting in the way of mealtime.
Opening hours: Monday–Friday: 7:45am–6:00pm, Saturday and Sunday: 10:00am–7:00pm
Communal Table 29 Rua Formosa, Macau, +853 6677 9985, www.facebook.com/communaltablecoffee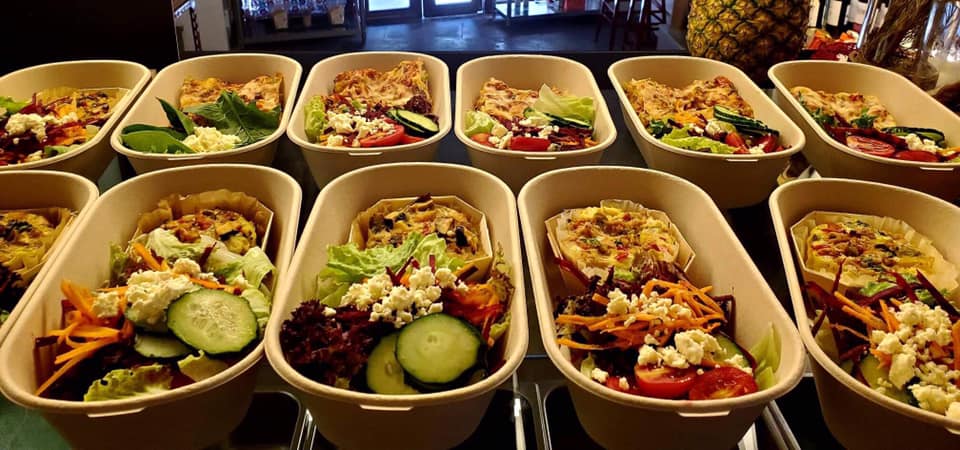 Urban Tribe
Ever wondered what's like to arrive in Macau and be able to have an all-organic meal? Now stop wondering and head to Urban Tribe, the city's newest organic food spot. Founded by two Azores naturals, the restaurant is also a shop selling several articles from organic Portuguese wine, coffee, condiments (pepper, salt), vinegar, olive oil, fresh coconut-based yogurt and an array of other delicious things. Their forte? Salads and quiches! However, the cakes are also a must-try, so be sure to get in with an empty stomach.
Value for money is a respected expression here, with an entire meal – the deliciously homemade soup of the day, plus a homemade ice tea and a salad or other main – costing less than MOP $120. We guarantee you it's going to be hard to find such a complete lunch for this price. Some other places are great too, but you'll for sure leave with your pockets a bit lighter than from Urban Tribe.
Opening hours: Monday–Friday, 11:00pm–7:00pm
Urban Tribe 1 Calçada da Rocha, Macau, +853 6555 8067, www.facebook.com/urbantribemacau
Larry's Place
With a name taking us back to someplace with a sense of home, that's precisely what Larry's Place offers: homey and comfort food without being heavy. From veggies burgers to rice bowls, there are lots to try. The owner, Larry, also organizes a series of themed food parties, like Mexican, where tacos and burritos are a must, with variations of vegetarian ingredients as well. The bowls and salads are a must-try but don't stop there: because it's cheap and easy to access, head to Larry's Place and try everything on their menu.
It might not be an extensive one, but it sure is one made with lots of dedication and love for the city and its people. Larry has Macanese blood and his sympathy for the clientele can be seen for afar. Check out his freshly made juices as well. Combos are great to take away or order for delivery (it might take a bit, so be sure to do it by calling or requesting on the website sometime before lunchtime). Take lunch to a garden and eat it with your loved ones or grab a quick bite at the office amongst colleagues.
Opening hours: Monday–Friday: 8:00am–8:00pm, Saturday: 8:00am–4:00pm
Larry's Place 2C Beco do Gonçalo, Macau, +853 6528 9786, larrysplacemacau.com, www.facebook.com/larrysplacemacau
This article was originally written by Bel Faustino in August 2016 and updated by Leonor Sá Machado in August 2019.
Tags
Related Posts