Caffé B is a social dining and bar concept with the best of Italian culinary traditions. A casual, yet chic, al fresco bar welcomes guests at the ground floor while on the second floor one can enjoy a dining experience in a more elegant setting.
Macau has a variety of Italian restaurants, but it's difficult to find one where you can walk in right from Macau Nam Van waterside and enjoy an intimate buzz-free environment.
The degustation menu prepared by chef Diego Ottaviani is a pure joy.
Our dinner starts with a roasted seasonal vegetable amuse-bouche Chef Diego prepared with a touch of cherry wood smoke to it and a classic base of well-reduced pomodoro cold sauce, finished with the unctuosity of the aged parmesan cheese.
Sea Scallops Tartare with Avocado and Mango
(Featured image above)
Our first course connects the freshness of the sea together with the topicality of the fruits that gave theme and vibrant color to the dish. Fresh Italian scallops lay on a bed of brunoise-cut avocado then mango by layers, appealing to the eye. The sweetness of the fresh scallop with the richness of the avocado, finishing with the botarga (salted fish roe) adding salt and texture to the dish—altogether well-balanced, tropical, and rich.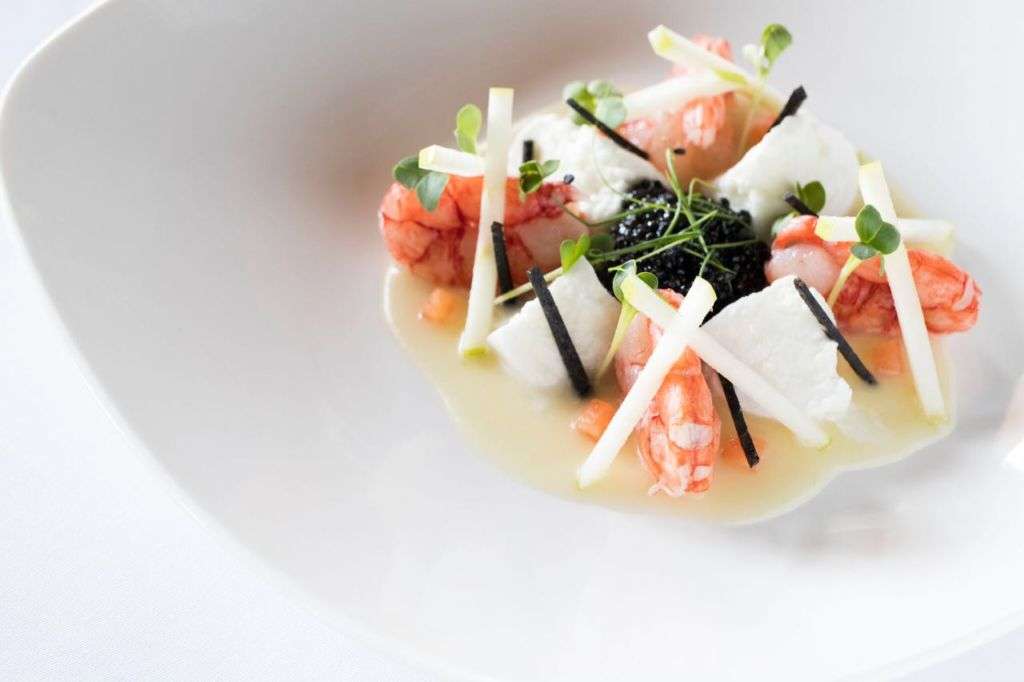 Caprese Mozzarella with Shrimp and Green Apple
The second course is inspired by the fruits of the sea, with classical Italian elegance. The heart of this dish is the shrimp cooked delicately—simply blanched, still raw inside, keeping its freshness and ocean flavor—centered with a generous quenelle of Italian Siberian caviar rounded by a crown of shrimps and mozzarella landing on creamy white sauce, topped with black truffle and green apple julienne. This interpretation of a fresh mozzarella is well-balanced and elegant.
Porcini and Red Prawn Ravioli in Saffron Sauce
For the third course Chef Diego presents us with a traditional ravioli with an autumn touch to it. The pasta is filled with mushrooms sautéed in a saffron-potato sauce, and topped with king prawns sautéed in brandy, all garnished with filaments of saffron. This traditional pasta is well-connected and rich, leaving a strong but balanced aftertaste of the potato and saffron sauce.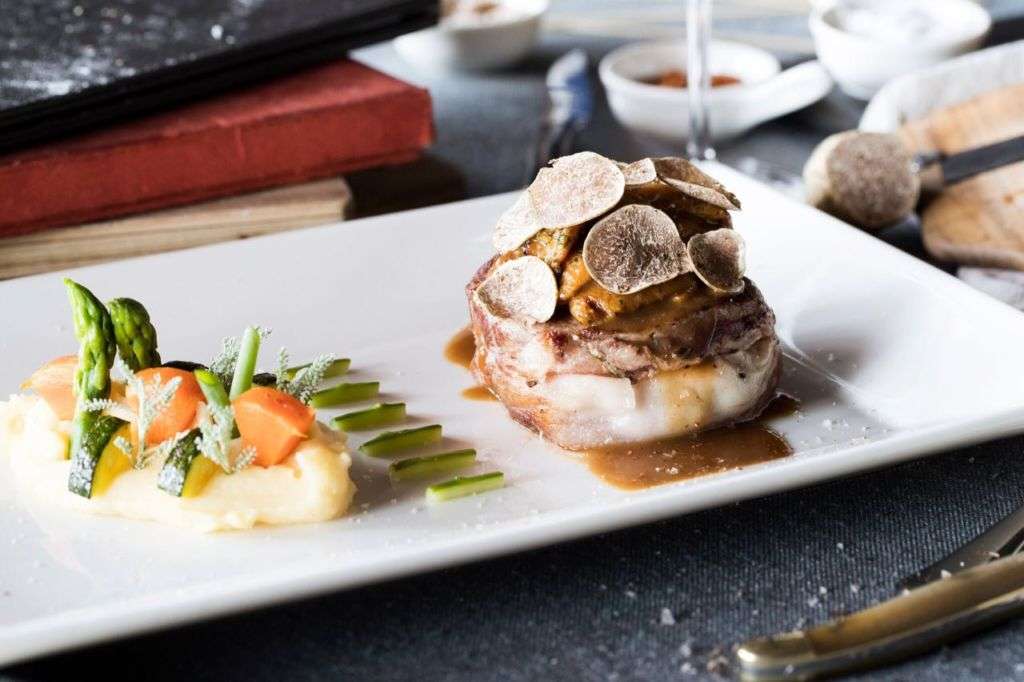 Fillet Mignon, Porcini Mushroom in Red Wine Sauce
For a finale, Chef Diego goes for a filetto di manzo, the fillet is the Chianina beef from Tuscany, well seasoned and seared. The chef generously tops the beef with his special sauce of porcini and marsala wine and white truffles, enhancing the fall and country flavors. The side dishis mash garnished with crunchy asparagus, and root vegetables topped with fresh mountain flowers and herbs.
Once experiencing all the flavors combined we understand now—the chefs have taken us on a trip through the wild ravines, rolling pastures, and endless high altitude woods of the countryside in the Abruzzo region.
A beautiful journey, and a beautiful dining experience!
Caffé B Lake View Mansion Block 1, 744B Avenida Panoramica do Lago Nam Van, Macau, +853 2838 6886, www.facebook.com/caffebmacau
Tags
Related Posts