It comes as no surprise that Caprice at Four Seasons Hong Kong was awarded three Michelin stars with their innovative menu and captivating presentation of dishes. At the helm of this illustrious restaurant is Chef de Cuisine, Guillaume Galliot, an expert when it comes to classical French cuisine with a twist inspired by his travels and stints at distinguished Michelin starred establishments all over the world. We speak to Chef Guillaume Galliot on the importance of produce, what inspires him and his journey to three Michelin stars!
Tell us about growing up in France and some of your earliest childhood memories of food?
Growing up in France I was surrounded by great products and produce. I'm from Tours, a province where you have so many seasonal products and you learn to respect them because you only eat what was in season. The region was also great for hunting, fruits and vegetables. The Loire Valley has great wine as well, but I only discovered that when I was around 16 or 17 years old.
When I was 12, I started cooking for myself because I was going to school and eating from the canteen. My mum worked in Paris and so we weren't eating at home for lunch as she traveled every day for work. One weekend, we were grocery shopping and I said to her, "Why don't you stop paying for the school canteen lunches (because they are actually terrible), we buy groceries on the weekend and I'll prepare my own food for the week?" We only lived 100 metres from the college so it was an easy thing to do. I started cooking pasta, steak, sometimes some fish, nothing too difficult. This is when something sparked and I started to really develop an interest in cooking and liking it, and at 14 I really was interested but at 15, I was too young and not the legal age required to start an apprenticeship. Only at 16 you can legally do this but at 15 I decided to stop a few classes and started peeling potatoes and vegetables at a few Michelin restaurants in my area. I really took the initiative as I really started to like cooking.
I've read somewhere that you always knew you wanted to work in fine dining? What influenced you to become a chef??
Yes and I knew this early on. When I was 14, I saw on TV a documentary about Alain Ducasse, Joël Robuchon, and Paul Bocuse that's also around the same time I started cooking for myself. My mother looked at me while I watched this show and she asked me " Is this really what you want to do?" and I said yes, it's really what I want.
So would you say Chefs Ducasse, Robouchon and Bocuse are your culinary idols ?
Yes, of course they are. It's because of them that I dreamed of being a French chef. I didn't know much about chefs outside of France as I was quite focused on French cooking. Michel Guérard and the Pourcel brothers were also my culinary idols before I called them for a job. I had to work in a different style of cooking before I was sure this is what I wanted to do. I knew I wanted do fine dining, but I also worked at the hospital, making hospital food; and I worked in a brasserie as well to make sure I was on the right path. Working at the hospital meant that you are serving sometimes 600-1000 people and working 9:00am to 6:00pm, I wanted to see if this was also something I would like.
You've worked in Singapore, Morocco, China and the Caribbean, as well as France. Why did you decide to leave France? What have you learned most from your time in all these cities?
Definitely all the different cultures. I was ready to explore and leave France as I was looking forward to something new and different. You are put in different situations and thus must learn about new cultures. This also influenced my style of cooking. My time in Beijing, China really helped me develop my style of cooking. It was my first position as the chef and I was only 25 years old. I went to Singapore and marrying a Singaporean woman has opened up many avenues of influence for me. My time in Macau around Cantonese food helped me to understand many different things and added more to my cooking method. Morocco exposed me to different spices and each country I went to, I found something to add to my culinary inspiration. It's been 15 years that I've been in Asia now, I was just on holiday and I was so happy to return home to Hong Kong. This part of the world feels like home to me now.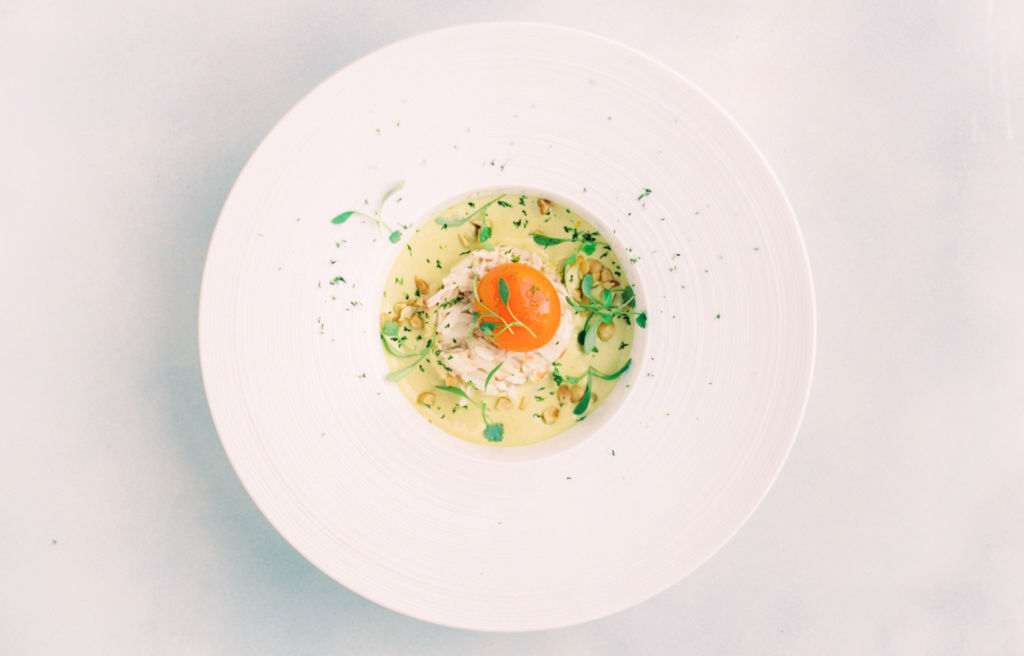 For someone who hasn't dined at Caprice before, how would you describe the cuisine and dining experience?
The style is for sure French as I'm French but I've lived in Asia for many years. My cuisine feels natural to me and not forced. I don't feel like I need to add something to make it look more Asian. When we do the ginger boullion it's natural but really Cantonese style, where it's light, pleasant, and elegant–that's what I feel is Cantonese food and I try to reproduce this but as a French chef.
One signature dish at Caprice and something we are always asked about is The Laksa. I actually created The Laksa in Macau where I was working for The Tasting Room and we needed to make one dish for the Michelin Gala Dinner. The Michelin Gala Dinner was in Macau and I didn't want to present a dish that we already have on the menu and so, we needed a new dish to present. I told my sous chef, "Let's go eat on the casino floor and come back to have a think," and as my sous chef was Malaysian, we ended up in the food court having laksa. I love laksa and so I asked my sous chef, why don't we work on something that involves this nice gravy from the laksa but we do it in our own style–less spicy with lobster or a nice piece of seafood. We went back and tried to create one but our first try didn't come out very well. The first versions, I served to my wife and her journalist friend who was also Singaporean. I asked her what she thought of it and she replied back by asking what I was serving her. I told her it's laksa and she said, "No, that is not laksa." We worked on it for over a month and then presented it at the gala dinner. So many people loved it and so, we decided to put it on the menu and serve it at Caprice where it's become my signature dish!
You achieved your third Michelin star since taking over the reins at Caprice in 2017. How did feel when you heard the news and how did you celebrate? 
Of course, I cried. We got the news in the morning but we were in Macau so not everyone could join us. So we did a party in Macau with those who could join us and two days later, we had a party at VEA in Hong Kong. Everyone from our team joined us but on the next day we were back at work.
This news also brought Four Seasons Hong Kong the position as the highest ranked Michelin starred hotel in the world, what do you think makes Four Seasons Hong Kong so special?
The trust of each department is very important. Each department has the right people all the way from the General Manager to Public Relations to the Kitchen. We don't doubt anyone's abilities and everyone helps each other. This freedom is important and we don't have to make a fuss to anyone to get something done. Things are done very quickly because there are professionals everywhere. The company allows me to exercise my creativity as well. If I want a specific item, they will get it for me. They let me create any dish and use any ingredients I want, without worrying about cost, so long as I produce a good dish. There is a lot of trust involved in teamwork and since day one, I have had the trust of every department. We got the third star after only one year and six months here, so it was very fast. For that to happen, you need 150% trust and support from everyone which is why the service at Four Seasons Hong Kong is impeccable.
What has been the influence of the Michelin Guide on your kitchen and the way you work?
I think the Michelin Guide is a reference for every chef so I think every place that has Michelin stars means that it is the cream of the crop. You are always looking at the top as a chef. It's a reference for me and also a pleasure and target to achieve. I wanted to achieve three stars and we all worked hard for it. We concentrated very hard and it's like a commonly shared spirit because you can't achieve the star if only two people has the drive to achieve it but the rest of the team doesn't. With three Michelin stars now, we want to keep it consistent and also keep working hard. We have produce flown in from France four times a week and from Japan, five times a week. or example, I was meeting suppliers for an hour today to check on the produce so this is a part of the restaurant that guests don't see. When you savor a beautifully presented dish, there's actually so much that goes into it behind the scenes.
Do you have a favourite dish at Caprice or what's your favorite dish on the menu right now and why?
For every dish I enjoy making, The Laksa is a very special dish for me. I also make scampi with mango sea urchin with a sauce that people use their bread to sop up every last bit of it. We use different vinegars to tweak the acidity of the sauce. Like I mentinoned before, it comes down to product selection when we are making a dish. For instance, it is important to find the right vinegar to use because if you use to wrong type, the sauce will turn out bad and the sauce is everything. I need to select every ingredient and make sure that it's the right one. I love this part of my job–sourcing–because it's interesting along with the development and testing of products and discovering new suppliers as well. It is a pleasure to speak to people who love their products where they talk about say, vinegar, with a passion and all the different ways it could be made.
What does Caprice mean? 
It actually means "tantrum" officially, where when you really want something, you throw a little tantrum with your partner. It also means "whim" where you just want or need to do something on the fly, like an impulse.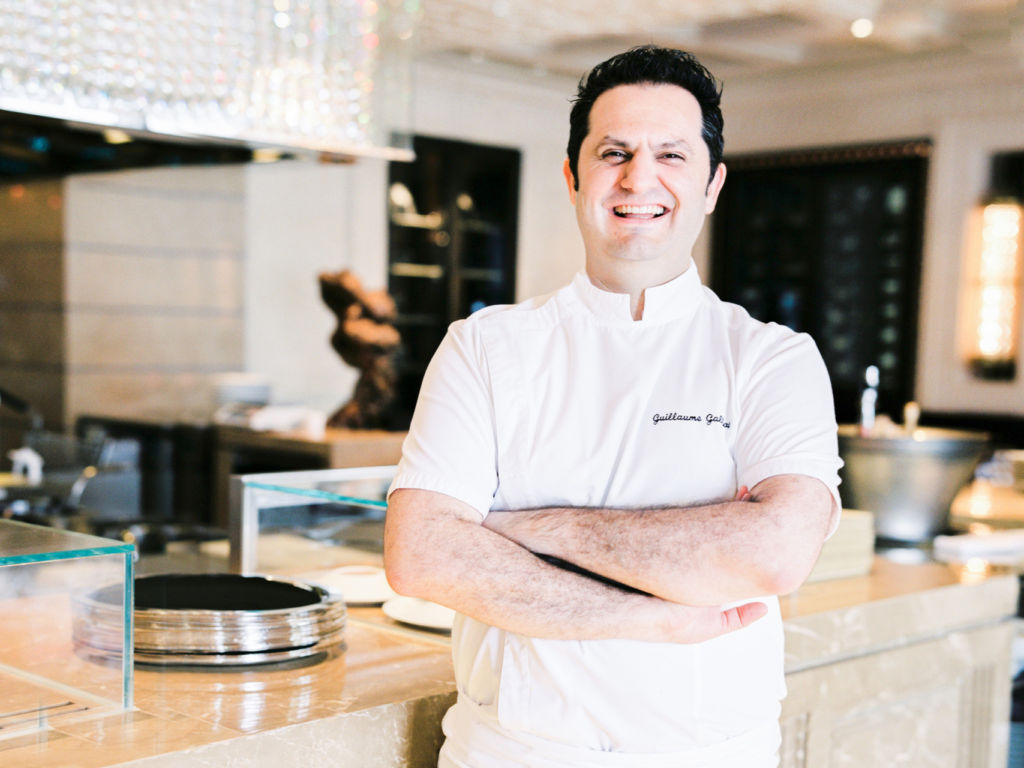 When you aren't working, what do you like to cook at home? Who cooks at home?
I cook sometimes and when I go back to France, I love to cook as I have the space. My kitchen in Hong Kong is a bit small but we also eat a lot outside or it's my wife's cooking.
Where do you like to eat out in Hong Kong?
For Chinese food I love Xing Rong Ji, If I was taking my wife out for a date, we go to Belon, because we like it. I ate recently in Ho Lee Fook as well and it was really good. Amber is on my list of restaurants to try the new menu. For something casual, I love to go to Kytaly for pizza because I went to the original establishment in Napoli and it was impressive, so I like going to the one here in Hong Kong. Honestly when I have family come and visit, we go to Lung King Heen right here at Four Seasons Hong Kong.
Who would you love to cook a meal for and why?
I would love to cook a meal for my grandparents. They have passed away and didn't get a chance to try my food since I received a Michelin star. They passed away just when I was starting to work in a Michelin restaurant.
What is one thing people don't know about you? 
I'm shy! (laughs) I'm actually easy going and easy to approach. It's true that I often have a very serious face but it's actually just my face, I'm very friendly and easy to get along with.
Le French May brings a spotlight is on all things French in the region. What is one French stereotype that you think is true and one that is not?
French people complain and it is true! (laughs) But I don't complain too much–you can ask my wife! It's also not true that every French person knows how to eat and drink. French gastronomy is very popular around the world but this doesn't mean every French person knows how to eat and drink well.
There are many French people living in Macau and Hong Kong and French culture is very much in popular demand. Being French, what are you most proud of about your culture?
Food, wine, and history. I'm from the Loire Valley and there is a lot of history and chateaus there. Leonardo Di Vinci actually spent his last years in my city. It was the 500th year anniversary of his death and there was a huge celebration for his life in France. I'm proud of the produce we have in my country as well. I grow my own tomatoes in my garden in France, and in the summer my mum sends me my tomatoes to Caprice to cook with. In fact, they send me 20 kilos of tomatoes a week. She also sends me some French beans. Not all produce travels well so I need to be careful.
How do you get inspired? How do you stay inspired to keep creating your dishes or menu?
It's everything. Travel has always been a huge inspiration and brings with it so many new ideas but it's mostly based on the seasons. I take three to four products from the season and decide to work with them. Sometimes it works, sometimes it doesn't, and we are always looking for perfection. If it doesn't work, we go back to the kitchen and work on it. That's the difficult part of our job; Asking ourselves, is the dish right? Is the presentation correct? This is because we are always striving for the best.
You have moved from Macau to Hong Kong and from strength to strength. How do you explain your consistent success?
We keep working with the same people who have been and are part of the success of the kitchen. It's also important to work with people who want to continue on for the same success. A solid team and a good attitude is an important factor and having three Michelin stars doesn't mean I can behave a certain way. And of course, another important matter is a supportive wife. One of the first important factors that helped shape my success is that I left my hometown at 19. I called a restaurant to get a job, which usually is not the way you do things, you would first send your resume but I just picked up the phone and called the chefs, Jacques and Laurent Pourcelare twins at 3 Michelin star, Les Jardin de Sens restaurant in Montpellier. They sent my call through to the kitchen and I asked "Can I have a job  in the kitchen?", which was replied with that they didn't have anything available in the kitchen, but in pastry. They asked me if I had knowledge of pastry and I said a little but I can learn fast. Three days later I arrived and started on Monday. I believe if you do your job properly and are serious, opportunity will come and this is what happened for me. I always took the initiative as well. The job in Macau came about when I was asked to suggest some 2-3 star Michelin chefs who could go and open a restaurant there. I sent an email with all of my suggestions and at the bottom I added a note which said "If these don't work out, you have another option, one young guy (me) who won't cost too much and very much wants a star". A month later, I landed in Macau.
What's next for you?
I'm going to open 10 restaurants! (laughs) I want to establish and confirm the team here. We are doing a few cool promotions both in and out of the restaurants this year. We have a big one coming up in November with three chefs, where each chef will make two dishes. I'll also be cooking at Sühring in Thailand in October.
---
Caprice Four Seasons Hotel Hong Kong, 8 Finance St, Central, Hong Kong, +852 3196 8888, www.fourseasons.com
Tags