Chef Frederic Tual first left France when he was 18, working in Ireland and then England for some years before returning to France and opening his own restaurant. After opening a French pastry shop in Australia, he then moved to Macau and worked at Robuchon for over a year. We talk to him about opening his hot new gastropub Wolfpack in Fai Chi Kei.
Tell us more about the Wolfpack concept.
Chinese like to share food so it was a basic concept to have tapas in China and Macau. So I try to change menu every three months. I changed last week to a new menu with fresh food.
So it's seasonal?
Yeah, you know, winter time I work more on something for the cold like cheese fondue. But for summer time I'll do more with fresh ingredients, more seafood.
Is it French dining? Bistro? Tapas?
Japanese, French, Spanish for the spirit. For me, it's tapas because we share, but it's not Spanish like Barcelona, you know, Barcelona you go and eat Spanish tapas. Here, it is my cooking. Popular dishes include our Iberico pork samosa, crystal blue fire prawns flavored with Hennessy, crispy salmon with wasabi mayonnaise, and our 400g ribeye served with mash potatoes.
So what about your influences? Do you seek inspiration from traveling?
Definitely traveling. I'm addicted to traveling and every country I bring back some recipe, some spices. I get a lot of inspiration from traveling.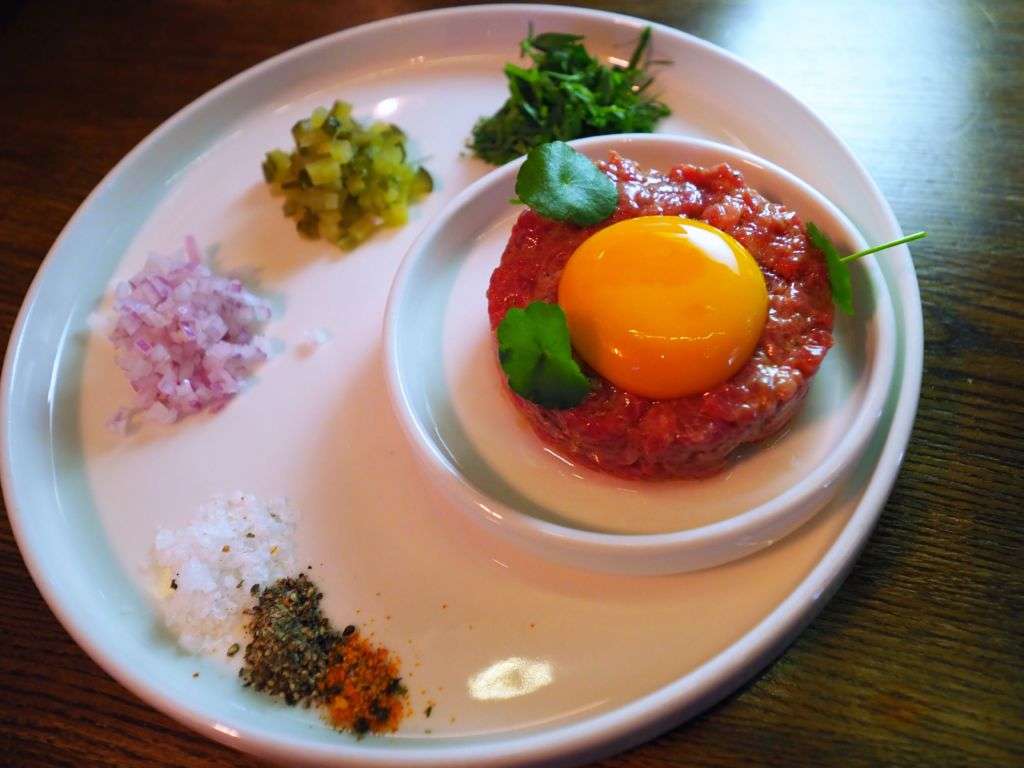 What was your first impression of Macau when you arrived?
Just wow. [laughs]
What is your favorite local cuisine? Any particular Macanese or Chinese dishes that you've grown to love?
Definitely dim sum.
Any places you can recommend?
The Eight.
The Eight at Lisboa?
Yeah… lunch time. Lunch time is cheap, good, finish faster… definitely good.
So you appreciate Chinese cuisine?
Yeah. It is more complicated than French. It is a very different way to cook. Totally flavor. Because when you think of French cuisine it's complex, but Chinese, wow. I used the traditional Chinese wooden steamer to cook some tapas before, and these days I serve some tapas using the steamer, such as seafood or vegetable tempura.
What is it you like most about being a chef?
For sure when people come I want to appeal to them. I want them to come back again… that's the first thing. After this, second thing for sure, cooking for me is more than my job. It's my passion so for sure when I get bored doing something I change it. Doing this thing every day… I'm not a machine. I like to change, introduce new flavors.
What about your guests? Do you have a good mix of locals and visitors?
Yeah, at first when we opened, f0r the first six months it was all locals. I was surprised. I like to make the show you know.
So you interact with the local customers?
Fire is always a show for everyone—when you get a dish on fire you have a different feeling, the smell of the wood, the warmth, the prawns. I always try to find many different and interesting ways to serve the food, cooking is not only putting some ingredients in a pan and ringing the bell. Plating, and surprising the customer, is also a great part of being a chef. I cook and fire a lot with Hennessey cognac, like for my lobster soup, the pork samosa, and the fire prawns.
And that's one of the reasons why they keep coming back?
I think for sure yes.
Now you see a good mix of foreigners and locals?
Yes, definitely, from Taipa and here in town.
Wolfpack 363 Avenida Marginal Do Lam Mau, Fai Chi Kei, Macau, +853 6356 0180, www.facebook.com/macau.wolfpack
Tags
Related Posts