Portofino at The Venetian Macao is a veteran of the city's restaurant scene. When it comes to Italian cuisine, its name rightfully pops up in all the "Best Italian…" lists for a reason. So what makes Portofino's Saturday Brunch Extravaganza a gastronomic event that Macau families keep coming back for? We put together a number of Italian brunch essentials that Portofino has got down pat.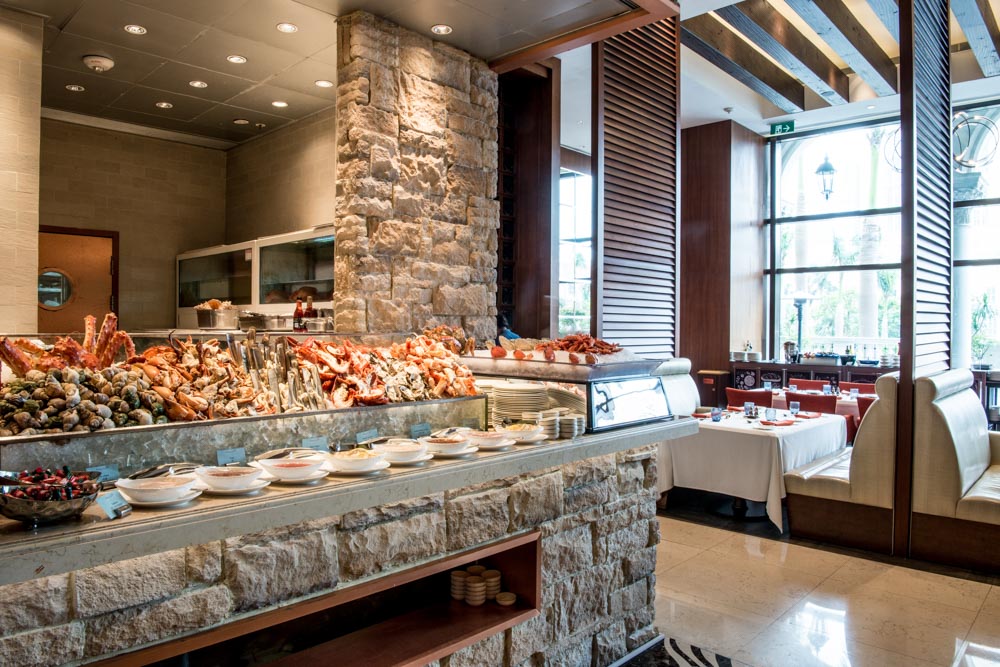 Fresh seafood on ice
Frankly, Portofino's selection of fresh seafood is a good enough reason to choose this restaurant as your brunch destination. Lobster, shrimp, oysters, king crabs, baby abalone, half-shell scallops and razor clams all beautifully laid out on the ice–it seems like there is an endless source of seafood. Take your pick of the huge, meaty shucked oysters or some sweet, plump scallops to feast on!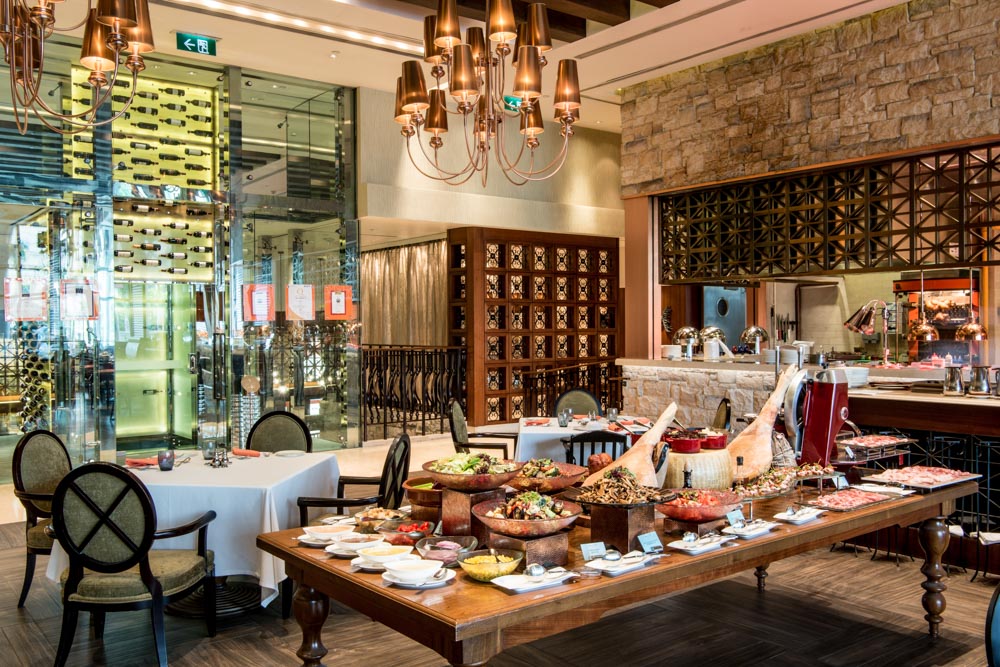 Antipasti
One of the winning and necessary factors of any Italian meal is having a lot of it. The abundance of mouthwatering dishes is definitely present at Portofino so let's focus on antipasti.
Once done with the fresh and delicious seafood, move on to the crudo table. Did you know that Italians have their own way of handling raw fish? As much as Japanese sashimi and Peruvian ceviche, it's worth adding that this type of antipasti is a must try. From subtle fennel orange cured salmon to the stronger flavor of red snapper, complimented with condiments like caper berries and honey mustard sauces–if you love fish, crudo at Portofino is not to be missed.

Right next to the showcased pesce crudo is the cheese selection. There are not that many dining spots in the city that offer such a great variety of Italian cheeses. Here you have taleggio, a semi-soft sort with a hint of fruity flavor, crumbly blue gorgonzola, cow-milk Parmigiano, Pecorino al Tartufo and more. Hard, soft, aged, made of sheep or cow milk, the variety is remarkable and cheese connoisseurs would certainly be delighted.
Moving on to other antipasti specials, you will find such Italian classics such as artichokes, sun-dried tomatoes, olives and prosciutto, bruschetta with tartar, salad bar, cured meats and other vegetable starters. One of the often overlooked antipasti but worth the attention are the lightly pickled vegetables. Pair them with some of the freshly baked bread from that huge bread basket and add a slice of cheese (or two) for a delicious combination. Simple, rustic and delectable!
Pan seared goose liver with red-wine figs
Pan seared right in front of you, this dish is one of the Portofino brunch gems that we strongly recommend not to miss. The sweetness and freshness of figs caramelized with red wine perfectly balance the decadently rich and earthy goose liver flavor. Pairing it with some fine Italian red wine would bring out even more of its character. Talking about wine, add an extra MOP $100 and you will get free flow of beverages during brunch. That includes Chianti, Italian white blend, sparkling prosecco, sweet moscato, as well as brunch classics such as the Bloody Mary.

Seafood risotto
Tucked in a corner of the restaurant, a live cooking station with large pots of raw seafood should be one of your pitstops as well. Some people may not prefer buffets because they want to enjoy food that's prepared by a chef specifically for them. Thus, live cooking stations are always a great addition especially when it comes to risotto that can lose its quality sitting in a pot. The seafood risotto at Portofino is one to remember. Generously packed with scallops, lobster, mussels and other seafood, slow cooked in a reduction of seafood sauce, it ticks all the right boxes–creaminess, rice cooked on point and a bouquet of flavors.
Pizza and pasta
At an Italian brunch, traditional Italian foods that we all adore are made available and what screams Italian food more than pizza and pasta? Cannelloni Sorrentina-style is one of the tastiest pasta dishes served at Portofino. Baked in the oven in tomato and basil sauce with several types of cheese, it is simple and filling, absolutely perfect soul food from Campania.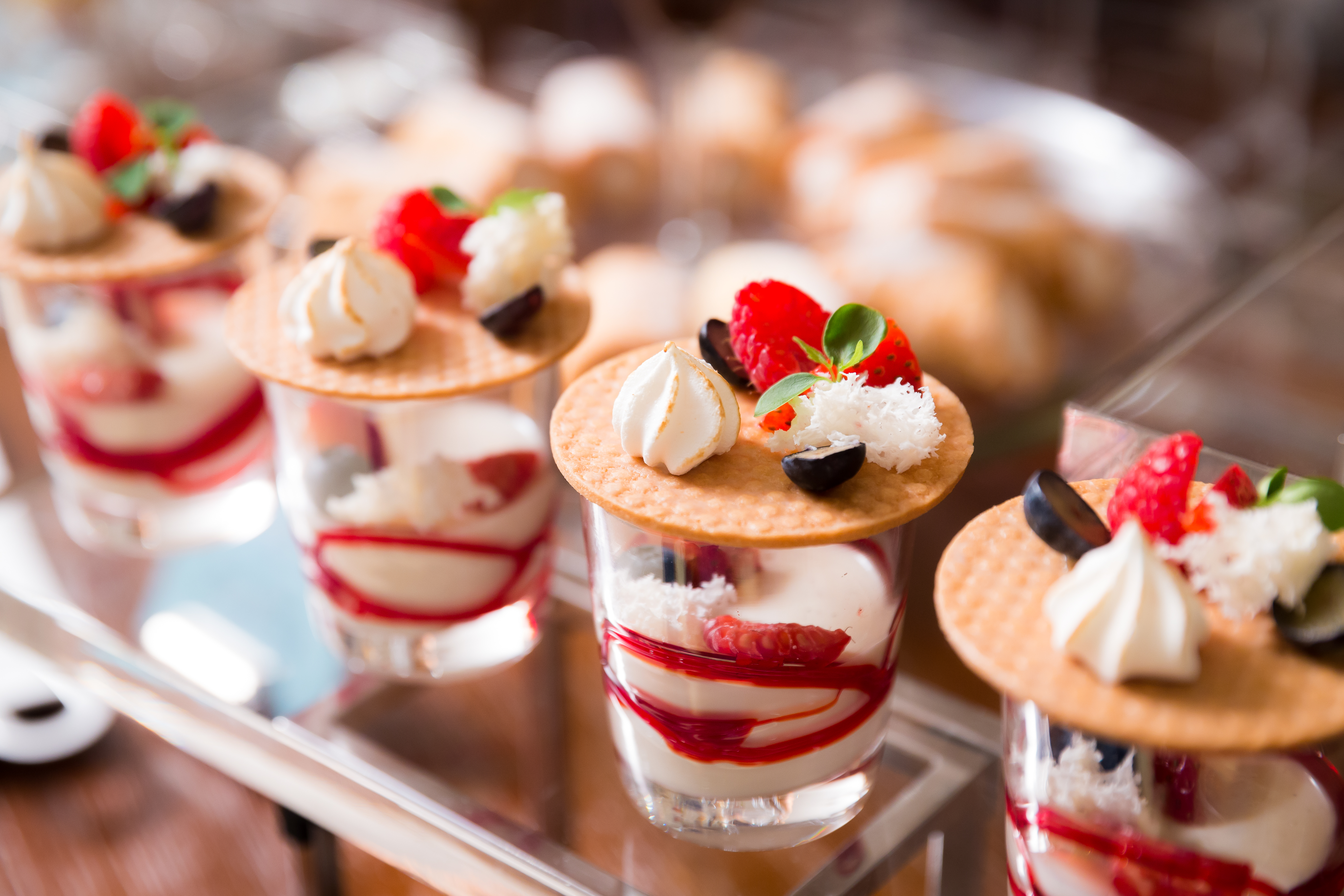 Dolce
Every Italian meal has that stage when you think you can't eat anymore… and then it's time for something "dolce". Dolce means sweet in Italian and at Portofino's Saturday Brunch Extravaganza, they take their sweets seriously because there is a room full of desserts! Finishing up your spectacular brunch with a few Italian desserts is a must!
Arranged on a huge table in the middle of the room, there are a number of Italian and some international sweet treats. To help navigate your way through the array of choices, we have some suggestions of what to have. The fresh berries zabaglione is our top pick! Zabaglione, also known as sabayon, is an Italian dessert made of egg yolk with sweet wine and sugar. Served with fresh berries, the zabaglione remains light, but feels hearty and most important, sugary sweet! Other offerings that we love are the lemon pavlova and raspberry rose profiteroles which are heavenly and definitely not to be ignored.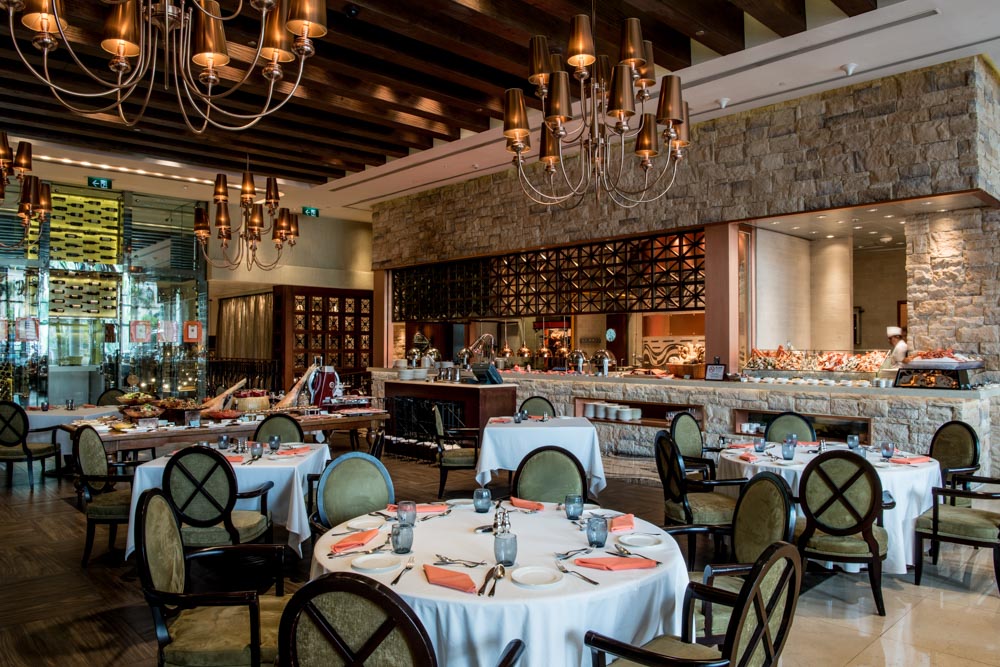 Perfect Brunch Extravaganza Recipe
Let's be honest, brunch is not exactly an Italian tradition. But who says we can't take two things that we love–brunch and Italian food–and bring them together in one concept and create something amazing? Portofino boasts great service, attention to detail, and family-friendly Venetian entertainment such as the singing chefs and waiters along with balloon artists and clowns who keep the children amused during brunch. Top it all off with al fresco dining and Portofino's Saturday Brunch Extravaganza is sure to be a perfect affair!
---
Where: Portofino Restaurant, The Venetian Macao, Estrada da Baia de Nossa Senhora da Esperanca, Cotai
How much: Saturday Brunch Extravaganza – From MOP $488 per adult (MOP $100 extra for free flow of wines and selected alcoholic beverages) and MOP $245 per child (aged 3–11)
To make a reservation at Portofino, call +853 8118 9950, email [email protected] or visit their website www.venetianmacao.com/restaurants/portofino
Tags
Related Posts