If you've been living in Macau for some time now or grew up in the city, chances are you've been absorbing every bit of cultural references and traditions our city has. One of them is food: it becomes hard to select some all-time favorite eateries while looking for comforting and wholesome foods. However, we believe–as many locals–that Coloane Village houses a wonderful gem that's worth every penny and time spent there. We're talking about that open-air restaurant with simple decor, busy staff roaming around, and wonderful food since we can remember.
Standing on the left side of the Chapel of St. Francis Xavier, in Coloane. Besides relaxing, having lunch at this spot reminds us past and present still walk hand in hand in Macau. Park the car or get out of the bus at the village's main stop, walk towards the waterfront and you will reach Nga Tim, a simple joint serving Macau-inspired food with a wide selection of seafood, stir-fried dishes, and all sorts of noodles and rice delicacies.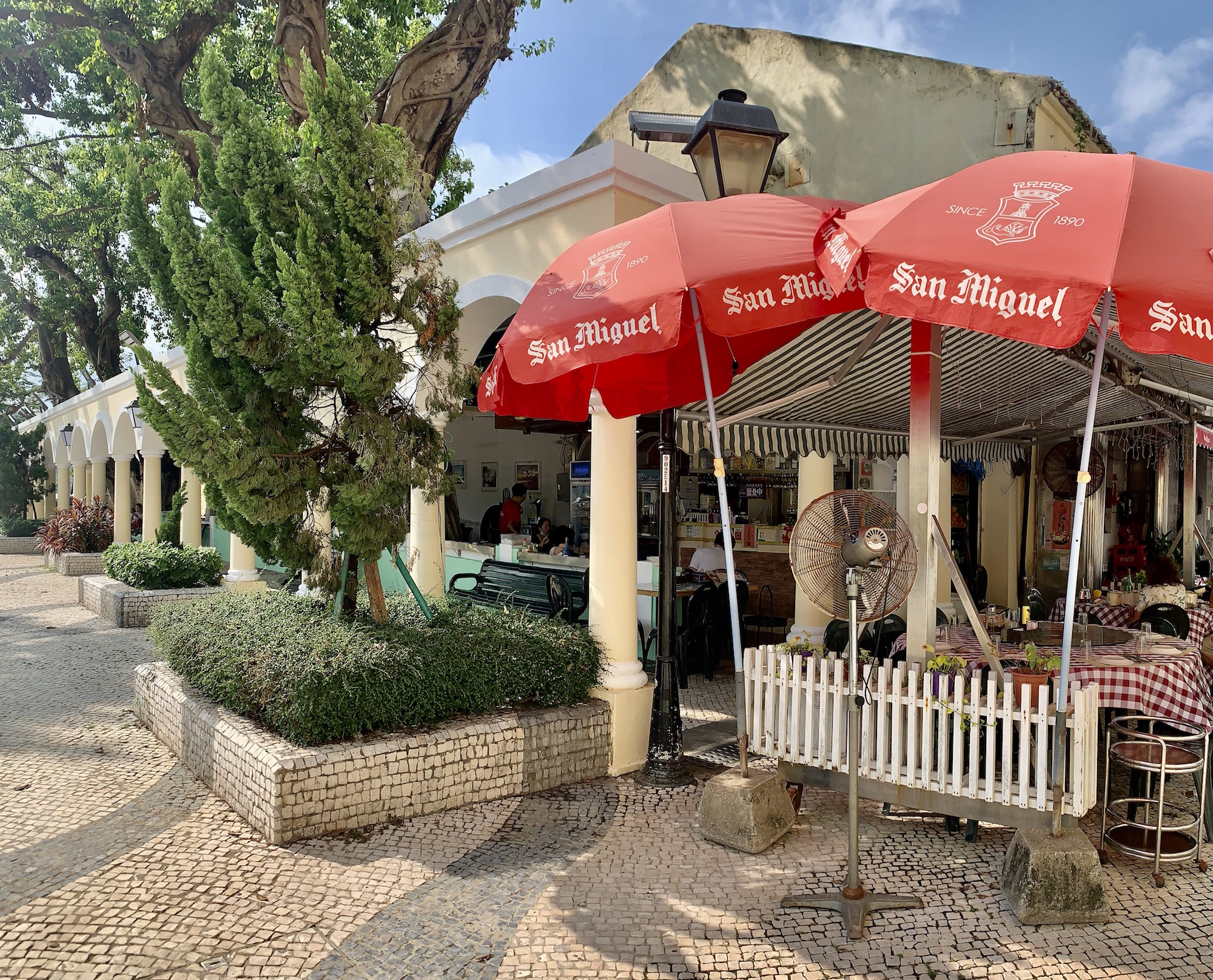 Breeze, Beers & Sugar Cane
When planning a dinner with a group of friends or a relaxed family gathering over local food, loud talks, and no time restraints, Nga Tim is the place to choose. We love this place because of its easygoing atmosphere with no etiquette reminders or classy shoes needed. The warm weather that so well characterizes Macau summers can be overwhelming, even having most people going into hiding and heading home for the air-conditioning. However, summer is also a time where fresh drinks as much needed, as well as friends gatherings and late nights chats. Nga Tim might be an open-air joint but is fitted with some fans, and its architecture–like a corridor–allows for a light breeze to come in. Since it is covered, it's also great to head to during the colder months–what more, rainy days.
Their menu is huge and dishes are varied, fit for all kinds of people. However, what we really enjoy doing here is asking for drinks first and then food. Choose a table, lay back, and start by ordering some beers? Not an alcohol fan? There's yet another amazing–and refreshing–choice for those in need of a cool drink: freshly made sugar cane juice! It's one of the most sought-after beverages in this restaurant, so be sure to ask for one if you never tried it.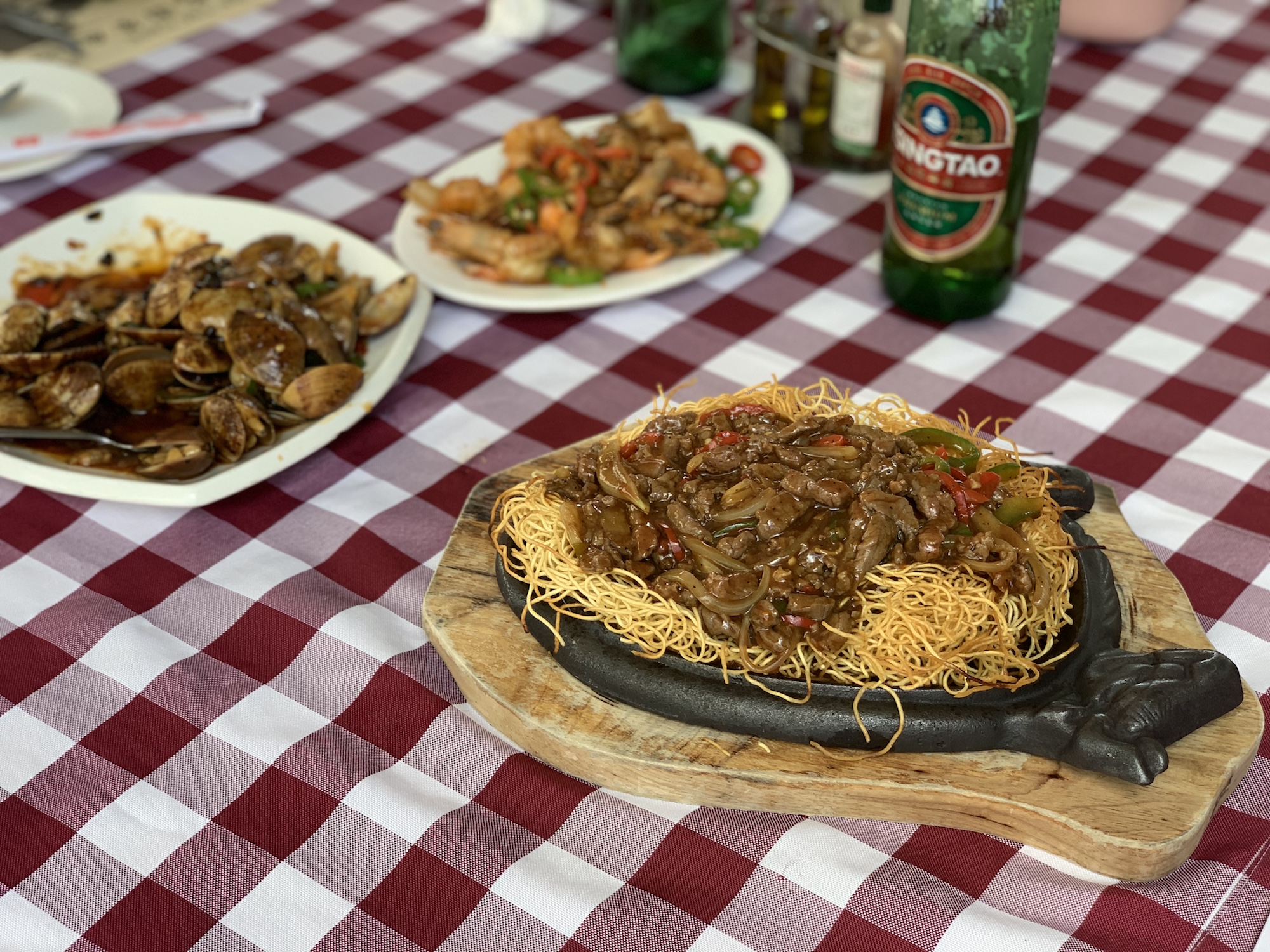 What to Eat
For Nga Tim fans–yes, there's a legion out there–vegetables and noodles are paramount, even if you're thinking of taking it home to have it with the family. As for greens, we recommend anything spiced with chili and garlic, especially the broccoli. However, you'll be missing out if you don't order anything else, perhaps their renowned stir-fried noodles with beef seasoned with chili, peppers, and lots of pepper. Super tender, the meat goes perfectly well with the strong seasoning. These crispy noodles come on a sizzling hotplate and when stirred, start softening because of the sauce they come with.
Seafood is also something people order a lot here. Nga Tim serves fresh shrimps, clams, and even lobster and crabs! The latter is a signature dish: the salty and oceanic taste is enhanced by the pepper seasoning or their recipe in the oven. We like ordering this and having it with a side of white rice. For the shrimp, it's also a no-brainer: stir-fried with tons of garlic and some salt with chili bits, their shrimps come with shells which people usually eat since they're tender and crunchy.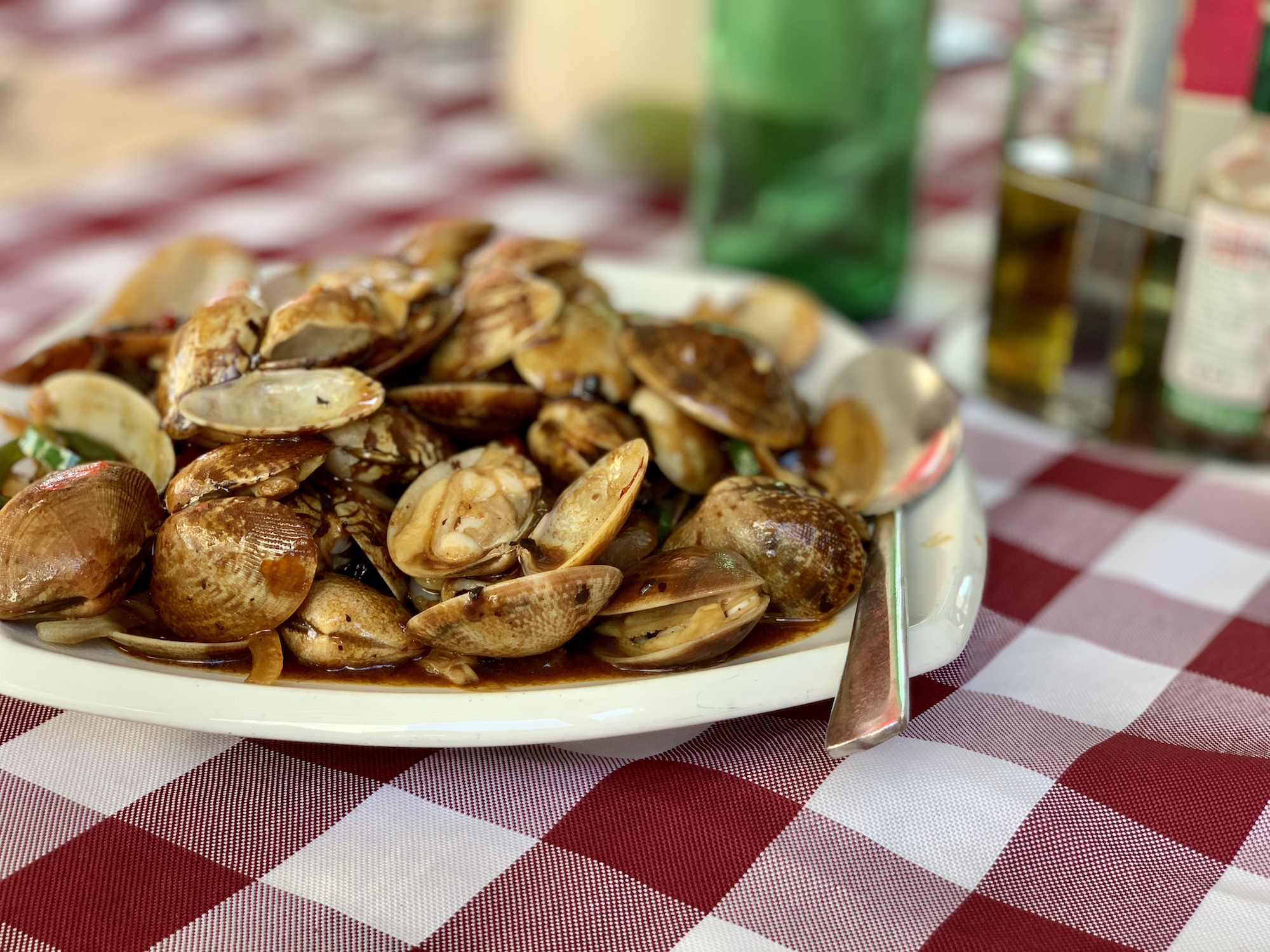 Cantonese & Portuguese Together
Much like Cais 22, Nga Tim too has a menu that takes us to different corners of the world: strongly inspired in Cantonese culture, ingredients, and seasonings, one can also identify Portuguese and Macanese roots, namely on their oven-baked goods. With lots of sauce and garlic, these are flavors that remind us of the cultural combination that has made this city.
One of our all-time favorites–where this connection is revealed–is their dish of clams with black bean sauce. Besides being fair in the amount of seafood delivered to the table, the sauce's thickness is very well balanced with the strong pepper seasoning. With visible chili bits roaming around, the clams made for an exquisite way to get to know the local culture. They also serve different kinds of Portuguese-inspired foods such as seafood rice and codfish mains, including baked, fried rice with codfish and several other variations.
If you want to go local, just order several dishes–you can always take away the remaining–pick up your chopsticks and start this feast! Nga Tim is a great place to head with everyone, including little kids–who will surely want to run and play close by–and even dogs on a leash, as there are quieter tables in the back of this eatery.
We don't really have a preferred mealtime to head there; either at lunch–before a trail hike or an afternoon swimming–or dinner out with friends under a starred sky, Nga Tim is welcoming and easygoing. Just beware of transportation, as it's a less populated area. There are several buses nearby and some until late, but the best option might be taking the car.
---
Opening hours: Daily, 12:00pm–1:00am
Nga Tim 8 Rua Caetano, Coloane, +853 2888 2086
Tags
Related Posts