One of the great things about wandering the streets of Macau is all of the delicious street food—whatever you are craving, it's all here. One particularly popular item is the fish ball, found not only around here but in Hong Kong and the greater southern China area. Most vendors aren't even limited strictly to fish, it's a catchall referring to bite-sized bits of deliciousness including pork, beef, tofu—if you can put it on a stick, it qualifies. The small portions in hand-sized bowls make it the perfect street snack to eat and run. Here is our list of favorites, and at the end we include some popular street food locations around town. Let's eat!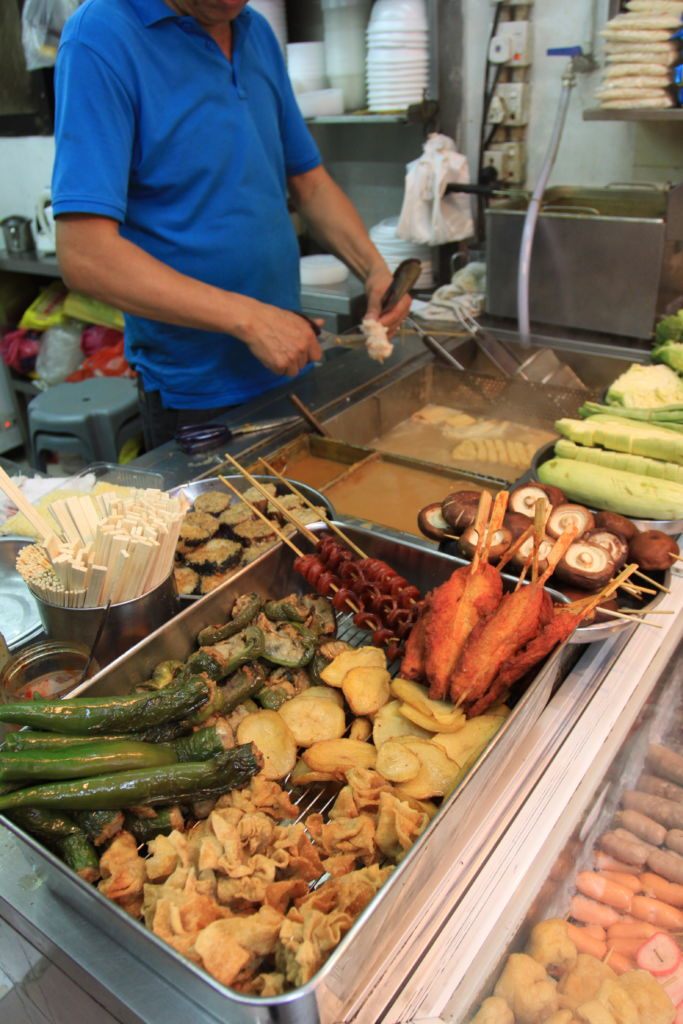 Every stall has their own variety of fish balls and snacks, some even have fried noodles and other goodies. Each stand has their own special sauce to add to the fish balls to complete the bowl, with varying flavors and levels of spiciness! Most vendors have their own favorites and are happy to help you with some recommendations. We have included some basic items translated into Chinese.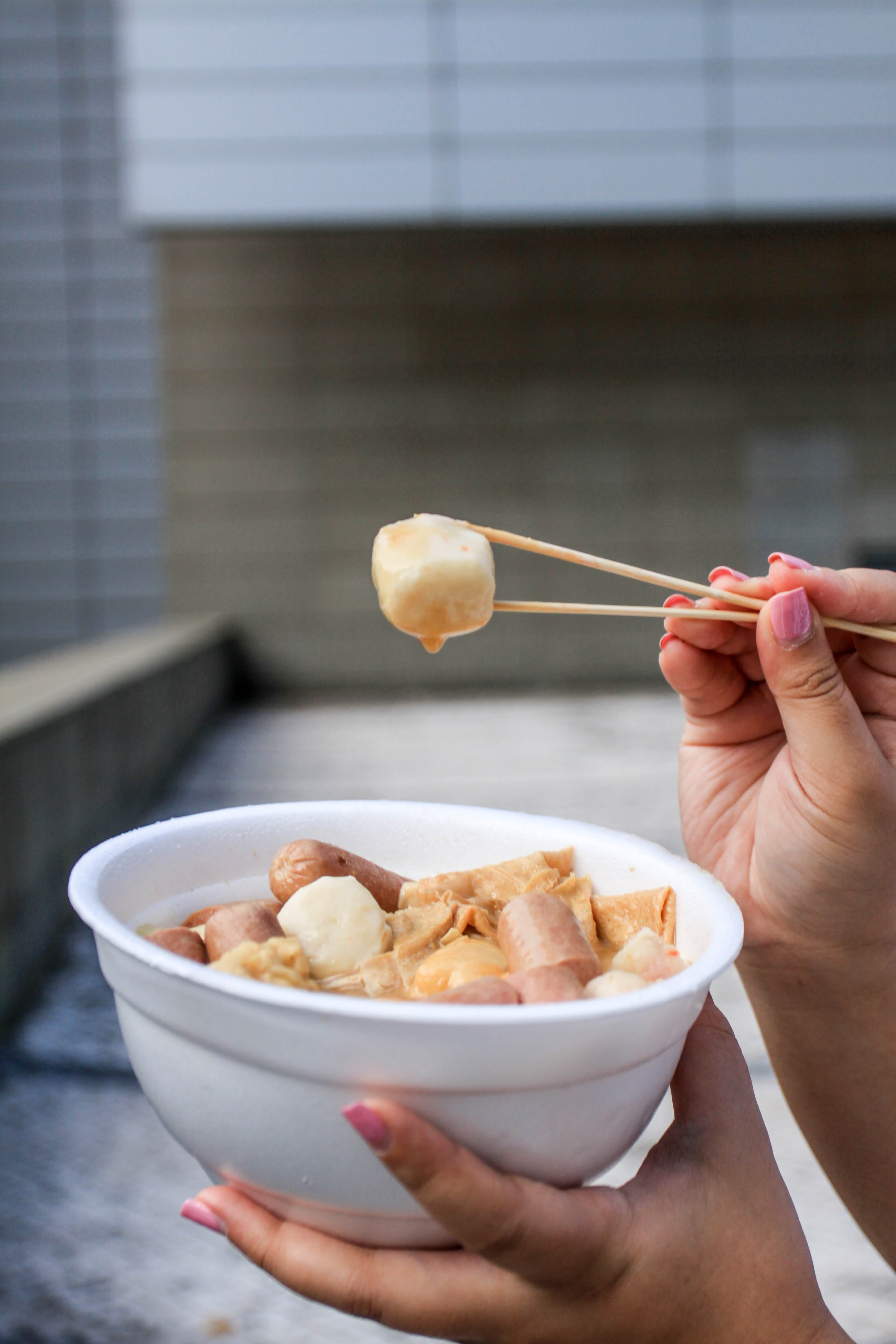 Check out this bowl, very basic—fish balls with bits of hot dog—you can't go wrong. The cube being held up in the above picture is a cheese ball, which is literally a fish ball filled with cheese. Be careful biting through this one, the cheese inside is hot even if the outside isn't! We also like the lobster ball, in the photo below, a tasty little ball that is a favorite of both locals and tourists.
fish ball = 魚蛋 yew daan
hot dog, sausage = 热狗、香腸 yiht gau, heung cheung
lobster ball = 龍蝦 luhng ha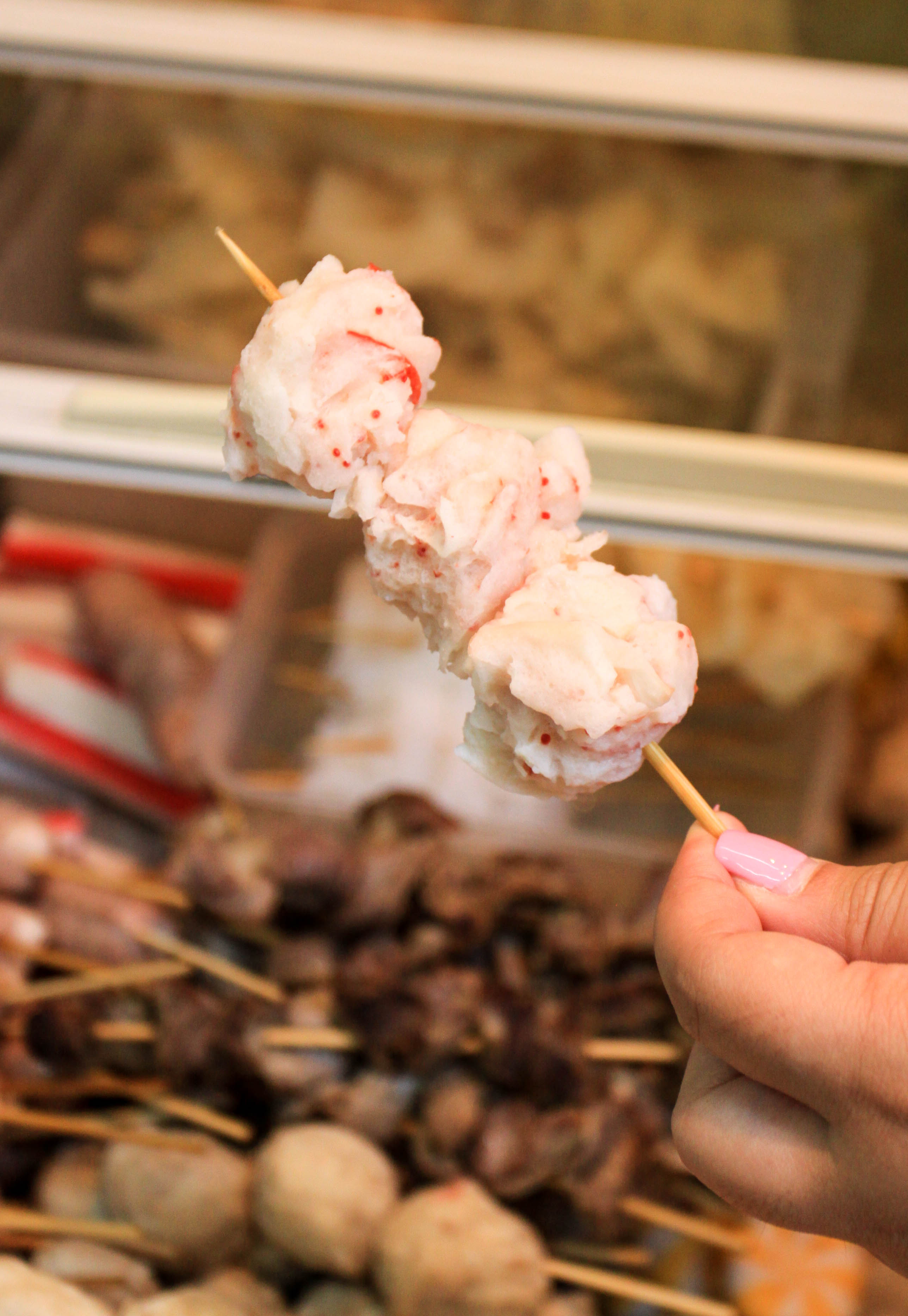 Now let us dive into the tofu, a popular ingredient locally but maybe something not so familiar to visitors. The first one we picked for you beginners out there is the tofu sheet. This is the best introduction to tofu products at the fish ball stalls since it's really basic in taste and looks. Here you see several tofu sheets rolled up, skewered, and fried. The texture is pleasant—chewy but not overly so.
tofu sheet = 豆腐皮 dau fu pei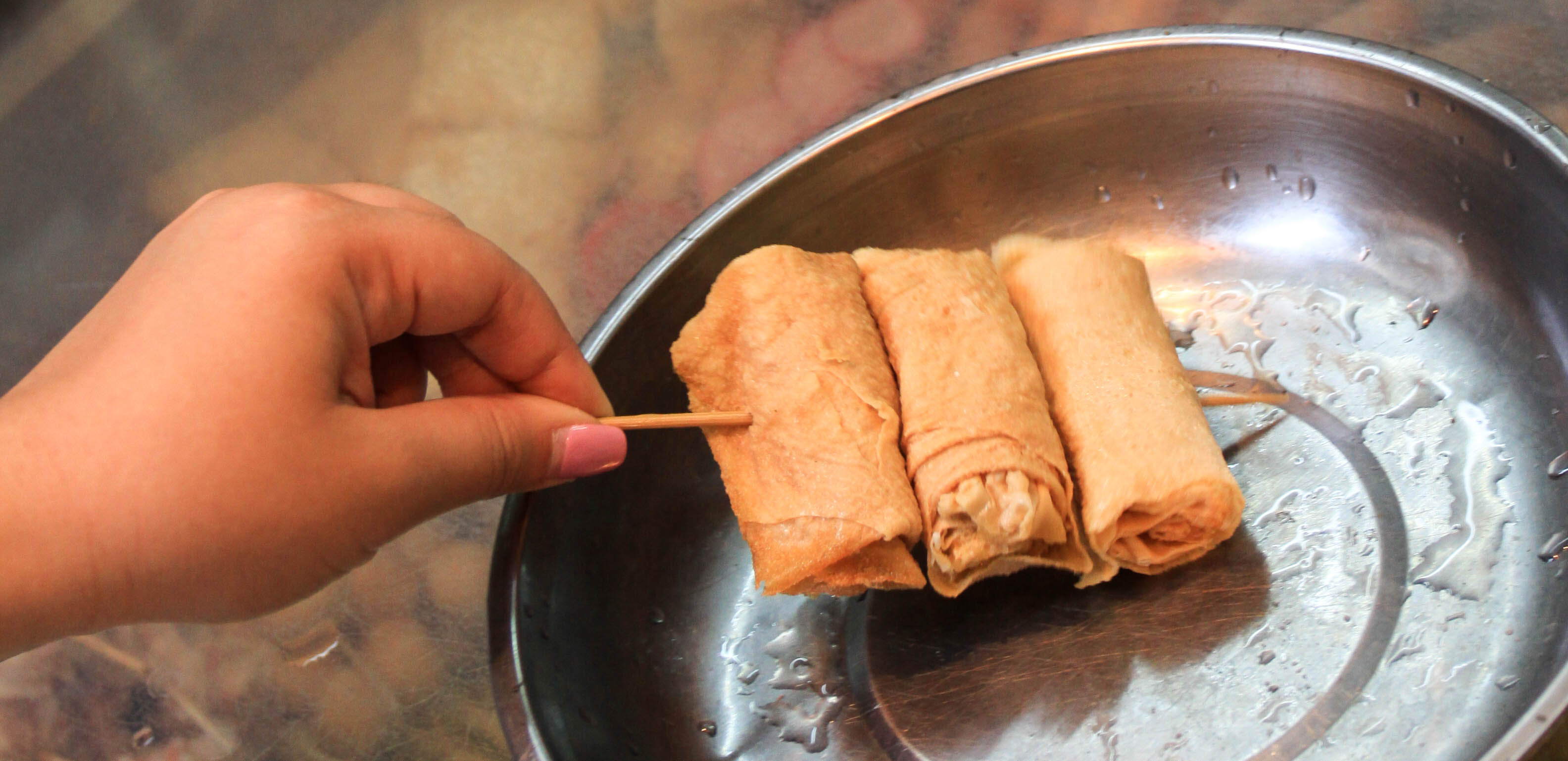 Another favorite of ours is the Enoki mushroom wrapped with tofu. The long thin mushroom with a mild flavor and firm consistency is widely used in Asian cooking, if you aren't familiar with it, and is worth a try.
Also popular is the tofu cake with cheese—the tofu cake has the consistency of a fish cake, and is filled with cheese. The standard street side fish ball stall also offers a selection of other fried foods as well as vegetables and other side dishes. There really is no wrong way to order, just pick what looks good, be a little adventurous, and before you know it you will have built your own routine order to satisfy those snack cravings.
Fish ball stalls really are everywhere in Macau—once you start looking for them, you won't be able to stop finding them! There are two popular street food areas of note, with plenty of fish ball stalls and other offerings. The area around Senado Square and leading up to the Ruins of St. Paul's are filled with street food sellers, including fish balls. Another good area is Rua do Cunha in Taipa Village. One foodie tip: you will often find a fish ball stall outside or near to a school, as it is an affordable snack for students after classes let out. Now get out there, explore the streets, and enjoy the food!
Enoki mushroom = 樸蘑 pu mo
tofu cake = 豆餅 dau beng
Tags
Related Posts