For first time visitors to Macau looking for some local street food, Rua do Cunha in Taipa Village is a great place to start. The area is filled with shops, stalls, and vendors offering a range of delicious snacks, most freshly made on the premises. Rua do Cunha is also easily accessible from downtown Macau (around Lisboa, Grand Lisboa, Wynn, San Ma Lo) via bus 11, 22, 26a, 33. Here are some of our favorite food and places on this colorful street!
Cookies at Chy Creations (Cunha Bazaar Macau)
Almond and peanut cookies are a thing in Macau. They are surely sold other places around the world, but the city has made these cookies really special and unique recipes started popping up. Koi Kei is the region's most famous branch selling these, but Macau Creations' are tasty as well. They mainly sell cute and original Macau souvenirs, so grab some almond and peanut cookies for your friends and family back home?
Opening hours: Daily, 9:30am–10:30pm
Macau Creations 33–35 Rua do Cunha, Taipa Village, +853 2835 8330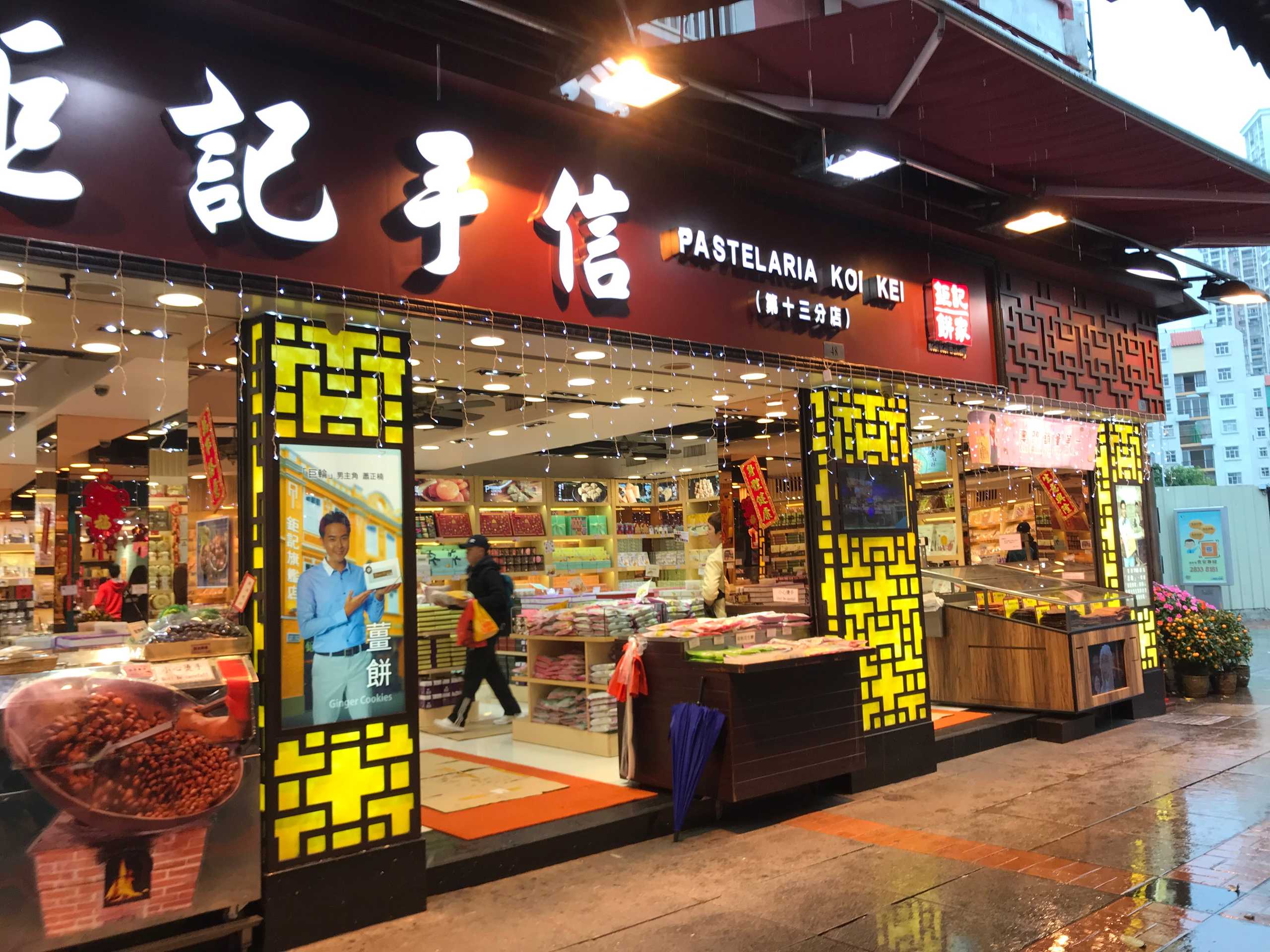 Macau Cookies in Koi Kei Bakery
Koi Kei is huge in Macau. Aside from their tasty almond and peanut cookies and unusual meat jerky with several seasonings, there's also candy with algae, condensed milk and so on. Koi Kei is one of Macau's most well established company and sells millions of cookies daily. Their prices are quite reasonable and products are freshly baked. They are known for always having testers for people to try. Take some and see which you like best!
Opening hours: Daily, 9:00am–10:30pm
Koi Kei Bakery 50 Rua do Cunha, Taipa Village, +853 2882 7839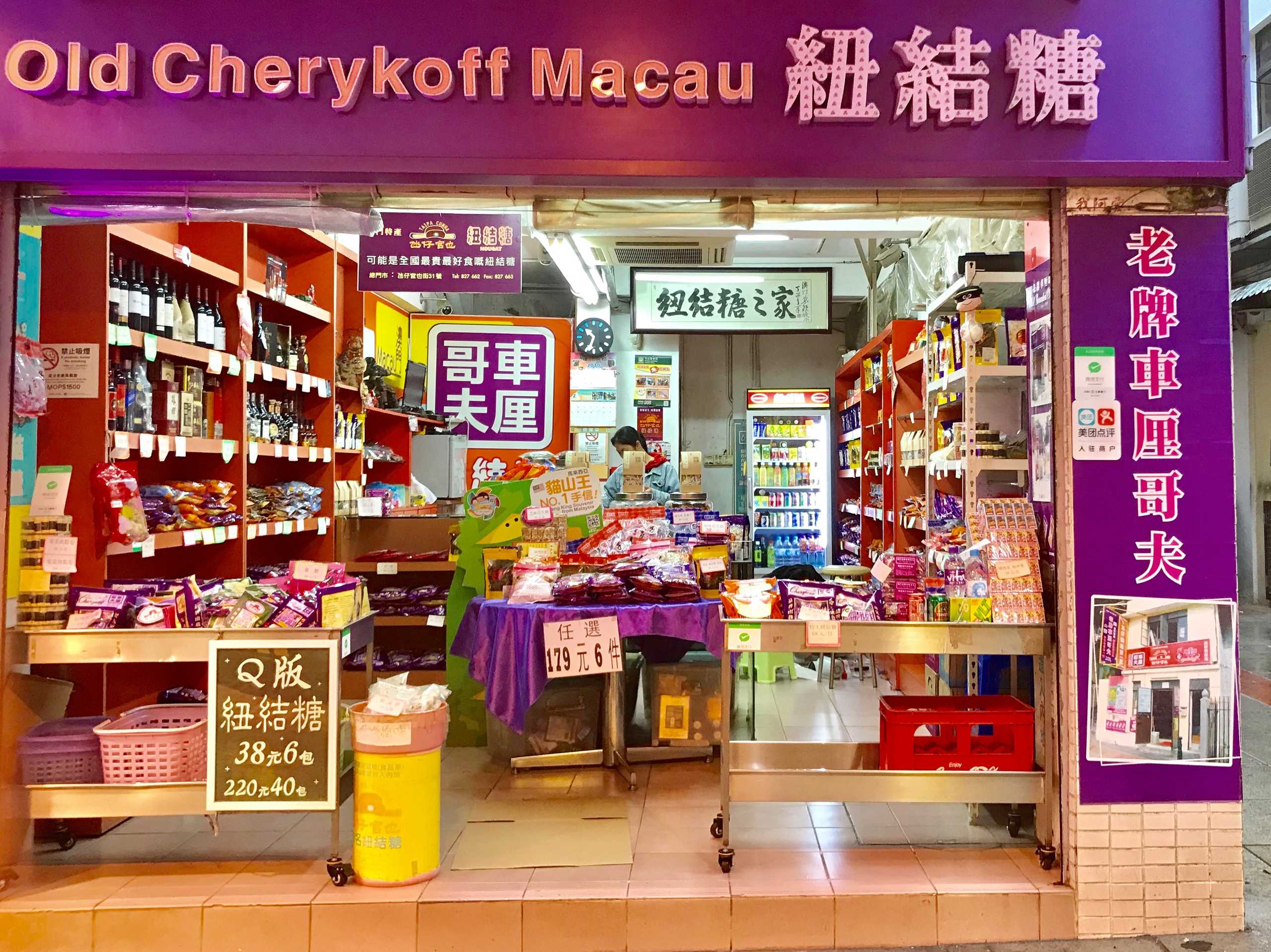 Local Treats in Old Cherykoff Macau
Meet the first Cherykoff shop in Macau! Selling cookies, sweets and all that jazz, it's a perfect place to feel some historic vibes. It's a really old brand in the region with several branches across the city. However, this branch on Rua do Cunha was the first and remains as headquarters. Swing by to get your sweets' fix or buy some that just scream "Macau" and give them away as souvenirs! Because hey… who doesn't like sugary stuff?
Opening hours: Daily, 10:00am–6:00pm
Old Cherykoff Macau 31 Rua do Cunha, Taipa Village, +853 28827811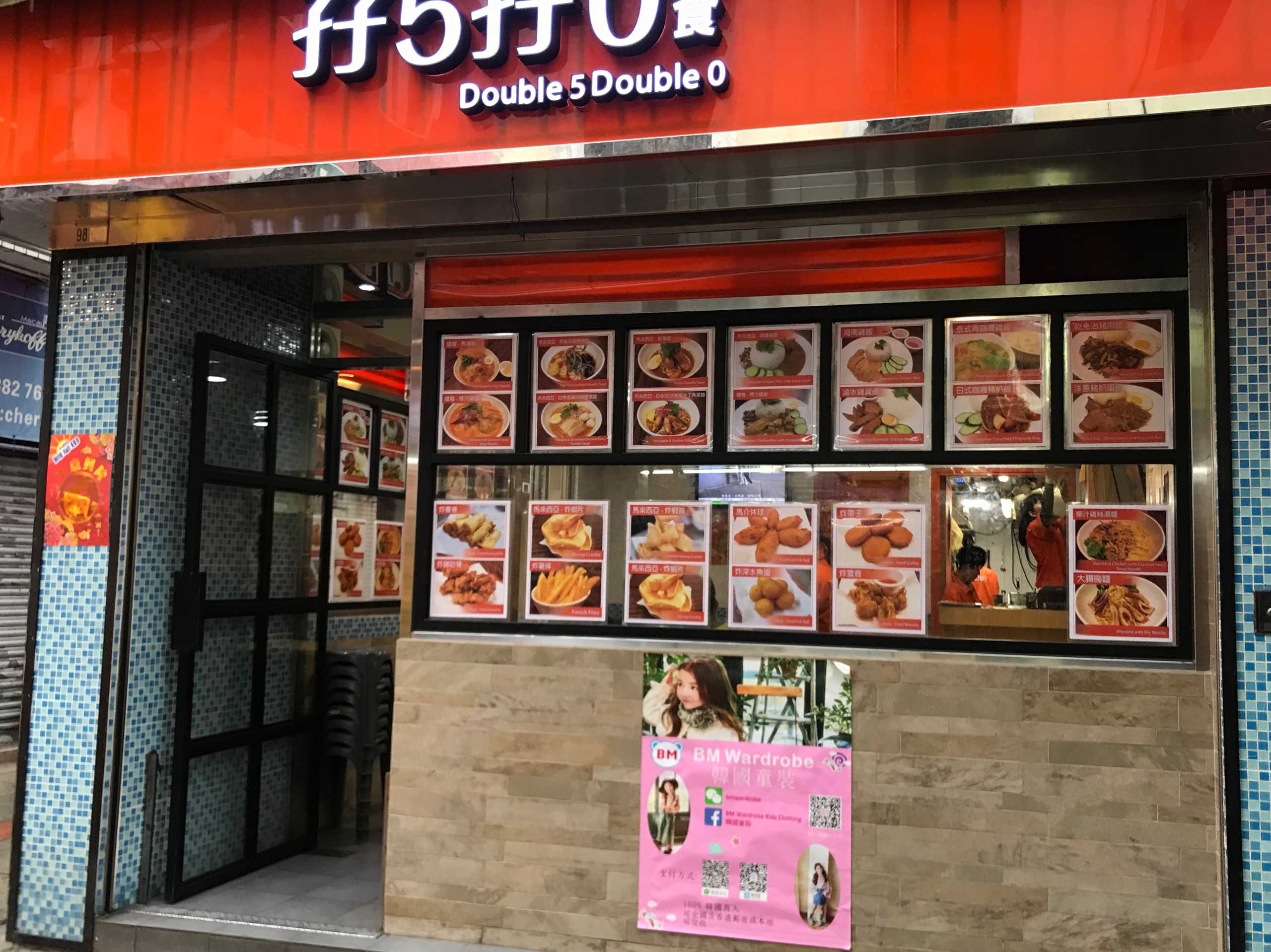 Pig Intestine Noodles at Double 5 Double 0
Here's an unusual one. Why not dive straight into Chinese food and try this restaurant's noodles with pig intestines? Uncommon for sure, but a famous treat amongst China tourists and some curious foodies. Pictures of the dishes are laid out on their front door, so take a look and choose what you'd like to eat! If you are not looking for such a special dish, they have more common noodle soup bowls.
Opening hours: Daily, 10:00am–7:30pm
Double 5 Double 0 98 Rua do Cunha, Taipa Village, +853 6338 5500
Chinese Noodles in Seng Cheong
Known for their "feel like home" dishes, Seng Cheong is always full and sometimes there's even a queue outside! It can be hard to find a table during lunchtime, but if you are really into traditional and local food, this is a must-try. Their menu is quite varied, so choose from a simple, hot bowl of noodle soup, to a steak with sauce, or fried rice. By the way, stir-fried flat noodles with beef are a must-have here!
Opening hours: Daily, 12:00pm–11:30pm
Seng Cheong 93 Rua do Cunha, Taipa Village, +853 2882 5323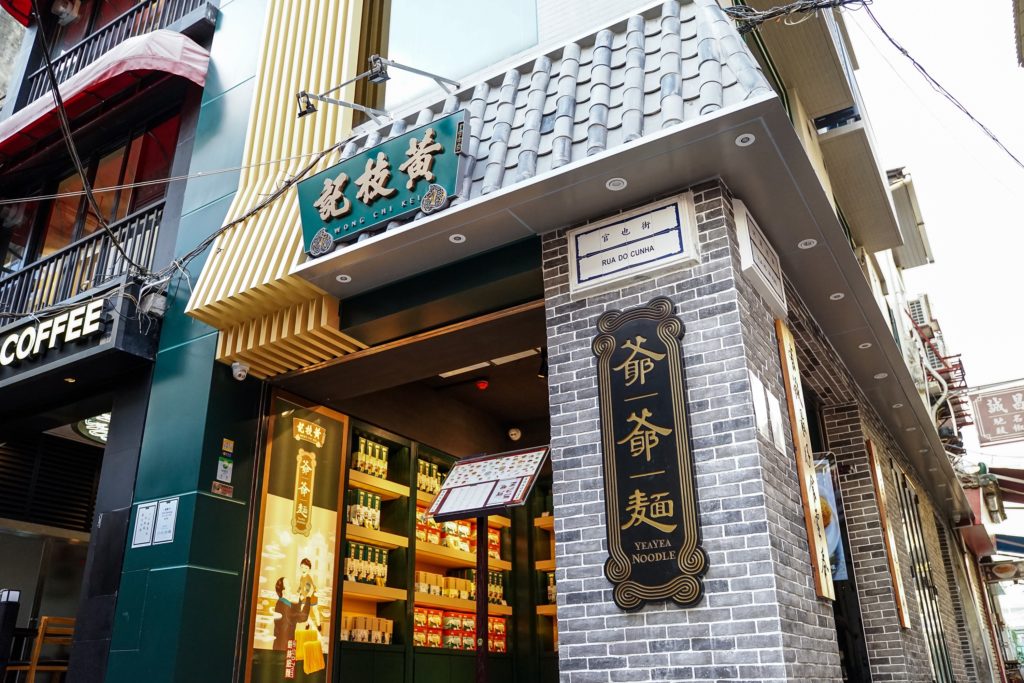 Wonton Noodles in Wong Chi Kei
Wong Chi Kei is one of Macau's most well-known local eatery. Boasting surprisingly long waiting queues, there's a good reason for it. Their wonton noodles are the best in town and there's no doubt about it. Almost everything on the menu is quite cheap, so head there if you are looking for something simple, tasty and won't empty your pockets. You can always order wonton noodles to take away and sit by Taipa Houses to watch the day go by.
Opening hours: Daily, 11:30am–9:00pm
Wong Chi Kei 86 Rua do Cunha, Taipa Village, +853 2836 1373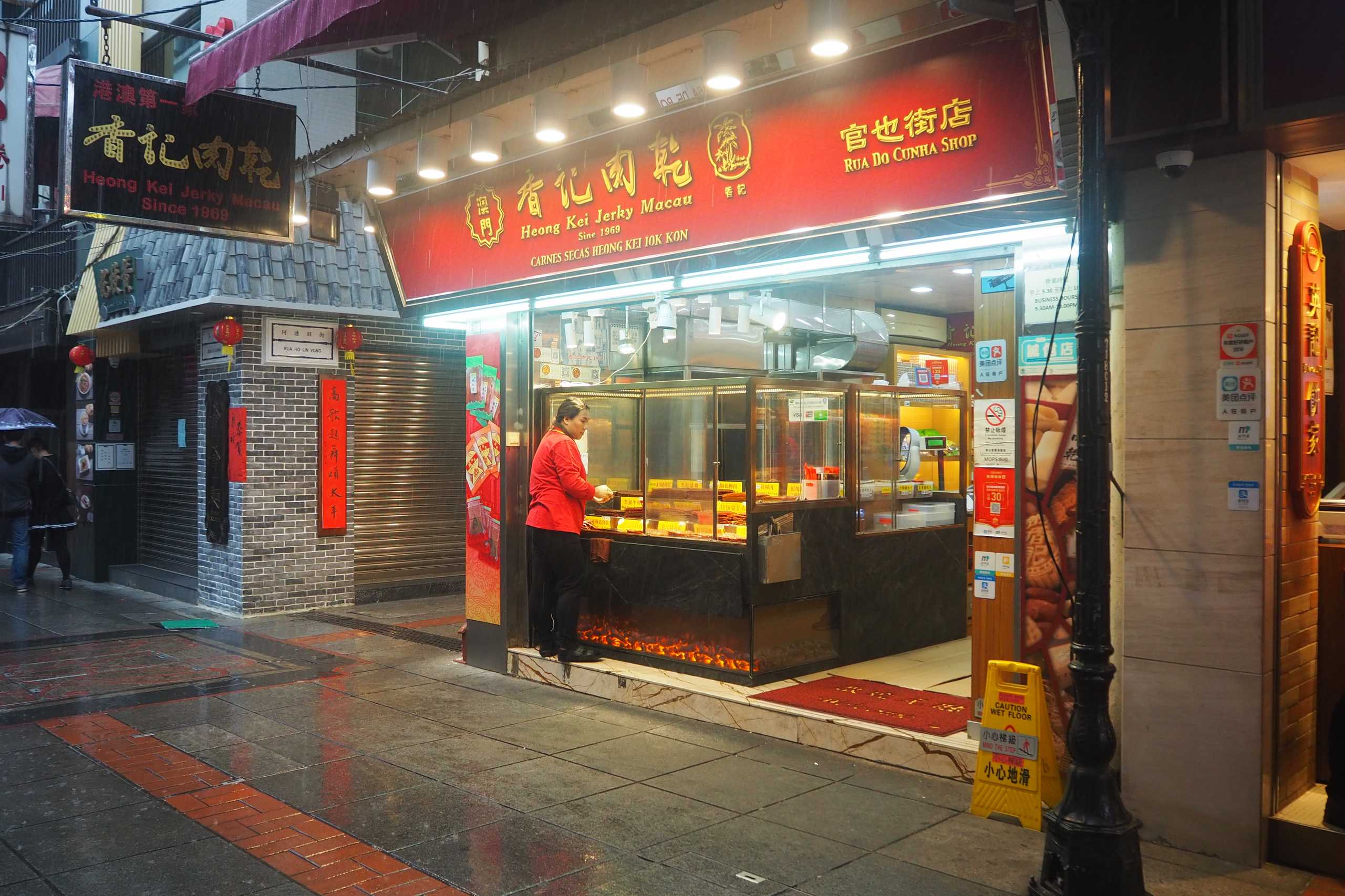 Meat Jerky in Heong Kei Jerky Macau
This is the kind of snack you probably wouldn't go for on a normal day. However, its taste and consistency makes it very popular across Macau (and China). Meat jerky is the perfect snack to have any time and anywhere! Head to Heong Kei Jerky Macau to have a taste of one of the city's best-selling article.
Opening hours: Daily, 9:30am–10:00pm
Heong Kei Jerky Macau 19 Rua do Cunha, Taipa Village, +853 2857 6110

Portuguese Delicacies in O Santos restaurant
Ever tried homemade duck rice topped with roasted chorizo? Well, this is your chance! One usually has to book a table at O Santos to have lunch, but dinner time is not that busy. Boasting a Portuguese food joint kind of vibe, this restaurant has everything one needs to feel at home. The owner and staff are all very friendly and the food comes out almost instantly–while maintaining their high quality. Their wine list is also full of amazing Portuguese wines! It is not the cheapest restaurant in town, but servings are all large enough to share and even take home!
Opening hours: Wednesday–Monday, 12:00pm–10:00pm
O Santos 20 Rua do Cunha, Taipa Village, +853 2882 5594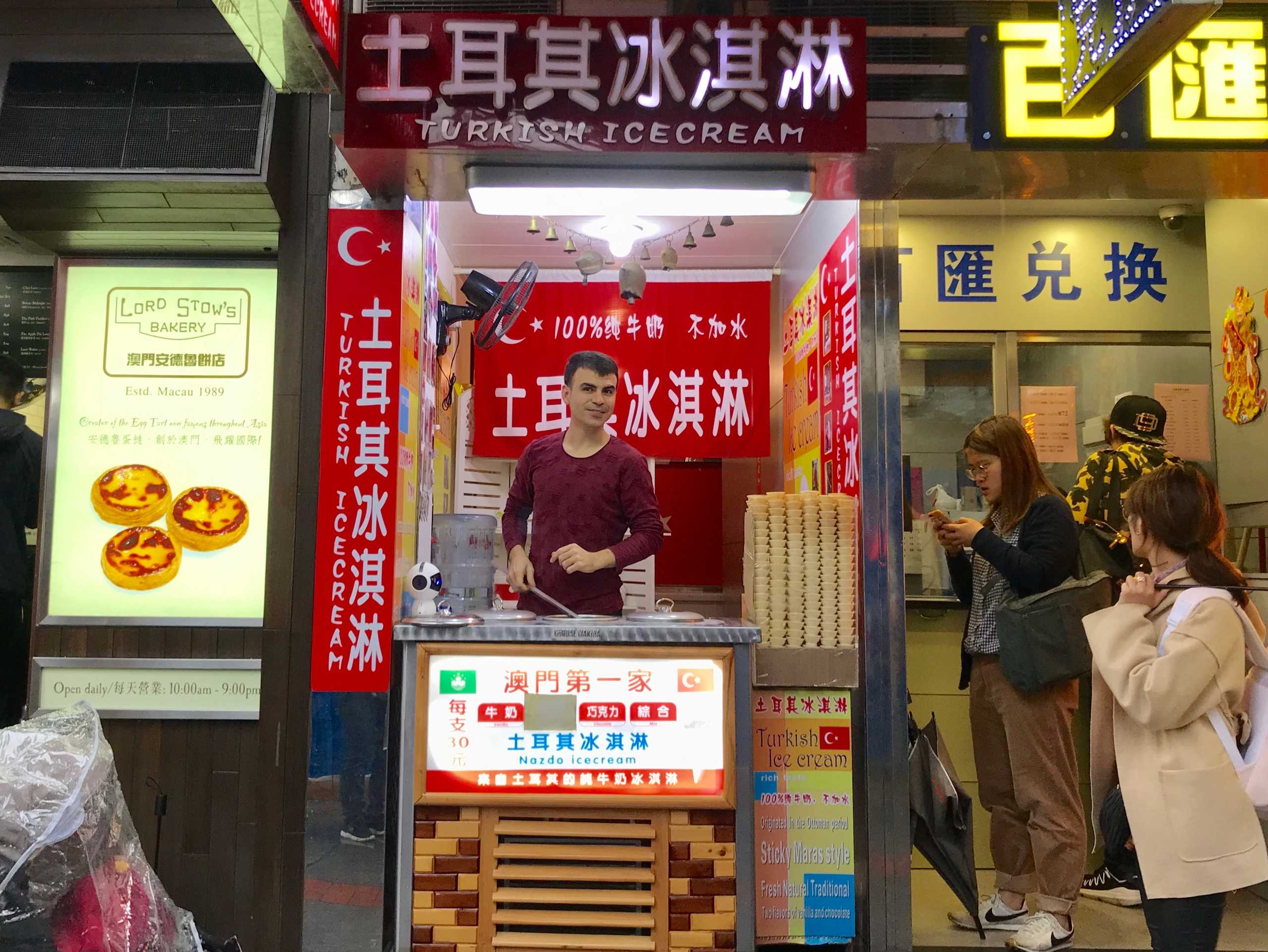 Frozen Heaven in Turkish Ice Cream
It's becoming pretty popular around the world, but what are the chances of finding a Turkish ice-cream stall in Macau? Here, you can have a fun experience, do lots of unique videos and have a blast with ice-cream Turkey-style! This delicacy is made on an iron plaque and then served in a very original way. There are several flavors available, so don't be shy and talk to the staff to get your favorite!
Turkish Ice Cream 9 Rua do Cunha, Taipa Village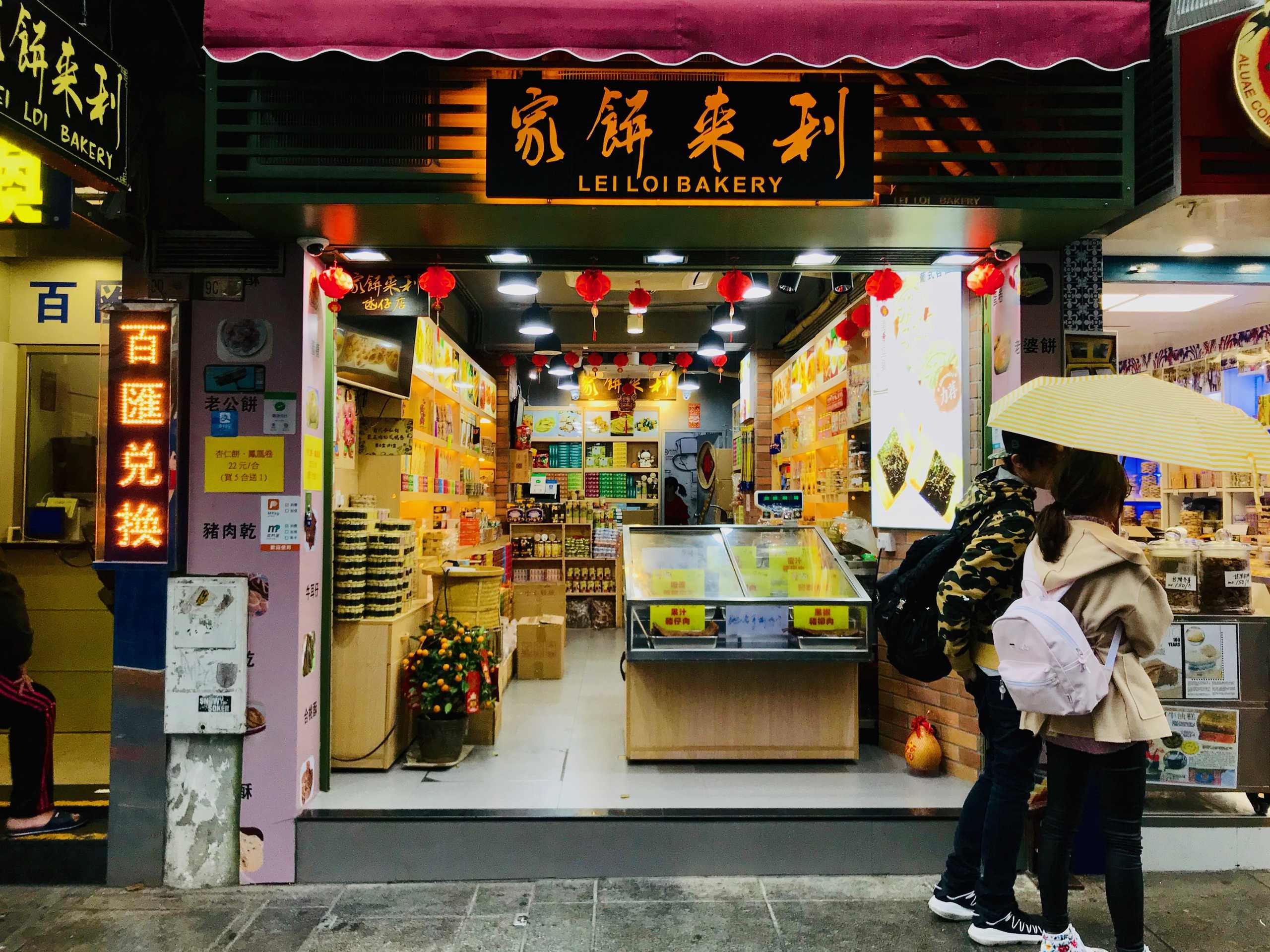 Traditional baked goods in Lei Loi Bakery
Yes, it is another bakery shop, and this is also a good option if you are looking for a little snack. It has the advantage of no lines by the door, which is a relief in this part of town! Try their peanut cookies, which are really worth it. It is one of the oldest bakeries in Macau, so don't worry you're in good hands.
Lei Loi Bakery 9C Rua do Cunha, Taipa Village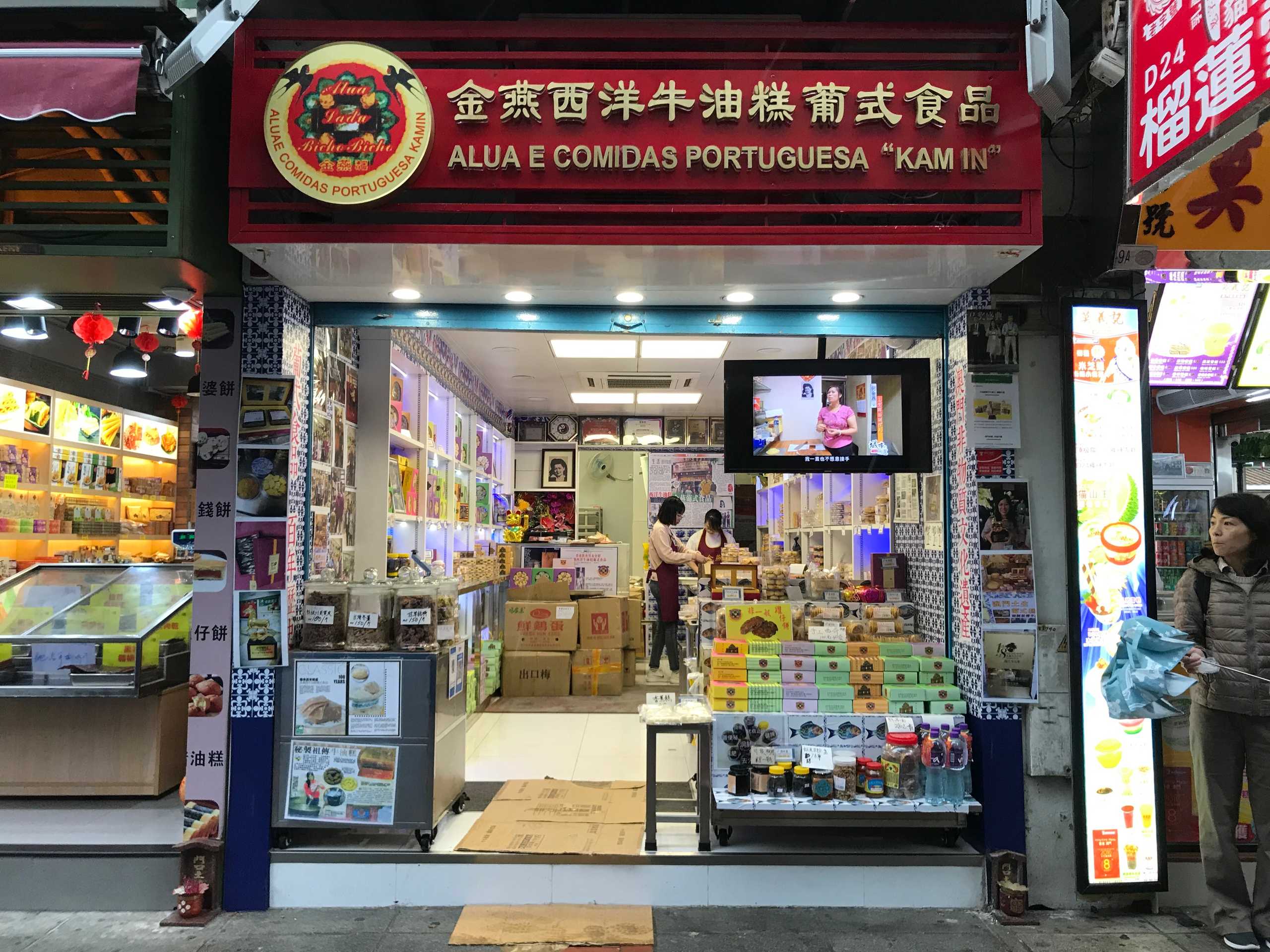 Traditional Cookies in A Lua e Comidas Portuguesas Kam In
With a (very) strange Portuguese translation, this shop sells the famous Macau cookies, some souvenirs, and tea as well. Their packaging is really nice, so they're perfect as gifts! For an interesting twist on a walking tour, go to every cookie store on Rua do Cunha and try something from all of them! At the end of the tour, decide on which shop to buy your souvenir cookies from.
A Lua e Comidas Portuguesas Kam In 9B Rua do Cunha, Taipa Village

Creamy Egg Tarts in Lord Stow's Bakery
Lord Stow's Bakery, the king of Macau egg tarts, have finally opened a branch in Rua do Cunha. Make someone's day and present them with a box of these irresistibly creamy and delicious egg tarts. In between your visit to the nearby museums, shops and other places of interest in Taipa Village, do stop by Lord Stow's Bakery for refreshments!
Opening hours: Daily, 10:00am–9:00pm
Lord Stow's Bakery 14 Rua do Cunha, Taipa Village, +853 2857 6580, www.lordstow.com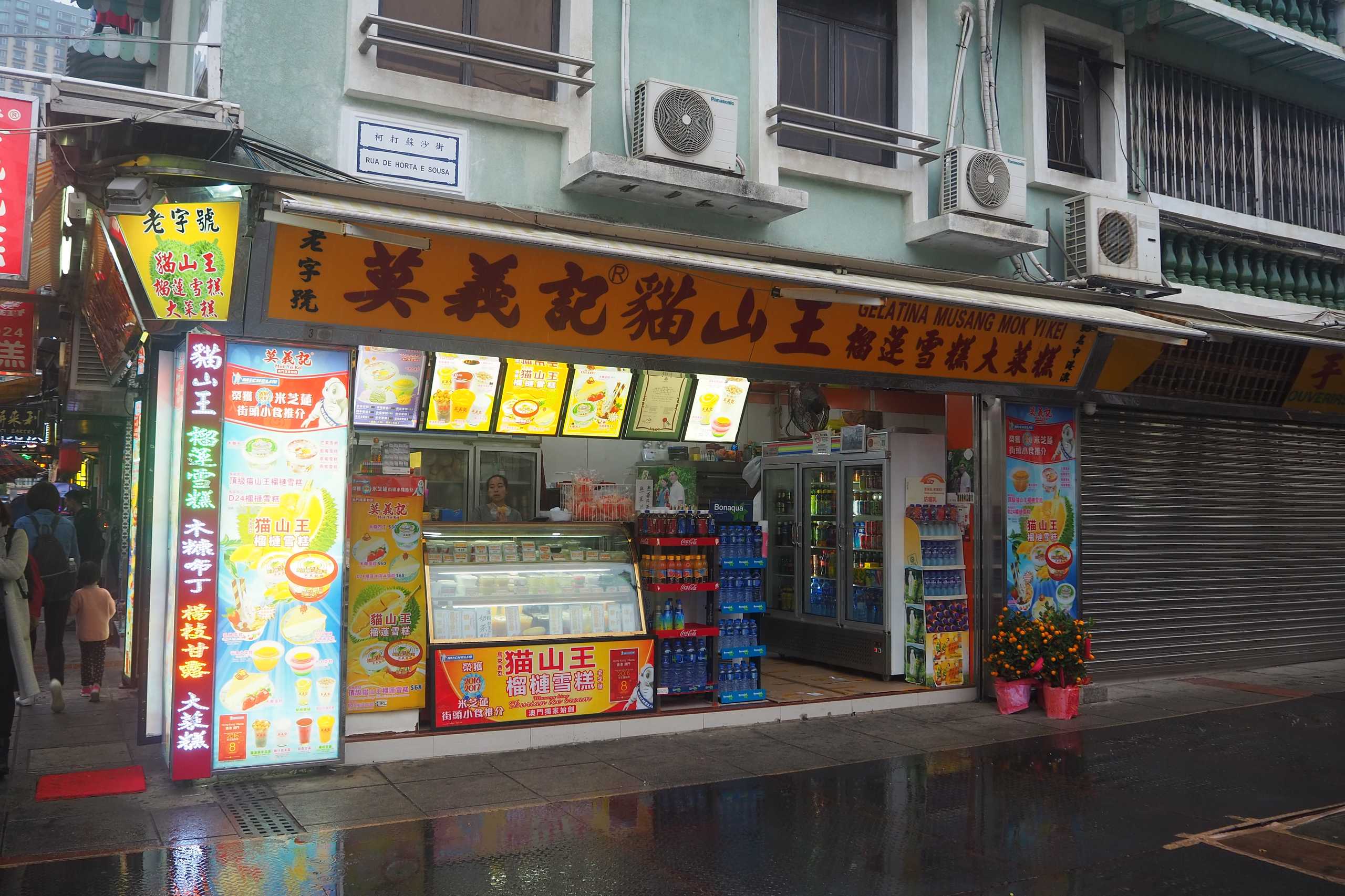 Durian Ice Cream in Gelatina Musang Mok Yi Kei
If you smell durian in the air, it's most likely coming from Gelatina Musang Mok Yi Kei. This shop sells agar desserts, serradura or sawdust pudding, and ice cream. Using the creamiest and most expensive type of durian, Musang King, durian ice cream is their most popular dessert. Whether you love or hate durian, the popularity of this bestseller is a testament to its quality and taste.
Opening hours: 7:00am–11:00pm
Gelatina Musang Mok Yi Kei 9A Rua do Cunha, Taipa Village, +853 6669 5194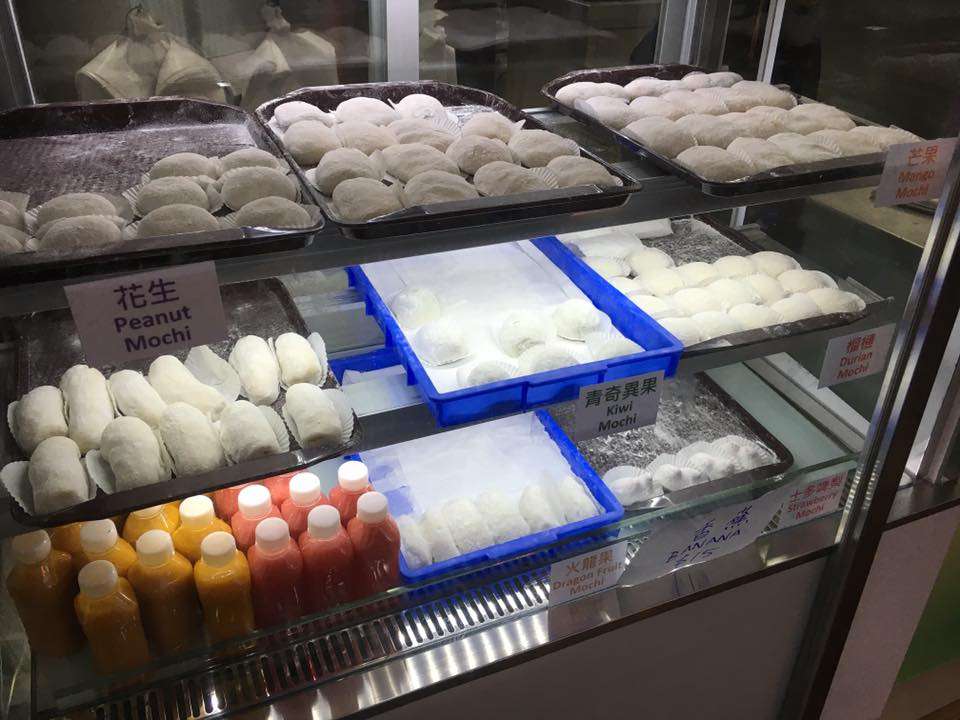 The Freshest Fruit Mochi in Mochi Macau 
Mochi doesn't have a Macanese origin, but Mochi Macau transformed this traditional Japanese dessert of glutinous rice into something that's uniquely our own. What makes this mochi different is the generous amount of fresh fruit hidden inside. Popular flavors such as mango include a large piece of fruit flesh in each mochi so don't be surprised biting into a piece of fruit the size of your palm!
Opening hours: 9:00am–10:00pm
Mochi Macau 澳門長洲平記 4 R. de Horta e Sousa, Taipa Village, +853 2822 6663, www.facebook.com/macaupingkei
Pork Chop Bun and Milk Tea in Café Veng Kei
The pork chop bun is one of the most famous snacks in Macau. A juicy, deep-fried slab of pork chop is sandwiched between a Portuguese bun crispy on the outside and pillow-soft on the inside, and nothing else. Simple but delicious! Although you can find pork chop buns on almost every corner, Café Veng Kei has one of Taipa Village's most Instagrammable walls! They also sell an incredible milk tea which is their "signature"!
Café Veng Kei 1 Rua do Cunha, Taipa Village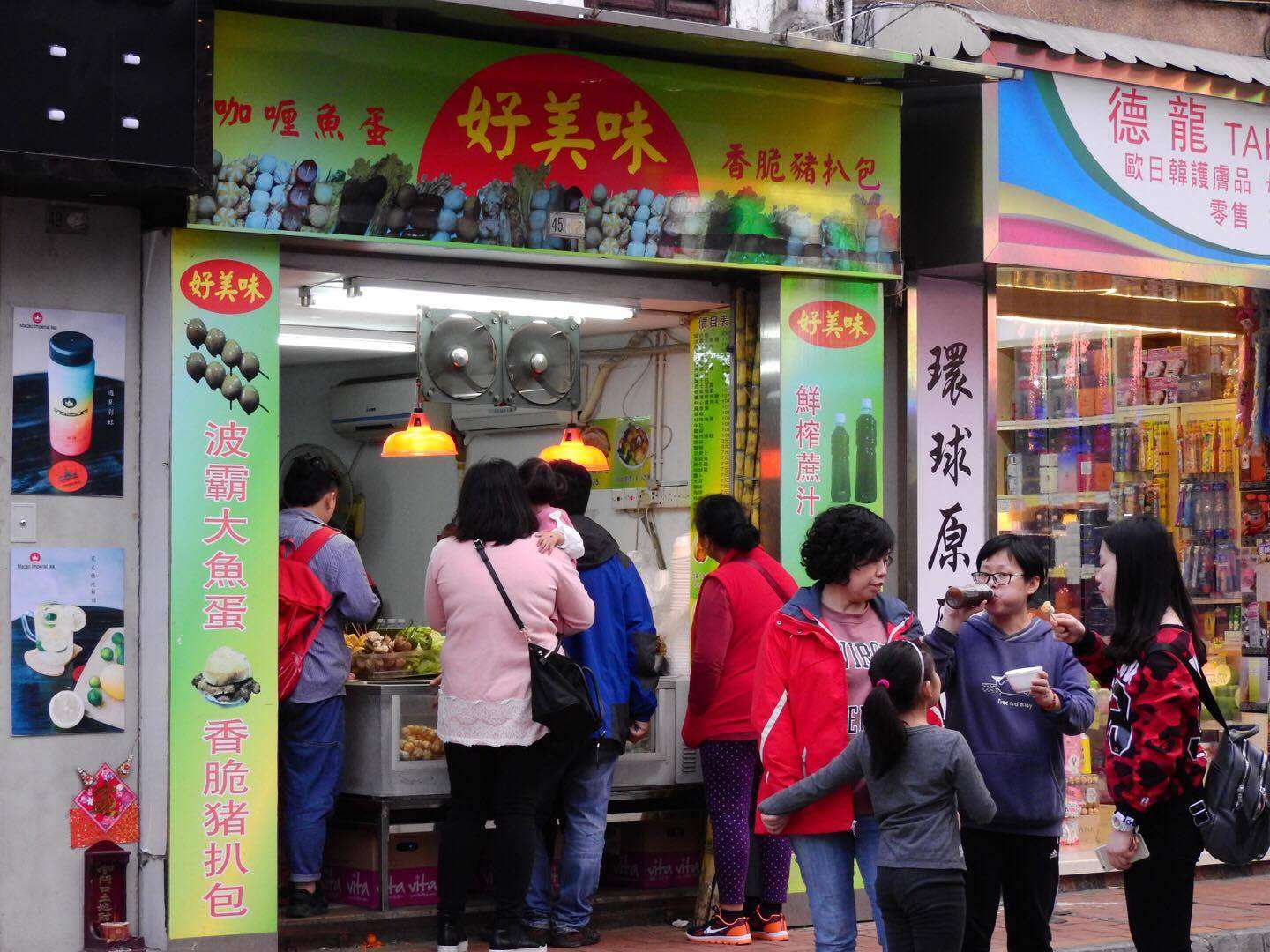 Curry Fish Balls in Hou Mei Mei
Curry fish ball stands are a longtime fixture of the street food scene in Macau, Hong Kong, and southern China. In Rua do Cunha, 好美味 'Hou Mei Mei' (the English translation is "very delicious") is located right behind the Rua do Cunha bus stop. Locals and tourists alike line up to get their fix of curry fish balls and wash it down with some fresh sugar cane juice. This is located at the end of Rua do Cunha, but you'll find a different address online. Don't worry though. With the line outside, it is is easy to spot!
Est. De Comidas Hou Mei Mei 好美味粥麵 49 R. Direita Carlos Eugenio, Taipa Village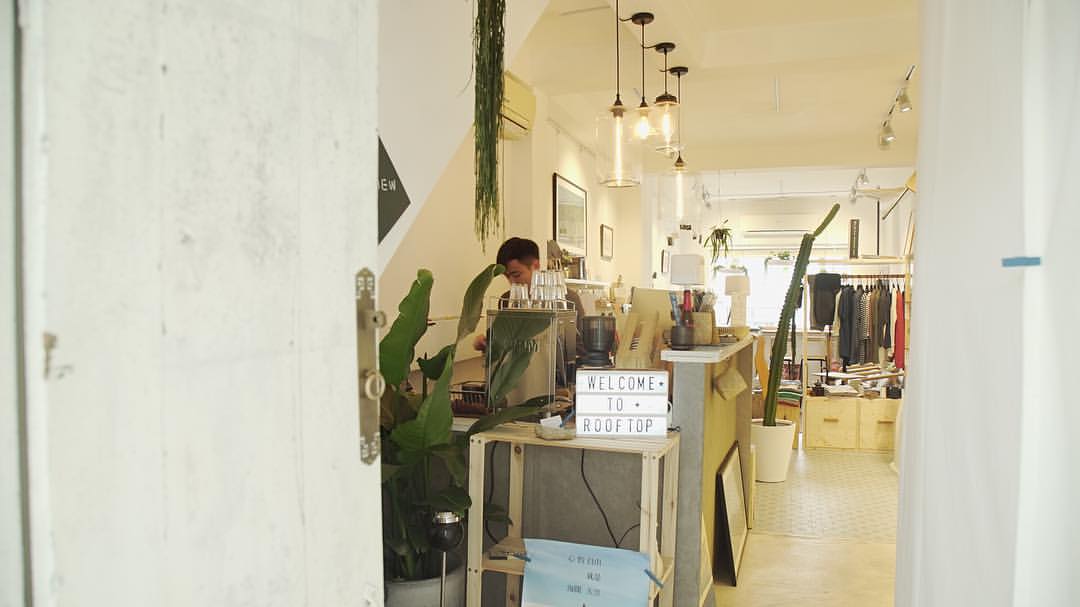 Coffee and Tea in Rooftop
Rooftop is one of Macau's best coffee shops! Besides serving real coffee and tea, they also have homemade cookies, craft beer and other non-food related services available. The secret of this spot is its amazing hidden rooftop! The sun comes in, but rain stays out due to its covered area. Smokers are welcome upstairs and little chairs and tables decorate the space to make patrons feel at home. The terrace gives costumers a great panoramic view of Taipa Village and Rua do Cunha.
Opening hours: Thursday–Tuesday, 11:30am–10:00pm
Rooftop 49 Rua Correia da Silva, Taipa Village, +853 62526387 / +853 66334009
This article was originally written by Nisa Reyta in January, 2017 and updated by Leonor Sá Machado in February, 2019.
Tags
Related Posts