Burgers are more than just the patty and the bun. This ultimate comfort food has all the flavorful elements of a well-rounded meal. We scoured Macau to find the best choices of this cult favorite best paired with french fries, hot off the fryer! Boasting premium ingredients, special toppings, and a variety of side dishes, our top picks of Macau's best burgers will definitely not disappoint.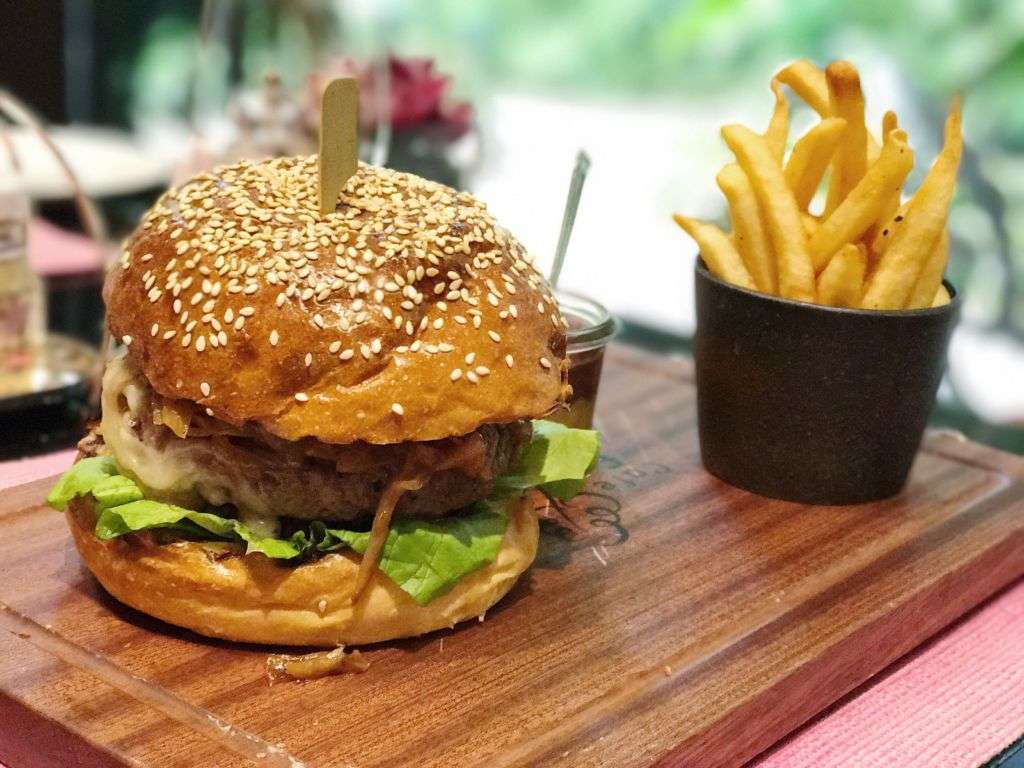 Café Esplanada at Wynn Macau
For a few years now we have been coming to Café Esplanada to enjoy fresh, tasty and quality food from a menu that features dishes from all over the world. And of course, what could be more international than a burger? Café Esplanada's burger is mastered to perfection: a tall sesame bun just soft enough to manage the flow of burger juices; a delicious patty well-seasoned and grilled to order; and golden crunchy fries on the side. It comes with a layered olive dip for a little Portuguese touch and you can also add bacon, caramelized onions or cheese of your choice.
Café Esplanada Wynn Macau, Rua Cidade de Sintra, Nape, +853 8986 3663, www.wynnmacau.com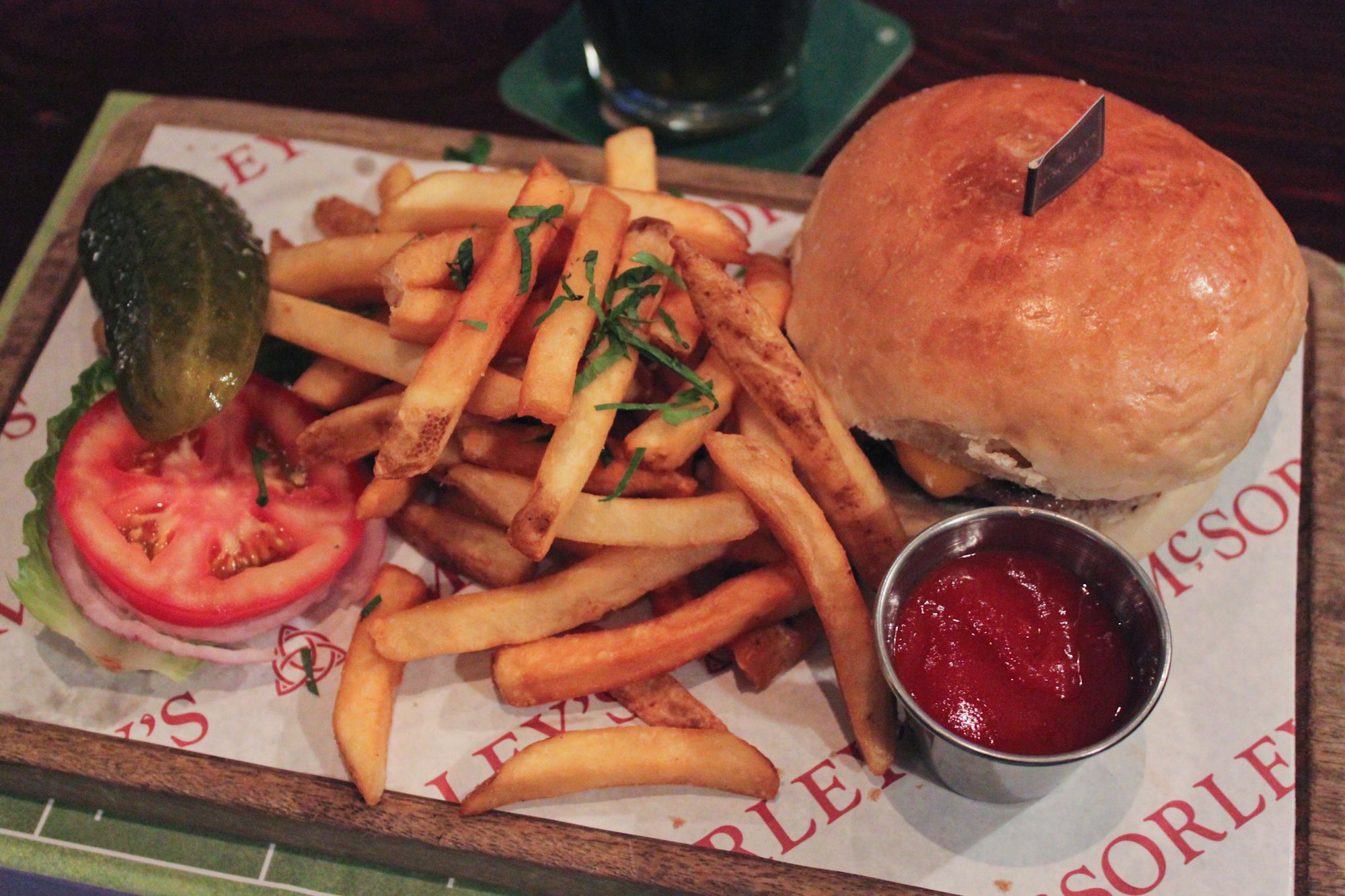 McSorley's Ale House
Using only prime Angus beef and with options for everyone especially with their veggie burger, McSorley's has been consistently one of the best burger joints in Macau. For the ones who appreciate a good old classic burger without extra details, there is the premium hand-crafted Angus cheeseburger, a true piece of art. It comes with tomato, lettuce, red onions and pickles on a side, so squeeze it all in between the buns and juicy patty with cheddar. There's always a burger of the month so if you are looking for something new, we strongly recommend to ask a waitress about them, as there is always something unique. The Texas BBQ burger is a long-time classic and one of the best-selling burgers in town. All burgers are served with perfectly crispy fries and let's not forget that it's an alehouse so you must check their extensive beer list for an ice-cold pint to accompany your dish.
McSorley's Ale House The Venetian Macao, Shop 1038, Estrada Da Baia De Nossa Senhora Da Esperanca, Macau, +853 2882 8198, www.venetianmacao.com/mcsorleys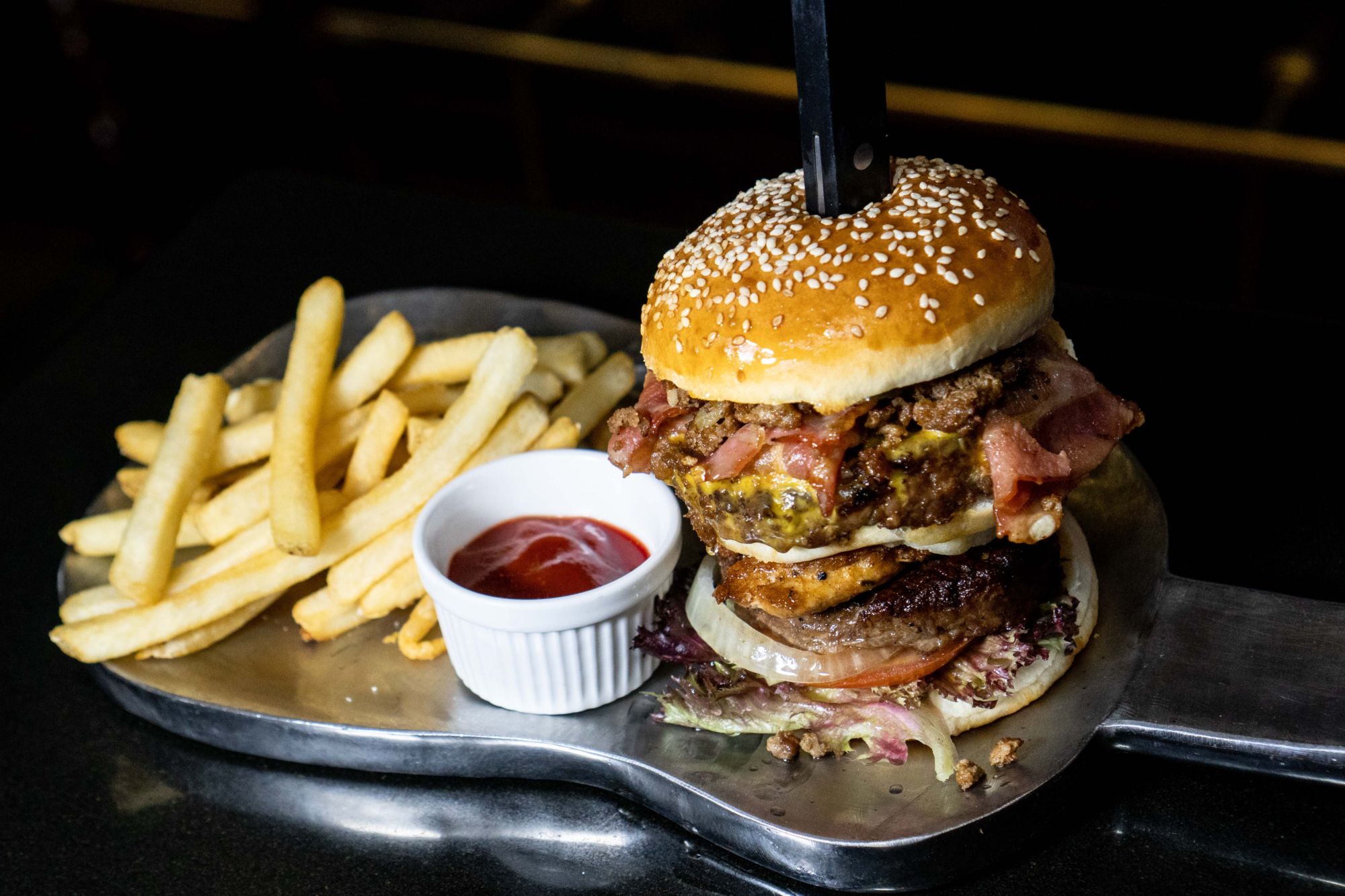 The Roadhouse Macau
Situated at Broadway Macau, The Roadhouse Macau is a big boy spot. They are all about, as their slogan says, "blues, bikes, rock & booze". In other words, if you like live rock and blues music and your heart beats faster with the sound of a motorcycle engine, this is your place. Even if you are not a fan of bikes or rock'n'roll, their great food menu, a decent selection of drinks and fun vibes would make anyone feel happy. The Roadhouse Macau has a whole page of delicious and succulent burgers, including their signature gigantic Biker's burger and Filipino Haba Haba burgers. We recommend the Hawaiian burger, where the pineapple just gives it that extra juiciness. If you are one of those who believe pineapple should not belong on a beef patty, go for the chili burger. The meat patty is just as delicious, and you will get that Tex-Mex flavor that just makes everything better. Feel free to ask for add-ons and be sure to let the staff know how you like your meat done!
The Roadhouse Macau E-G016-G019 Broadway Food Street, Broadway Macau, Avenida Marginal Flor De Lótus, Cotai, +853 2875 2945, www.broadwaymacau.com.mo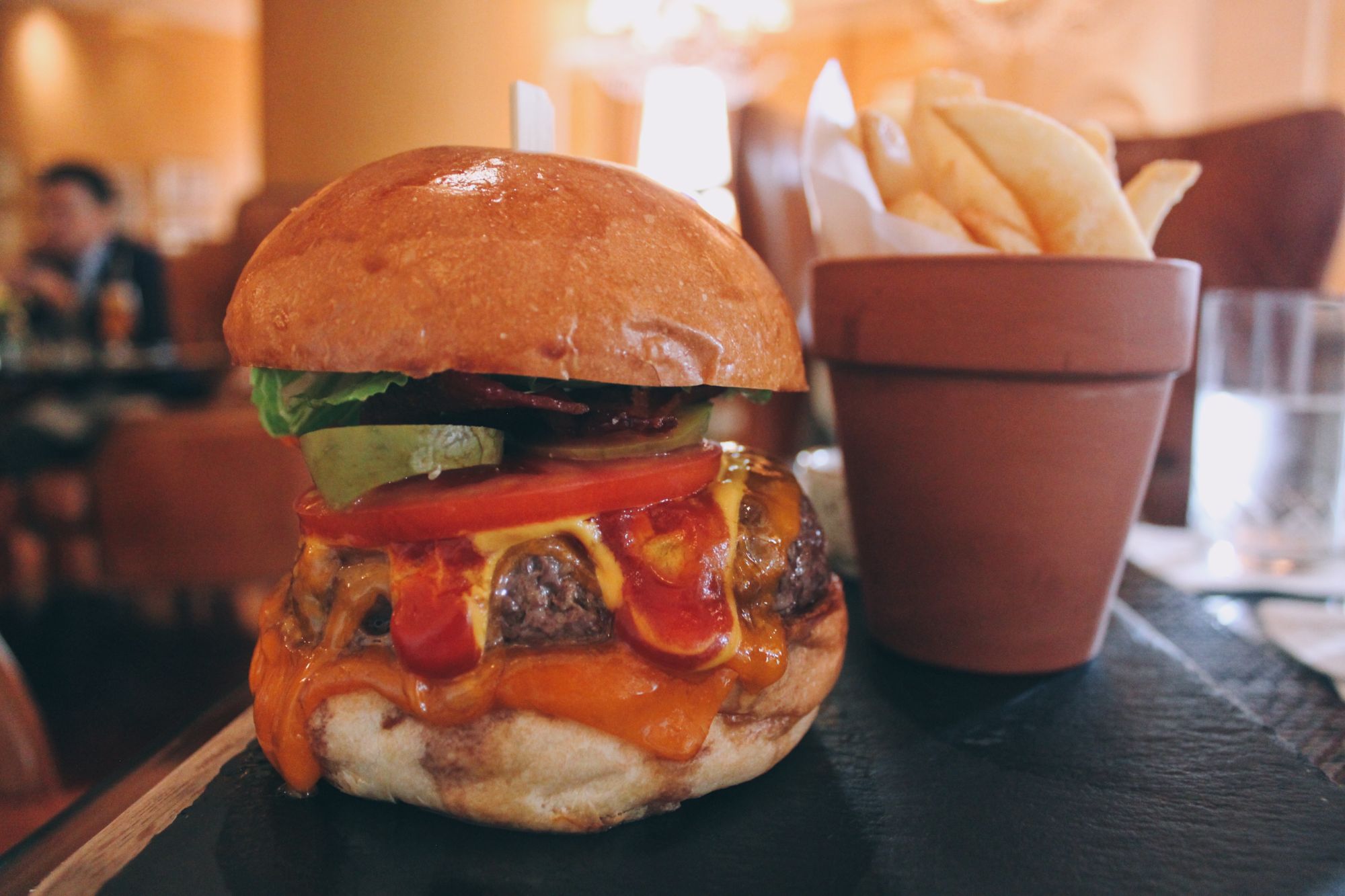 Windows Restaurant at Four Seasons Hotel Macao, Cotai Strip
Experience burgers redefined at Windows Restaurant at Four Seasons Hotel Macao, Cotai Strip, that are ideal for any occasion, and any season. There are two burgers to choose from and both of them embody perfection. Their signature Four Seasons Wagyu cheeseburger is a classic burger made of hand-ground Wagyu beef with a 30% ratio of fat for just the right kick of flavor and juiciness. Then, you have a classic combination of ingredients accompanying the patty and glazed buns. Pickled cucumbers, fresh tomato, lettuce, aged cheddar, and crispy bacon–do you really need anything else? To our delight, it comes with an extra serving of pickles and just the right portion of French fries in a rustic pot. Not in a mood for beef? Give their Impossible burger a try. You won't even notice that it's not meat and you probably won't find that delicious assembly of tahini, eggplant, and mozzarella anywhere else. We give extra points to Windows Restaurant's burgers for being perfectly assembled to eat–nothing falls out from the sides and the bun doesn't crumble. Last but not least, there is also a selection of kombucha which, of course, we couldn't resist pairing with the burger–a winning combo!
Windows Restaurant Four Seasons Hotel Macao, Cotai Strip, Estrada da Baía de N. Senhora da Esperança, S/N, Cotai, +853 2881 8888, www.fourseasons.com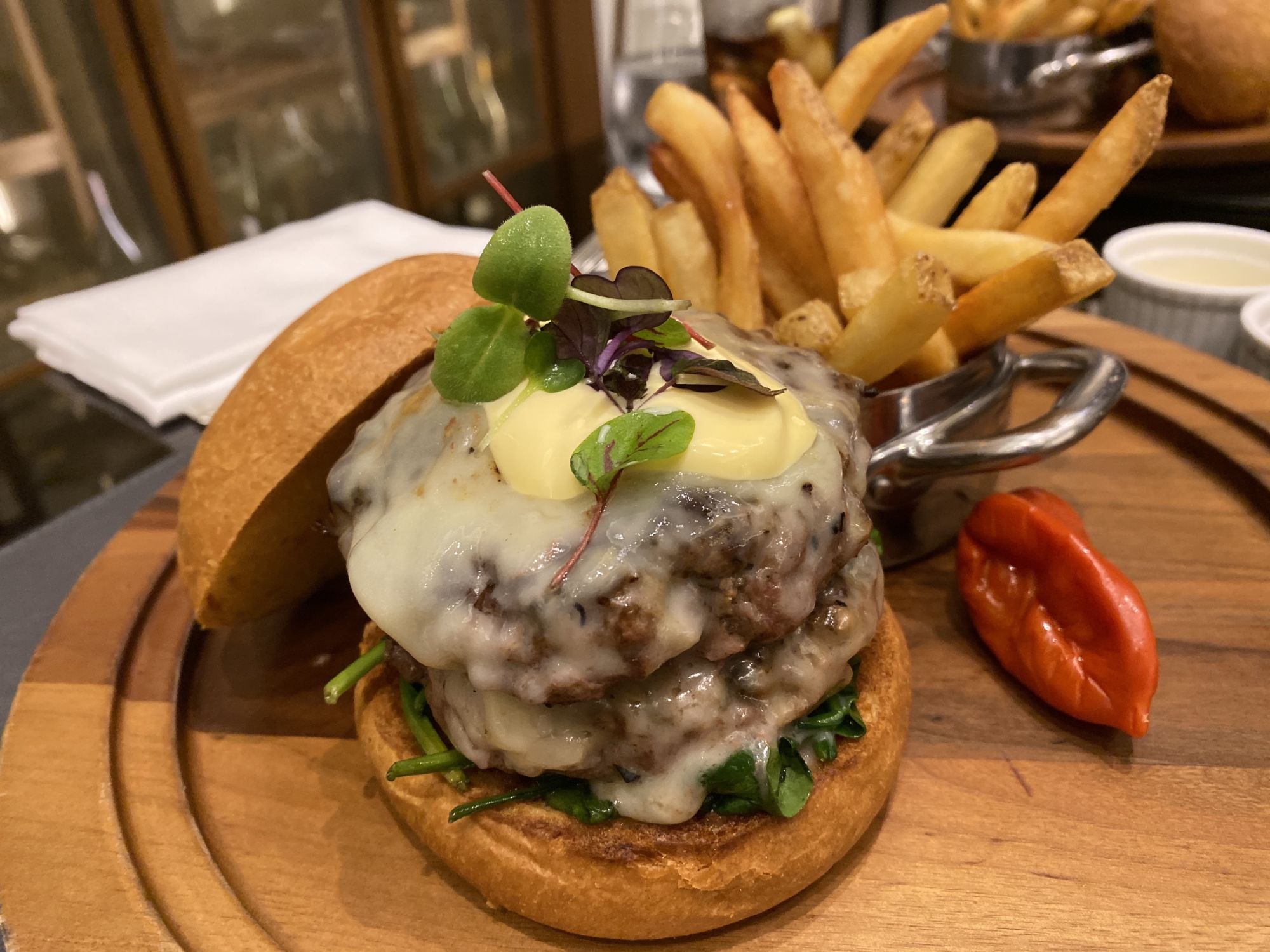 The Manor at The St. Regis Macao, Cotai Strip
Among other delights, The Manor boasts its selection of prime meat sourced from the best farms of the US,  Japan, Australia, Spain, and Italy. Hence, if you crave some succulent meat, this signature restaurant of The St. Regis Macao is a place to go. There is only one burger on the menu. But trust us, you won't need any alternatives as this one is perfection. Two thick juicy hand-ground beef patties, spinach, serra de estrela cheese and spicy mayo create an ideal marriage of flavors. Highly valued Portuguese sheep cheese serra de estrela makes a luxurious addition to the burger. On the side, there is a generous portion of crispy French fries and a pickled jalapeno. Mind you, the pepper is really hot so if you are not afraid to add some heat to your dish, you should try it as it adds quite a bold note.
The Manor 1/F The St. Regis Macao, Cotai Strip, Estrada Do Istmo, S/N, Cotai, +853 2882 8898, www.themanormacao.com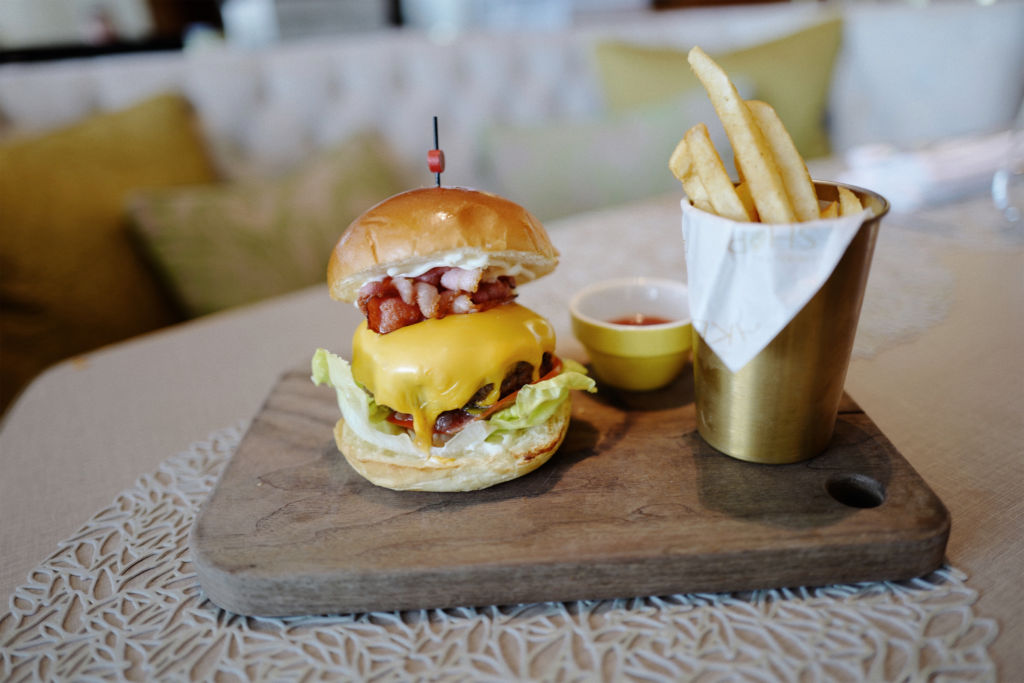 The Lobby Lounge at Mandarin Oriental, Macau
The Lobby Lounge is always a place of comfort for many guests and even city dwellers. We love the laid-back vibe inviting us for a bite no matter what time of the day. While the afternoon tea is more popular at this location, they remarkably serve an interesting diverse menu of Asian and Western favorites. A must-try is the MO wagyu burger. The secret hides inside the fresh blend of bacon, cheddar cheese, tomato and onion with french fries. The meat is juicy and the other ingredients complement the patty perfectly. One great thing about this dining spot is that you can upgrade your burger to a brioche bun, pan-fried foie gras with sweet potato fries! It's the kind of burger you don't find too often in the city.
The Lobby Lounge Mandarin Oriental, Macau, 945 Avenida Dr. Sun Yat Sen, NAPE, Macau, +853 8805 8888, www.mandarinoriental.com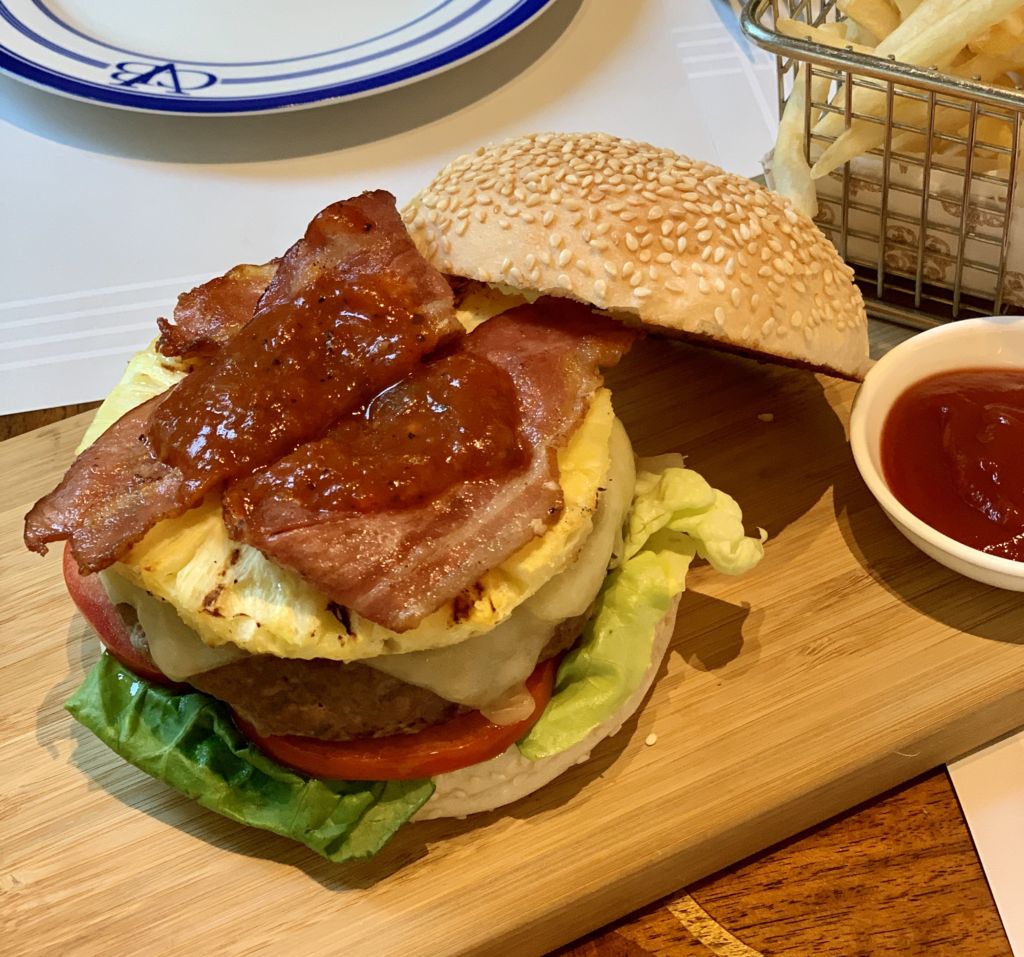 Café Bela Vista
Sporting a charming colonial atmosphere, Cafe Bela Vista makes you feel like you've traveled back in time. The restaurant is spacious and full of natural light, which makes it extremely welcoming. Have a try of their delicious Grilled Prime Beef Burger, which is one of our long-time favorites. The patty is made of a flavorsome 100% prime beef and made in-house from scratch. Besides being packed with flavor, the patty's consistency is perfect, as it is perfectly cooked to have a crisp outside layer and at the same time keep in the meat's moistness. Bela Vista's Grilled Prime Beef Burger is served on an incredibly soft sesame seed bun with layers of tomato, melty cheddar cheese, crispy bacon, smoky BBQ sauce and a caramelized pineapple slice which adds in a punchy sweet taste! The accompanying fries are also noteworthy and were crispy on the outside, soft on the inside.
Cafe Bela Vista Grand Lapa, Macau, Avenida Da Amizade Macau, +853 8793 3871, www.grandlapa.com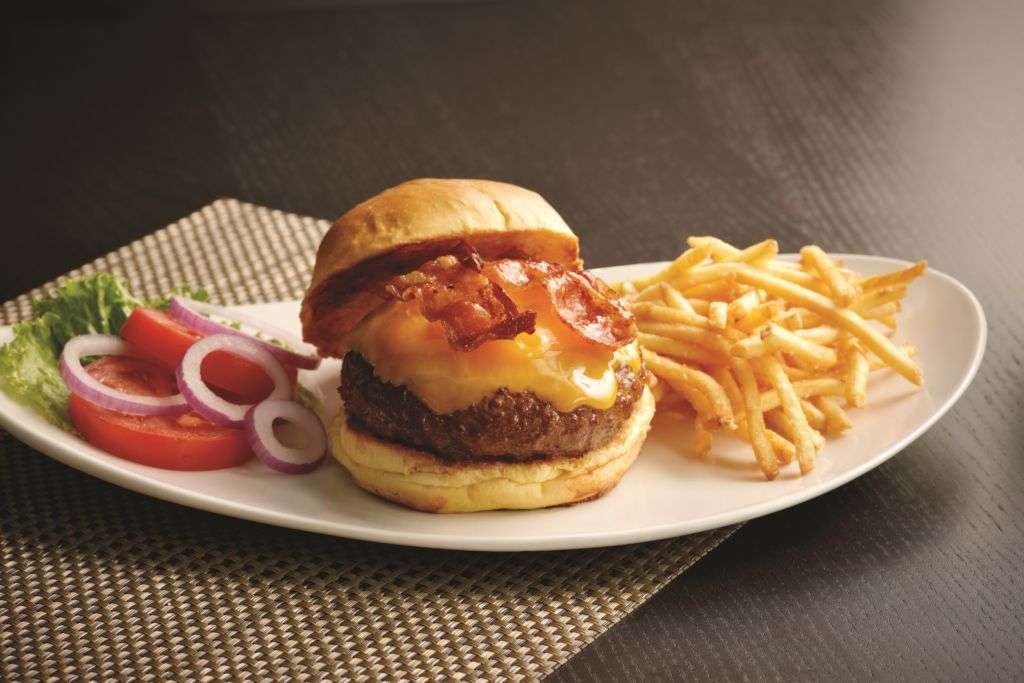 Morton's of Chicago at The Venetian Macao
This could well be the king of burgers. Morton's "prime burger" is ten ounces of delicious burger goodness. Prepare to wait though as the beef for your burger is hand-ground to order, with a perfect 75/25 ratio of fat. But believe us–the wait is worth it! Each bite is bursting with flavor, with a patty that is neither too dry nor too moist. The house-baked buns perform admirably, soaking up the juicy flavors of sautéed onions, mushrooms, and your choice of cheese while keeping the whole package together. Never the star of the show, the accompanying fries nevertheless stood out for their perfect seasoning and crispy texture. At the end of the evening, our only question was: when can we come back?
Morton's of Chicago The Venetian Macao, Shop 1016, Shoppes at Venetian, Estrada da Baía de N. Senhora da Esperança, Taipa, +853 8117 5000, www.mortons.com/macau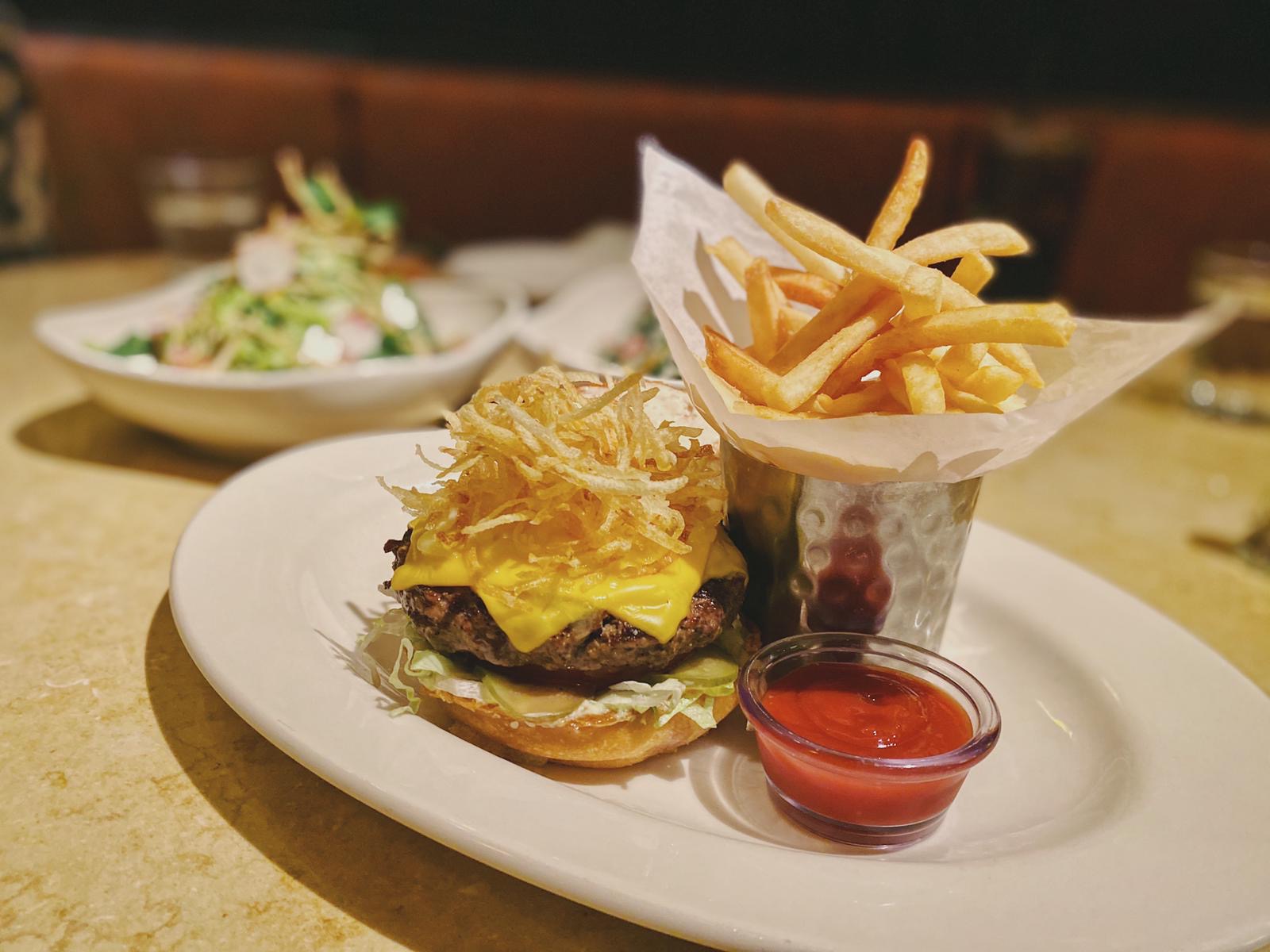 The Cheesecake Factory
Juicy and with flavorsome, high-quality meat, the patty really is the king of this burger! With a side of french fries and ketchup–or any other American condiment you can think of, really–this is a perfect dish to have when looking to satiate that crave for comfort and wholesome food. The melting cheese, plus pickles–you either love them or hate them and we would certainly go for the first option–and crunchy, thinly sliced, fried chips on top, allowing for a very crispy texture. Why not go all the American way and pair this with a glass of soft drink that they'll refill until you're full!
The Cheesecake Factory Shop 2203D-E, Level 2, Sands Cotai Central, Macau, +853 2882 3398, www.sandscotaicentral.com/the-cheesecake-factory
Tags
Related Posts