You've probably heard of Moët from lyrics of musical legends such as Freddie Mercury and Prince if not, you can just refer to it as the official supplier of Champagne to Queen Elizabeth II. The winner of the prestigious Formula 1 pops this after being crowned champion in an iconic moment so there can be no doubt that it's the most illustrious Champagne house in the world.
What lies behind the sparkle of this spirited libation? We met Marie-Christine Osselin in Hong Kong to understand the brand and her role as Wine Quality & Communication Manager at the luxury Champagne house–Moët & Chandon. It's easy to be mesmerized by the way Marie-Christine speaks of how Champagne entices the palates of many. She holds a bachelor's degree in Quality Management from Département ISSBA at the University of Angers and she also has a degree in biological laboratory technics with a specialization in medical analysis from the University of Toulon. We delved deep into the process of winemaking and how Moët & Chandon has evolved from its historic beginnings to building a clientele that includes nobles, aristocrats and A-listers.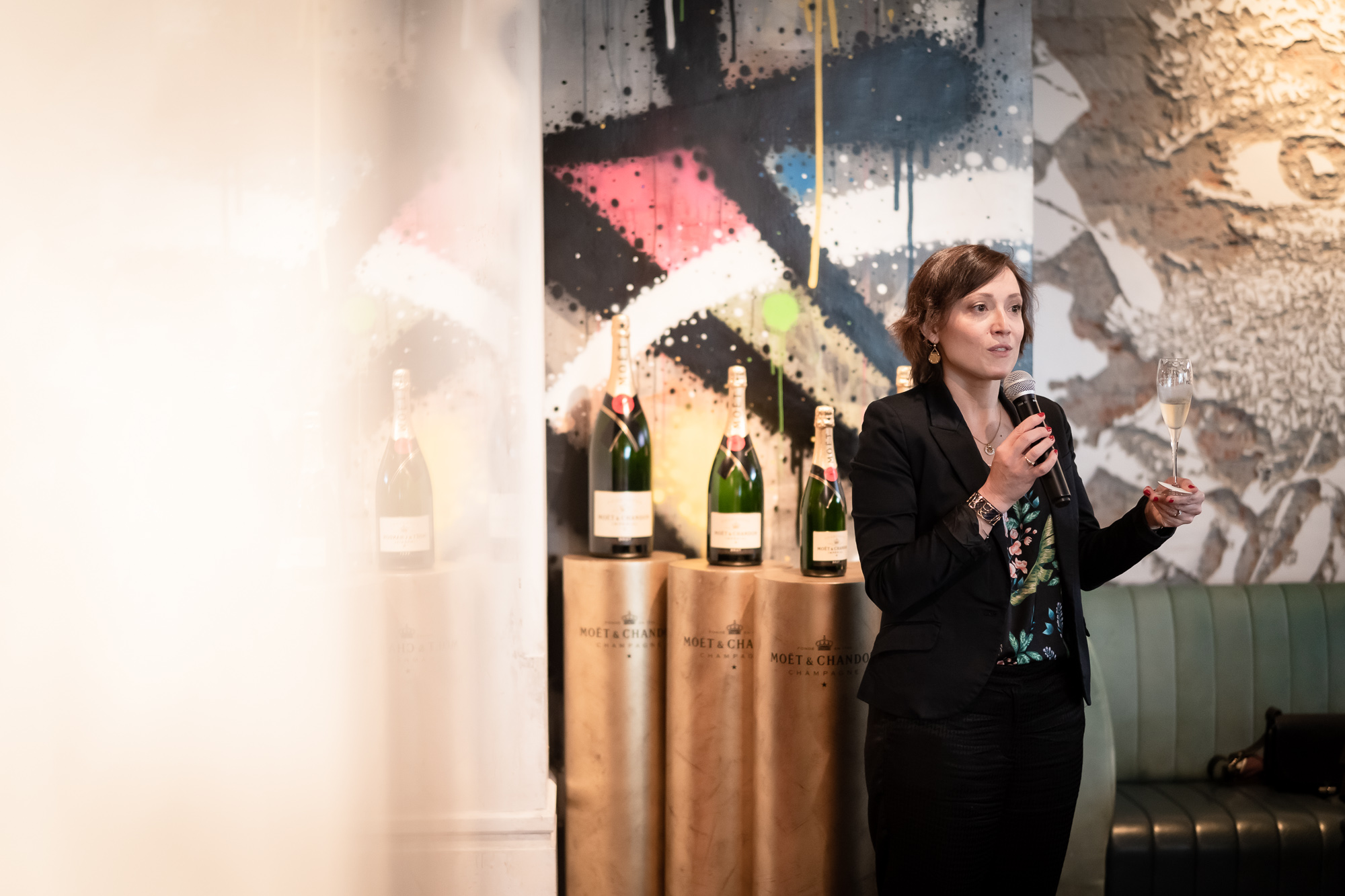 Could you elaborate on how you landed this job?
Actually, it's a question of timing. Prior to joining Moët & Chandon, I was in the wine industry as Quality, Health, Safety, Environment (QHSE) Manager for the Cave de Cairanne. I was at a certain stage in my life where I wanted to discover something different and new; I wanted to be in communications and yearned to travel.
I was also surprised when I was accepted for this incredible role. Of course, it helped that I was highly motivated and I'm always driven by objectives and goals. I had no background in Champagne making then but what mattered was my spirit and enthusiasm to learn and my background to persist. And there is nothing better for someone to always be open-minded when it comes to the pursuit of success in the world of quality management.
As a quality manager for Moët & Chandon, how does your job look like from one harvest season to another?
Well, this year is very well organized for us. Every harvest season is different although there are many similar patterns to it, there's always something unique. I work with various departments but always work closely with winegrowers. You can't expect the blending to be the same all the time because of factors such as climate and other uncontrollable aspects–even the manpower as we hire thousands of people in the cellar work. There's always a need for excellent training to keep the level of quality at the highest standard. There are a lot of other responsibilities involved in my overall role.
How do you decide which years to become vintage?
Based on the records, we see it happening every two or three years or every year. It really depends on the quality and affects many decision-makers. We consider the blending and the team of winemakers in order to validate the quality. We need to all agree with the blending chosen to go vintage. It's a journey into itself that we all take when we come to a consensus. There are many questions that need to be answered when choosing and many factors to consider as well. Every Champagne maker makes a blend creating a vintage that fits their style. What we can ascertain is that the attention to detail is meticulous and that it's the best quality from that harvest which makes the preservation process truly remarkable.
So when it comes to 2012, what can we expect from the taste palate?
One of those is an unexpected vintage because the climate and weather were very difficult in 2012. It was a struggle with frost in the spring and at the beginning of summer not snowstorm but a lot of rain in Avignon. I must admit that the result wasn't very fine. So the rest of the grapes–we lost grapes during production because of the frost–were very beautiful and healthy. We discovered that it wasn't so bad after all. The product delivered a very interesting result which surprised us.
So, we decided to create a vintage that also expressed the very demanding weather condition in which exquisite quality grapes were created. We had a cross between freshness, acidity, and mineral. It's a very delicate Champagne and you can expect beautiful freshness, but also a fruitiness that's seemingly elegant in its own way.
So Champagne pairing menu is becoming a thing. What are the best ingredients to match a special dining experience like this?
Champagne is like a diamond with many facets. So you have to look for something salty, something fresh obviously and seafood is a key ingredient for pairings. You can have sushi, scallops, lobster, oyster or abalone. All seafood can pair perfectly with Champagne. However, open your mind to something different and look for ingredients that are juicy or tasty.
You can even opt for something simple with good Champagne. You can have vegan or vegetarian food with Champagne. You just have to be particular with the flavor of your ingredients. Also, texture is an important tool to aid you in your pairing. So for example, fried shrimps, Korean barbecue, or tempura shrimp can be very interesting because these are crunchy.
Having worked with Moët & Chandon for a few years now, what was your most unforgettable experience?
I travel a lot and have plenty of incredible experiences as of today. I discover different amazing restaurants and diverse, new and interesting cuisines. I am really an epicurean at heart. I would like to discover a place through its culture using wine. I love having the opportunity to travel around to meet a lot of people. However, sometimes it's difficult to remember the names (laughs), but I remember those experiences. And, you know when you drink Champagne you remember that significant moment in a certain way.
Maybe you won't remember the exact date of today but if we meet again in a decade or two, you'll kind of remember the moment, the food and Champagne. It makes every moment exceptional. We like to often say, "Don't wait for special occasions to open a bottle of Champagne." You create that exceptional moment; that power is within you. Every moment of celebration needs a glass of Champagne!
What would be your recommendations for wine enthusiasts to learn more about winemaking?
I think the best way is to read a lot of the Wine Press. You can read about wine online and in the papers but I think the best thing is to go to specific places to visit the winemakers. It would make a lot of difference to meet them and to see the vineyard. It helps in understanding the winemaking process.
You were born in the south of France, a beautiful and timeless holiday destination – what would be your must-visit recommendations?
It's very difficult to answer because it's a very interesting region for plenty of subjects. Do you prefer history or art; or do you prefer wine? Thus, I would say in the south of France, there are plenty of interesting places to explore. Take a trip to the smaller villages and stroll along the countryside.
How does global warming affect the art of winemaking?
Everything is changing amidst our surroundings. Indeed we have to deal with global warming as much as we deal with the change in consumer consumption. We have to be more sustainable and we encourage people to drink responsibly of course. We use fewer pesticides, regulate our water use and aim for a more sustainable process.
As a leader in our industry, we have to set an example and we have to show it. Global warming is going to make an impact in our history and it will be a very demanding issue to face. We have to think of the generation ahead of us with every decision we make.
---
Moët & Chandon Champagne www.moet.com
Tags
Related Posts