Mok Yi Kei is an integral part of Macau's history and culture, a cornerstone of Old Taipa Village rooted in extraordinarily humble beginnings. They began in 1938, and it has been passed down to three generations. Since then, they have been bestowed numerous awards and even boast five consecutive Michelin awards for the most recommended street food for Hong Kong and Macau. Before the pandemic, it is a common sight to see hoards of people swarming around the newly furnished shop with its bright yellow signs and its gleaming white walls and floors. Tourists from all around Asia flock to Mok Yi Kei when they arrive at Macau to get a taste of their signature durian ice-cream and their renowned agar jelly.
When we arrived, we were greeted by a lively lady with a contagious smile, who was very eager to feed us. This is Leong Kui Zhi (梁葵枝), the extraordinary woman who has worked behind-the-scenes of the shop and is the pillar of Mok Yi Kei's success. Read on to find out about Mok Yi Kei's past, their inspiring journey, and of course, all about their signature durian ice-cream and agar jelly!
Tell us about Mok Yi Kei. When and how did it begin?
Back then, my father-in-law was a street vendor who sold snacks and he didn't have a license. From 1938, they sold snacks, little hamburgers, sausages, and fish balls. They didn't have as many tools as we do now. They didn't have a fridge so they would carry the agar mixture in a basin (which would later solidify) and they would serve it out in coffee cups.
It was tough for them back in the day. They used cardboard as fuel for the fire to make the agar jelly rather than coal because money was scarce. They didn't own a house back then either–they only rented. My mother-in-law's father also sold offerings for people who would go to worship at temples. They did all sorts of miscellaneous jobs to get by.
Their store on Rua de Cunha began in 1954 and I worked for them for a few years. I would work for just one or two hours and then I would leave. My mother-in-law, who was then just my employer, took a liking to me and she suggested that Mok (my husband now) and I should get married and help with the business.
I came from a very poor background and I've never tried dessert; I don't think I even really knew what dessert was at that time. I didn't have any experience with running a business but I watched Mok and his father and I learned.
After I married Mok, we focused only on selling durian ice-cream, serradura, agar jelly, mango pomelo sago, and drinks like the chrysanthemum drink, all of which I make myself with my own recipes. When my husband and I took over the business, my father-in-law and mother-in-law retired. They were going to sell the shop because my husband's family were all moving to Hong Kong. My other employer then at Ocean Gardens was willing to lend me some money so I bought the shop. If we didn't buy the shop, we wouldn't be where we are today. I've owned the shop for 21-22 years now.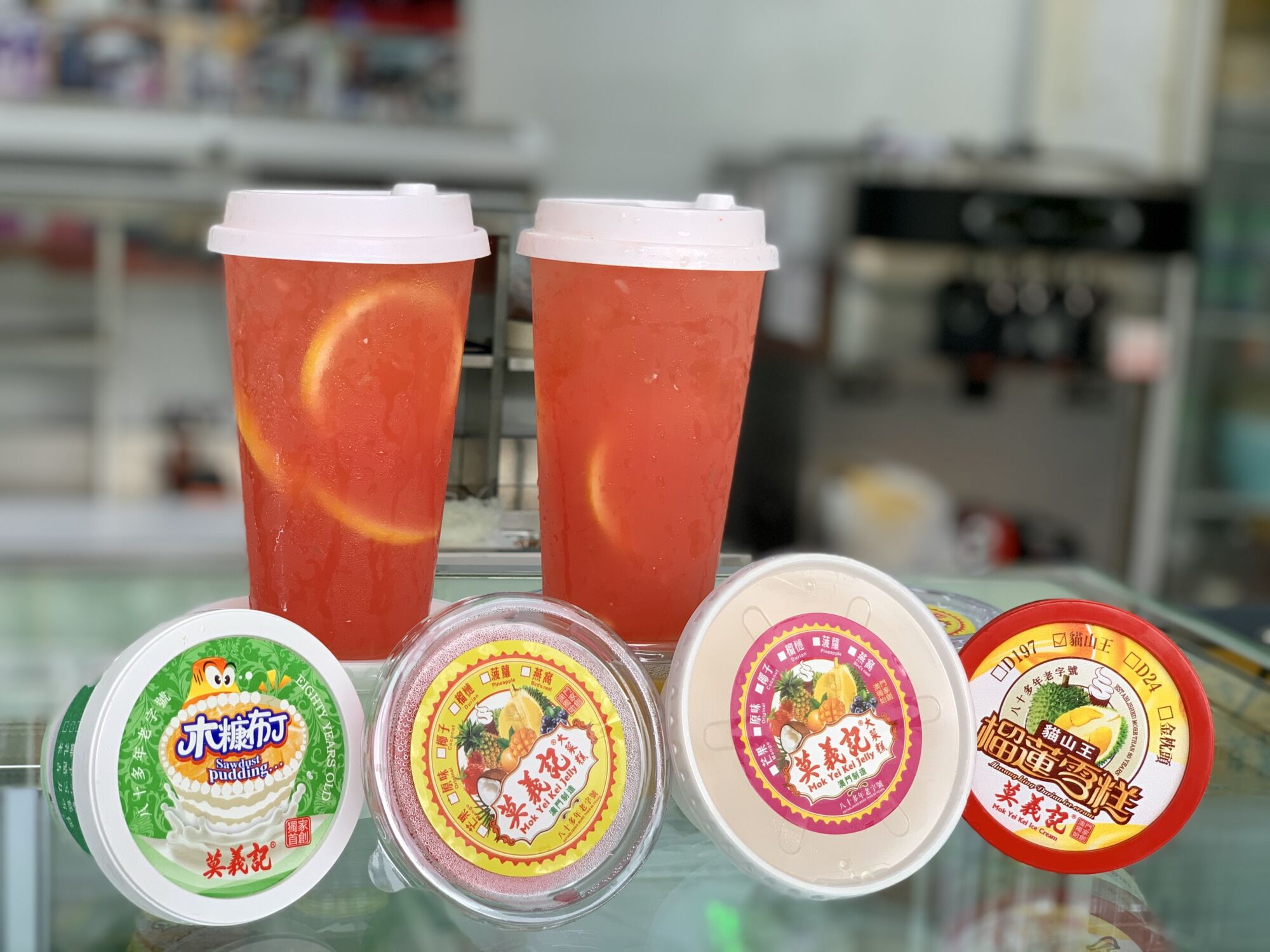 How did you and your husband meet?
My husband's family was born in Taipa, born and raised in Macau. I wasn't. I came here when I was 19 or 20 from the mainland to find work. I started working at Ocean Gardens at a Chinese restaurant and that's how I met Mok.
I was also working for their family. My mother-in-law saw me and thought I was hard-working and honest and liked me. When Mok started liking me, I was shy and inexperienced. I thought he was too short (laughs)! I was worried though because I didn't want to go back to the mainland and I thought of how they were a good family.
I feel very blessed and grateful for my husband as he's a kind man.
What does Mok Yi Kei mean? Why are you called Mok Yi Kei?
My father-in-law is called Mok Yi, so Mok Yi Kei is named after him.
Mok Yi Kei is known for its durian ice-cream and agar jelly. What is agar jelly and how do you make it?
It's made from plants in the sea (seaweed). We soak it for four hours. It looks like dried rice noodles. You have to soak it for four hours for it to be good. Then, you boil the water. We have to clean and filter the agar properly. Agar jelly is easy to make but it's more of a meticulous process for me. The difference is that I'm making it for customers, whilst others are just making it for themselves. I only buy my agar from Korea as the best agar comes from there.
If you have problems with your stomach or constipation you should eat agar jelly. I know this because I once went to the doctor when my stomach was feeling unwell. He told me that I needed to consume more sticky foods and that I should eat agar jelly. I told him I just so happened to make agar jelly for a living!
When do you eat agar jelly? Is it a snack or a dessert?
It used to be a snack but now it's promoted as more of a dessert. We are now experimenting with agar to make agar cakes! I can make custom orders of agar jelly that can be about three to five pounds. I pick colorful shapes into the jelly which I figured it out myself. I would need a day's notice but you can request any flavor, even flavors that are not made in the shop.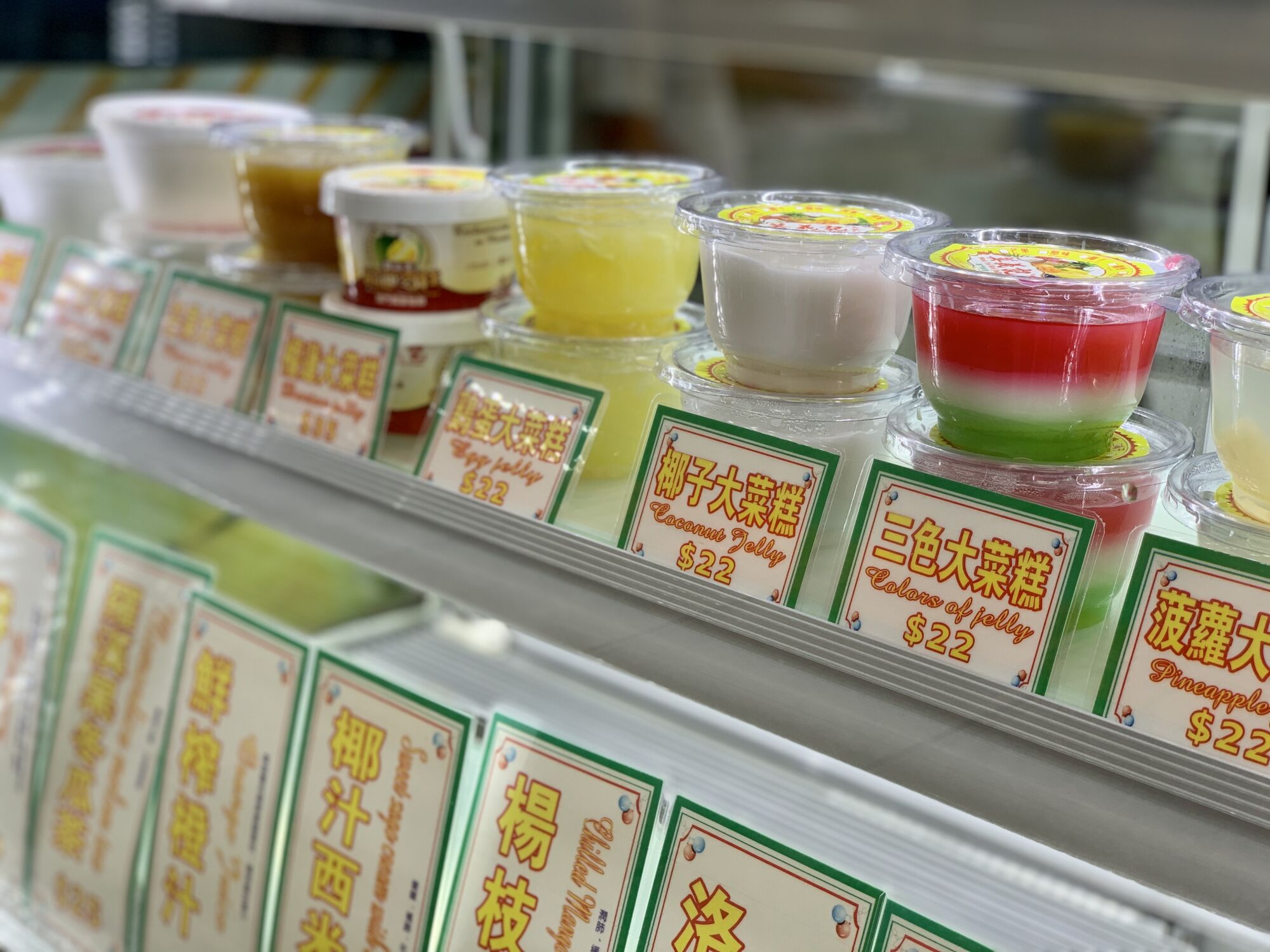 How would you describe agar jelly to someone who has never had it?
It is soft, smooth, light, and refreshing. It is good for the body, especially your stomach and intestines. It helps with constipation and is also good for your skin.
Mok Yi Kei boasts a large range of flavors of agar jelly. Where do you take inspiration for these?
Even as a child, I loved learning. When I lived in the mainland as a child, I owned a bicycle. Even though I only had one, I had the overwhelming desire to take it apart just so I can learn how to put it back together again. I was a bit of a tomboy. Even if it was just a drink–I would try it, look at it, and the gears in my brain would start turning.
I don't know how to use the internet nor do I know how to use the phone. That's why I rely entirely on my own intuition and reasoning. If I couldn't figure out how to make something, I would walk to where the Taipa Houses Museum is to ponder. I would smell the plants and the flowers there to make note of their scents. I always buy dried flowers from Indonesia so I asked the vendors if the flowers could be eaten. When they said yes, I had to buy it and experiment with them. I've now made Osmanthus flavored jelly and I have experimented with rose and jasmine too.
I experiment with as much fruit as possible as well. I have to do it the long way because I don't have a choice, really. I'm 62 and I don't know how to use the internet, after all.
Mok Yi Kei has been awarded the "Macao Classic Brand (澳門特色老店)" classification! What cultural significance do you think it has on Macau? 
Before, the locals would only eat agar jelly. Still, we would sell fourteen big containers of agar jelly (thousands of agar jelly), thousands of ice-cream a day, and hundreds of serradura a day. There would be customers who drove all the way from Macau to buy their agar jelly. We would sell thousands of durian ice-cream and agar jelly a day because we used to be the only place in Macau that would sell those things. Since I was doing it all myself, some days I wouldn't even be able to keep up with the demand! I'd work for seven days straight with no sleep because back then I was young, so I didn't really mind. I couldn't hire any foreign labor back then either because there were more restrictions. It was very, very tough.
We have also won the 2020 Michelin award for best street food as well for the fifth year in a row but because of the pandemic, we haven't been able to collect the prize from Hong Kong yet.
Apart from agar jelly, what are your signature items and the most requested food items?
Durian ice-cream and serradura are popular. They're unique from other places because I come up with how to make them myself. Our durian ice-cream has won a Michelin award! We have two flavors–Musang King and D24. In these past few years, more people eat durian ice-cream than agar jelly. Durian ice-cream is now our signature item. However, they're selling quite equally now because of the pandemic. The locals tend to buy agar jelly.
Back then, when my father-in-law was in charge, his customers were mostly just students. Coconut ice-cream and durian ice-cream was what sold the most. The reason why the agar jelly became more well-known was that there was this Portuguese man, born and raised in Macau, who did not eat coconuts nor did he eat durian. However, he really liked eating the agar jelly. He was surprised that something so delicious was so unknown to most people. Back then, we didn't have the internet. Word got around through city guides and maps and that's how we became more and more well-known. That was probably around forty years ago. This man would eventually be one of the people who testified and gave evidence to bolster official records as to how far back we began.
What is your day-to-day routine in the shop?
On busy days my husband and I would wake up at 5:00am, but normally I wake up at 7:00am–8:00am. I make the ice-cream the night before and the agar jelly doesn't take very long to make! I would finish everything before 10:00am. Back when we were busier, I would work day and night to get it done.
I make everything myself and don't allow my husband to help me. Why? Well, we have to divide our roles in the shop–he stays out front and I cook in the back. Otherwise, who is going to keep an eye on the shop? I've hired someone who has been working with me for 12 years. They're responsible for putting the lids on the food and they work quickly and efficiently. I've only hired people to help me with selling the food. I've never hired anyone to help me make the food.
My husband makes the milk tea though. That, I don't know how to make. He makes it the traditional way, with just milk and tea. He learned it back when he was working at a Chinese restaurant.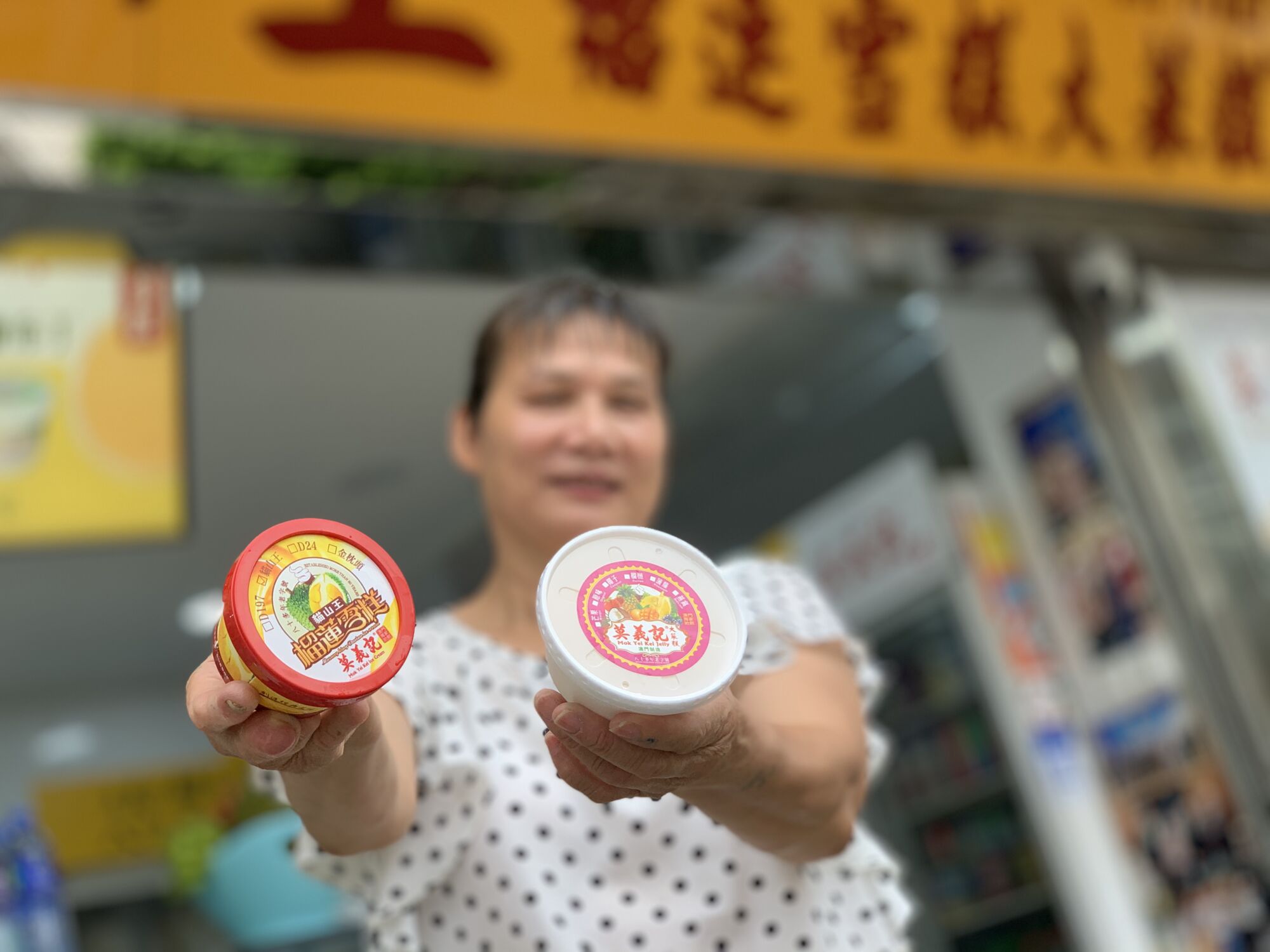 What is your favorite item of food that you sell?
Durian ice cream. I didn't actually use to eat durian. I didn't know how to eat it and I didn't like the smell. But one day there was a Singaporean customer who asked if I ate durian. I said I didn't. He said, "How do you know if your durian ice-cream is any good if you don't eat durian yourself?" He asked me if I made the ice-cream and I shook my head–I felt like a deer in headlights. This was when my father-in-law was still running the shop.
My father-in-law knew that something was bothering me. I told him about what had happened earlier with the customer. My father-in-law urged me to try durian. Eventually, my husband brought me to a market and showed me what a durian looked like. At first, I was hesitant. But I gritted my teeth and I gave it try. My first experience was horrible–I kept throwing up.
I eat durian now–of course, I do. Otherwise, how would I know whether or not my ice-cream is any good? I can eat a whole durian myself now! I love durian. I go to Malaysia twice a year on my own to pick out durians for the shop.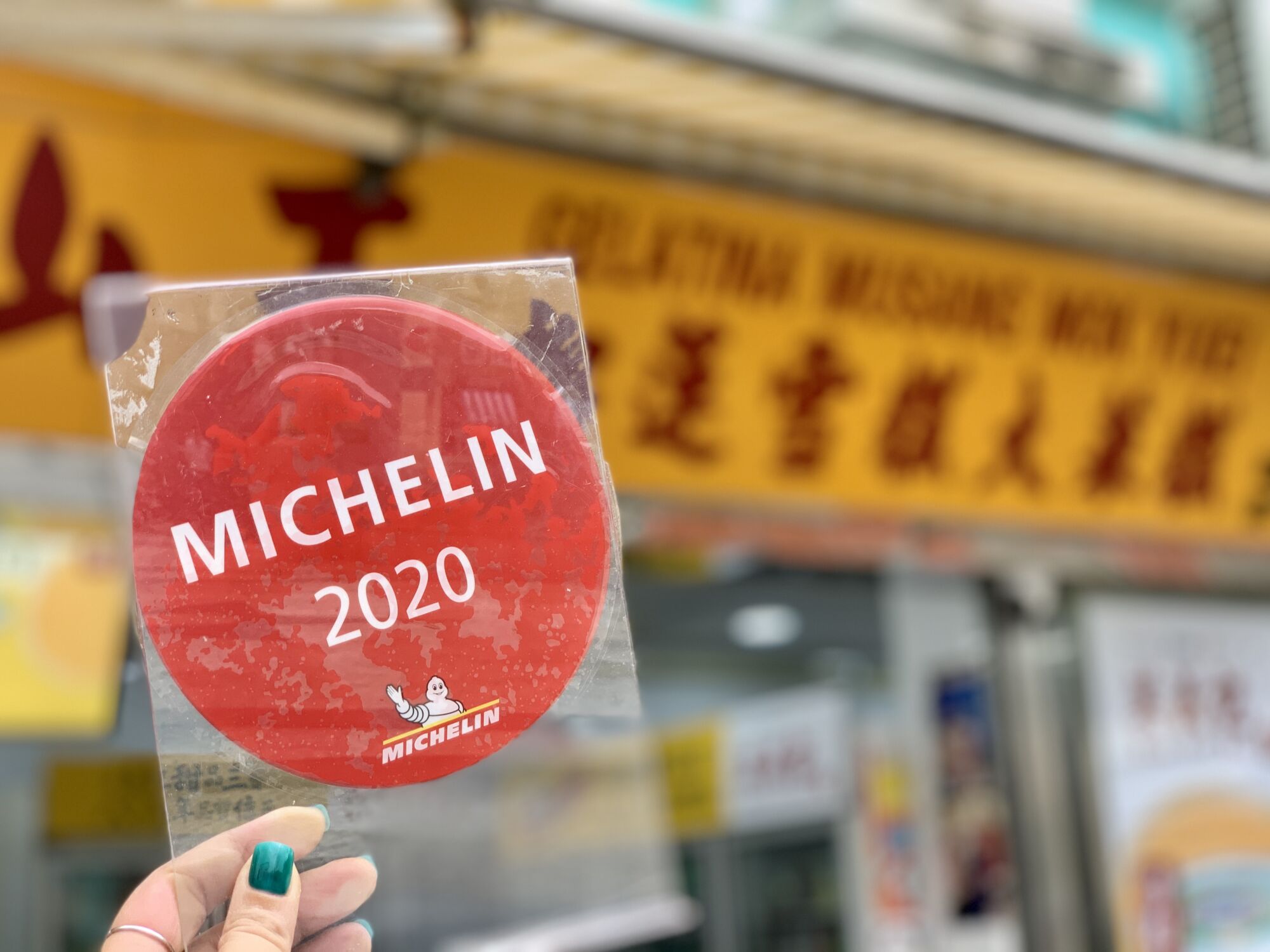 Do you have any plans for Mok Yi Kei in the future?

I want to expand the business. I don't want to keep my options narrow. We had four other branches but they've been closed down because of the pandemic. Some of them are gradually opening again.
I would need a team. There are lots of people interested in working with me, whether it be young people, real estate, business people, and souvenir brands. But it is hard to know if people are honest and willing to go through tough times with you. It's been tough. This year's been the only year where I've been able to actually get some rest. I am grateful for my husband. We haven't really ever been apart for twenty years! I don't have children, otherwise, I wouldn't have to work now. I'm very grateful when people put us on their social media which really helps us out. It's just so important to be nice to each other. Yes, we need to earn money but we also need to appreciate and be kind to the people around us.
What do you do in your spare time?

I love making desserts and experimenting with new food ideas. I also exercise daily for an hour at the park. Truth be told, I don't eat out nor do I explore Macau. I admit I am a workaholic. This work is like my lifeline. I have to uphold the history and reputation of this place. The only time we ever took some days off was right after our marriage. However, when we came back a customer told us that they had come all the way from Hong Kong just to have a taste of our food and they were disappointed that we were closed. Since then, we have not rested. I think I have a duty to the shop and to the customers who have heard of the legacy of Mok Yi Kei and who have come specifically for it. I want to do the best that I can and I pour all my heart into my work.
---
Mok Yi Kei 9 Rua do Cunha, Taipa, Macau, +853 6669 5194
Tags
Related Posts