Macau is a great mix of heritage, art, modern architecture and also wonderful food! No matter the cuisine or the budget, the city has got you covered. However, for in-between times like tea time, Portuguese pastries with tea or coffee will surely hit the spot. For your next tea time pleasure, we've gathered a list of the best Portuguese pastries and where you can get them!
Pão de Ló de Ovar 
(See featured image)
Pão de Ló de Ovar which literally means Creamy Egg Cake from Ovar is a sugary dessert consisting of dry cake (pão de ló) filled with a creamy egg paste. Find this cake sold frozen in supermarkets like Seng Cheong and some Portuguese restaurants. Tacos is a quaint Mexican restaurant owned by a lovely Portuguese lady who sells Portuguese food and also spirit drinks. Grab some Pão de Ló de Ovar with your friends over some tea and call it a day!
Tacos 38 Rua Das Virtudes, G/F H Centro Comercial Hei Loi Tang Plaza, Taipa, +853 2875 0151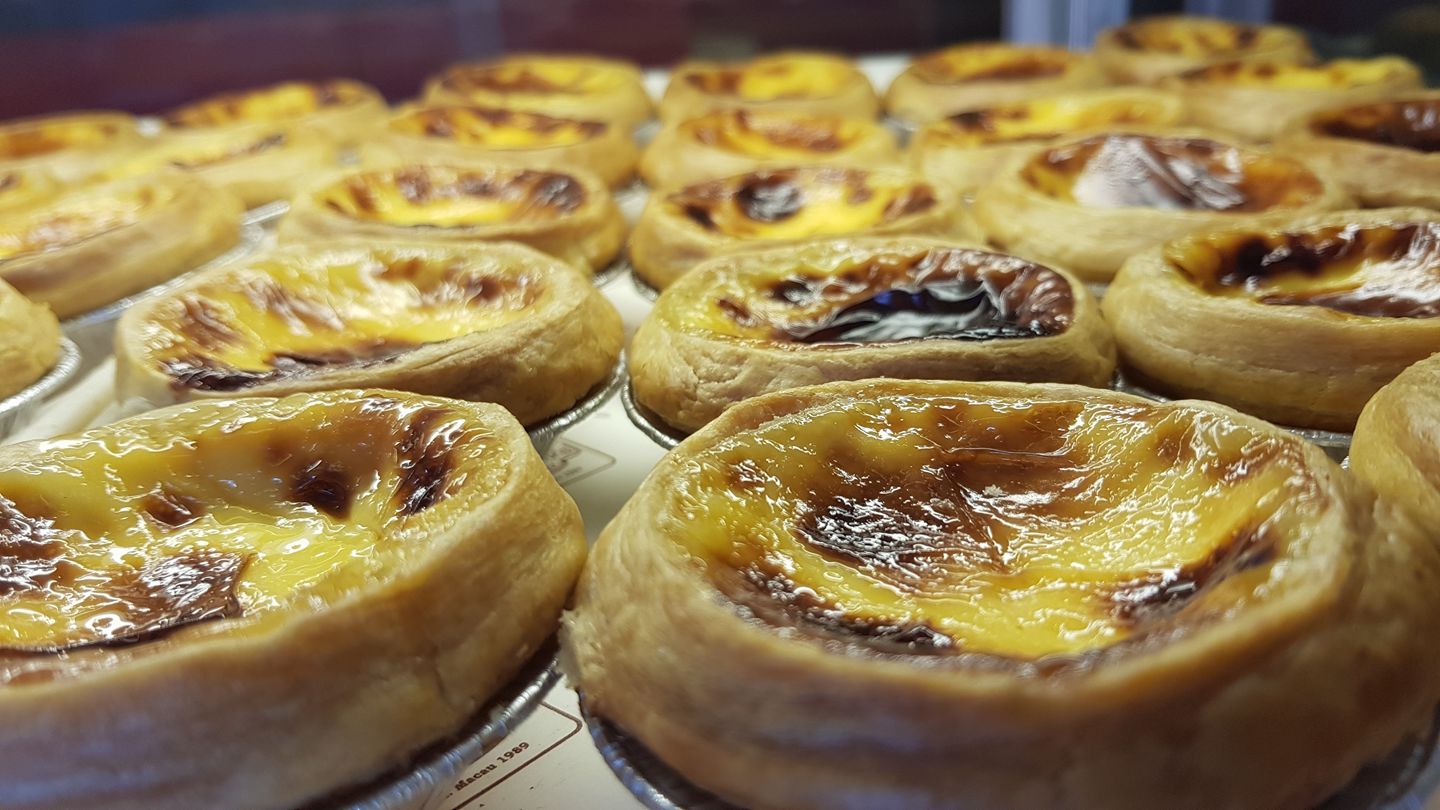 Pastel de nata
Authentic Portuguese egg tarts are very elusive in Macau because the locals don't fancy sugary stuff as much as the Portuguese do. However, there are some quite realistic versions in pastry shops and restaurants around the city. The flaky exterior contrasts with the soft, creamy insides and eating them warm is just perfect!
In Macau, the best known Portuguese egg tarts are Lord Stow's with a shop in Coloane village. If you can't make it to Coloane village, shops all over Macau sell the egg tarts too. There are other spots for Portuguese egg tarts which are not too sugary or milky. Check out Koi Kei Bakery as well as Margaret's Café e Nata for Portuguese egg tarts that the locals enjoy.
Original shop: Lord Stow's 1 Rua do Tassara, Coloane
Other branches: Lord Stow's at Taipa Village 9 Rua do Cunha, Taipa, Macau
Lord Stow's Garden Café G/F C Houston Court 21 Largo do Matadouro, Coloane Village, Macau
Koi Kei Bakery 70–72 Rua Felicidade, Macau and several other locations. www.koikei.com/en/branches_information.php
Margaret's Café e Nata 17B Rua do Comandante Mata e Oliveira, Kam Loi Building, Avenida de Almeida Ribeiro, Macau
Pastel de Chaves
Literally translated into "Chaves' pastry", pastel de Chaves is a Portuguese delicacy usually filled with meat. Made of a fine filo dough, the pastry is usually shaped into a half-moon then filled with minced meat. In Macau, find them in Travessa de S. Domingos, in a shop solely dedicated to selling these delicacies with a history of more than 150 years!
Read more on Pastéis de Chaves history and where to find them on their Macau store's Facebook page
Pastéis de Chaves 5 Travessa de S. Domingos, Macau, www.facebook.com/PasteisDeChavesMacau
Ovos Moles
Having originated in Aveiro, ovos moles (soft eggs) is a sweet pastry stuffed with sweet and creamy egg paste. Ovos moles dates back to the 16th century and invented by nuns in a convent. The nuns made ovos moles to help the patients being treated there. Casa da Rocha is the place to get ovos moles alongside other Portuguese offerings you might want. For a true Macau experience, sip on some Chinese tea while enjoying this sweet Portuguese pastry!
Casa da Rocha Gallery of the Livraria Portuguesa, 16–18, Rua de S. Domingos, Macau,
Queijadas de Sintra
Dating back to 1227, queijadas are probably one of the oldest Portuguese pastries. Queijada is a traditional Portuguese sweet filled with cottage cheese, egg paste and cinnamon. It's baked in the oven until it forms a sweet and fluffy crust on top. It's rare to find this delicacy outside of Portugal, which originated in Sintra, a Portuguese village close to Lisbon. Get it at Casa de Rocha and pair it with your favorite cup of tea during the weekend and while away the hours. One of Sintra's most famous queijadas' house has also opened in Macau in June, 2019. It offers these delicacies right from the origin.
Casa da Rocha Gallery of the Livraria Portuguesa, 16–18, Rua de S. Domingos, Macau
Ramalhão Queijadas 36 Rua do Dr. Pedro José Lobo, Macau, www.facebook.com/ramalhaodocariatradicional
Travesseiros de Sintra
On offer at the city's hottest and trendiest conventual sweets shop, travesseiros have a shape similar to a pillow and are filled with egg cream, covered in a thin and crunchy crust of perfectly cooked and toasted dough. Sounds good? Well, only tasting will tell, so head to Ramalhão's shop to find out what are these sweets all about. They also have queijadas and egg tarts (the real ones!). If you're still curious, check our article on this new shop here.
Ramalhão Queijadas 36 Rua do Dr. Pedro José Lobo, Macau, www.facebook.com/ramalhaodocariatradicional
Tags
Related Posts