Set in a busy residential One Oasis neighborhood, Trigo D'Ouro Macau–Vânia Vieira's creation–aims to bring everyone in Macau the truest and most traditional Portuguese flavors. Featuring some of the most loved pastry delicacies from Portugal, this café is characterized by a very Western soul, where visitors will listen to popular music and be able to try different cakes and pastries. It opened its doors in September 2020 and its major success can only mean one thing: high quality. We sat down with the owner and got to learn a lot of interesting things about Trigo D'Ouro!
First of all, congratulations on putting together this amazing place! How did you come up with the idea?
We moved (me and my husband) to One Oasis about two years ago and always felt there was something missing, especially in this area of Macau. When the pandemic hit, we traveled to Portugal, came back, and started brainstorming about things we could do in Macau. We had already thought about opening something for some years, and then we started thinking "What if we actually open a pastry shop here, in Macau?" We felt the Seac Pai Van community was missing a coffee place, snacks, and stuff like that. We opened Trigo D'Ouro while thinking of this community, but thankfully, the word's spread and we have people coming from all over Macau! But yes, the initial goal was to open a small coffee shop for this area.
Meanwhile, this area has been revamped over time, and now includes some shops, restaurants and so on. Perhaps the Covid-19 pandemic made Macau residents realize that there's a world of things to do and create out there and contribute to the local environment.
Do you have any previous experience with pastries or anything else related?
We always worked in the F&B realm. My husband manages a restaurant and I'm the one more connected to Trigo D'Ouro. Previously, I worked in the F&B department of a local casino and in Portugal, for a restaurant franchise company. I graduated in Food Engineering too. Our background has always been linked to F&B and food and I'm loving what I'm doing!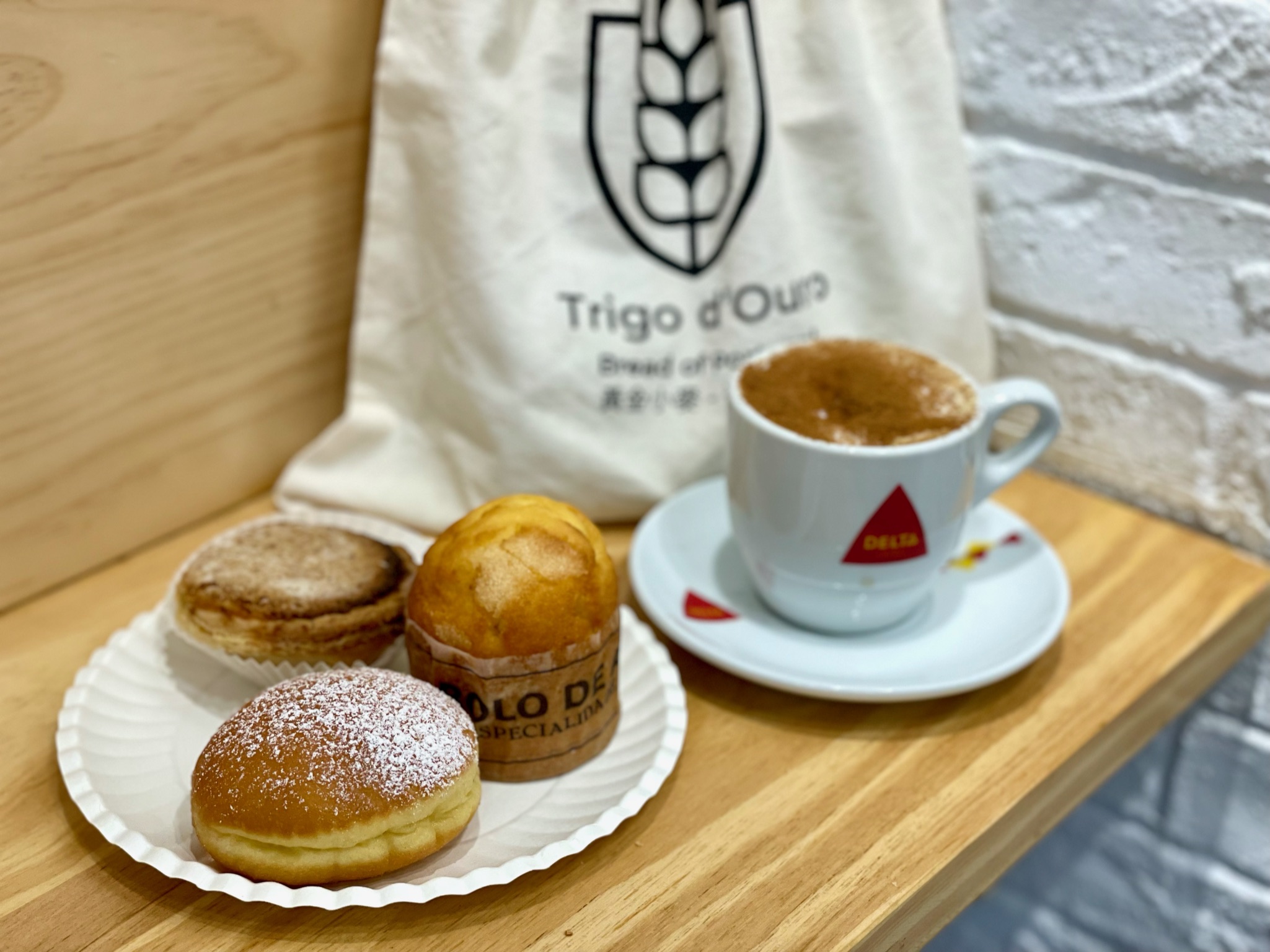 What is the concept behind the brand?
Trigo D'Ouro is a bakery and pastry selling Portuguese goods.
What are your signature products?
When it comes to bread, I'd say São Lourenço–small buns–and pão d'avó. We also have different loaves of bread, which attract other customers, such as cornbread e sourdough Pavé bread. We've been experimenting as well, trying to figure out which ones people like best. We aim for a different experience, although the traditional white bread is still a bestseller.
What about pastries?
Bolo de arroz (rice cake) and bolo de feijão (bean cake) are definitely bestsellers. It depends on the kind of client. Locals, for example, are fans of the croissants. Our clientele is 50/50: half locals and half foreigners, more Portuguese of course.
Do you do any kind of alterations to fit the local palette?
No, because in my experience, they like the sweet pastries exactly the way they are–sweet. We also have palmiers, mil-folhas ("thousand-layer cake" made of a flaky dough filled with egg custard and topped with glazed sugar), and more.
Do you make these all by yourself?
No, we import all our products directly from Portugal. We connected with a big manufacturer in Portugal and import these products. Almost everything comes from Portugal, excluding the almond tart, which I make myself.
So that's why they taste so authentic! What other exclusive items do you offer that are not found elsewhere in town?
Yes, we do. Pastel de feijão, coconut cake, mil-folhas, pata de veado ("deer's paw", a traditional Portuguese sponge cake with cinnamon), egg custard croissants like they're made in Portugal, and glazed doughnuts.
What would you recommend to someone who's never eaten Portuguese pastries?
Actually, I'll just list out what my choices would be (laughs). I always recommend the pastel de feijão as a side to go with an espresso. Our Portuguese egg tart is also very good, it's a premium product from our supplier. The almond tart has also been a success, even for birthday parties and such. We also offer sandwiches, the choice of bread can include whatever the customer wants like ham, cheese, or butter. As for croissants, we have different kinds: French, made with flaky dough, brioche-style, and "baker's" croissant with fine sugar on top. There are a bunch of different styles! We also have chorizo bread, and baguettes to make sandwiches.
We bake a certain amount of products in the morning and keep making it throughout the day so it doesn't get wasted and always given fresh to the client.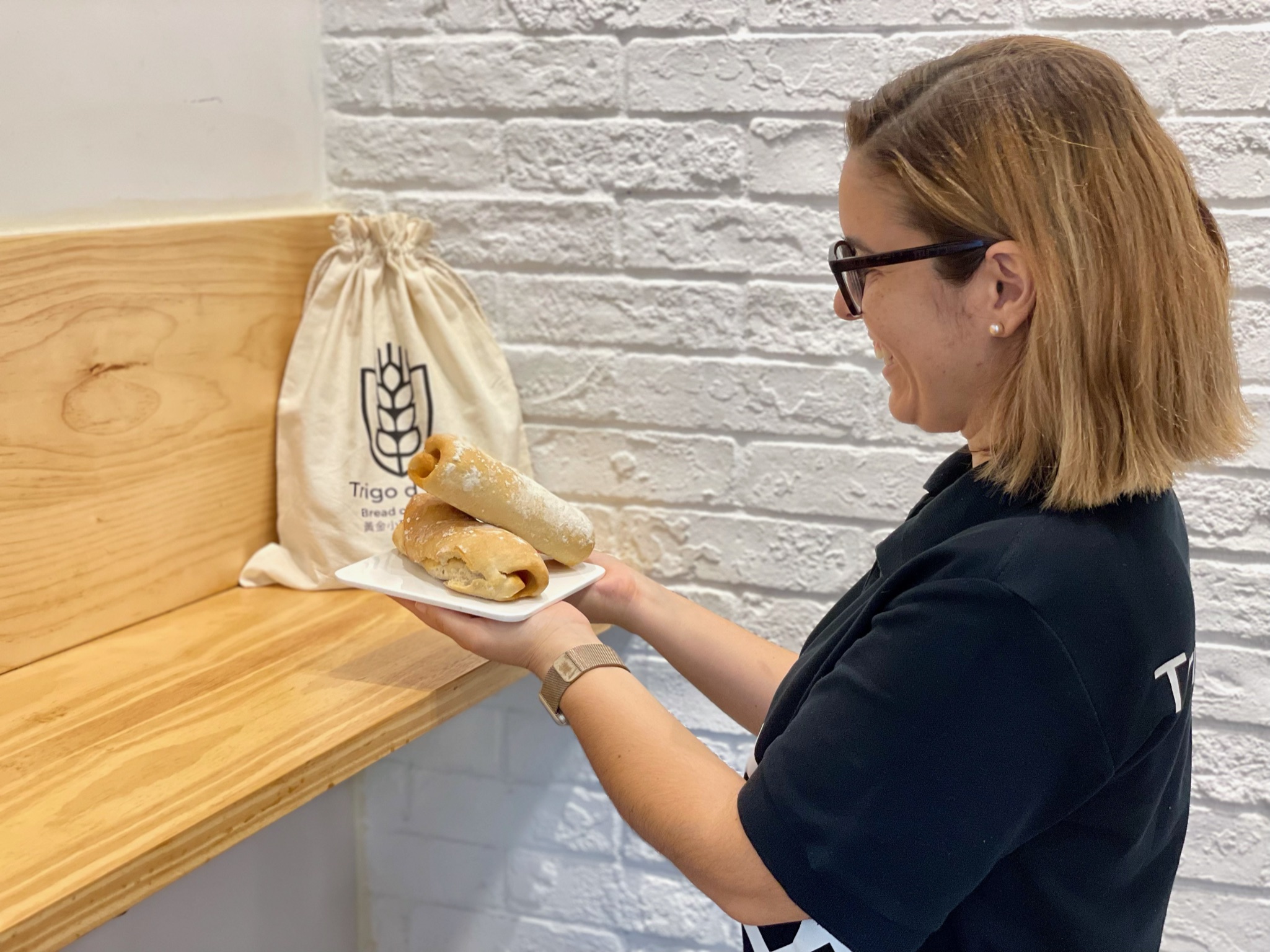 You mentioned coffee. Do you also serve other drinks?
We serve Delta (a Portuguese company) coffee, which is very popular amongst the Portuguese community. People gather there after work with friends and share some beers and lupins (a very popular snack in Portugal). It's very nice because the coffee shop boasts a very Portuguese atmosphere.
We have some tables inside and some public seats outside where people usually sit and relax over drinks and cakes.
What about new projects? Do you have anything planned for the near future?
Actually yes! We've just opened a second branch of Trigo D'Ouro in central Macau, next to AIA Tower.
Great, right in the city center! How did this happen?
Although this project is still relatively new, the welcoming and the feedback from our clients has been great and very rewarding and just a few months after the opening we realized that there was a lot of people on the Macau side that wasn't able to visit us, mainly due to the distance. In the back of our minds, we started to think that maybe we could grow in another location. And everything happened, honestly, very quickly because the space was presented to us by coincidence.
The space itself is quite good, since it's central, in a business district, and it allows for seating spaces, which is a plus for all our clients.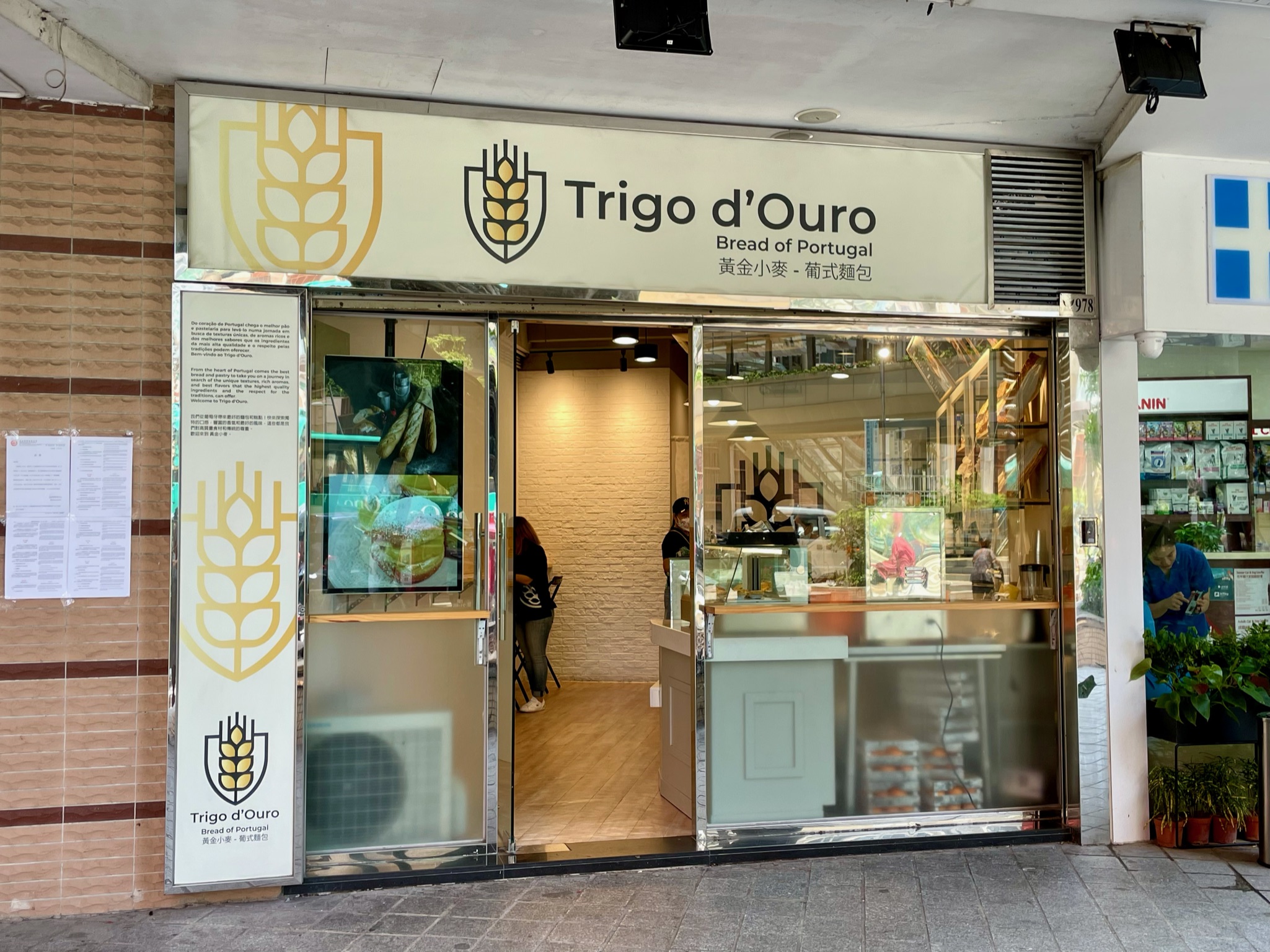 The initial idea of the brand was to serve the One Oasis community. How about this new shop in Macau? Is it in some way different from Coloane's?
The main idea remains the same, by creating another neighborhood cafe. This location, despite being quite central, is surrounded by a few residential buildings that merge in the neighborhood with the business towers. So the range of clients can go from families to business persons, who are just looking for a place to have a quick bite. On the other hand, all Macau side customers who go to our shop in Seac Pai Van on purpose, mainly at the weekend, now have a space where they can go on a daily basis, whether to buy freshly baked bread, drink a coffee, or just to say hello.
I figure Trigo D'Ouro takes up most of your time, but business owners deserve rest too! What do you like doing in your free time?
I have a three-year-old with whom I spend most of my time. I also sing Fado (a popular Portuguese music genre) and used to sing in Portugália restaurant. I like singing at other events when they pop up.
That's really cool. Did you sing Fado before, when you lived in Portugal?
Yes, I was pretty active as a child. I had singing classes, was part of a traditional Portuguese folk dance group. Here, I connected with a few musicians that master the art of the Portuguese guitar and started doing some projects with them. Our schedules are pretty hectic, we open at 7:00am on weekdays so it doesn't leave me with much free time.
You certainly like Portuguese pastries. But what are your favorite restaurants in Macau?
Portugália, Vic's Restaurante Português, O Santos Comida Portuguesa–he really makes us feel at home–North at The Venetian Macao, and Goa Nights. We're always trying new things as well!
What about your favorite places around the city?
I love living in One Oasis and I like my routine of staying in the area, sometimes heading to Taipa. I also like going to Coloane's A-Má Temple. We also go to Hac Sá Beach a lot, we find it nice to relax.
---
For more information and contacts, send an email to [email protected], call +853 6689 6597 or check their Facebook page
Opening hours: (One Oasis) Monday–Friday (7:00am–8:00pm), Saturday–Sunday (8:00am–8:00pm)
(Macau side) Tuesday–Friday (7:00am–8:00pm), Saturday–Sunday (8:00am–8:00pm)
Trigo D'Ouro Macau (One Oasis) 978 Estrada de Seac Pai Van, On Sun Building GF, C B, Coloane
(Macau side) 203 Avenida Comercial de Macau, Edifício La Bahia, Macau
Tags
Related Posts