There's a new addition to Macau's roster of luxurious weekend brunch options and it's sizzling hot, much like the summer temperatures outside. This brunch offering comes from none other than luxury specialists Ritz-Carlton, Macau. Inspired by the Sunday markets of France, this exotic new Sunday brunch menu at the Ritz-Carlton Café boasts a selection of quality seafood and delectable dishes made only from the freshest French ingredients that are sure to sate and please your senses.
Curating a menu fit for royalty for any occasion is presumably nothing new to the Michelin-recommended cafe, and one for a Sunday brunch buffet is no exception. We can attest to this with our recent dining experience at the French brasserie and boy did we savor every bit of it.
Our gastronomic journey began with a hearty bowl of cauliflower soup and a slice of sourdough bread with the chef's choice of artisan cheese and charcuterie on the side. The soup was so good we couldn't resist another serving. This was soon followed by a plate of tuna nicoise – our personal favorite among the assortment of salads, along with the potato morteau sausage and marinated octopus.
Our foodie hearts skipped a beat when we moved on to the seafood and cold cuts table featuring an impressive lineup of fresh seafood. There were mussels, shrimps, and clams – all suitably accompanied by a variety of sauces ranging from classic mayonnaise to a piquant vinegar with shallots. The ultimate scene-stealer was the oysters – they took centerstage, sitting in a massive bowl of ice, ready to be devoured. It's apparent that this is what everybody came for, along with the savoury baked lobster. The latter was so popular that we had to wait for several rounds of replenishments before we could get our fill of – but it was most certainly worth the wait.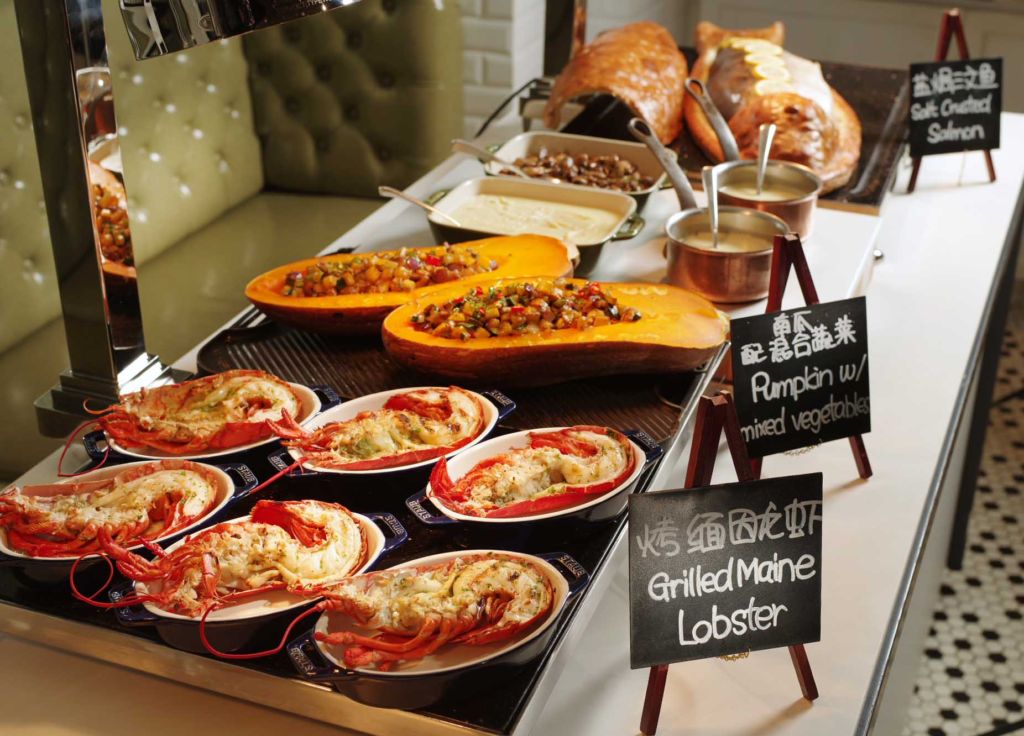 After the cold cuts, we were ready to hit the live cooking stations. A juicy smoked short-rib and steaming lamb chops awaited to satiate our palates. We recommend leaving room for a slice of both, each able to be glazed with your choice of sauce – ours was the red wine sauce, complimented by a serving of mashed truffle potatoes. At the main course section, we attacked the grilled meat. Sitting on two, hot grilling pans the well-cooked meat was dressed neatly with onions, lemons, and rosemary. We also wholeheartedly dug into some grilled sausages, which were delicious. Also unmissable is the crunchy pork belly with herb sauce. Enjoy it with a serving of fried rice if you can.
In true French fashion, dessert garners the same amount of attention as the le plat principal mains and the Ritz-Carlton Cafe hits the nail on the head here its glorified dessert section. A shelf to the left by the wall features an appealing selection of tarts, mousses, and petit fours. There is also a table holding jars filled with chocolate-coated nuts, meringues, and a platter of French macarons in various flavours. By this time, we were almost in a food coma, so choosing which dessert to fit into our satisfied stomachs was the hardest decision we had to make throughout the entire experience – but it had to be done. After much contemplation, we decided on the mango mousse, mixed berry tart, and the opera cake. The latter is an explosion of textures – so good that we did not regret our decision.
The whole experience was elevated by the optional free-flow champagne of our own choice. Between Barons de Rothschild, Cuvée Ritz Brut Champagne, and Perrier-Jouët Grand Brut, we chose the latter. It was refreshing and we easily downed five glasses between dishes and the occasional sip of apple juice and water. After all, a French brunch would not be complete without wine or champagne.
---
For the full French Sunday brunch experience, book your table at the Ritz-Carlton Café through +853 8886 6712 or [email protected]. Available on Sundays from 11:30am to 2:30pm with the following package options:
MOP $498 + 10% per adult including free flow of juices, coffee/tea and selected soft drinks
MOP $588 + 10% per adult including free flow of Barons de Rothschild, Cuvée Ritz Brut Champagne or Perrier-Jouët Grand Brut Champagne, house wine, juices, coffee/tea and selected soft drinks
MOP $888+ 10%per adult including free flow of Louis Roederer Brut Rose 2011, Clarendelle Bordeaux Wine, juices, coffee/tea and selected soft drinks
MOP $188 + 10% per child aged 6 to 11 years old
The Ritz-Carlton Café G/F, The Ritz-Carlton, Macau, Galaxy Resort, Estrada da Baía de Nossa Senhora da Esperança, Cotai, Macau
Tags
Related Posts