It is said that the best way to live is to have breakfast like a king, lunch like a prince and dinner like a pauper. Well, in Macau, this is easily achievable, as pretty much every hotel has a great breakfast spread and you don't even need to be a guest checked into the hotel to enjoy them. So come with us and embark on a gourmet breakfast journey as we review the best hotel buffet breakfast spreads in Macau. Make the most important meal of the day your best, and start your day in style.
Belcanção at Four Seasons Hotel Macao, Cotai Strip
(See featured image above)
They welcome non-in-house guests to enjoy breakfast, with a glass or two of prosecco over a lavish array of breakfast selections. Priced at MOP $258 (plus 10% charge) per person, they recommend for advance reservations to be made since it's usually pretty full. Their executive pastry chef is from Austria and he's known for crafting incredible croissants and an array of other pastries that will certainly leave everyone coming back for more!
There's egg specialties, dim sum, congee with the traditional condiments, noodles, European charcuterie and cheese, homemade bakery and pastry goods, pancakes, waffles and so much more! Breakfast is served from 7:00am to 11:00am at the restaurant.
Belcanção at Four Seasons Hotel Macao, Cotai Strip Estrada da Baía de Nossa Senhora da Esperança, S/N, Cotai, +853 2881 8811, www.fourseasons.com
Café de Paris Monte-Carlo, Galaxy Macau
Providing a classic French environment and cuisine, Café de Paris Monte-Carlo, at Galaxy Macau, recreates the iconic café in Monte Carlo. Here, you can experience a sumptuous breakfast and order something different for everyone at the table. Amazing, right? While one might go for the Western breakfast menu, the kids or grandparents can try the Chinese one.
Sit back and relax, take your time, look through both the set and the a la carte menu to be sure nothing is missed. Since breakfast is the most important meal of the day, might as well enjoy it in full style! The café is open from 7:00am onwards, so early birds can also go there. Breakfast is served from 7:00am to 11:00am (last order at 10:30am). Breakfast at Café de Paris Monte-Carlo is priced at MOP $128.
Café de Paris Monte-Carlo G/F, G003, Estrada da Baía da Nossa Senhora da Esperança, Cotai Galaxy Macau, +853 8883 2221, www.galaxymacau.com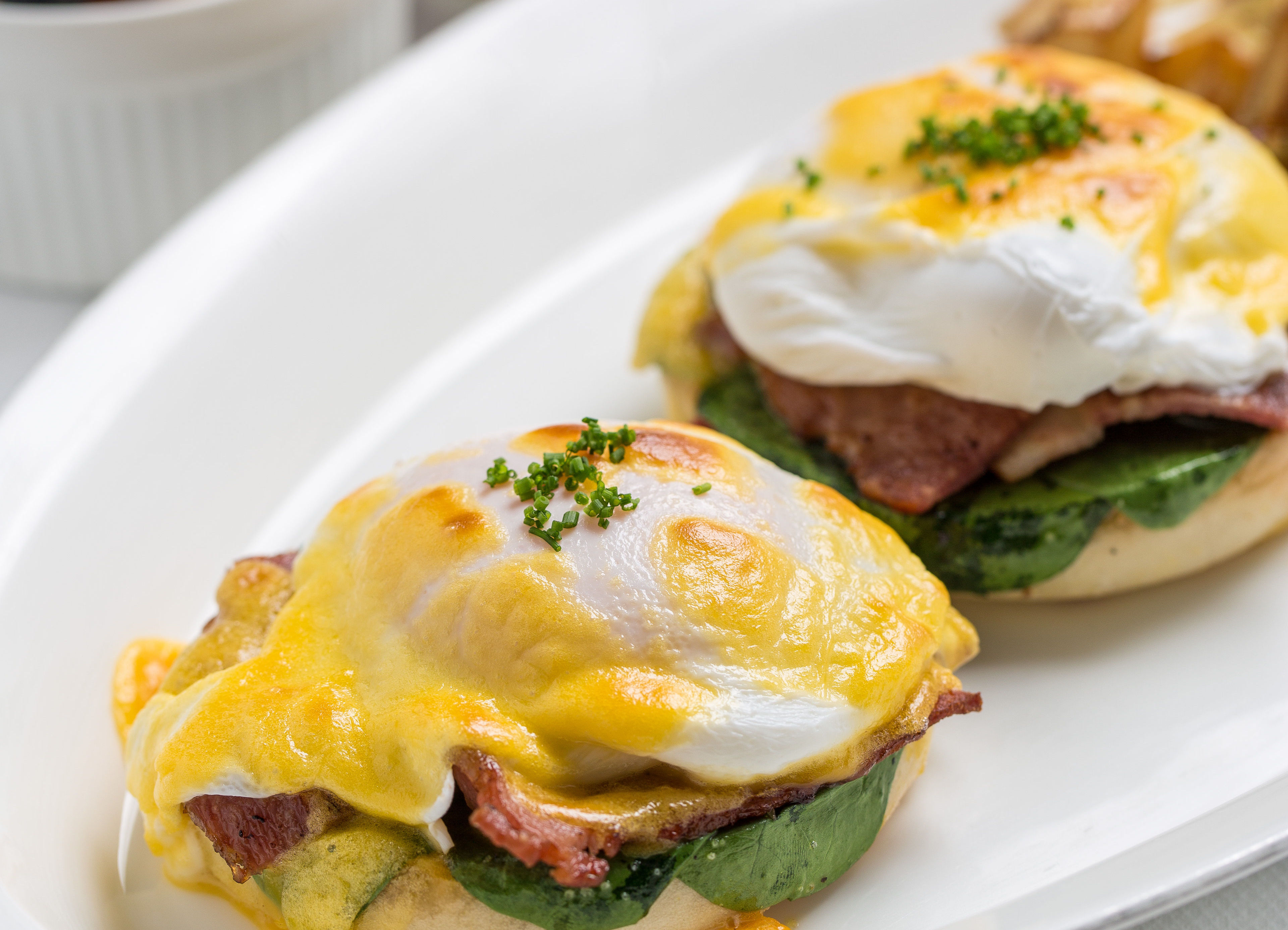 Mandarin Oriental, Macau
At Vida Rica Restaurant at Mandarin Oriental, Macau, you can begin your day with a great view of the Macau skyline and bask in the morning rays of sunlight. Headed by Executive Sous Chef Ethan Hiew and Executive Western Chef Matthias Knilling, they offer a sumptuous buffet breakfast from 6:30am to 10:30am. You'll be spoiled for choice with delicious and healthy offerings, and flavors from around the world. There are also non-dairy options for those who need their caffeine or tea fix without milk. The breakfast buffet is priced at MOP $228 per person plus 10% service charge.
Their Lobby Lounge also has great choices! Served between 9:00am and 12:00pm, it includes exclusive options such as eggs benedict with Alaskan crab meat, soufflé pancakes, a berries power fusion (with açaí berry yogurt, granola, and other ingredients) and some exotic choices like Malaysian or Singaporean Style. Price per dish ranges from MOP $88 to MOP $138, with coffee or tea costing MOP $48.
Mandarin Oriental, Macau 945 Avenida Dr. Sun Yat Sen, NAPE, Macau, +853 8805 8888, www.mandarinoriental.com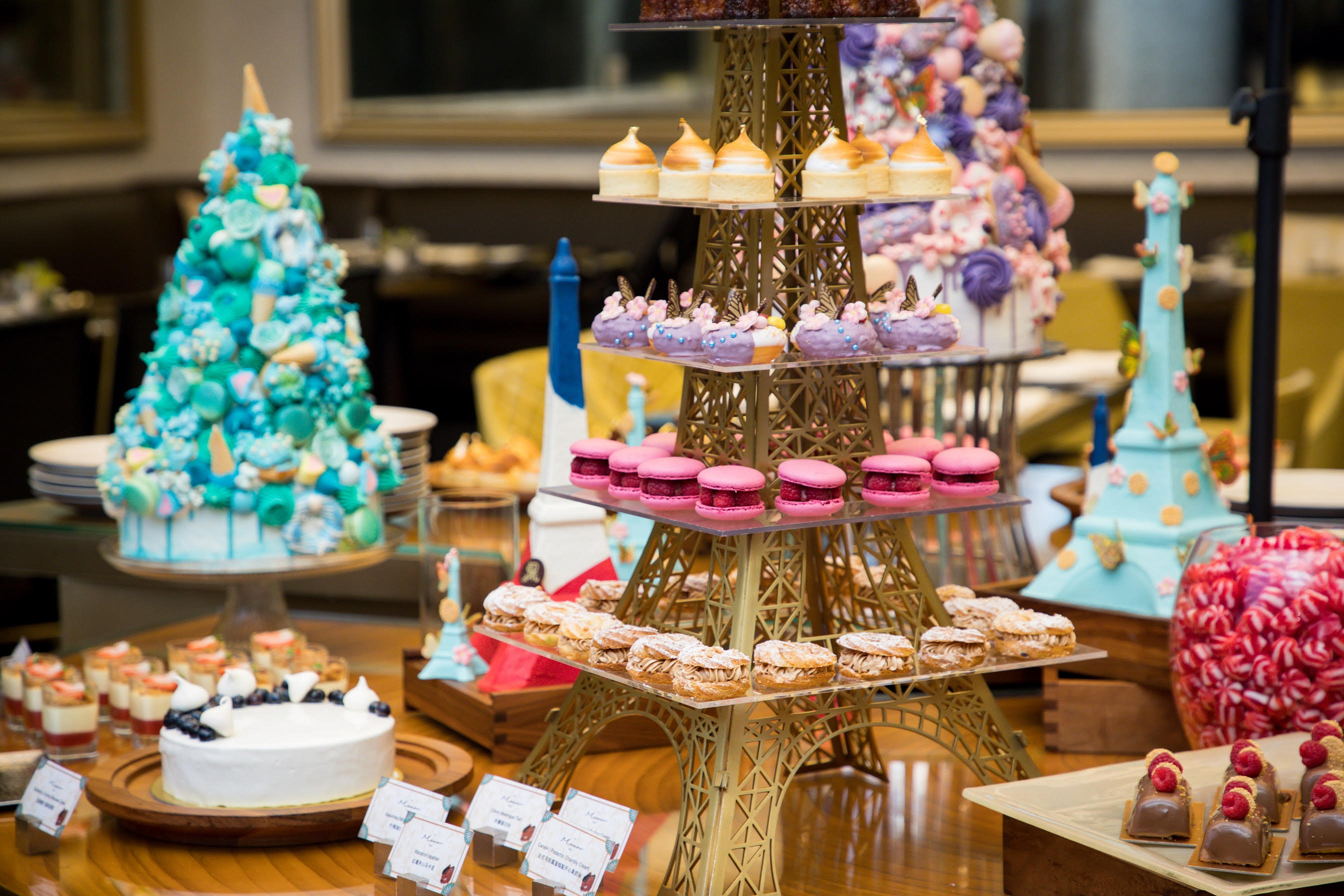 The Manor at The St. Regis Macao, Cotai Strip
At The Manor in St. Regis Macao, you can breakfast in style and leave in good health. As one of Macau's most luxurious hotels, their breakfast features fresh and flavorful options. They have a noodle bar, a selection of hot dishes, premium cheeses and cold cuts, a live cooking egg station, fresh juices, and more! Choose between French toast or pancakes, congee or porridge, or take a pick from their healthy selection of yogurt. The Manor uses only the finest ingredients and takes pride in offering quality over quantity. The breakfast buffet is priced at MOP $248 per adult and MOP $124 per child (four to 12 years old), with free admission for kids under three years old. Breakfast is served daily from 6:30am to 10:30am.
The Manor The St. Regis Macao, Cotai Strip, Estrada do Istmo, Cotai, +853 2882 8898, www.stresgismacao.com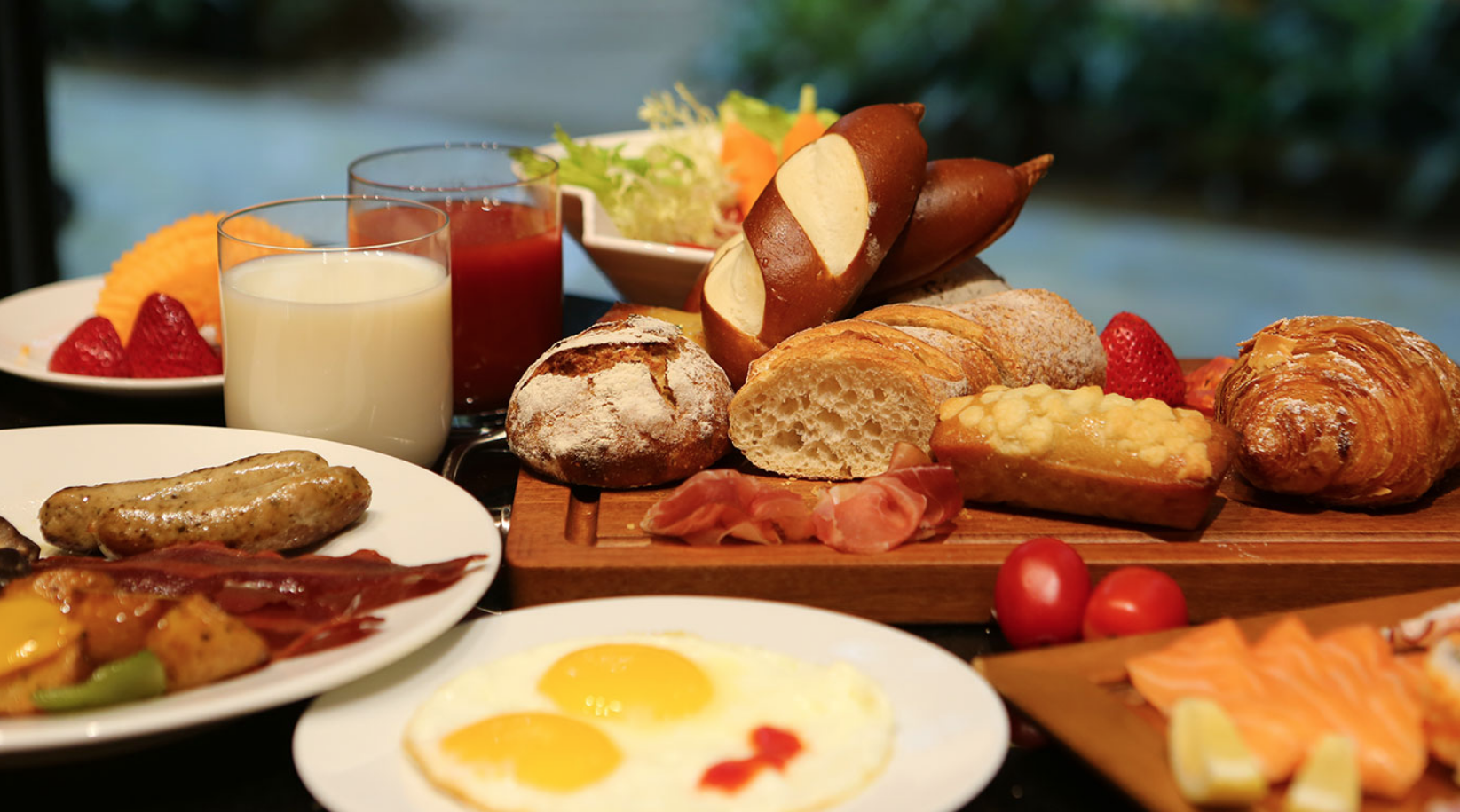 Café Esplanada at Wynn Macau
Most people don't know this, but besides great healthy dishes at lunch, Café Esplanada has an exquisite breakfast a la carte menu available all day! No need to rush right after rolling out of bed to grab the last croissant or having to choose seafood for the day's first meal because you can always opt for brunch. At Café Esplanada, you can have eggs Benedict, pancakes, French toast, fresh fruit juices, freshly made waffles, muesli and yogurt bowls and much more at any given time of the day. They also offer a buffet breakfast available every day from 6:30am to 11:00am for MOP $210 per adult and MOP $98 per child (plus 10% service charge). Check their menu here.
Café Esplanada Wynn Macau, Rua Cidade de Sintra, Macau, +853 8986 3663, www.wynnmacau.com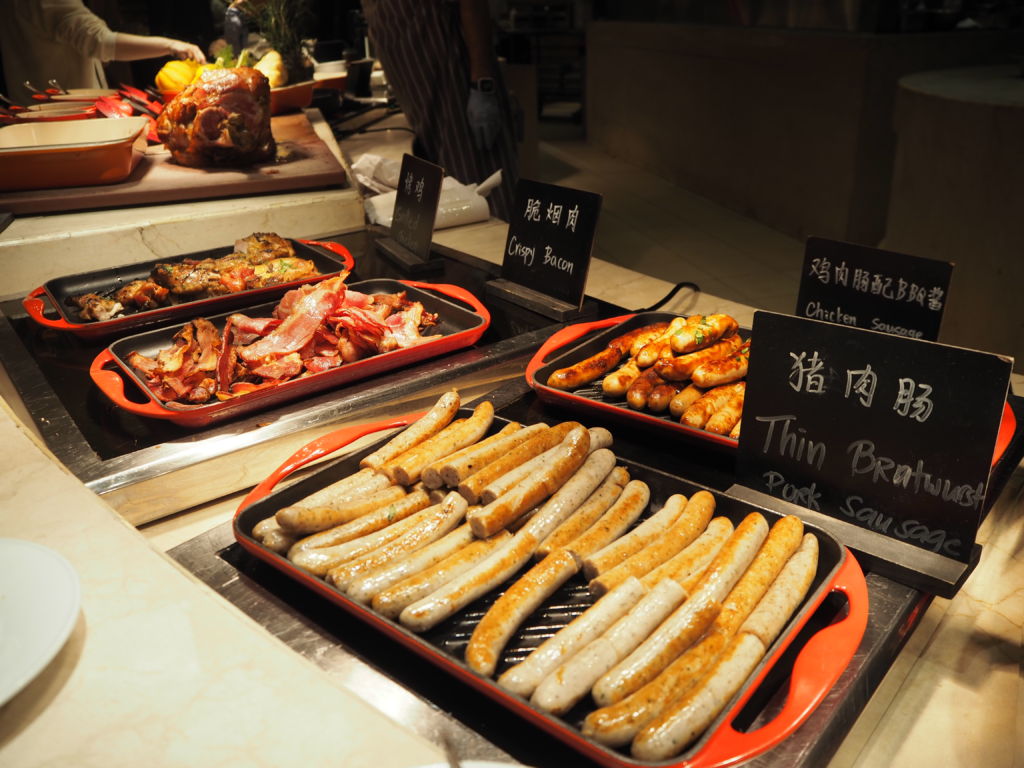 Feast at Sheraton Grand Hotel Macao, Cotai Strip
Feast is a family favorite for a good reason. With an extensive menu of international flavors catering to all taste buds, a picky eater won't have much to nitpick about at this dining spot. The breakfast spread is literally a feast featuring endless delights. 
Guests may expect to find noodles and congee live cooking stations, plentiful cheeses and cured meats, an array of freshly baked bread (including gluten-free bread), croissants (in plain, chocolate and almond versions), donuts and danishes, waffles and pancakes, eggs cooked any way you prefer, sausages, bacon and ham, baked beans, compotes, seasonal fruits, yogurts, sesame balls and deep-fried buns, salads, Indian staples, just to name a few. Truth be told, It's a challenge to name one thing you won't find. There are a lot of options for drinks too, such as juices, coffee, tea, latte, cappuccino, and champagne if you feel like starting the day in great style! For those on a dairy-free diet, beverages made using soy milk are available too. 
Snag the kids some freshly made pancakes and waffles which you can even top up with ice cream since Feast offers ice cream for breakfast too! Enjoy your favorite food and at your own pace, as there is so much to take pleasure in. Feast's breakfast buffet is available from 6:30am to 10:30am. It is priced at MOP $248 per adult and MOP $128 per child aged six to 12 years old (plus charges). For the little ones below six, this meal is complimentary.
Feast Sheraton Grand Macao Hotel, Cotai Strip, Estrada do Istmo, Cotai, +853 2880 2000, www.sheratongrandmacao.com
This article was originally written by Macau Lifestyle in July 2018 and updated by Leonor Sá Machado in March 2021.
Tags
Related Posts