At the heart of the recently opened MGM Cotai within the spectacular atrium that is The Spectacle sits Grill 58, the latest addition to the mega resort's culinary offerings. Specialising in steak and wine, Grill 58 prides itself on its selection of quality meat and seafood, offering various preparation choices from a simple grill over wood embers or professional teppanyaki. We experienced everything that the restaurant had to offer and earned some lessons on meat, knives, and sauce-making.
Trick or treat
The newly opened restaurant exudes an air of alfresco dining with its open space and natural light setting. Upon ascending through the escalators leading to the restaurant, a 4,000-bottle wine cellar greets you with an open bar. It also features a 14-seat teppanyaki counter and two private Japanese-style teppanyaki rooms. The main dining hall overlooks The Spectacle, a visual sensation on its own. We found ourselves the perfect spot to sit and comfortably watched the happenings surrounding us. The experience commenced with a demonstration of the types of knives used to cut meat– from Japanese butcher knife to French steak knife. Followed by a workshop on home-made Argentinian Chimichurri headed by no other than the brain behind Grill 58's menu, Mauro Colagraco.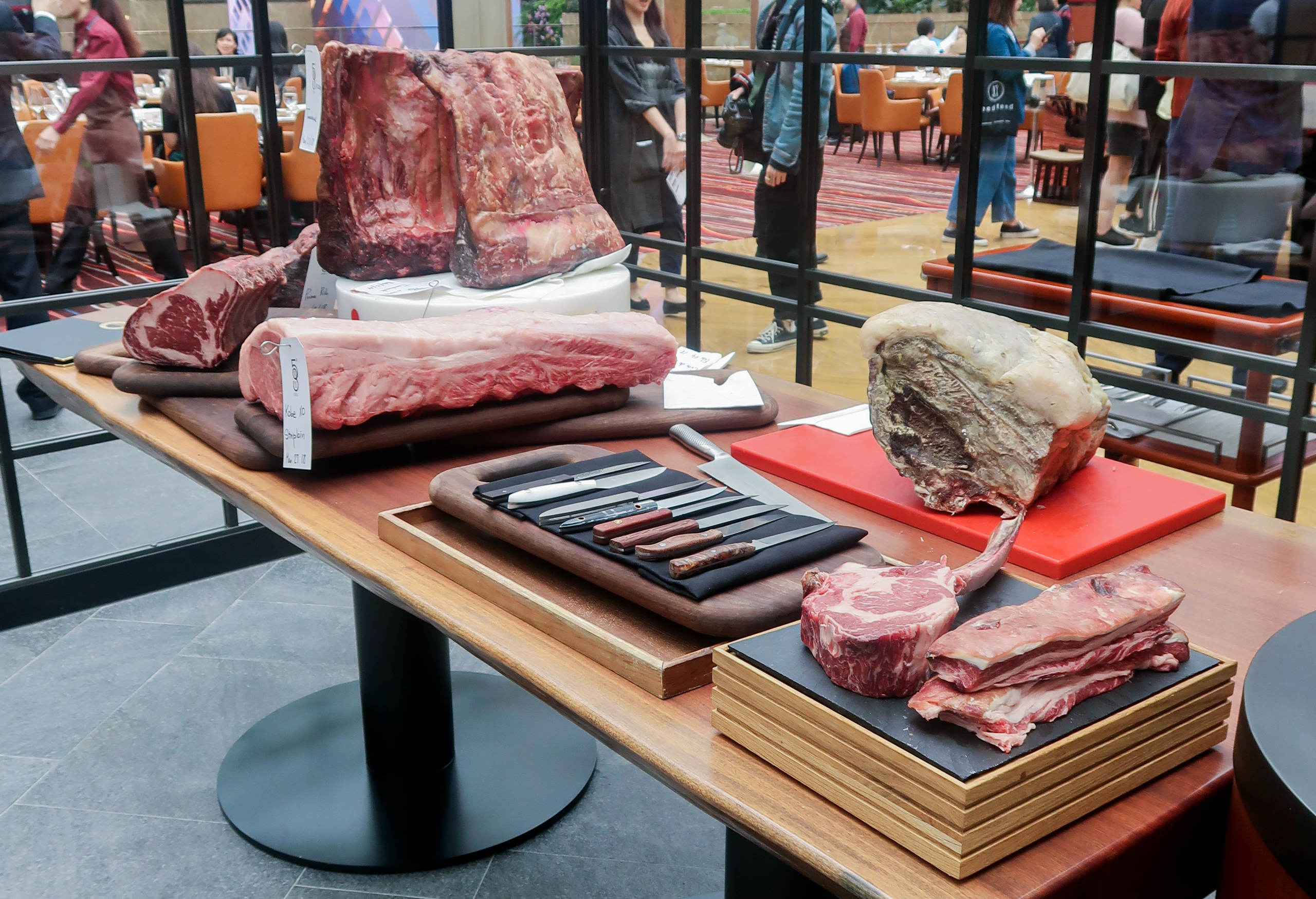 The award-winning chef is known for his Mediterranean inspired dishes and is devoted to creating dishes using high-quality fresh ingredients, a key as to perhaps why his restaurant in Mirazur in France has been ranked as the fourth best restaurant in the world by The World's 50 Best Restaurants in 2017. "It's love for exceptional, authentic, natural and rare products that make unique moments of sharing at Grill 58" noted the celebrated chef, and to this remark, we can attest is true.
MGM's Master Butcher sources the meat supplied to Grill 58 only from the best ranchers around the world. A Himalayan salt meat-aging room, custom-built to dry-age beef before is put in place to serve meat to guests' charring and grilling preference. According to Chef Mauro, aging meat is an expensive process hence not everybody does it. This perhaps is what makes meat at Grill 58 special. Grill 58 also boasts an assortment of other meat, fish, and seafood, as well as an extensive wine and sake list to compliment the meals.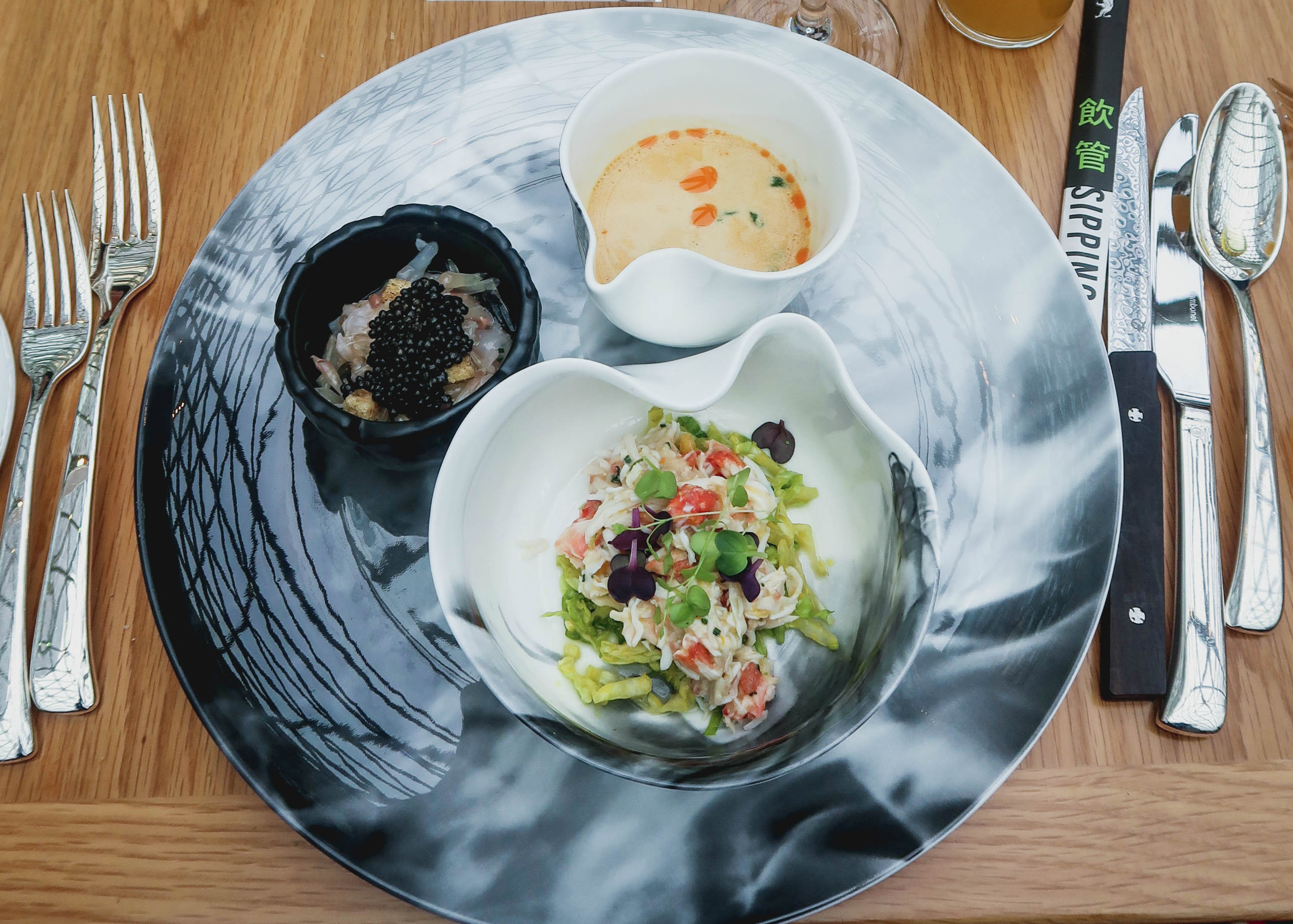 KITCHEN TO TABLE
Post Chimichurri-making, we were ready to have our first course– the Trilogy of appetizers: crab soup, king crab salad, and langoustine with caviar. Each dish featured a distinct taste and combined an explosion of flavors. Our favorite was the crab soup for its mouthwatering combination of savory and tangy.
It was followed by the highlight entree that's the Kobe beef fillet served with charcoal-grilled vegetables and herbs. The beef was charred and grilled to perfection. Recommended best eaten with the Chimichurri sauce we made earlier on, it accompanied well. This was complemented with a glass of Red 2014 Clau de Nell Cabernet Franc. And we rounded it off with white chocolate mousse topped with passion fruit sorbet.
---
Head to MGM Cotai for your next special occasion or celebration, or simply to sample some of the best meat in Macau.
Open for lunch from 11:00am to 3:00pm and dinner from 6:00pm to 11:00pm on Wednesdays through Mondays. For reservations and inquiry, contact +853 8806 2318.
Grill 58 MGM Cotai, Avenida da Nave Desportiva Cotai, www.mgmchinaholdings.com
Related Posts