With plenty of vegetables and seafood, the Mediterranean diet is considered one of the most balanced and healthiest around. Macau is not exactly close to the Mediterranean Sea, but there are amazing restaurants that offer great Mediterranean food. Among them is Caffé B Macau, an Italian restaurant in the center of the city with an improved menu boasting tempting seafood dishes. We came to try them out and see if their fresh Italian dishes would do the body any good!
Italian Trattoria near Nam Van Lake
It is safe to say, Caffé B with a stunning view on Nam Van Lake is one of our favorite spots in Macau for Italian food. If you have ever been to Italy, you probably noticed that it is typical of local trattorias to have the owners and chefs going around tables, chatting with guests and making sure they are having a great time. If you want to experience renowned Italian hospitality, Cris, the restaurant's manager would personally make sure everything's tutto bene! He welcomes guests, gives recommendations, and pours them a glass of wine. And he does it all with a genuine smile and care. Isn't that one of the reasons for loyal customers to come back to Caffé B? We'd say so.
Furthermore, Caffé B pays special attention to where all the ingredients come from and how they treat them. Saying that, do not hesitate to have some bread with sun-dried tomato and anchovy oil. At Caffé B, they bake fresh bread in-house daily. The flavorsome oil is also a creation of their culinary team. To whet the appetite while you wait for the starter, perhaps a glass of pinot grigio?
Insalata di Gamberi
You can't go wrong with salad as a starter–light, fresh and meant to boost your appetite. However, not all salads are worthy to open the meal. At times, the dressing is too heavy or the salad mix looks tired and lifeless. As easy as a salad may seem, not all restaurants nail it. To our delight, Caffé B's insalata di gamberi (see featured image on top) is genius in its simplicity and flawless selection of ingredients. The plate is full of fresh salad leaves (you won't find any sad-looking ones) while the shredded carrots and thinly sliced radish add some crunchy texture and vibrant colors. Perfectly ripe Italian cherry tomatoes and avocado is a harmonious couple in any course. Then, you have incredibly delicate and slightly sweet prawns from the Italian coast. All that goodness is sprinkled with a zesty dressing made of lemon, lime, olive oil, and tiny pieces of chili that add a subtle spiciness to the dish.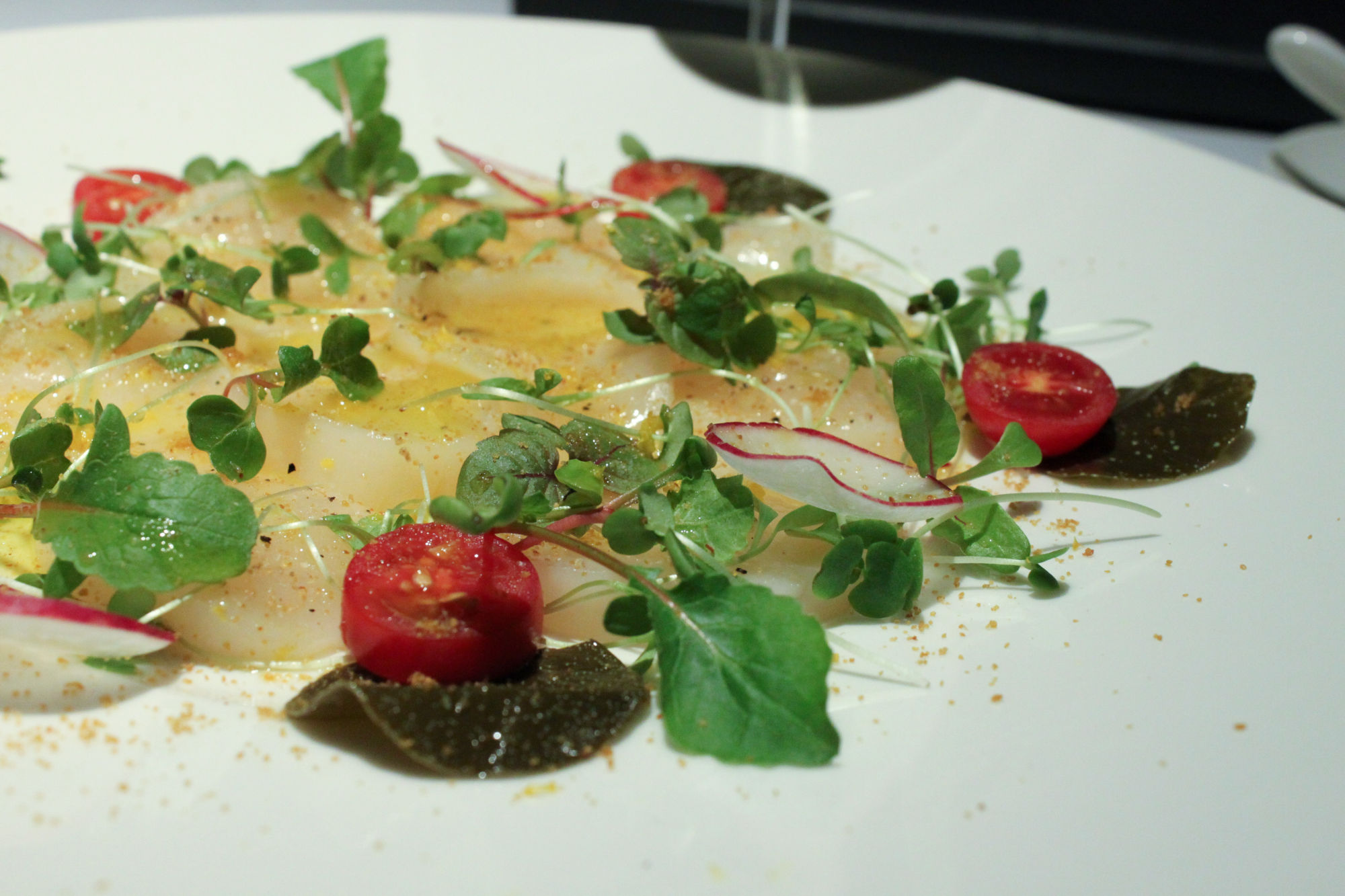 Carpaccio di Capesante
If you love raw food as much as we do, you wouldn't want to miss this appetizer on the menu. Naturally, the quintessential factor of any carpaccio or tartar is freshness. There is no trick to hide even the slightest flaw of meat, fish, or seafood in a raw dish. Scallops in Caffé B's carpaccio come from Hokkaido, Japan's most renowned fishing areas famous for its premium and sustainable seafood. And it seems like they were fished just 15 minutes ago, sliced and laid on a large plate. The sweet, fleshy, and buttery scallops are complimented with lemon oil and zest, acidic cherry tomatoes, and earthy micro herbs from a local organic producer Mighty Greens Macau. There is one more, rather rare addition that is not that common even for Italian dishes–marinated caper leaves. They come from the same plant as the commonly used capers. These particular ones are pickled in Pantelleria, a picturesque island in the Strait of Sicily, and home to some of the most premium capers.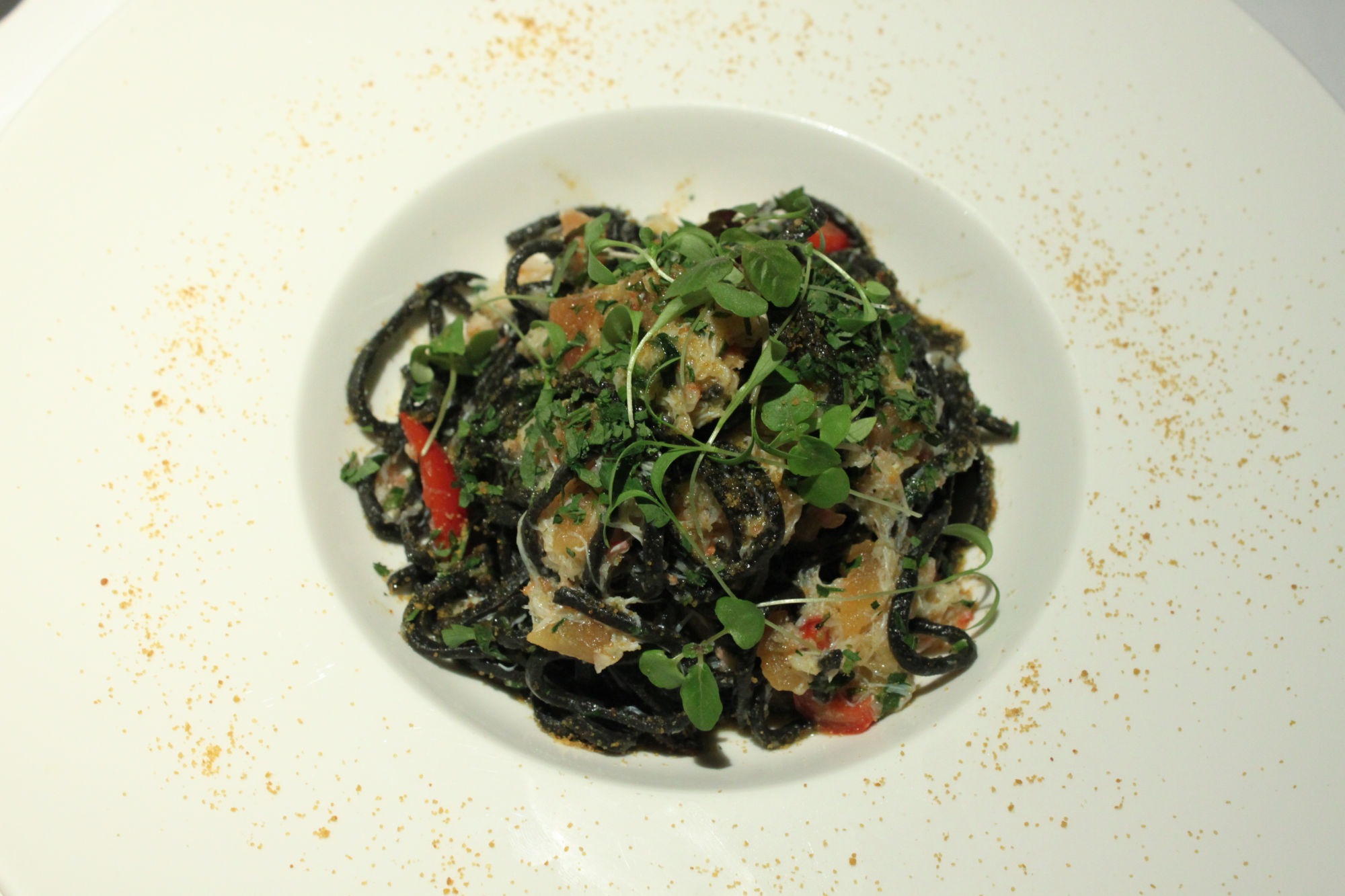 Spaghetti Neri alla Chitarra con Aglio Olio Peperoncino, Granchio e Pomodorini
Of course, there is no Italian feast without pasta. On the a la carte section of the primi piatti (first course) is a home-made squid ink spaghetti. Squid ink-based food might look somewhat intimidating because of its extravagant black color and bold sea flavor. But sophisticated and experienced foodies would appreciate its rich savory taste. In this pasta dish, the squid ink is fine and not that concentrated which makes it an ideal introduction to this versatile ingredient.
At Caffé B, they make their spaghetti neri in-house and cook it with succulent Japanese crab, cherry tomatoes, and decorate it with micro herbs. Garlic oil and chili bring some heat to the spaghetti too. If you love seafood, this is definitely one that is a must-order.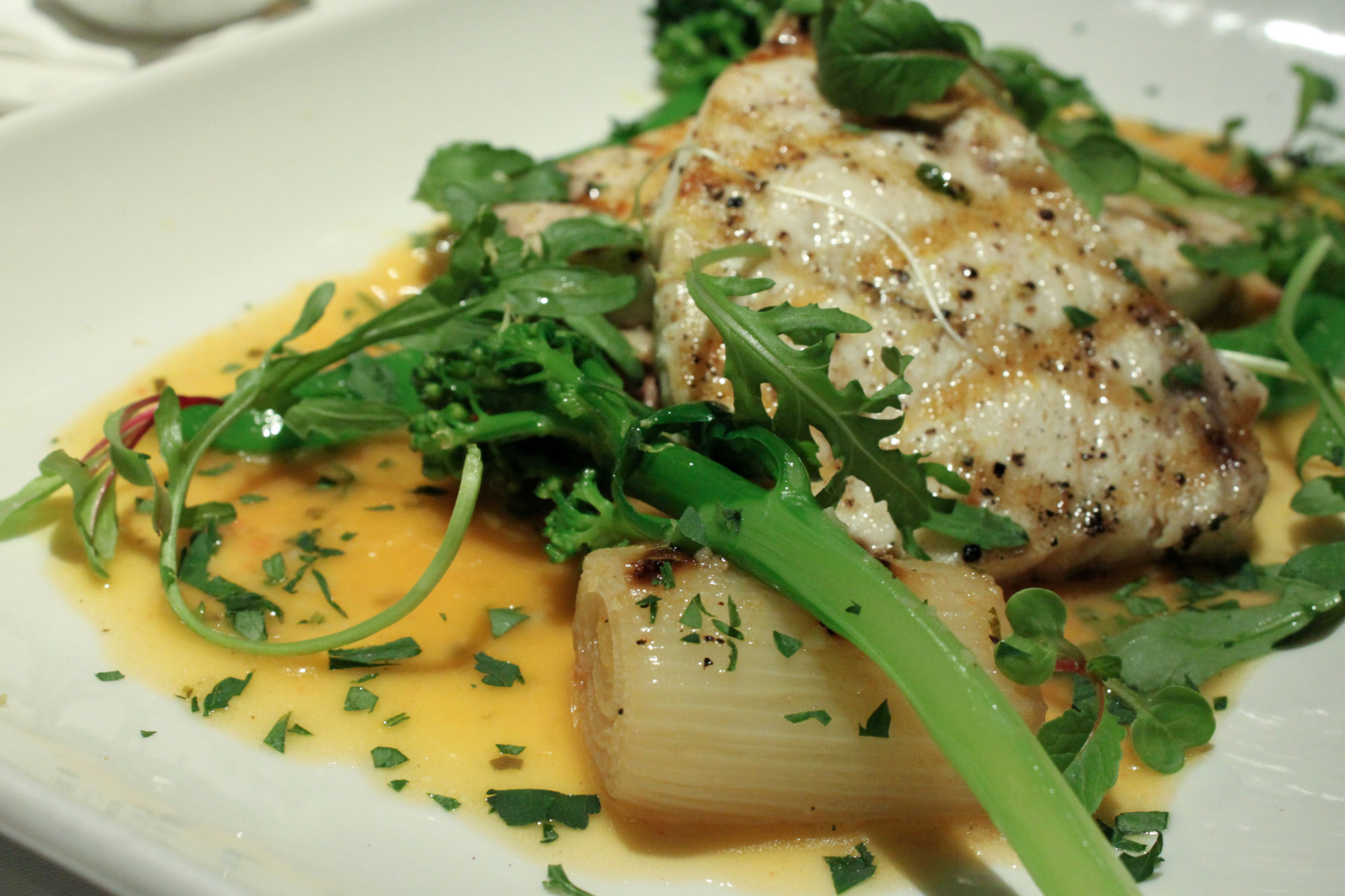 Grigliata di Pesce Spada in Salsa di Burro e Limone
Another example of Caffé B's team's exceptional ability to source the best ingredients is in the main course list. The swordfish grilled in delicious butter and lemon sauce with capers and vegetables is yet another gift from the sea that deserves to become one of the restaurant's bestsellers. Tender and juicy, the swordfish is cooked to perfection and seasoned with sea salt and black pepper. The chef serves it with Japanese broccoli, green beans, and leeks. Overall, it is a well-balanced healthy dish that won't make you feel like you've overstuffed yourself. 
---
Caffé B Macau Lake View Mansion Block 1, 744-G-H Avenida Panoramica do Lago Nam Van, Macau, +853 2838 6886, www.facebook.com/Caffe-B
Tags
Related Posts