One of the trendiest and most photogenic healthy dishes, smoothie bowls have lately skyrocketed in popularity. It's no wonder as to what's not to like about a smoothie bowl? It is full of minerals and vitamins, tastes delicious and looks colorful! Moreover, it is an ideal breakfast to start your day with. We browsed Macau cafes and restaurants to find the best smoothie bowls in town for your tummy and Instagram feed.
Palms Café and Bar at Sheraton Grand Macao, Cotai Strip 
(See featured image)
A casual lounge cafe in the middle of Sands Cotai Central, Palms always have something for everyone in their funky menu. Macanese soul food, regional cuisine promotions, and abundant breakfast dishes are some of the reasons to choose Palms Café and Bar as your next dining destination. For guests that go for a healthy dish rather than a big brekkie with eggs and sausages, there is a matcha smoothie fruit bowl (only available during breakfast: 6:30am–11:00am). We could probably write a book about the long list of matcha benefits, consumed by the Japanese for centuries. But we'll just mention that it helps you concentrate and enhances your memory, may lower the risk of liver disease and help speed up metabolism.
Apart from that, Palms' bowl is topped with a variety of nuts, granola, berries, and dried goji berries, an almighty Asian superfood. In China, the goji berry is a medicinal food known and used for thousands of years, while the rest of the world discovered its numerous health benefits fairly recently. Research-backed properties of goji berry include immunity-boosting, anti-aging, and mental health improvement. Thus, Palms Café and Bar probably serves the most superfood-packed smoothie bowl in Macau!
Palms Café and Bar Sheraton Grand Macao, Cotai Strip, Estrada do Istmo, S/N, Cotai, +853 8113 1200, www.palmsmacao.com

Lobby Lounge at Mandarin Oriental, Macau 
If you are not a morning person, yet wouldn't say no to a healthy and yummy breakfast, you might find the quiet and relaxing vibes of Lobby Lounge at Mandarin Oriental, Macau appealing. The breakfast here is served rather late (to the delight of night owls), from 9:00am to 12:00pm. Their menu features a diverse selection of morning foods, including one smoothie bowl, a celebration of berry power with acai berry yogurt base, topped with strawberry, blueberry and raspberry, coconut chips, banana, and homemade granola.
What is so great about açai that it has gained the attention of all Instagram fitness bloggers in the last few years? Apparently, research proved that this Brazilian berry can contribute to your health greatly, thanks to the high antioxidant content and 19 amino acids in them. Among other things, that means açai supports the brain and heart health. Pair your bowl with some freshly squeezed juice and a cup of hot coffee and you'll feel energized and ready for the day!
The Lobby Lounge Mandarin Oriental, Macau, 945 Avenida Dr. Sun Yat Sen, NAPE, Macau, +853 8805 8888, www.mandarinoriental.com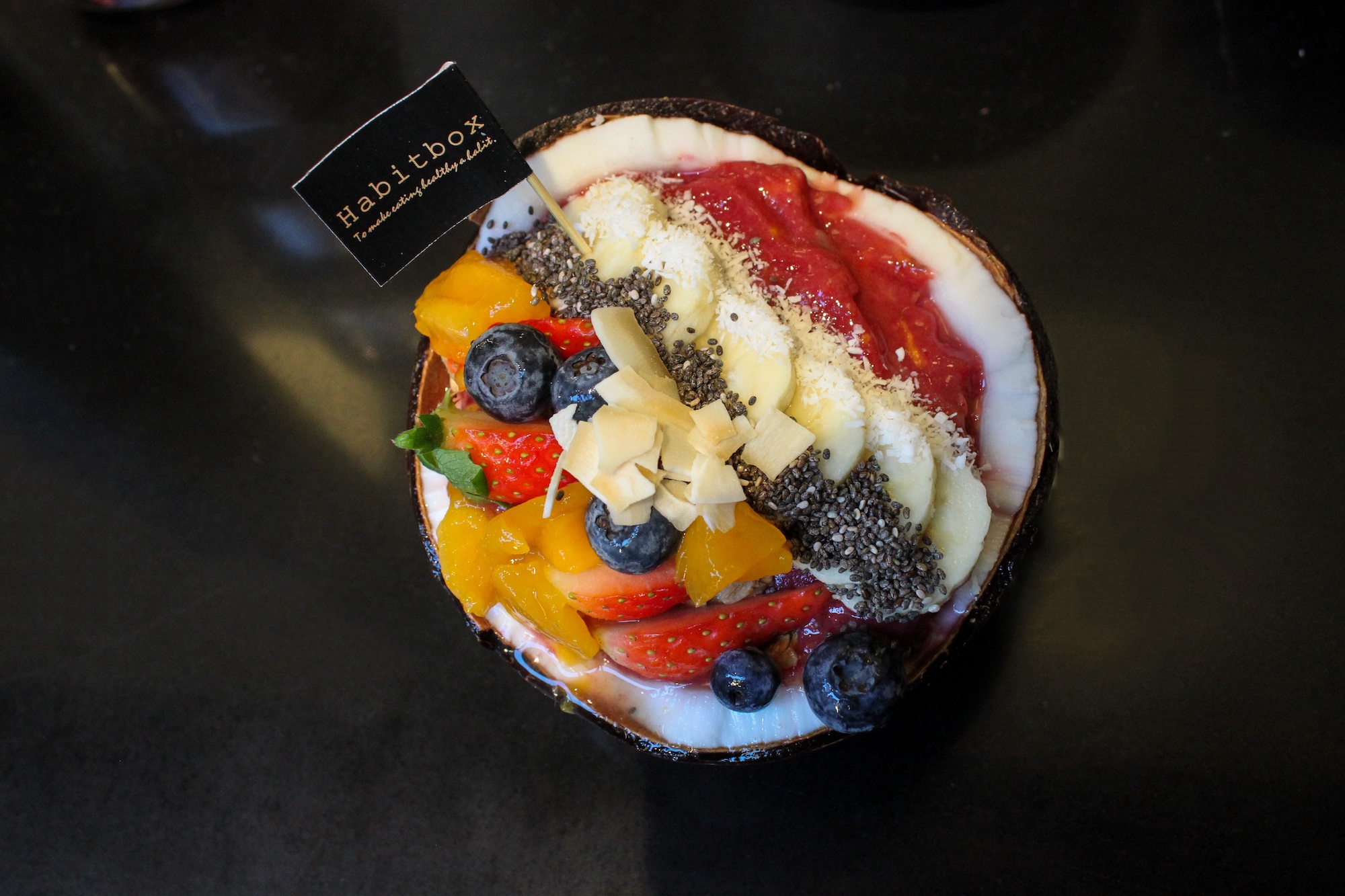 Habitbox
A short and narrow street minutes away from The Ruins of St. Paul's, Rua dos Ervanarios is a rare gem on the city map. The high concentration of street art, antique shops, stylish coffee spots, and small eateries makes it one of the hippest streets in town. Among its latest openings, is Habitbox, a tiny shop with healthy food. They offer meal plans and serve all kinds of bowls and boxes here.
If you came for a smoothie bowl, order one of the options on the menu or customize one. Pick your base from the pink garden (mango, strawberry, açai), pitaya (red dragon fruit, mango, passion fruit, banana) or tropical (blueberry, strawberry, raspberry, banana, açai). Then choose what do you wish to top it with. Their signature açai bowl is served in a coconut shell and topped with fruit, berries, coconut flakes and chia seeds. The portion is rather small, but enough for a light meal.
Habitbox 44, Rua dos Ervanarios,+853 6586 8613, www.facebook.com/habitboxmacau, www.instagram.com/habitboxmacau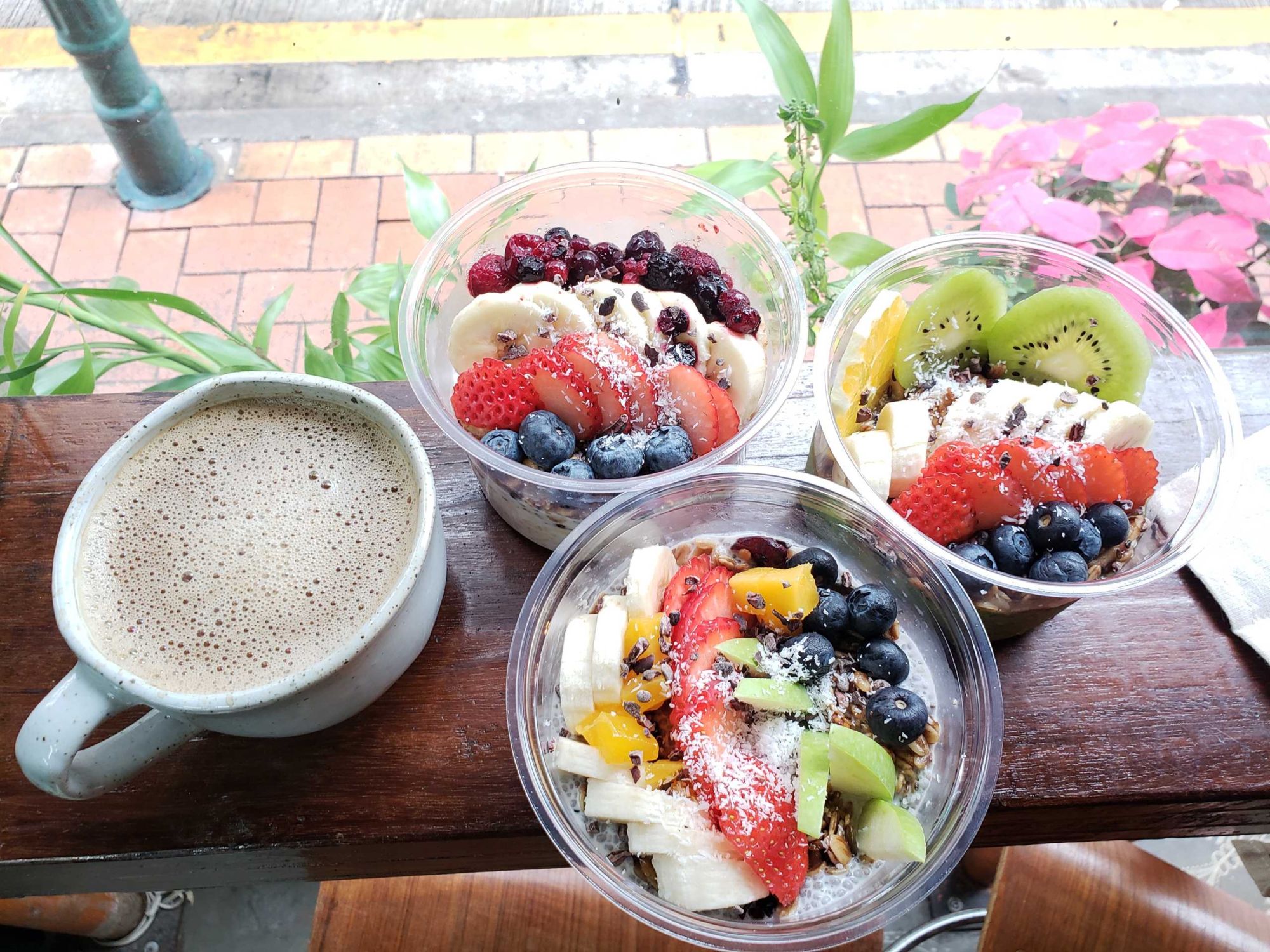 The Blissful Carrot
This well-known Taipa Village cafe is all about sustainability. They carefully source the ingredients, serve strictly vegetarian and vegan food and use only eco-friendly packaging. Being one of Macau's pioneers of healthy eating, it's no wonder that The Blissful Carrot has smoothie bowls available. Firstly, see which of their five vegan smoothies you prefer as the base for your bowl. Once you've decided, the Blissful staff will top it with fresh fruit, berries, and home-made granola. Conveniently enough, their smoothie bowls, as well as breakfast dishes are available all day.
By the way, they have recently made delivery available, even if you live as far as Coloane. Check their Facebook and Instagram accounts for more details.
The Blissful Carrot 79 Rua Direita Carlos Eugenio, Taipa Village, +853 6298 8433, www.facebook.com/blissfulcarrot, www.instagram.com/theblissfulcarrot

Healthy Habits Superfood Cafe
Healthy Habits Superfood Cafe is dedicated to healthy food and can proudly be called experts in the field. You won't find any guilty pleasures here! Vegan, vegetarian, lactose and gluten-free diners will find something to enjoy in this bright green cafe inside La Bahia Building. If you follow any kind of diet, you won't have a problem with what to eat here. Besides, they can make your life easier with meal plans and delivery to all parts of Macau.
As for the smoothie bowls, they offer three–everyone's favorite açai bowl, turmeric, and beetroot bowl. You will hardly find a beetroot bowl anywhere else in Macau and we do recommend to try it at the Healthy Habits. If you haven't included that subtle earthy root vegetable to your diet yet, you should consider doing so. It is an excellent source of vitamin C, folate, manganese, potassium and iron. In other words, it improves blood flow, lowers blood pressure and can even increase your performance at sports!
Healthy Habits Superfood Cafe R/C A, 203 Avenida Comercial de Macau, Edifício La Bahia, Macau, +853 2859 3386, www.facebook.com/healthyhabitscafe, www.instagram.com/healthy.habits.cafe
Tags
Related Posts