The exuberance of China's finest performing arts is returning to CCM's stage with two popular operatic tales brought by the National Peking Opera Company.
Taking off the Macau run with The Unofficial Biography of Taizhen, the program's opening piece is a Tang Dynasty epic tale singing the love story of Emperor Ming and his concubine, Yang Yuhuan. On the second day, opera lovers will be plunged into Mu Guiying Taking Command, depicting the emergence of a national heroine who led the troops against Western Xia's invading army. An outstanding military deed and a legend who remains to date both a cultural and feminist symbol.
These two productions are part of a vast and rich repertoire of Chinese tradition. More than a sheer display of vocal skills, Peking Opera combines various art forms in a fusion of recitation, dance-acting, and martial arts, well-adorned with impressive traditional costumes, vivid allegorical make-up, and simple props. Allowing a smooth connection between actors and musicians, a small traditional orchestra will be playing live tunes, inducing the plot and illustrating the atmosphere.
Founded in 1955 by the legendary Mei Lanfang, dubbed the greatest singer-actor-dancer of all time, the China National Peking Opera Company has successfully established a long line of fine artists, playwrights, directors, and composers from across the country, shaping a repertoire recognized both at home and abroad. So it's high time to appreciate yet another two meaningful tales, masterfully retold by an ensemble of performers who have kept well alive a much treasured cultural heritage.
When: The Unofficial Biography of Taizhen – Friday, 7:30pm, December 17, 2021
Mu Guiying Taking Command– Saturday, 7:30pm, December 18, 2021
Where: Grand Auditorium, Macao Cultural Centre, Avenida Xian Xing Hai s/n, NAPE, Macau
How much: MOP $100–200
For more information, check here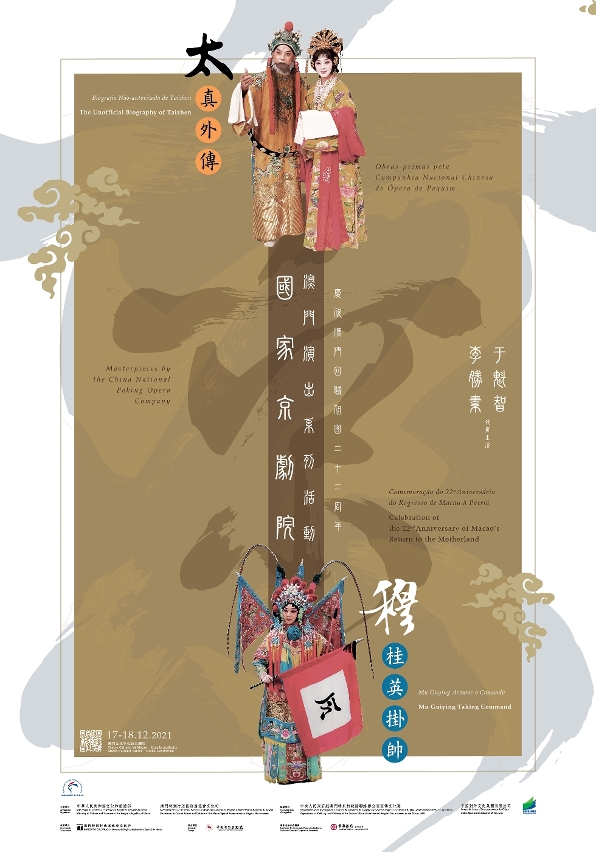 Tags
Related Posts