Keep the timeless tradition of mooncakes alive in your home and heart this season in celebration of Mid-Autumn Festival. Now more than ever, we need to look back to our glorious history and share the love around us. Gift someone a box of mooncakes and you're sure to make someone's day brighter and better. We scoured Hong Kong to find the best of the best so book your gift box early and perhaps get one extra for yourself!
The St. Regis Hong Kong
(Featured image above)
From the bold and bright colors of the packaging to the delicious treat inside, The St. Regis Hong Kong's mooncakes are magnificently comprised of white lotus seed paste with double egg yolks, created with premium ingredients. If you want something a little different, the mini egg custards prove to be an excellent alternative to the traditional mooncake. Prepare to be surprised with the smooth custard filling surrounded by golden pastry. Delight your tastebuds with the richly aromatic mini red bean paste with tangerine peel mooncake priced at HKD $448 per box. It features the harmonious combination of sweet red beans and tangy citrus! The Full Moon Box is priced at HKD $518 and the Bright Moon Box showcasing the mini egg custard is priced at HKD $459.
The St. Regis Hong Kong 1 Harbour Dr, Wan Chai, Hong Kong, +852 2138 6888, www.marriott.com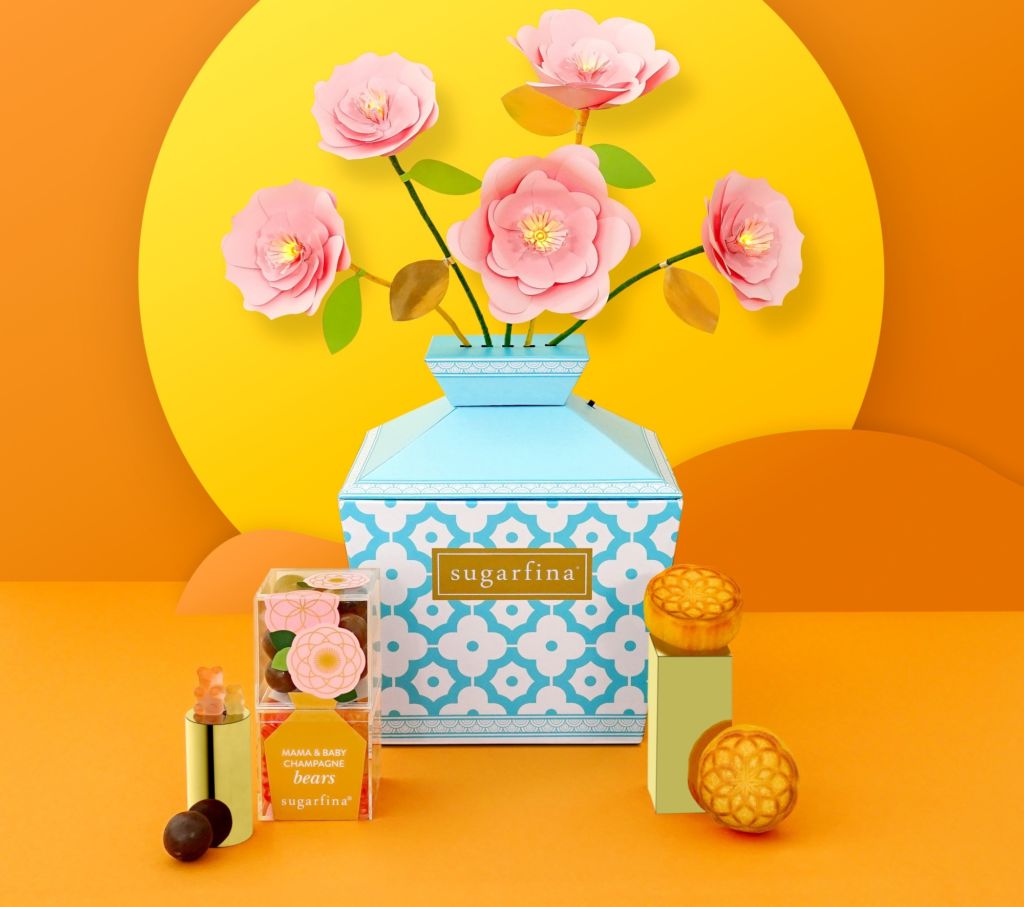 Sugarfina
The truth is there are many options out there and it's tough to decide when it comes to finding a favorite mooncake. However, Sugarfina's packaging quickly garnered our attention. Their blue and white printed box reminiscent of a dainty Chinese vase, is perfect for gifting. The premier piece in the collection is the Mid-Autumn Mooncake Candy Bento Box priced at HKD $458. Inside are two locally made custard mooncakes baked to golden-brown perfection. These mooncakes are designed with a floral motif representing good fortune. You'll also find two Sugarfina Candy Cubes, the best-selling milk chocolate Sparkle Pops filled with popping candy that's sure to delight every sweet tooth, and a new Mama & Baby version of the brand's signature Champagne Bears made with Dom Pérignon Vintage Champagne.  You can also add your own personal gift message to make the act of giving even more thoughtful.
Sugarfina's collection is available at www.sugarfina.com/hk
Sugarfina ifc Boutique Shop 1023 on Podium 1 of ifc mall, 1 Harbour View Street, Central, Hong Kong, +852 2868 5578, www.sugarfina.com/hk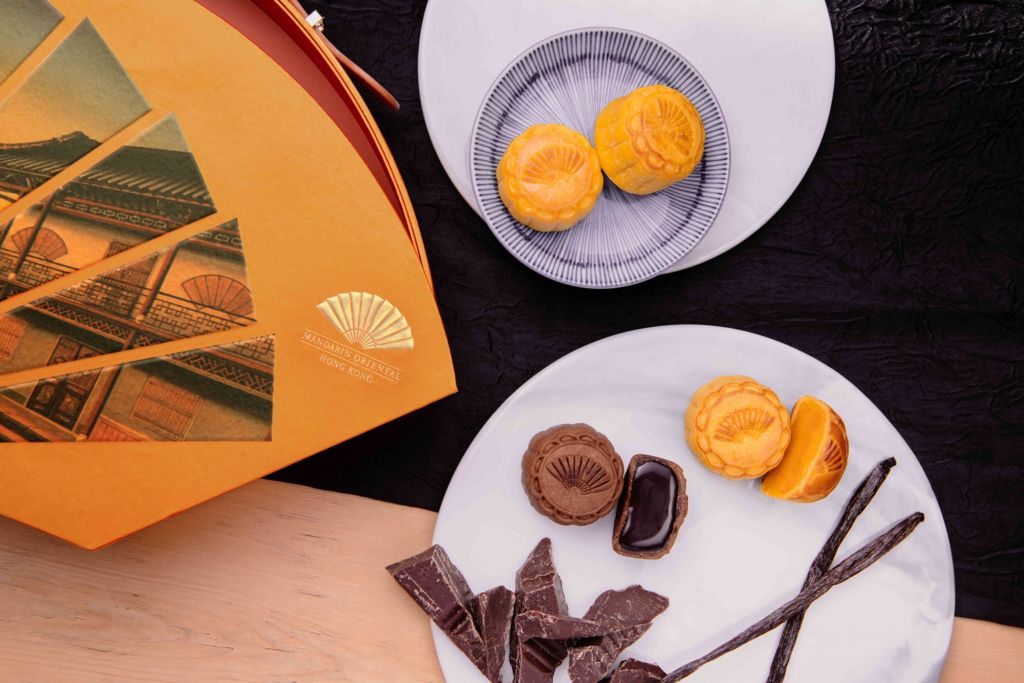 Mandarin Oriental, Hong Kong
Mooncakes during Mid-Autumn Festival have always been a part of Hong Kong's DNA. Whether you're visiting or staying in the city, you need to try Mandarin Oriental, Hong Kong's version at The Mandarin Cake Shop. Made from the finest quality ingredients and packaged in a lovely new fan-shaped gift box, savor the white and golden lotus with yolk that will captivate your senses. Give the lava chocolate and vanilla custard flavors a try as well, for a pleasant and sweet surprise. Get these lovely mooncakes that taste just as nice as they're packaged for your family and friends starting from HKD $408 to $498.
Mandarin Oriental, Hong Kong 5 Connaught Road, Central, Hong Kong, +852 2522 0111, www.mandarinoriental.com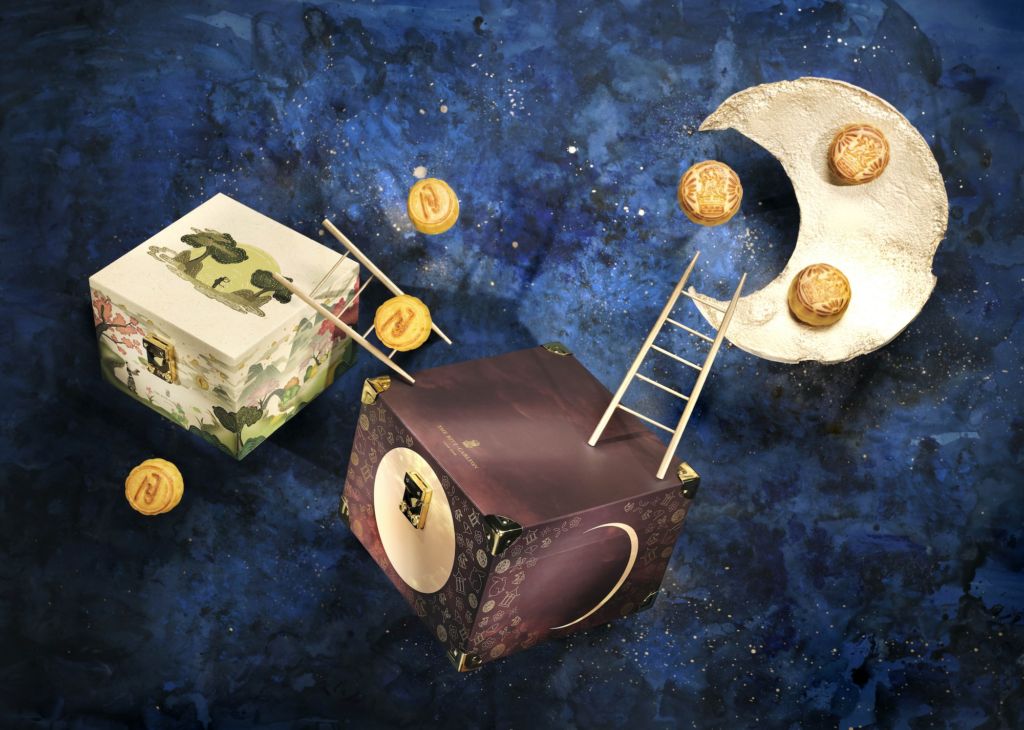 The Ritz-Carlton, Hong Kong
Artistic savvy meets mooncakes at The Ritz-Carlton, Hong Kong. Students of Savannah College of Art and Design (SCAD) Hong Kong collaborated with The Ritz-Carlton Hong Kong to conceptualize and create two original special edition designs for their mooncake boxes. You'll find contemporary, chic packaging that also reflects the treasure of tastes inside. The Stardust Mini egg custard mooncakes is comprised of eight 60gm pieces, priced at HKD $478 while the Praise to the Moon mini egg custard mooncakes is comprised of eight 45gm pieces priced at HKD $398.
The Ritz-Carlton, Hong Kong International Commerce Centre, 1 Austin Road West, Tsim Sha Tsui, +852 2263 2263, www.ritz-carlton.com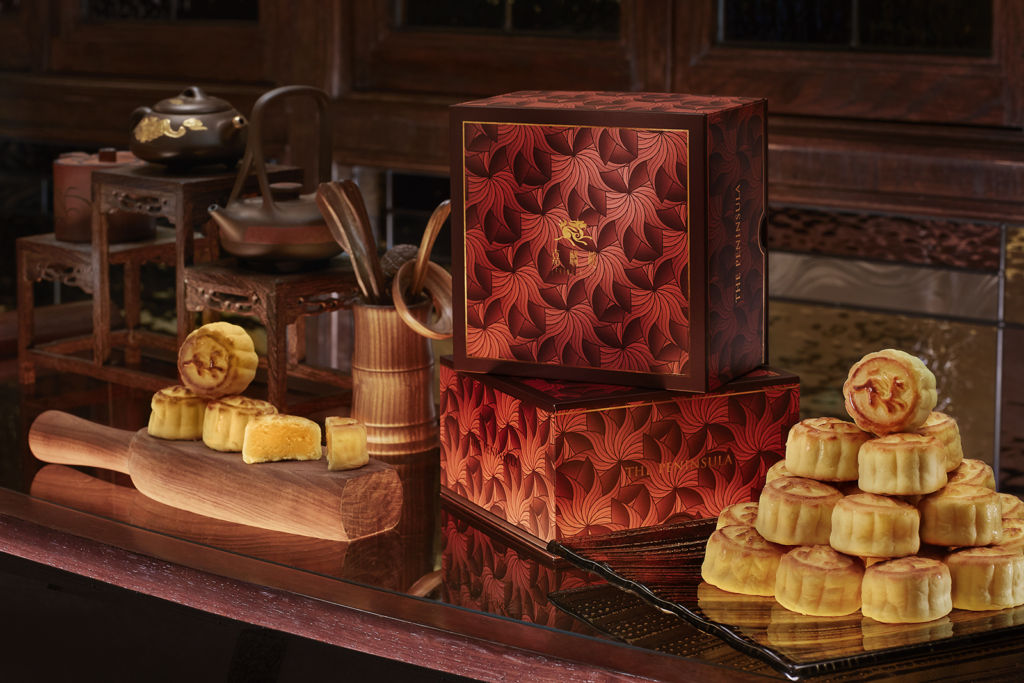 The Peninsula Hong Kong
No one can say "no" to mooncakes concocted at The Peninsula's Michelin-starred, Cantonese fine-dining restaurant, Spring Moon. A true blend of eastern tradition with western culinary techniques, taste the decadence with every piece of mooncake you savor. Each box contains eight individual, homemade, mini egg custard mooncakes and is priced at HKD $580. The fiery red packaging also exudes strength, passion and love and poise, perfect on any table this Mid-Autumn Festival.
The Peninsula Hong Kong Salisbury Road, Tsim Sha Tsui, +852 2920 2888, www.peninsula.com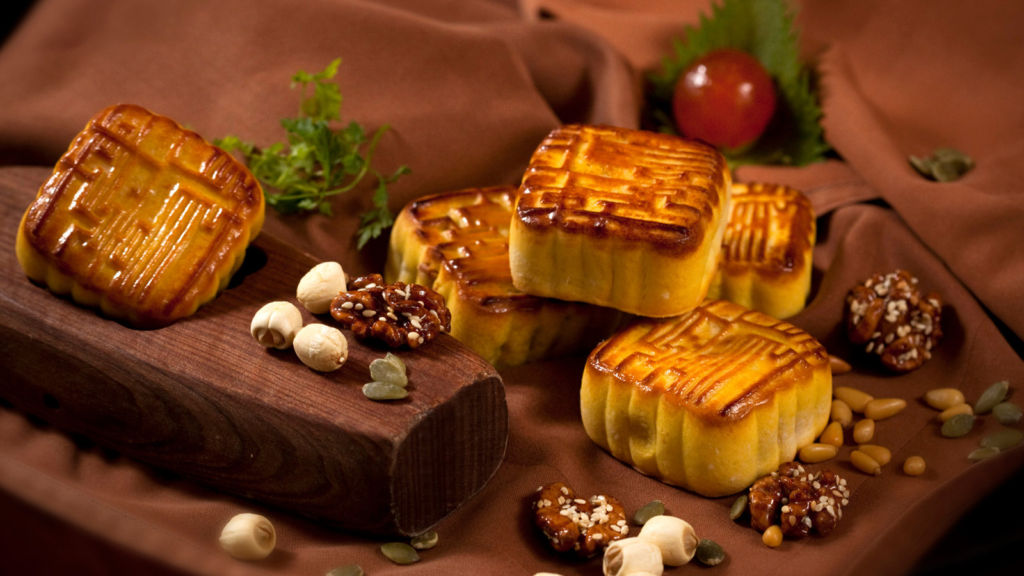 Four Seasons Hotel Hong Kong
Taking mooncakes to a level of majesty is Four Seasons Hotel Hong Kong's version of these festive favorites with a twist presented by Michelin three-star Chinese restaurant Lung King Heen. Their five nuts with glazed ham and hibiscus mooncakes remind us of fond memories of our childhood. You'll love the hint of floral tartness from hibiscus intertwined with the nutty flavors. Even though the name suggests five nuts, the chef included six types of nuts in the recipe–walnut, cashew nut, pine nut, pumpkin seed, sunflower seed, and almond, and not only does the crunchy texture resemble a cereal bar, the pastry also embodies abundance. This protein-rich mooncake will attract a lot of attention this season, a wonderful treat for all members of the clan and your group of friends. The Lung King Heen Mooncakes Selection is priced from HKD $508 to $538.
Four Seasons Hotel Hong Kong Finance St, Central, Hong Kong, +852 3196 8888, www.fourseasons.com/hongkong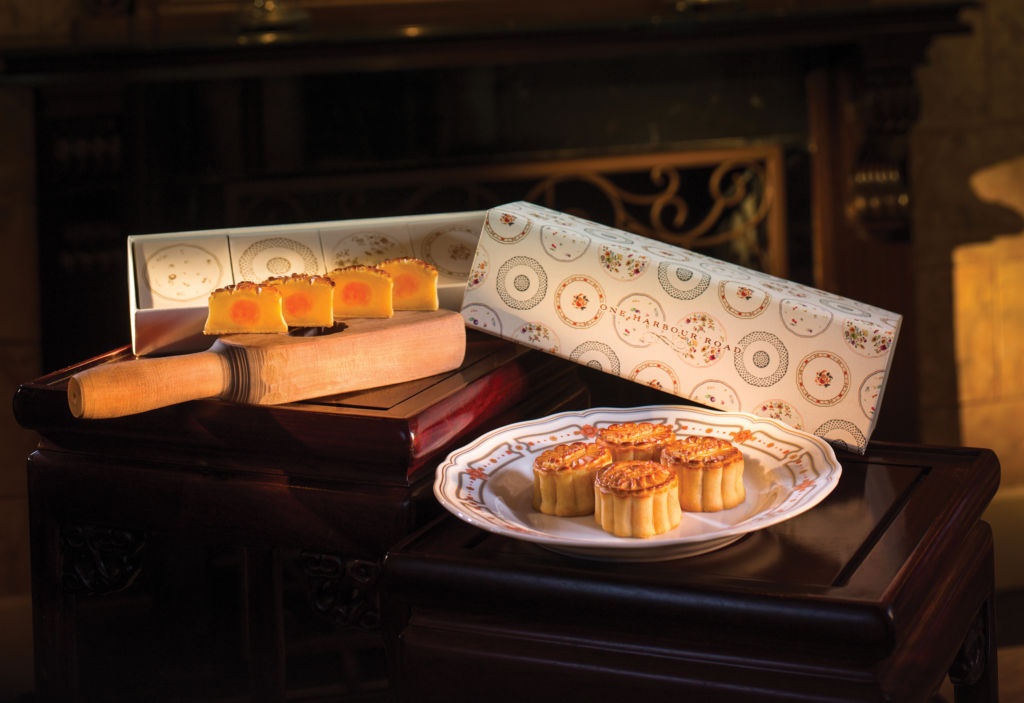 Grand Hyatt Hong Kong
It's all about food and family this Mid-Autumn Festival. Grand Hyatt Hong Kong's traditional mooncakes are the perfect treats to give this season as a sign of thanksgiving. The stylish white box is a beautiful addition to every household's dinner table. The Pearl Moon Box set is priced at HKD $398 featuring four red bean paste and dried citrus peel mooncakes and four Chinese ham with assorted nuts mooncakes. Their chef expertly blends traditional Chinese ingredients by using 20-year-old citrus peel and Tianjin red bean paste, and combining Chinese ham with five types of nuts, creating a savory ham-paste filling that has a remarkable nutty flavor. The Full Moon Box is priced at HKD $458 while the Bright Moon set is priced at HKD $428.
Grand Hyatt Hong Kong Hong Kong Convention and Exhibition Centre,  Harbour Rd, Wan Chai, Hong Kong, +852 2588 1234, www.hyatt.com
Tags