Living in Hong Kong means being at the center of delicious food destinations. There's no need to travel far and wide to taste authentic cuisines this month. We can experience them right here in the heart of the city. Satisfy your cravings for Japanese, Italian, Spanish, and Korean dining with our round-up of the best restaurants to try this July in Hong Kong!
Crown Super Deluxe, A Teppanyaki Affair
(Featured image above)
There is no shortage of teppanyaki restaurants in Hong Kong. That is why Black Sheep Restaurants ensured that Crown Super Deluxe is something super special when they launched it. Located on Wyndham Street where they have combined the best of both worlds, you can enjoy all the refinement and luxury of a Kobe teppanyaki but with a dash of Rocky Aoki's American dream. While every teppan is manned by at least one chef, heading up the team is Chef Toru Takano, a teppanyaki veteran originally from Niigata, along with his wife Chef Ami Hamasaki.
You can expect all the teppanyaki classics showcasing the best grain-fed steaks from USDA Prime, to Australian Wagyu and a rotating premium selection from small Japanese farmers specializing in well-marbled cuts of beef. We also love that there are a la carte options available. However, the best way to immerse in a truly teppanyaki experience is to pick a pre-fixed menu, there are three to choose from with the highlight being the Deluxe priced at HKD $1,188 per person and then let the chef take care of the rest. Crown Super Deluxe is open for dinner from Tuesday to Sunday.
Crown Super Deluxe Mezzanine, LKF Tower, 33 Wyndham St, Central, Hong Kong, +852 111 8434, www.crownsuperdeluxe.com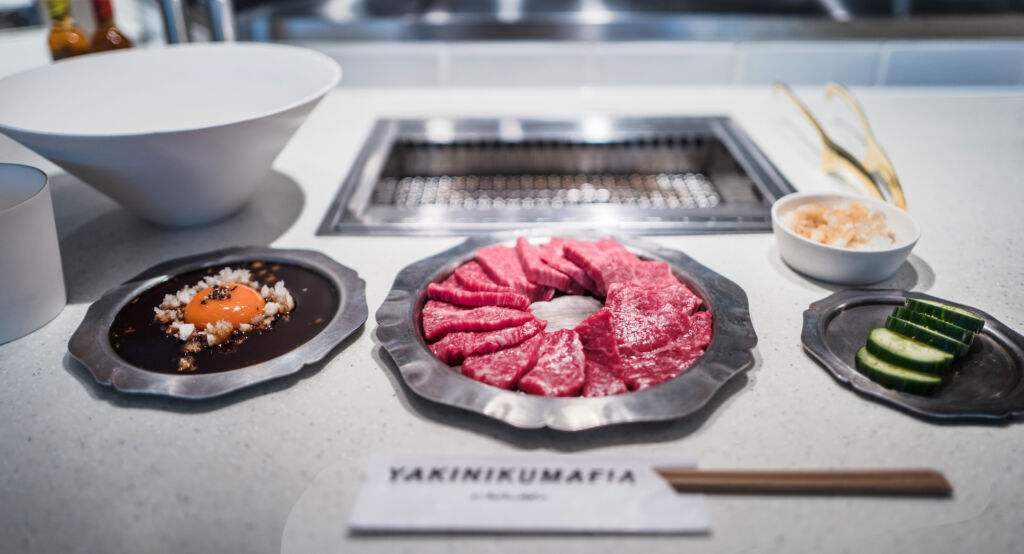 WAGYUMAFIA PRESENTS YAKINIKUMAFIA IN HONG KONG
There is something truly satisfying in the simplicity of grilled meat and with Yakinikumafia, you can expect premium Wagyu at competitive prices. You'll finally be able to savor Ozaki Wagyu from Miyazaki Prefecture, of which Wagyumafia is the exclusive contractor and distributor in Hong Kong.
We love how the restaurant's concept echoes airport-themed interiors that pay homage to Copenhagen's sleek Kastrup International Airport. It symbolizes a new departure and while traveling to distant lands may not yet be possible, we can enjoy the idea of it here in Hong Kong. Wagyu lovers are definitely in for a treat as Yakinikumafia brings the age-old Japanese technique combined with sustainable meat and cutting-edge butchery technique that had made popular over the world sealing Wagyumafia's prominence for premium meat. Take a trip to this new restaurant with your favorite travel buddies and enjoy a unique dining experience.
YAKINIKUMAFIA HONG KONG 2/F, Hollywood Centre, 233 Hollywood Road, Sheung Wan, Hong Kong, +852 3105 1250, www.yakinikumafia.hk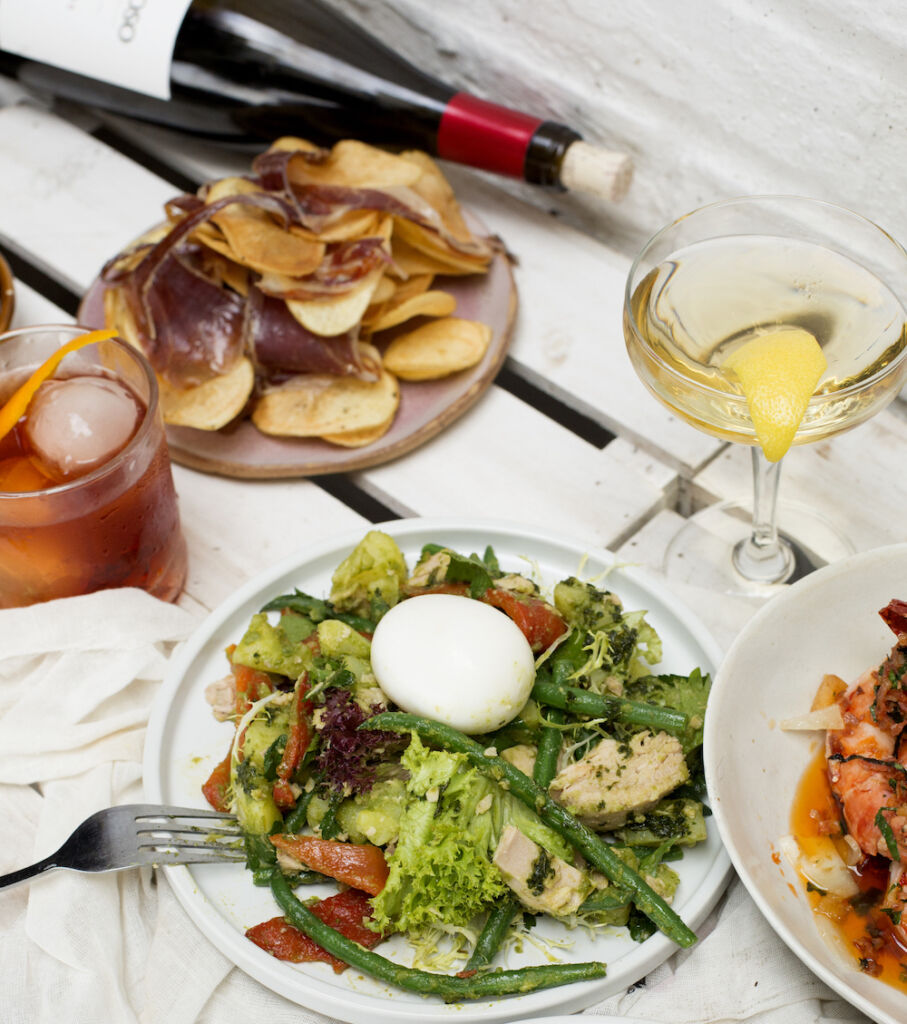 MAMMA ALWAYS SAID 
For the perfect pick-me-up food on a dull day, there is only one place to go–Mamma Always Said. This cozy neighborhood hotspot is serving up a selection of lunchtime bites and sharing-style dishes fit for the whole family. The dining inspiration for this location was drawn from comfort eats and casual dining spots around the world. Try their lunch menu featuring a selection of moreish sandwiches priced at HKD $95 served soft, or pressed. Choose from fresh salads priced at HKD $45 for half and HKD $85 for a whole serving.
From the roasted cauliflower and tabouli salad with yogurt dressing to the Malay spiced chicken burger, and larger plates of spaghetti Bolognese, Chef Corey curates his take on home-cooked recipes from around the globe. Taking comfort food to the next level, the perfectly seared hanger steak is priced at HKD $210 and served on a fresh bed of salsa verde. Don't leave with trying the homemade sorbet of the day priced at HKD $40 to complete your day!
Mamma Always Said 42 Peel Street, Central, Hong Kong, +852 2386 2216, www.mammashk.com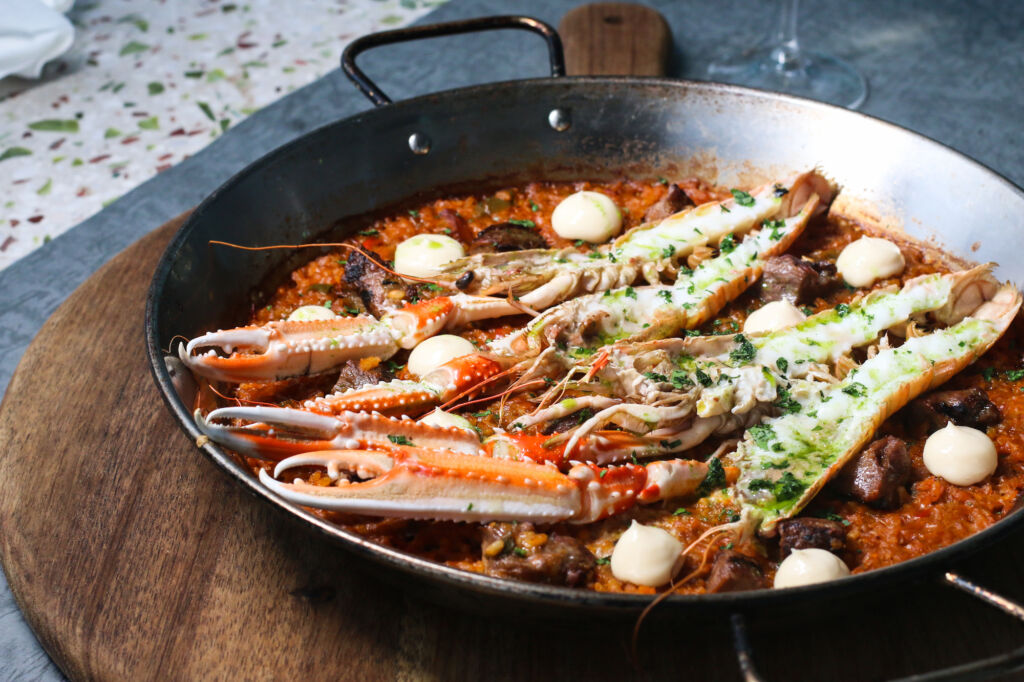 LA RAMBLA BY CATALUNYA OFFERS NEW DISHES AND MENUS
The season beckons for something light and bright. It's time to head to La Rambla by Catalunya and try their josper grilled green asparagus that features oven-crisped Arturo Sanchez Jamon Iberico, fresh stracciatella di bufala from Italy, and Arbequina olive oil pearls with a decadent shaving of European summer truffle priced at HKD $140. They have new dishes that will take your tastebuds to a much-needed adventure this month. The La Rambla cured meat platter priced at HKD $350 is something we also adore that features a rotating selection of cold cuts that have been house-cured over time. The King Crab Cocotte priced at HKD $210 is also worth a try, it's been steamed and grilled with kaffir lime, ginger, and lemongrass. The concoction leaves a beautiful memory giving hope that while we cannot travel far just yet, we can savor these authentic dishes in our very own city. How lucky are we!
La Rambla by Catalunya 3071-73 level 3, ifc mall, Central, Hong Kong, +852 2661 1161, www.larambla.hk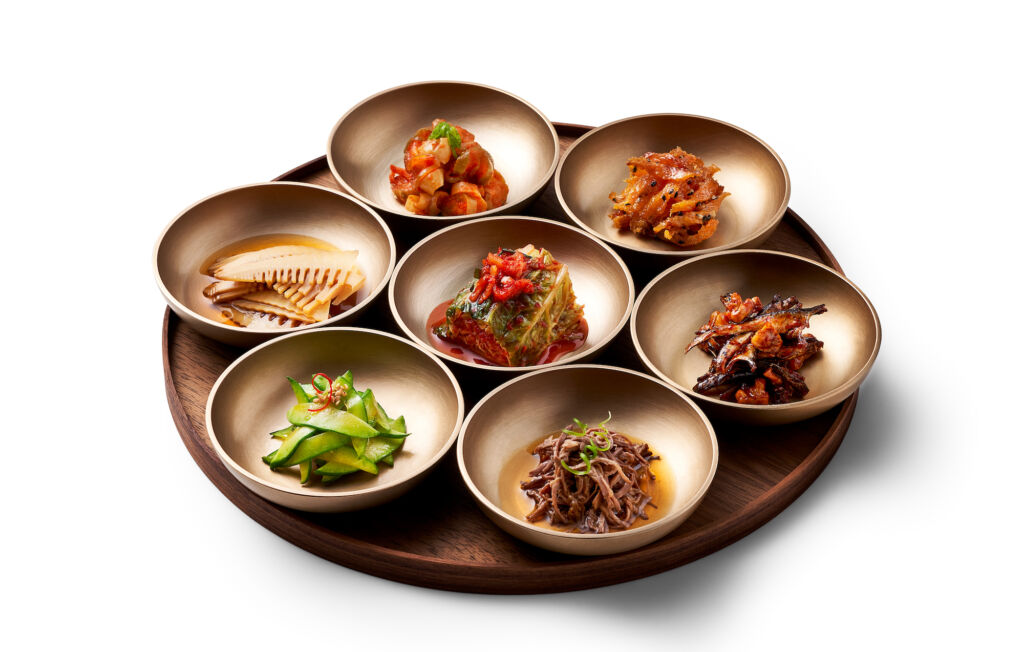 The Essence of Korean Cuisine at Hansik Goo
Our fascination with Korean drama has doubled since the lockdown and we must admit, our palates have been yearning for more since Netflix's Crash Landing On You took over Asia by storm. If you're keen to explore, we recommend Hansik Goo. Headed by Chef Mingoo who was the youngest-ever Head Chef at Nobu Bahamas, you can expect superb quality at this gorgeous dining spot.
The eight-course tasting menu is priced at HKD $780 per person plus 10% service charge. It's designed to be shared family-style with ingredients imported directly from Korea, including jangs, kimchi, and ginseng, while Korean wines and coffee are also available. The menu begins with bugak, inspired by ancient Korean temple cuisine. This is followed by dubu wanja, a modern take on traditional Korean meatballs made from tofu, crab meat and diced zucchini with anchovy and crab stock and a pine nut sauce. You'll find bulgogi or the barbecue duo for mains followed by bibim-guksu–spicy gochujang noodles with kimchi, perilla leaf, and US beef short rib. The menu is a refreshing myriad of flavors that takes you on a culinary journey.
Hansik Goo 2/F, 8 Lyndhurst Terrace, Central, Hong Kong, +852 2798 8768, www.hansikgoo.hk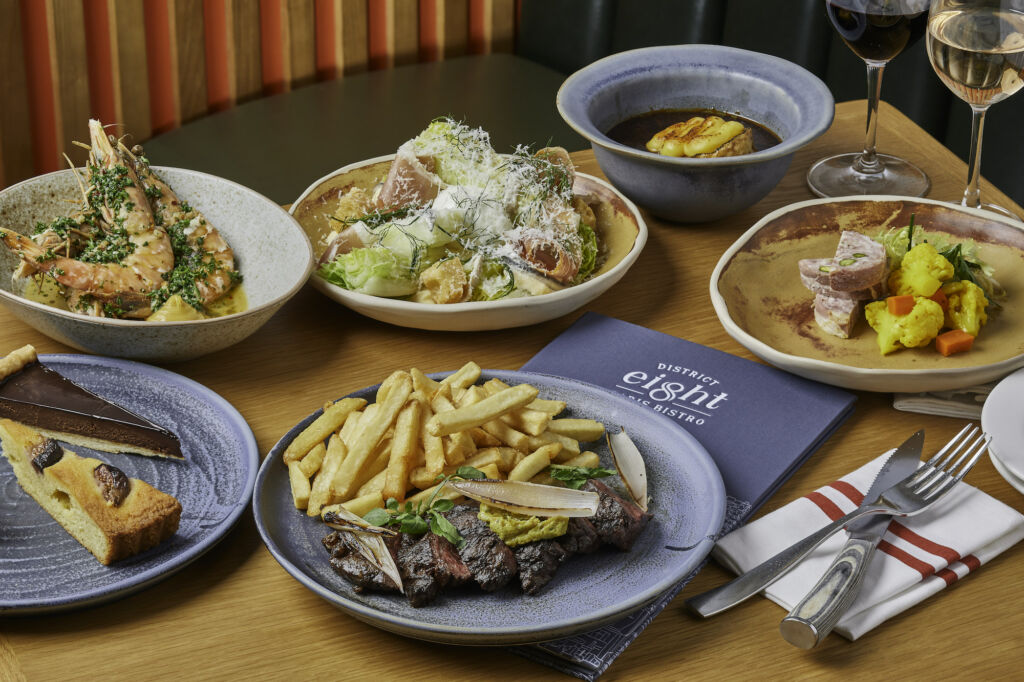 District 8 Opens at Elements Mall's Civic Square
Make the most out of your stroll at Elements Mall and make a visit to District 8. This stylish bistro features both indoor and alfresco seating. We love the standalone cocktail bar in navy blue, adorned with eye-catching motifs and wreathed by brown-leather bar stools. The restaurant's crowd-friendly menu is complemented by a 40-label wine collection available by the glass! They serve breakfast, weekend brunch, lunch, and dinner seven days a week, with menus laced with French classics and comfort food. The steak and frites experience is one of their must-try offerings. All steaks are served with Café de Paris sauce, charred onions, and frites. Bring the whole family or catch-up with friends located at Elements Shopping Mall's rooftop
District 8 Shop R009, R/F, Elements, 1 Austin Road West, Tsim Sha Tsui, Hong Kong, +852 2537 7555, www.district8.com.hk.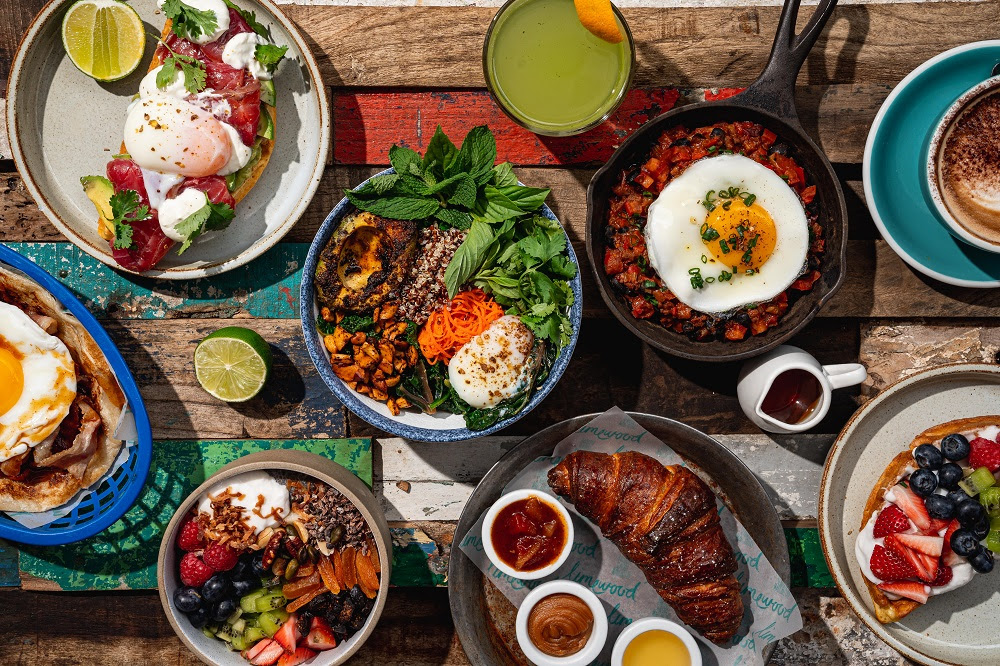 LIMEWOOD
Limewood is one of the firm favorites of city dwellers all year round. They have launched an exciting new menu called "Breakfast on the Beach" offering healthy options for everyone. The inspiration behind the concept originated in the epic beachside scene found in Bali. With their use of the freshest ingredients playing a huge role in the whole menu, there are plenty of reasons to visit this lovely restaurant. Taste the difference of their croissant. Made of wild honey, peanut butter and coconut spread, pineapple, and papaya jam, it's priced at HKD $60. We can't resist the chia and almond milk pudding. The delightful coconut yogurt is blended with toasted coconut flakes, roasted nuts, seasonal fresh fruit and berries, cacao nibs. It's priced at HKD $120. The bacon and egg roti is also a winning morning meal priced at HKD $120.
Limewood Shop 103/104, The Pulse, 28 Beach Rd, Repulse Bay, Hong Kong, +852 2866 8668, www.limewood.hk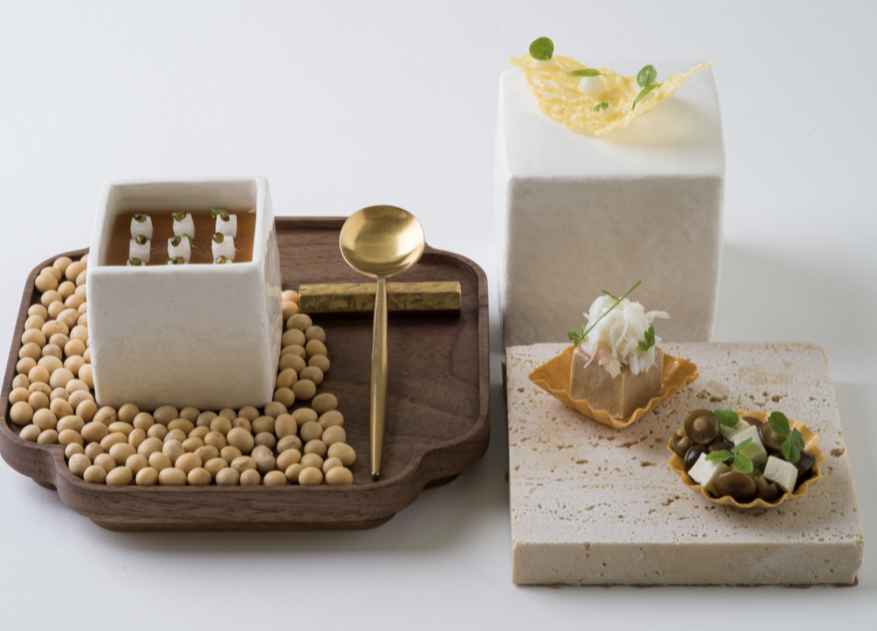 TATE DINING ROOM
Hong Kong is home to award-winning restaurants and talented chefs. We often praise international dining destinations but right here in our city are places that we can truly be proud of. Tate Dining Room is definitely one of them. Head to the one-Michelin-starred restaurants where Asia's best female chef Vicky Lau presents dishes through the versatile tofu.
Experience a unique lunch that's available on Fridays and Saturdays from 12:00pm to 2:30pm. It's priced at HKD $780 plus 10% per guest. The seven-course lunch menu features refined innovative French-Chinese interpretations of tofu–the chosen single ingredient for July and August. The menu includes crispy marinated tofu and cold noodles with yuba. Chef Vicky's inspiration behind the dishes is both nostalgic and memorable. With more surprises in between, rest assured the meal concludes with the tofu feast. Enjoy bites from the famous Tate dessert trolley, or a supplemental selection of house cheeses.
Tate Dining Room 210 Hollywood Rd, Sheung Wan, Hong Kong, +852 2555 2172, www.tate.com.hk
Tags
Related Posts