K11 Artus is the new gem on the Victoria Harbour in Hong Kong and it shines bright. With phenomenal views, stylish and comfortable rooms, booking a staycation this summer or even a few nights with the whole family has never been easier. Located on top of K11 Museu, you are ideally located close to the harbor, shops, dining, culture, and much more.
The lobby is located on the 10th floor which you access via a private entrance on the ground floor. Their check-in area feels more like a stylish space to relax in rather than a formal check-in area. The walls are lined with designer items, books to browse by TASCHEN, Assouline, stylish sofas, and colorful cushions. Jonathan Adler vases, Andre Fu pieces, and a large foosball table are among the notable items. Their library located above the main reception area is worth a browse not only for the books but the views that are seen from its open design.
Room
(See featured image)
The first thing you see when you enter the room is the view. K11 Artus has something that other luxury hotels in Hong Kong don't have and that's incredibly spacious balconies with 180-degree views of Hong Kong. The balconies are fitted out with a table and two chairs and you can spend as little or as long as you like taking in the views of Hong Kong. We stayed in the Artus Grand Harbour One room, which is their entry-level offering and it has everything you need and more. As this property also caters to long-stay guests, the rooms have been designed and fitted out in order to give guests the feeling that they are in their own space. There is a small open kitchen space, large fridge, washing machine, dining table which could work as a desk, cutlery, plates, Nespresso coffee machine, ample wardrobe space, makeup area with mirror, large queen bed, L shaped sofa and much more. They have managed to merge the best elements of a luxury hotel room and that of a luxury service apartment space into one.
The design was carried out by none other than Andre Fu, whose signature branded ceramics line also features in the kitchenette. The rooms have been designed and decorated very thoughtfully and tastefully, creating a modern and spacious environment. The kitchen features some complimentary snacks and drinks for guests as well as tea and coffee. The bottled water provided in the room is an all-glass bottled refill system with an aluminum lid–bravo for the recycling efforts–so nice to not see endless plastic bottles in your hotel room. It's a very stylish and comfortable room and there are many thoughtful touches around the room. The Monocle books, a small canvas, and pencils for the artist at heart and their Danish throw by Elvang that is 100% baby alpaca were cozy touches too. We loved the spacious bathroom and Aesop amenities for the win–just the scent alone transports us into a state of relaxation and luxury.
Another great element in the room is the ability to order in-room dining through your TV or even place orders for dining from the many restaurants and outlets located in K11 Museu. It's an easy function to use and everything is delivered right to your hotel room door and charged to your tab before you check out–easy peasy.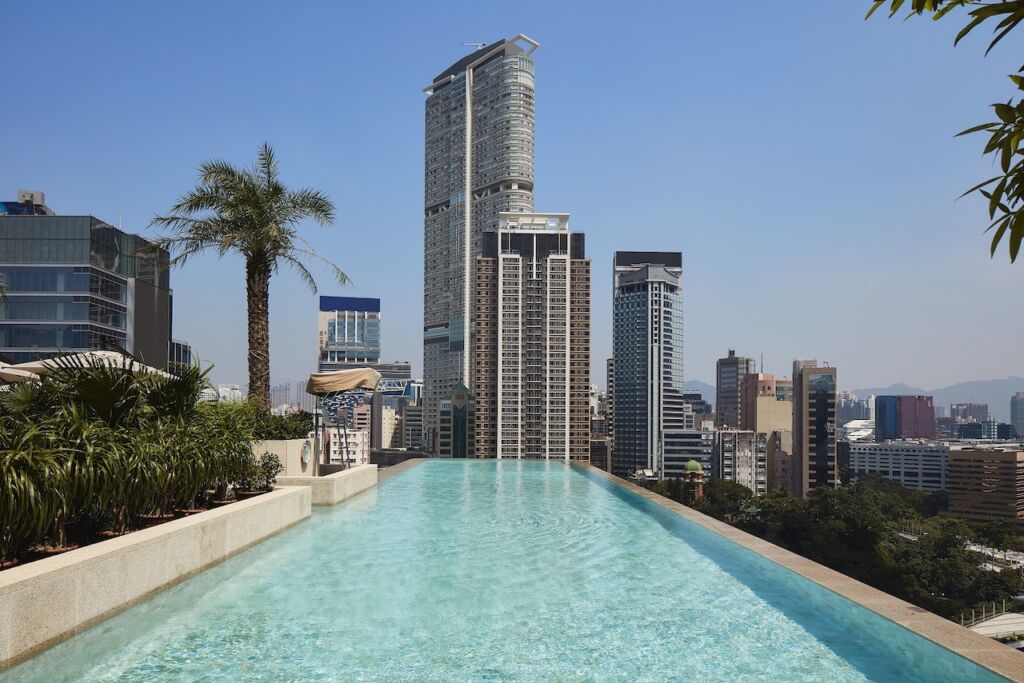 Facilities
The swimming pool at K11 Artus is quite big with fresh cold water and an open design featuring an infinity pool over the edge. For those who love to suntan, there are some great open tanning areas as well as shade for those who prefer. The swimming pool is located at the back of the property with stunning urban views of Kowloon and Tsim Sha Tsui. The swimming pool is easily accessible on the same floor as the gym and personal training studios. The gym facilities are another standout, fully equipped gyms, space for yoga, weight training, cardio, and they also have personal training available, just make sure to reserve it when you make your booking. There are also spacious changing rooms and lockers for those using the pool and gym areas.
One of the highlights of staying at K11 Artus is the access to the whole area around it. You can use your room key to access the elevators that arrive straight into the K11 Museum Mall. Whether you need to pop down to the supermarket, food court, do a bit of shopping, take a night walk along the waterfront, head over to the museum, the ease of access to the whole establishment is just fantastic. You really could spend your whole staycation on the property–there is everything there.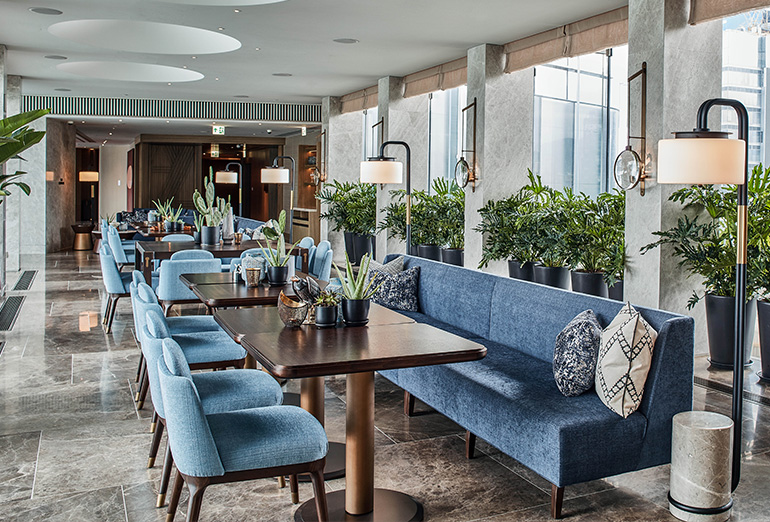 Dining
As all rooms have their own kitchen and dining area, in-room dining or even cooking something for yourself is easy especially for those long term guests, however, if you prefer to indulge and enjoy a few nights away from the kitchen, K11 Artus has some great dining options. The Commune serves a great set menu that changes seasonally or you can order off the ala carte menu if you prefer. Their bar, The Chamber, is a great spot for a few drinks, happy hour, or something small off their snack menu. With views over the city, watching the sunset and twinkling building lights appear is simply stunning. If you aren't sure what to order, their bar staff are more than happy to recommend something. Breakfast is also served in The Commune or in your room with two options available of either a Western and Asian choice. Afternoon tea is also a highlight and best enjoyed on your terrace in the afternoon.
Also read: Shopping Splurge & Haul at K11 Musea's Muse Edition
---
K11 Artus 18 Salisbury Rd, Tsim Sha Tsui, +852 2107 3388, www.artus.com.hk
Tags
Related Posts