With so many top-notch restaurants dotted around the city, it's always a wonderful challenge compiling our monthly list of top dining spots to try in Hong Kong. This month though we strongly encourage you to join the celebration of France's rich culinary tradition through good food and wine and explore participating places for the Le French GourMay. If we could offer anyone great advice this May, it would be to explore delicious spring dishes to soothe your mind and body and spend quality time with family and friends!
(Featured image above)
Le French GourMay is a true testament to the vibrant French dining scene in the region. This month, 125 restaurants in Hong Kong and Macau will join the festival to create gastronomic feasts with the theme of Loire Valley. The menus are specifically paired with Loire Valley wines to enhance the culinary experience so make sure to plan your dining itinerary well. During the whole month more than 200 partners–Michelin-starred chefs, 125 restaurants, as well as 45 food and wine importers, 52 retailers and 16 learning centers in Hong Kong and Macau–will join hands to in Le French GourMay 2019 by creating dedicated Loire Valley menus, wine tastings, promotions, and workshops.
There are gastronomic experiences at 18 restaurants in Hong Kong and Macau–Brasserie on the Eighth, Duddell's, Ecriture, Épure, Forum Restaurant, La Scène de Junon, L'Atelier de Joël Robuchon Hong Kong, Le 39V Hong Kong, Le Pan, Ming Court, Pierre, Popinjays, Restaurant Petrus, Robuchon au Dôme, The Kitchen, The Tasting Room, Voyages by Alain Ducasse, Zi Yat Heen. However, fine dining is the winner, with 42 spots in the region serving these kinds of menus: Above & Beyond, Akrame, AnOther Place, Aqua, Arcane, Artisan de la Truffe, Aurora, Bibo, Caprice, Casa Fina, Chez Raymond de Paris, Cuisine Cuisine at The Mira, Dynasty, Estiatoria Keia, Fook Lam Moon (Galaxy Macau).
Casual Dining is served in more than 60 other restaurants across both regions. 38 Lounge, Agenda Bar & Restaurant, Agnes b. Café, Alibi – Wine Dine Be Social, AOC Eat & Drink, Aux Beaux-Arts, Bellevue Bar And Grill, Bistro du Vin, BLT Steak, Bouchon Bistro Français, Brasserie, Café Causette, Café Crêpe, Café de Paris Monte-Carlo are just some of them.
When: May 1–31, 2019
Where: Restaurants across Macau and Hong Kong
How much: Each menu has its own price
For more information, contact the organizer by calling or head to the event's website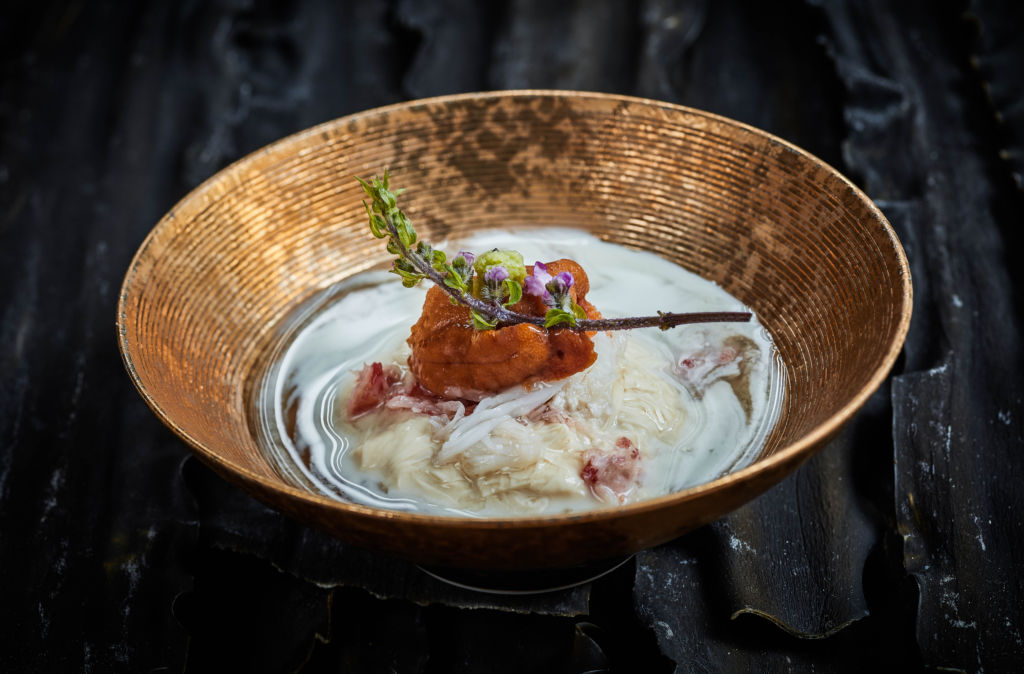 FUMI 
As if we need a new reason to visit FUMI, new Executive Chef Ronald Ho, renowned for a stellar career when it comes to Japanese fare has taken up residence and revamped the menu with intriguing must-try a la carte offerings. The new items will highlight key Japanese ingredients handpicked by Chef Ronald from different prefectures in Japan. One of the appetizers worth trying is the moreish and comforting eel with namban sauce priced at HKD $108. The succulent eel air-flown from Shimanto River–Japan's last remaining limpid stream is grilled, steamed then fried, and served with homemade sweet and sour nanban sauce. Make sure to also sample the Hamayaki queen crab with French bread priced at HKD $138 and the Yoshoko-style dish of grilled Daitouryou shiitake mushroom priced at HKD $78 stuffed with award-winning Nangoku Genki chicken from Kagoshima and cheddar cheese infused with tangy-sweet barbecue sauce.
FUMI 6/F, California Tower, Lan Kwai Fong, 30-36 D'Aguilar St, Central Hong, Kong, Central, Hong Kong, +852 2328 3302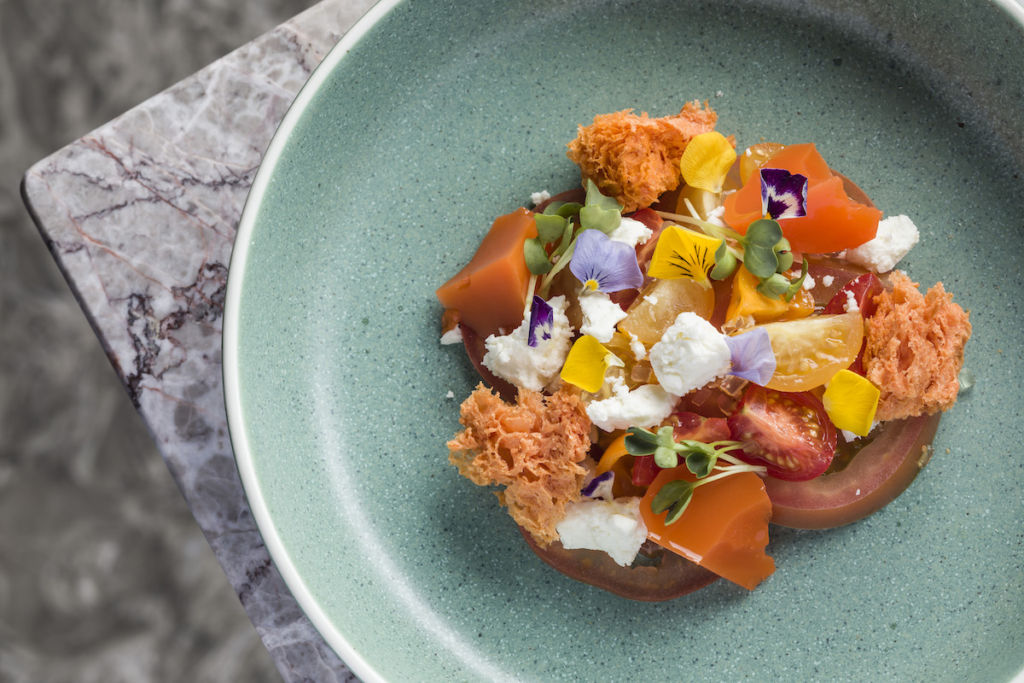 Ignis by Linx
Hong Kong's dining scene continues to evolve and innovate with Ignis by Linx. Hong Kong's newest hybrid entertainment venue finally opens its doors with contemporary dining featuring a lounge, club space, and decadent dining room. The bar area is incredibly eye catching as it's located down the spiral stairs with the DJ booth beside it. Located at the heart of Lan Kwai Fong, it's bound to be the newest hotspot in the city where guests can enjoy a range of modern classic cocktails in spacious luxe surroundings. The menu is a creative offering by former Nobu chef and a spot both for those wanting a romantic date or a dinner with friends. The highlights include morels and king mushrooms with confit egg yolk and potato puree priced at HKD $108, grilled octopus with kimchi mayonnaise priced at HKD $268 and oyster served Rockefeller style with passion fruits and wasabi priced at HKD $98 amongst many creative dishes to partake. Indulge in the finest selection of meat cuts, including mint-crusted lamb loin served with housemade onion jam and house-fermented pickled mustard; and Australian wagyu, Korean whorthorn and US prime beef.
Ignis by Linx 1&2/F California Tower, 30-32 D'Aguilar St, Central, Hong Kong, +852 2623 0298, www.facebook.com/ignis.hongkong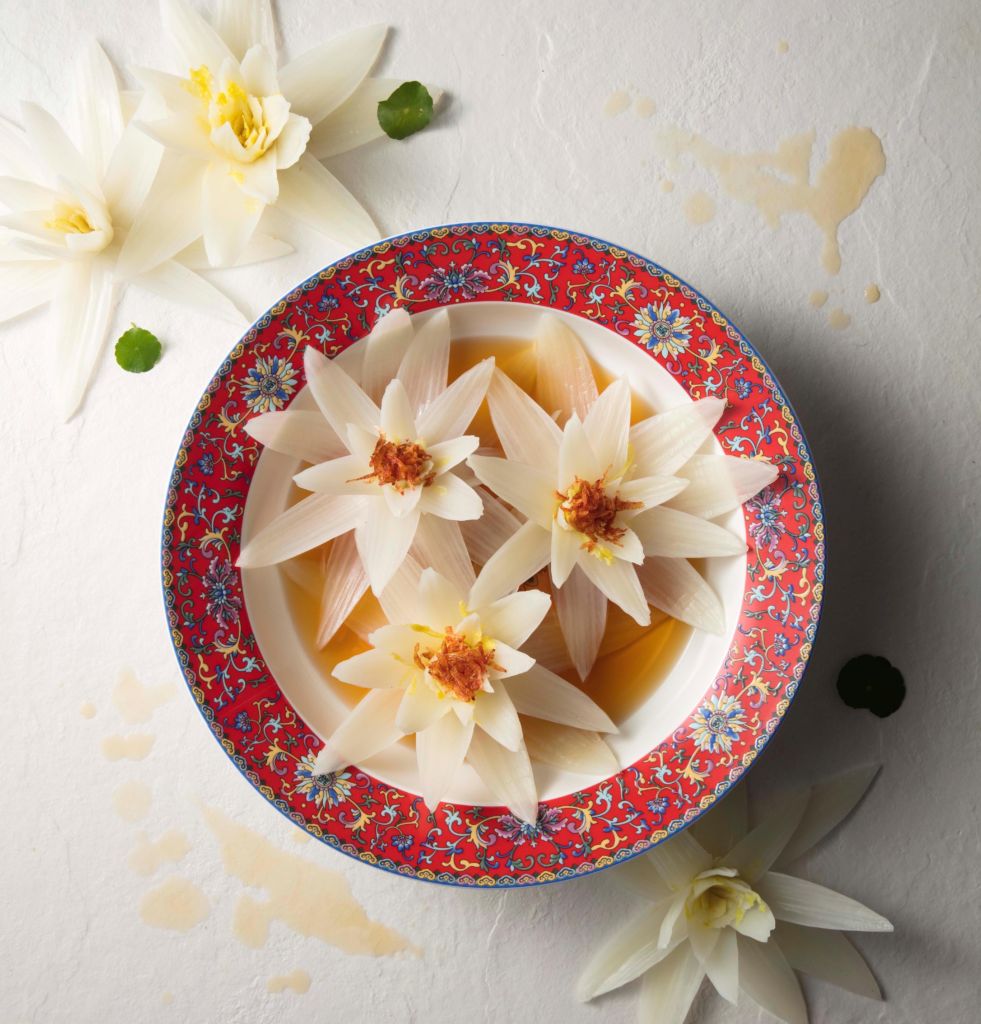 Dragon Noodles Academy
The possibilities may seem infinite when you've had good food for the day. Head to Dragon Noodles Academy to warm your bellies for the perfect comfort food–noodles and Chinese favorites. These key dishes are a part of Hong Kong's DNA, and this spring, eating light and bright is the perfect solution to feel positive about everything in life. While the handmade noodles in signature lobster soup noodle are always a firm favorite, try the toasted coconut corn cob priced at HKD $59 or the marinated winter melon in blueberry sauce priced at HKD $69. From the beautiful presentation to the burst of flavors in your mouth, these creations are perfect for the season. Give the goose liver with an apple a try at HKD $125. It's refreshing with a hint of green through the layering with green apple slices. Don't leave without a taste of baby cabbage florets with ham priced at HKD $129. It's culinary art at its finest.
Dragon Noodles Academy Man Yee Arcade Shop G04, G/F, Man Yee Building, No. 68 Des Voeux Road, Central, Hong Kong, +852 2561 6688, www.facebook.com/dnahkg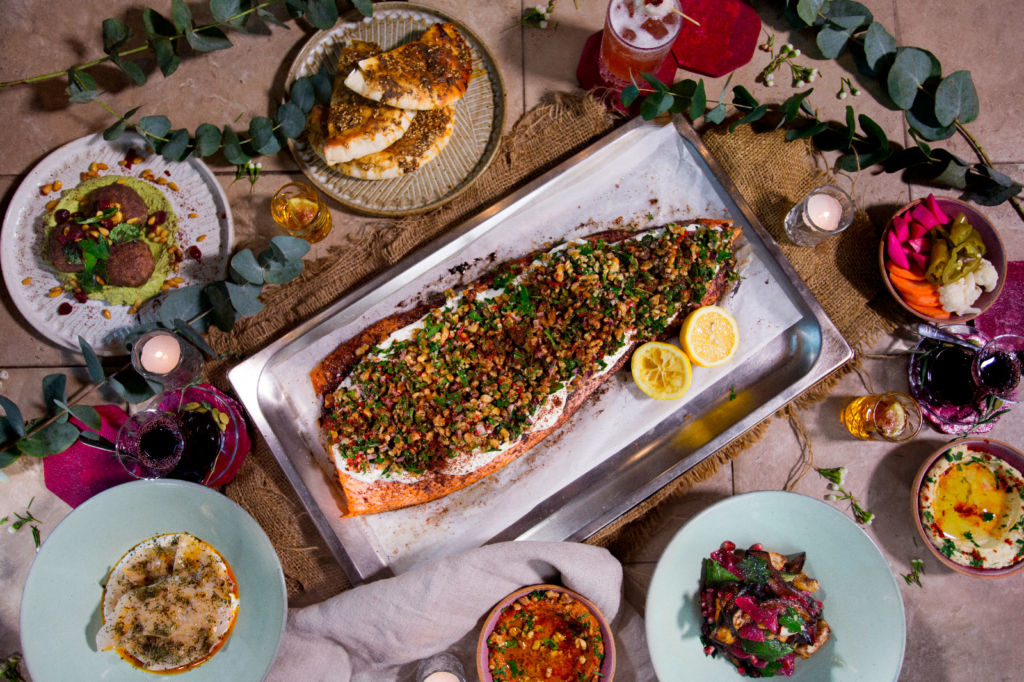 BEDU
Sometimes we all have our preconceived notion of what an experience at a Middle Eastern restaurant will be like. Not here at BEDU where tradition meets modernity with a dash of style. Situated in Central Hong Kong, the cuisine here takes inspiration from the nomadic wanderings of the Bedouin tribes across the deserts of North Africa to the rocky sands of the Middle East. Their new weekend menu is definitely one to add to your dining itinerary featuring rich culinary traditions, exotic products, flavorsome spices and cooking methods that have been passed down through generations defining Middle Eastern cuisine today.
BEDU 40 Gough Street Central, Hong Kong, +852 2320 4450, www.bedurestaurant.com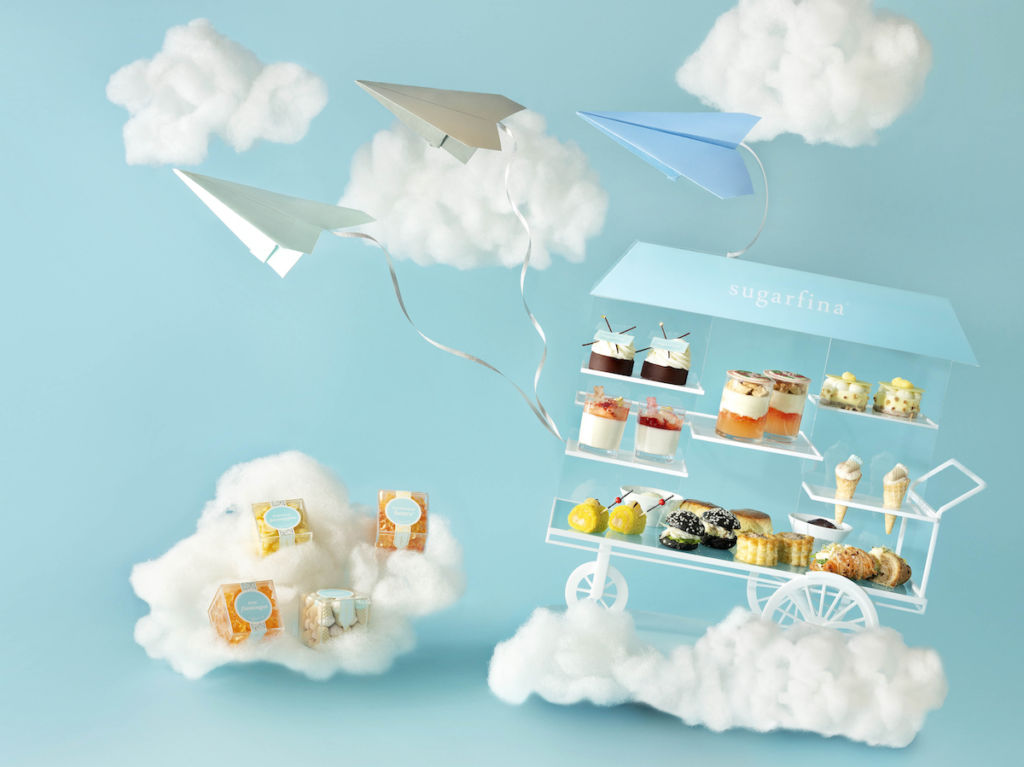 The Ritz-Carlton, Hong Kong x Sugarfina
There's no better way to treat yourself than with the indulgent Sugarfina afternoon tea set at The Ritz-Carlton, Hong Kong's Café 103 this month. Enjoy tea, cake, savories and something extra special with Sugarfina's iconic cocktail candy collection reinterpreted in this delightful afternoon tea set. Executive pastry chef Richard Long and his team meticulously crafted a set of six desserts and four savory bites that are not only Instagram-friendly but will sate any sweet tooth.
This is not just for kids but for sweet lovers of all ages. Prepare to have your heart melted by the colorful mini waffle cone that's filled with raspberry jam and vanilla cream topped with an ice cream cone gummy for garnish. Head to Café 103 for Sugarfina Sweet Spring Afternoon Tea for some quality time with family and friends. It's available from April 15 to June 30, 2019, at HKD $398 per set. All prices subject to 10% service charge.
The Ritz-Carlton, Hong Kong International Commerce Centre, 1 Austin Road West, Tsim Sha Tsui, +852 2263 2263, www.ritz-carlton.com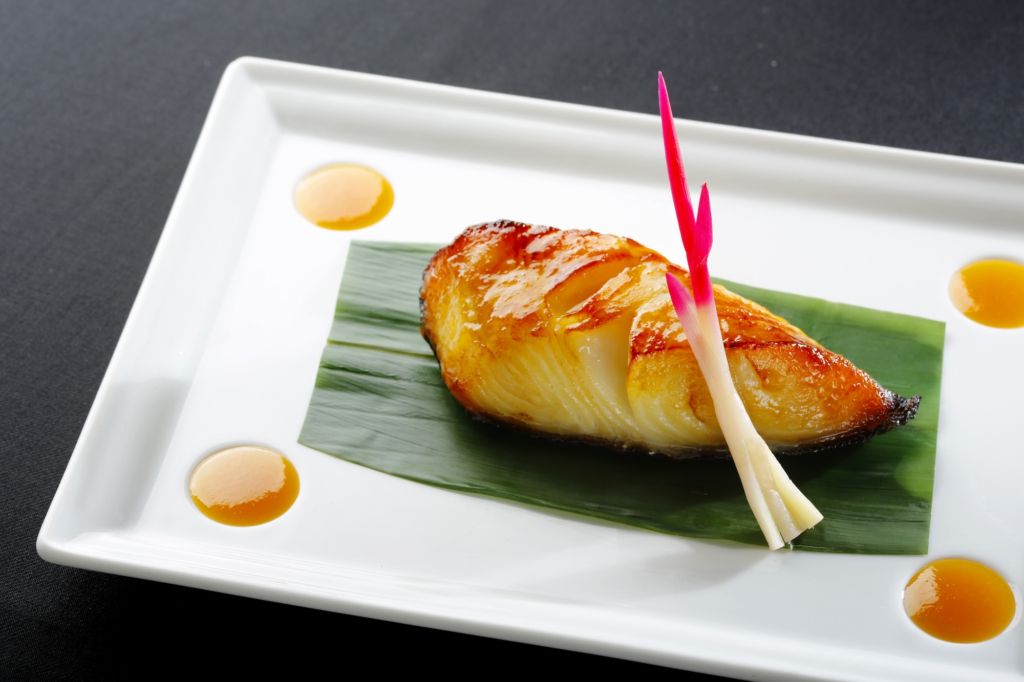 The 26th Great Chefs of Hong Kong
The 26th Great Chefs of Hong Kong, presented by Heep Hong Society, returns on May 69, at the Grand Hyatt Hong Kong. Constant culinary innovation is one of the keys to the success of great culinary legends and this celebration doesn't only offer a unique dining experience but brings together star chefs from nearly 50 of the city's creme de la creme. Set to serve over 100 dishes accompanied by an international selection of fine wine, all in the name of charity, don't miss the opportunity to savor the best of the city's international cuisine and meet the chefs behind the dishes. The tickets range from HKD $880 to $2,380 varying in dishes and exclusive tastings. There's something for every foodie at this fantastic gathering.
Grand Hyatt Hong Kong 1 Harbour Rd, Wan Chai, Hong Kong, +852 2588 1234, www.heephong.org, www.hyatt.com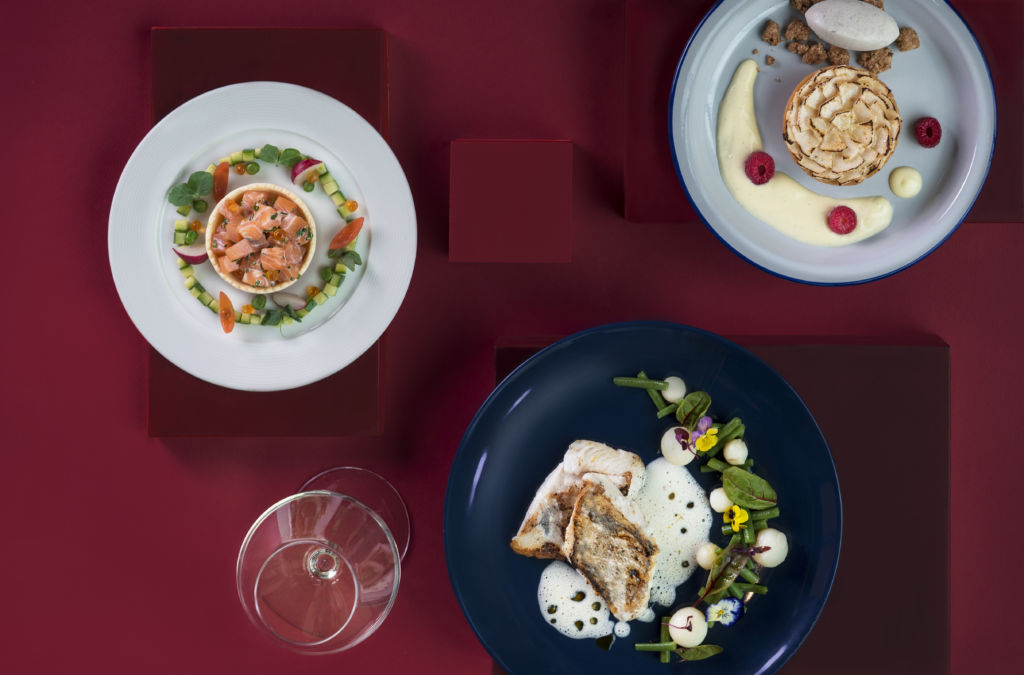 Renaissance Harbourview Hotel
Le French GourMay is in full swing at Renaissance Harbourview Hotel. Discover a range of Loire Valley specialties at Cafe Renaissance. Starting from May 1 to 31, indulge in an exquisite oyster and international dinner buffet with a touch of Loire Valley to savor and cherish this wonderful season. What's even more amazing is that you can also create pairing notes of authentic Cantonese cuisine with top-notch Loire Valley Wines at Dynasty to celebrate Le French GourMay. You can also opt for the precious three-course dinner at Mirage Bar & Restaurant priced at HKD $428 per person. Enjoy a remarkable culinary journey to the beautiful nation of France.
Renaissance Harbourview Hotel Hong Kong 1 Harbour Road, Wanchai, Hong Kong, +852 2802 8888, www.renaissance-hotels.marriott.com, www.frenchgourmay.com
Tags