Hong Kong is a buzzing metropolitan city with a skyline full of color and a nightlife full of vibrancy, but in a city that never sleeps, sometimes the calming sounds of waves crashing ashore are just what you need. These eight beaches are the picture perfect setting to get your bikini on, read a book and have that well deserved break. What's best is that all are easily accessible!
Repulse Bay
Repulse Bay is arguably the most opulent of all Hong Kong's beaches and resorts, with a stunning stretch of golden sand and the views of islands on the horizon. There are also many restaurants shops and bars, which make for a convenient day trip, or a range of luxurious spas and hotels for comfortable rest, relaxation and overnight stays.
Deep Water Bay
Just a few kilometers north-west of Repulse Bay, Deep Water Bay is very similar to Repulse Bay, but minus the tourists. Chat with friendly locals and expats, at any of the reasonably priced restaurants and eateries. If you are feeling adventurous, there are many places to try wake-boarding, or if you prefer, you can choose to observe from a comfy warm spot on the sand!
Clear Water Bay
Clear Water Bay is another tropical setting, with pristine sand, lush greenery, and hiking spots if you want a change in scenery with a spot of cardio. If you manage to work up an appetite, pick your own seafood at Po Toi O and eat your freshly served lunch right on the water. What better way to enjoy a day by the sea!

Sai Kung Beach
Though not the most beautiful, Sai Kung is one of the least crowded beaches, famous for its amazing surf and sand experience. Amidst the palm trees and snack shops, there are many places to rent surf equipment or even take lessons–without the embarrassment of crowds looking at if you are of the less co-ordinated crew. Go all out and make the most of this wonderful, sunny weather.
Golden Beach
If you're missing the charm of the Mediterranean, The Golden Coast resort is a stereotypical European holiday resort, with hotels and umbrellas that will transport you to Spain's Costa del Sol. If you like to be surrounded by people, music and plenty of places to buy ice lollies, this is the resort for you.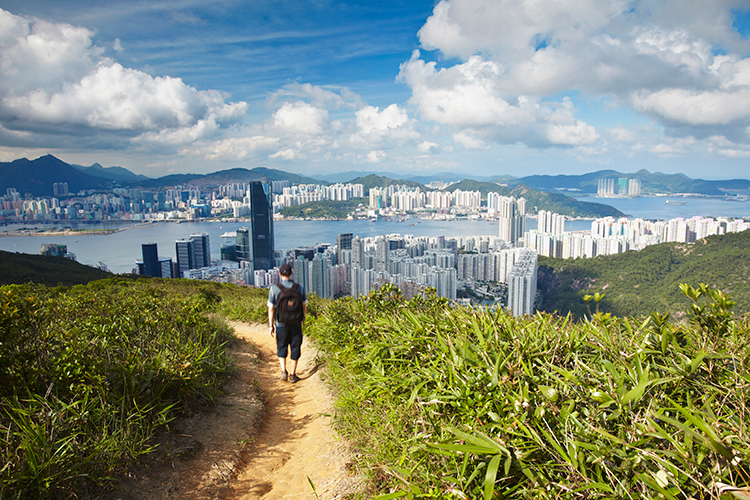 Shek O Beach
This beach is for the adventurous type, as it is accessible after a beautiful hike. The dragon back trail takes you over the tops of the peninsular on around a two-hour hike, with views of Hong Kong island that rival Victoria Peak. There aren't many places to buy refreshments, so if you plan a full day exploring the various trails – between lounging on the beach of course – make sure you pack plenty of water. What better way to relax your muscles than a dip in the sapphire blue ocean after a hike all day.
Big Wave Bay
Big Wave Bay is a popular destination, very accessible with convenient shops, restaurants, and facilities making it perfect for families and big groups. If you are day tripping there, we recommend taking a cooler bag with some of your favorite barbeque foods, as there are free barbeque areas and charcoal readily available. For the Instagram shots, brave the stairs to the top of the peak, but be careful. The 1,100 steps up can take a few hours, but the views at the top can take your breath away just as much. The only issue with this beach is the number of people lounging and surfing there, but, with so many amenities we can see why it is so popular.
Chung Sha beach
Although way more of an excursion, Chung Sha beach on Lantau is worth the trek. Miles and miles of fine white sand mean you will get the tranquility you require if your idea of relaxing doesn't include fighting for space or shouting over the cries of nearby children. There is not much around, so take plenty of refreshments and some wholesome activities to keep your group occupied. If you are the competitive type, there is plenty of room to settle any old beach volleyball scores at this people friendly beach.
Practical information
Ferries between Macau and Hong Kong depart every 15 minutes from 7:00am–12:00am with Turbo Jet for approx HKD $180.
All beaches or their start points are easily reachable by taxi and public transport.
Always wear suncream and drink plenty of water when exposed to the sun.
Tags