It's hard to believe 2017 is coming to an end in a few weeks. This time of the year inevitably brings reflections of our own. What did I do on my weekends? How come I haven't tried that new cafe? Did I watch that show or miss it?
Here at Macau Lifestyle headquarters, we believe that every day is a new chance to explore, experience and enjoy something new. Mark that calendar now and make the most of the festive season with our favorite picks in the beautiful city of Hong Kong.
Osteria Marzia
(Featured image above)
There is no cuisine better for sharing than that of the Italians! Bringing the romance of coastal Italy to the oriental city of Hong Kong, Black Sheep restaurants really know the way to our hearts and stomach. Osteria Marzia's menu matches the setting's ambiance of elegance and warmth. And, we suggest you don't let the year pass without visiting this new dining hotspot. Located on the ground floor of the newly refurbished Fleming Hotel, Osteria Marzia is every bit as stylish and cool as you want it to be.  Head Chef Luca Marinelli's team has prepared classic recipes from seaside Italy, highlighting regional specialties and allowing the natural qualities of the ingredients to really shine. Sample the hamachi with cherry tomato, olive and basil (HKD $178), as well as oysters, served with Lambrusco vinaigrette (HKD $238 for a half dozen). Don't miss Chef Marinelli's famous pasta dishes such as the pacchero di gragnano (HKD $258), signature spaghetti ricci (HKD $288), and Capri favorite, whole Branzino aqua pizza (HKD $598), all take a spotlight of their own. The real star of the show though is the fantastic sommelier with a wine list full of fantastic Italian wines you have never heard of and staff who make this dining experience so enjoyable. It's great for couples or a large group of friends. The ambiance, vibe, and the food are all first class. Bookings recommended. They currently only do dinner service.
Osteria Marzia 41 Fleming Road, Wan Chai, +852 3607 2253, www.osteriamarzia.com.hk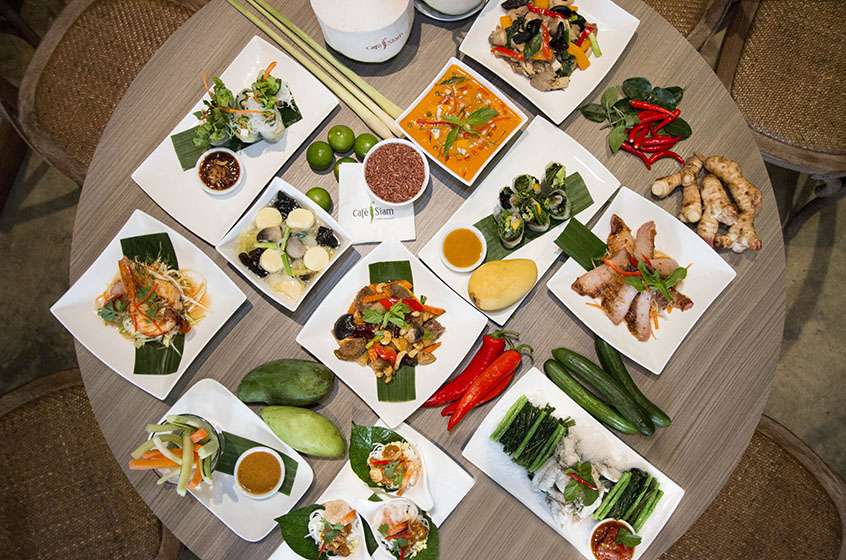 Café Siam
You don't need to travel to Thailand for a true taste of Tom Yum Goong. Michelin-recognized Café Siam has everything to cater to discerning taste buds. Just in time for the holidays, the restaurant has collaborated with Asia's leading culinary nutritionist Kim Murphy to introduce an exciting new menu of 10 healthy Thai dishes—making sure there are vegetarian options—and all delivering high nutrition and great flavor whilst being low in sodium, salt, and sugar. The menu is the collaborative outcome of Chef Lo at Café Siam Central and Chef Somchai at Café Siam Kennedy Town, who have worked closely with Kim Murphy to better cater to the dietary preferences and needs of guests whilst remaining true to the brand's culinary identity. To get started we had their vegetable sticks and rice paper rolls and you would be surprised how full you can feel from chowing down on these healthy starter options. We loved their light glass noodle broth with tofu and mixed mushrooms but our favorite dishes were their stir-fried mushroom with pumpkin and garlic dish and the grilled pork neck salad. Both had a light but delicious sauce flavoring to them yet allowed the taste of the food to actually shine through. There is some misconception that healthy food is boring food, so it's nice to know that the food at Cafe Siam is not only tasty but actually good for you.
The Kim Murphy Menu will be available for lunch and dinner daily, at both Café Siam Central and Café Siam Kennedy Town. Café Siam will also be offering special workshops with Kim Murphy where guests can learn more about ingredient sources, recipes, and other health-related tips. What better way to prepare for the festive season than this!
Café Siam Central 2F–3F, 21 D'Aguilar Street, Central, Hong Kong, +852 2851 4803, www.facebook.com/CafeSiamHongKong
Café Siam Kennedy Town GF, 38 Forbes Street, Kennedy Town, Hong Kong, +852 2855 0810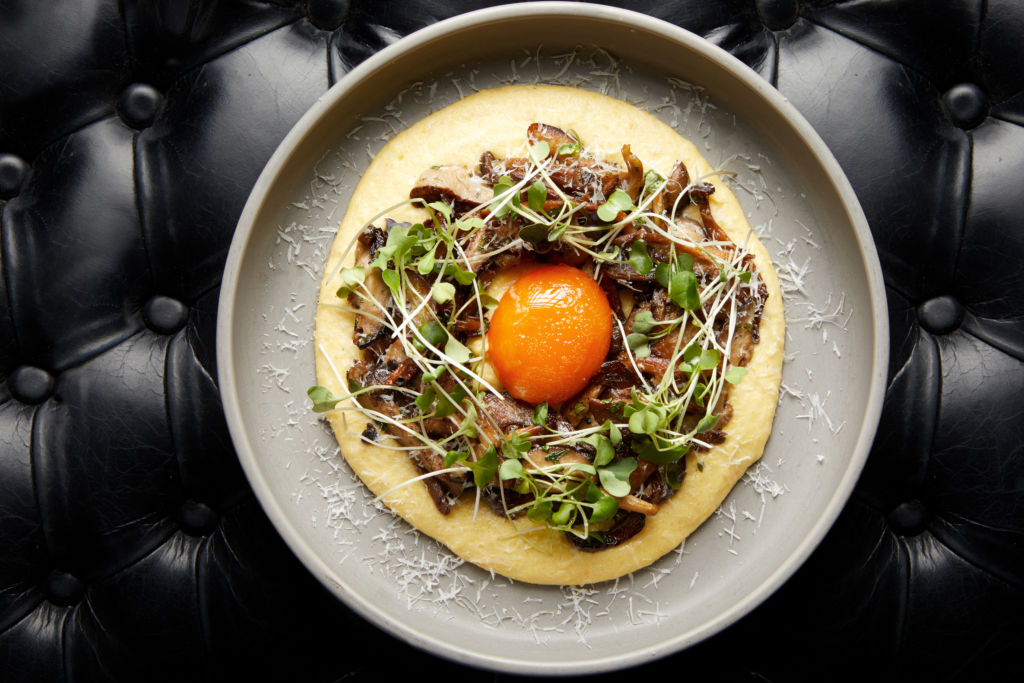 Lily & Bloom
Unwind from all the shopping this season with the delightful winter menu of Lily & Bloom. As always, we're always on the hunt for the best offers in the city and we couldn't resist a visit to this well-loved restaurant in Hong Kong. Lily & Bloom is a regular on our Hong Kong hotlist and for a good reason! Their new winter menu has impressed us with flavors and dishes perfect for this cooler weather. For starters we loved the kale salad with crispy pork belly, its hard to get a good kale salad in Hong Kong but this one was a great mix of textures and flavors. With sliced apple, grated carrot and crispy pork tossed in a light hoi sin dressing, it was delicious and you just might not want to share this one. But the star of the starters was the delicious creamy polenta (pictured). This is a slightly hard dish to describe because it's a mixture of textures and flavors but so well nicely put together, not to mention it had three of our favorite ingredients—mushrooms, slow-cooked egg, and pecorino. Our favorites of the mains included the confit duck leg and slow-cooked beef cheek with delicate flavors, simple yet but utterly delicious. An amazing array of offers on this new and lovable menu. Ones that also shouldn't be missed are the 45-day dry-aged cowboy steak (35oz), passion fruit semifreddo and s'mores campfire for dessert. Intriguing and unforgettable, it checks off all of ourc palate requirements.
Lily & Bloom 5–6F, LKF Tower, 33 Wyndham Street, Central, Hong Kong, +852 2810 6166, www.facebook.com/LilyandBloom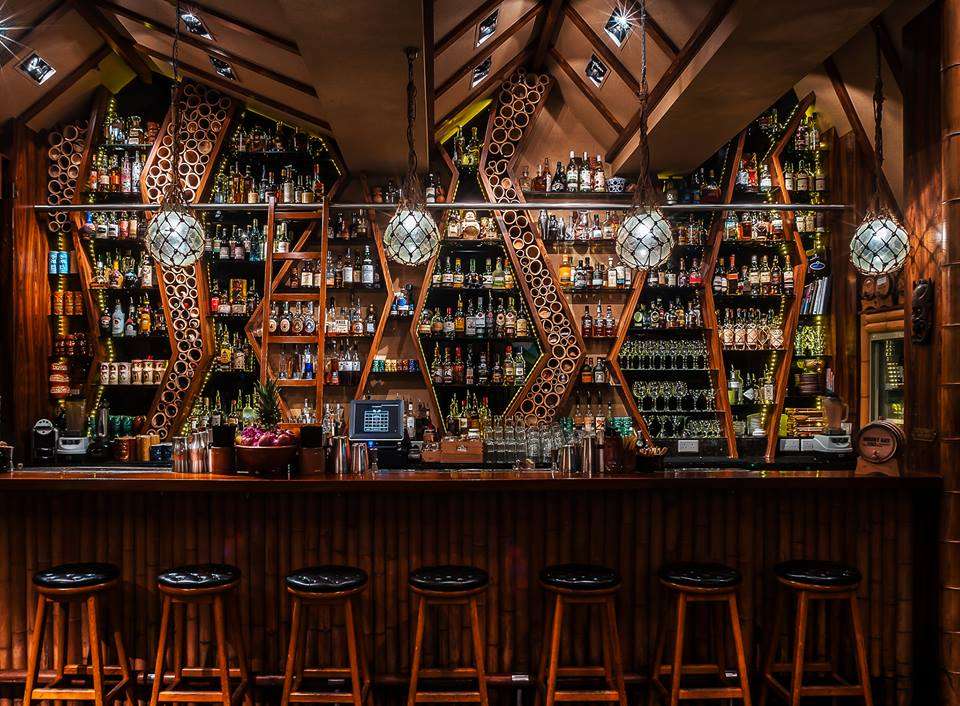 Honi Honi
There's no better place to celebrate the holidays than at the first ever Tiki bar in Asia. Honi Honi Tiki Cocktail Lounge launches a new cocktail menu highlighting the best cocktail creations since its founding in 2012. Sip a few of the famed signature concoctions over the years include Tropical Storm with Grey Goose vodka, elderflower syrup, guava nectar, passion fruit and strawberry purée. Don't miss the tropical Honi Honi Kiss that remains an all-time favorite. You'll forget the cold weather with these delightful drinks.
Honi Honi Somptueux Central, 52 Wellington St, Central, Hong Kong, +852 2353 0885, www.honihonibar.com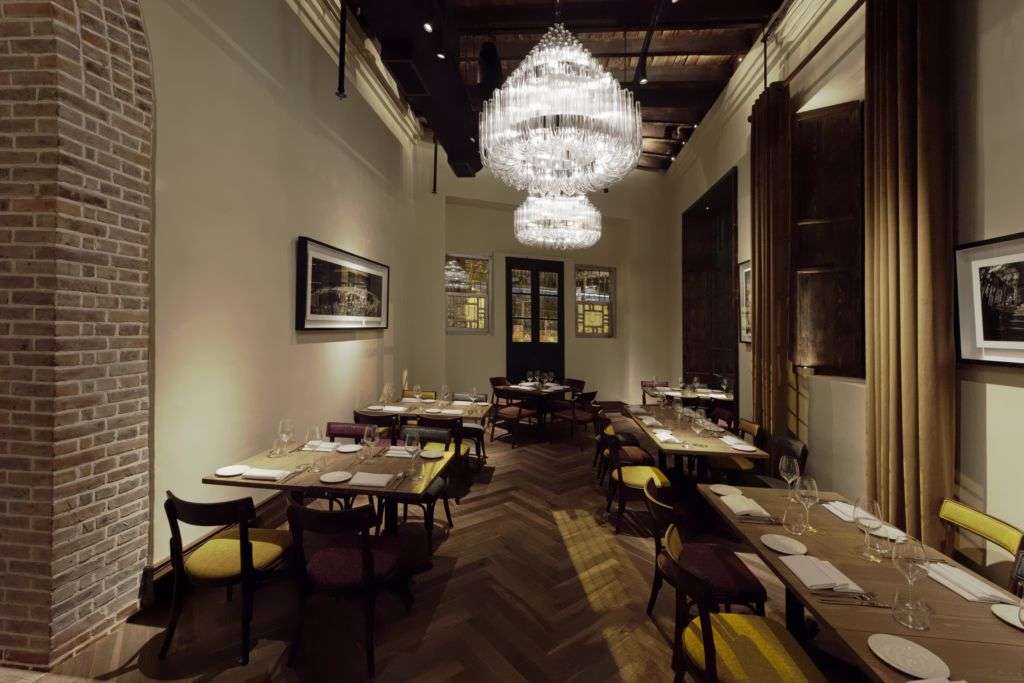 La Piola
Good food should be satisfying and delicious and La Piola Italian Restaurant & Bar has all that. Delve into Italian cuisine and aperitivo at the recently reopened restaurant space. The new La Piola retains the same winning formula of high-quality drinks and cocktails and authentic home-style Italian cuisine in a relaxed setting—but now with the added benefit of being located in an attractive and iconic heritage building.
Start with the crowd favorite, grilled chivasso—Tomino cheese wrapped in speck, grilled zucchini, and
poached pear priced at HKD $128. Try any of the sumptuous signature dishes such as homemade tajarin pasta with
Italian luganica sausage, leek, and stracciatella di burrata cheese at HKD $195 and diavola, pizza flavored
with mozzarella, spicy salami, and tomato sauce priced at HKD $168. Fresh and flavorful, La Piola has the perfect meal for the whole family.
La Piola GF, 60A–66 Johnston Road, Wan Chai, +852 2806 1028, www.facebook.com/La-Piola-Italian-Restaurant-Bar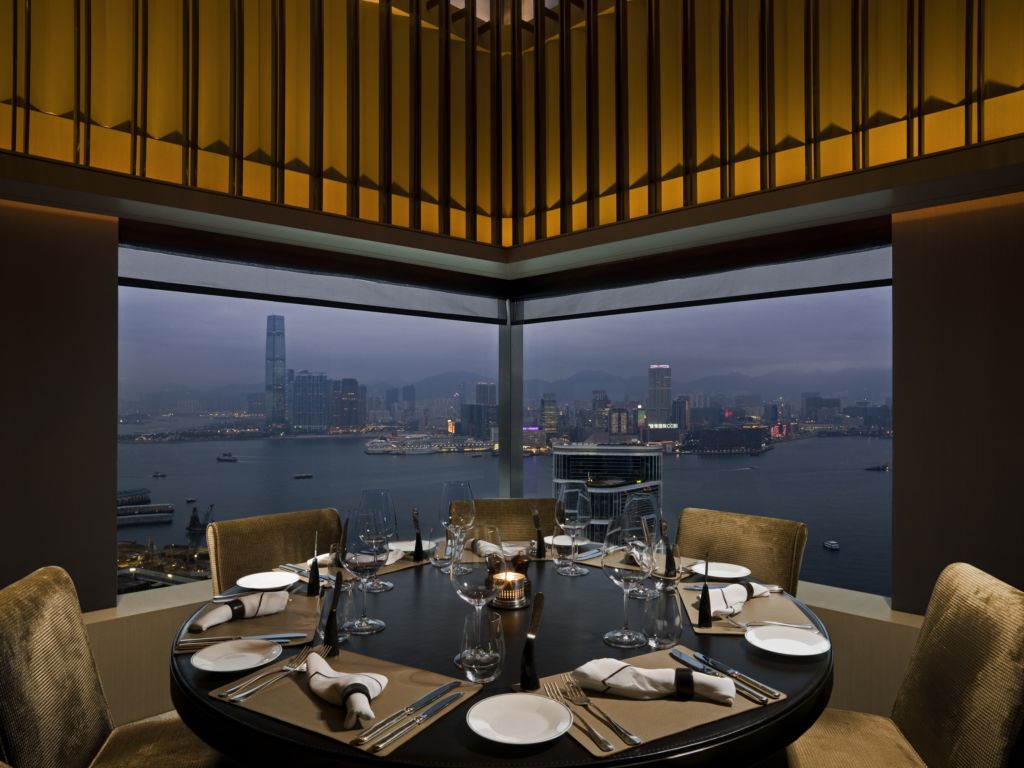 Café Gray Deluxe
A contemporary European-inspired dining spot at The Upperhouse, Café Gray Deluxe offers stunning views of Victoria Harbour. Chef Gray Kunz is at the helm of the restaurant whose signature dishes feature organic seasonal ingredients influenced by his experiences in European, Asian and American kitchens. The posh Christmas Eve dinner offering features 4-course at HKD $1,550 per person from 6:00pm to 8:00pm while the 6-course at HKD $2,250 per person from 8:30pm until late. From Foie Gras Bonbon, and Hokkaido Scallop Crudo, followed by Velouté of Oven-Roasted Celeriac, every dish will delight dinners on the festive affair.
Café Gray Deluxe Level 49, The Upperhouse, 88 Queensway, Central, Hong Kong,+852 3968 1106, www.upperhouse.com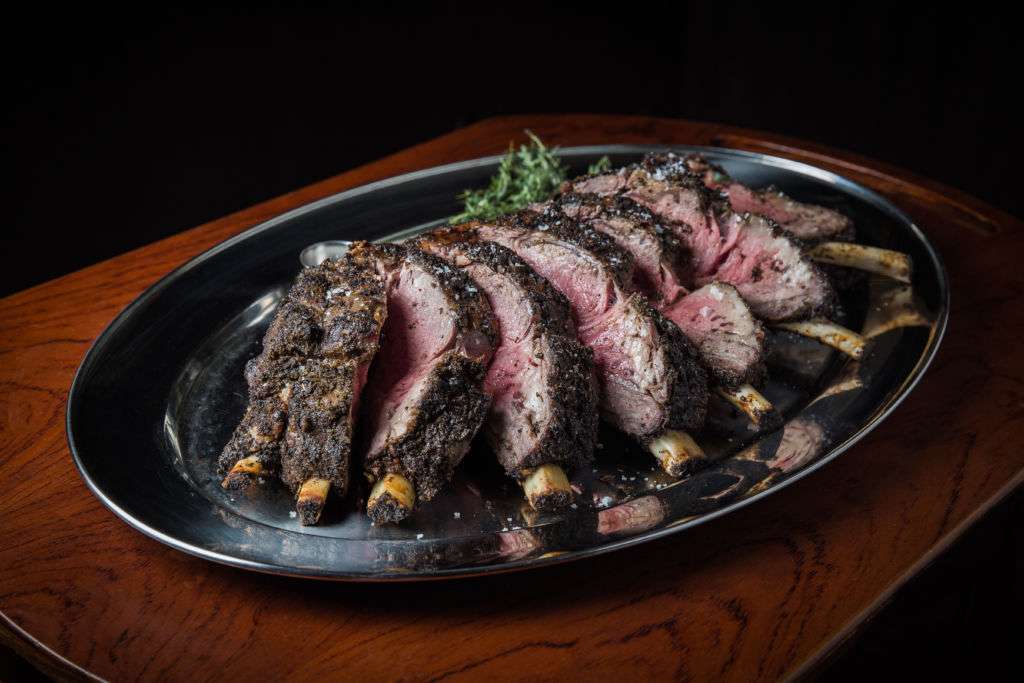 Buenos Aires Polo Club
Buenos Aires Polo Club is an upscale yet unpretentious Argentine steakhouse. Meat certainly takes the spotlight inspired by the country's dynamic grilling culture, celebrate the season of pleasures with a three-course feast including their lip-smacking prime rib. Accompanied by delicious sides and starters, this is a great way to reign in the cooler months.
Start off with their Golf's salad which is baby gem lettuce, avocado and hearts of palm along with their Iberian charcuterie and provoleta and browse the wine list while you wait for the star of the show—the Black Angus prime rib. Taking pride in sourcing its grass-fed Black Angus from Argentina's premier open range cattle station, General Pico, Chef Felipe Lopez simply coats the premium beef with the restaurant's signature Club Rub before curing overnight to impart extra flavor. He then sears the meat on the parrilla wood-fired grill to achieve a smoky, caramelized crust before slow-cooking in the oven for four hours. Served and sliced by your table, it's accompanied by mashed potatoes, green beans, and creamed spinach. This is a not a light meal but you feel full, not heavy. The meat is so tasty and can be cooked more or less to your liking. They have some delicious red wines available and of course cocktails—don't leave here without trying their Earl Grey martini; perfection in a glass. The prime rib dinner is priced at HKD $488 per person with 10 percent service charge. It is available for parties of four or more with reservations 48 hours in advance, which can be made at [email protected].
Buenos Aires Polo Club 7F LKF Tower, 33 Wyndham Street, Central, Hong Kong, +852 2321 8681, www.bapoloclub.com
•••
WATCH OUT FOR THESE EXCITING EVENTS IN HONG KONG
•••

THE WORLD OF TINTIN
HOCA Foundation has proudly announced a landmark exhibition exploring the adventures of global icon Tintin. The largest presentation in Hong Kong to date, it showcases eight albums from the renowned "The Adventures of Tintin" series. The immersive experience, featuring vivid scenography, celebrates the imaginative world created by the Belgian illustrator and creator of Tintin, Hergé.
Created in 1929, the Tintin adventures have been translated into over 100 languages and sold more than 230 million copies worldwide. Each thematic section of the exhibition has been designed by HOCA Foundation to bring the intrepid boy reporter to life. The welcoming exhibition also includes three specially created models of Tintin scenes, including a model of Tintin's apartment; a large diorama of the ticker tape parade in Chicago from Tintin in America, highlighting Hergé's sophisticated use of perspective; and a collector's model of a street scene populated by signature Tintin cars, accurately rendered from the automobiles of the time. To celebrate the first full-scale exhibition of Tintin in Hong Kong, three pop-up shops will also be presented around Hong Kong, at ArtisTree, CityPlaza, and Central, presenting a wide range of Tintin gifts, books and memorabilia.
When: Wednesday–Sunday, 12:00pm–8:00pm, November 17–December 26, 2017
Where: ArtisTree, 1F, Cambridge House, Quarry Bay, Hong Kong
For more details, visit www.hoca.org or www.museeherge. com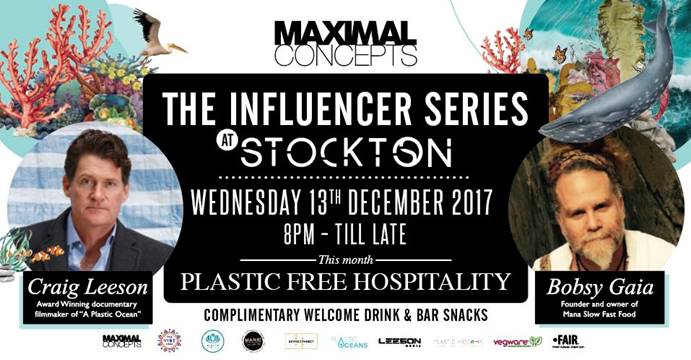 The Influencer Series at Stockton
This exciting event is all about movers and shakers who come together to chat about hot topics that can provide inspiration for the hospitality community on how to better their practices,  revolutionize the guest experience and push the boundaries of creativity.
Kicking off the series on December 13 with the topic of "Plastic Free Hospitality", two guest speakers will be presenting ideas on how the industry can be lowering plastic waste. From Plastic Oceans, award-winning documentary maker Craig Leeson will open with his experience of the plastic epidemic through his documentary "A Plastic Ocean". Continuing the conversation, Bobsy Gaia from Mana HK will outline how he has made his passion for the environment a core aspect of his brand, eliminating plastic from all packaging and encouraging consumers to adopt a lifestyle free from plastic pollution.
When: 8:00pm, Wednesday, December 13, 2017
Where: Stockton, 32 Wyndham St, Central, Hong Kong
For more details, visit www.maximalconcepts.com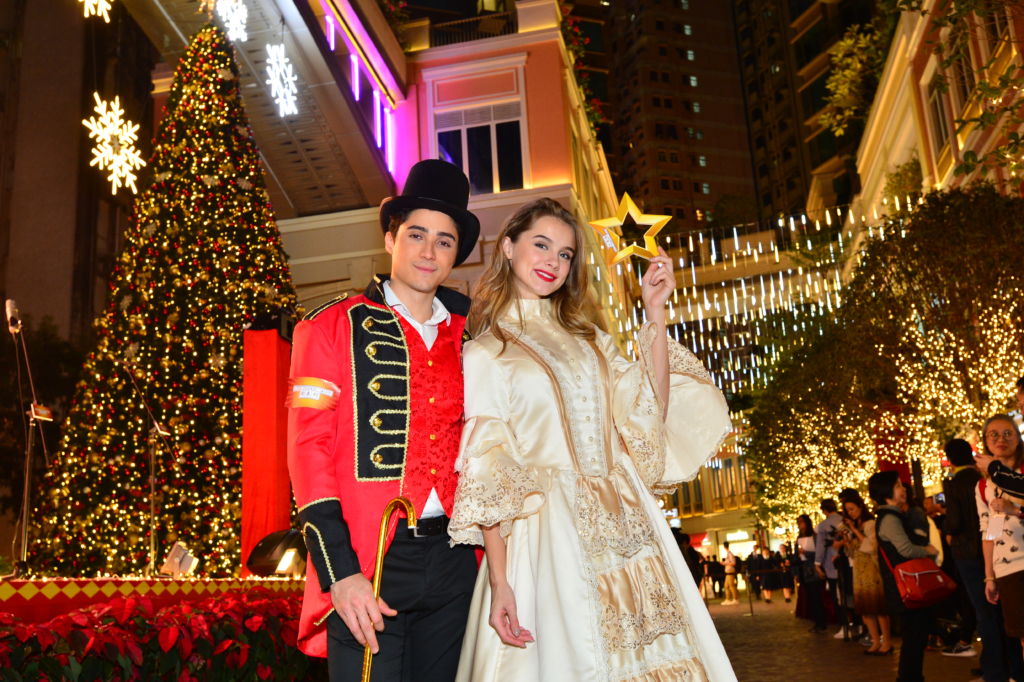 Lee Tung Avenue X Twentieth Century Fox Film
Lee Tung Avenue is decked in the festive spirit and holiday entertainment. Extending its romantic legacy with Twentieth Century Fox Film this Christmas, the grand finale of the year is none other than "The Greatest Showman". By magically turning the boulevard into a glorious stage with festive colors, take a stroll straight to the gigantic Christmas Tree at Central Piazza. Explore the starry interior decorations in Christmas Tree Spacewalk.
To sprinkle more Christmas spirit on top, many events will bring the public to the best location for festivities and spread an enchanting Christmas ambiance.
When: 10:00am–10:00pm, November 29–January 8, 2018
Where: Central Piazza, Lee Tung Avenue, Hong Kong
For more details, visit www.leetungavenue.com
Tags