With direct flights from Macau, Taipei might be one of the easiest and cheapest options for a weekend getaway. Not to mention that the capital of Taiwan has so much to offer to a keen traveler. Traveling is becoming more affordable and with so many options of flight companies to choose from, tourism is booming. To keep up with the influx of travelers, new hotels have been emerging and some really stand out for their uniqueness. One of these unique hotels is the five-star Hotel Éclat Taipei!
How to get here
The journey to Taipei is just as important! As mentioned before, there are plenty of flight options available and it takes less than two hours to get to Taipei. Check out carriers such as Tigerair Taiwan, Air Macau, and EVA Air for direct flights to Taipei from Macau International Airport.
Wonderfully convenient
To properly explore a city, you'd logically choose accommodation that's convenient to travel to and from. If you only have a few days to enjoy Taipei, location becomes even more important which is why Éclat Taipei is the ideal place to stay! Located downtown in a trendy Da-An neighborhood, it is close to some of Taipei's most popular attractions. Taipei 101, Da-An Park and the National Dr. Sun Yat-San Memorial Hall are a short walk away. Additionally, Taiwan's foremost cocktail bar, Indulge Experimental Bistro bar is only 10 minutes away! Moreover, with the fashion boutiques and green alleys, the area is just pleasant to stroll around. 

Bigger isn't necessarily better
The Éclat Hotels chain has two properties at the moment—Hotel Éclat Taipei and Hotel Éclat Beijing. Éclat Taipei is a member of Small Luxury Hotels of the World (SLH) community, an organization that doesn't believe that "bigger is better" and we can't agree more! With only 60 rooms on nine floors, Éclat Taipei manages to balance the feeling of exceptional luxury with the coziness that we occasionally miss in big hotel chains. Besides, did you know that the Michelin Guide mentioned Hotel Éclat Taipei as one of the preferred hotels in Taipei?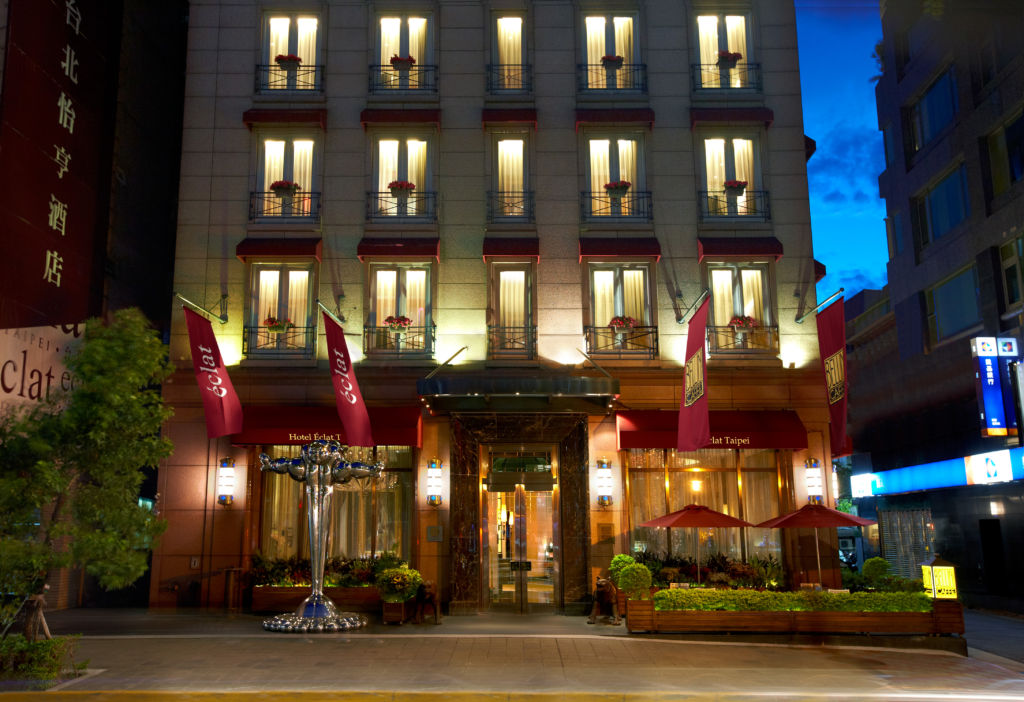 A feast for the eyes
Sometimes, city hotels can lack personality and don't leave much of an impression but not Hotel Éclat Taipei. It is obvious how much thought and dedication the owners invested in creating its distinctive avant-garde style and appearance. 
You definitely cannot call the design minimalist. On the contrary, it's rather more-ish. Stepping into the lobby, we were treated to the most gorgeous and opulent decor. Gigantic chandeliers hung above colorful carpets, drapes, huge mirrors and paintings in the most ornate golden frames along with tiny aquariums with colorful little fish on the counters made the hotel a feast for the eyes.
Without a doubt, what contributes to the hotel's charisma the most is its art collection. For Éclat Hotels, art is not just an element of design, it's an essential part of their DNA. Their eclectic art collection meticulously selected by the hotel owner, includes artworks by Salvador Dali, Jia Gang, Andy Warhol and Gao Xiao Wu. Furthermore, the collection of art is updated and changed to change up the vibe of the hotel.   

Utmost comfort
Their dedication to art and attention to details can be easily spotted in the rooms as well. Every one of the 60 rooms has at least one unique piece of art in it. You will also notice Philip Starck chairs, Riedel glassware, Nespresso coffee machine and a cute retro style phone. If you want to stay in and have a laze about in the hotel room, you will definitely not be bored. The large flat-screen television with a free selection of movies, Bang & Olufsen CD and audio system, and the non-alcoholic (free) mini-bar selection will keep you occupied indeed.
The standard Deluxe Rooms are not very spacious, but they employ the use of mirrors to create a wider-looking room. Also, the polyvision glass wall that separates the bathroom from the bedroom is a clever design that can be fogged for privacy with just a press of button. The bathroom has a wooden floor rain shower and guests can enjoy branded body and hair care toiletries. Even more luxurious accessories can be found in Éclat Taipei's premium rooms—from Dyson hair dryers to Guerlain bathroom amenities.
What's more important than a comfortable bed in a hotel room? Coming back after a long day of walking or working, the Éclat Taipei bed has just the right softness and warmth to whisk you off to Dreamland. With a pillow menu for guests to choose a pillow to their liking, waking up in the morning is going to be a chore. However if you really must get up early, the automatic curtains allow morning light to enter the room without you needing to get up.

Dining in opulence
Imagine having all of your meals surrounded by beautiful artwork under such an exquisite chandelier! The Éclat Lounge serves up an amazingly tasty breakfast buffet that's sure to satisfy guests with any diet preference! There are some hot Asian dishes that vary daily along with international breakfast goodies like cold cuts, cheeses, pastries, eggs, fresh fruit, muesli, yogurt and more!
As if that wasn't enough, you get to choose two items from the menu as well. This menu is divided into Western and Taiwanese food. We strongly advise picking one from each side. On one hand, the Western style omelette, scrambled and fried eggs are exceptionally good, but the Taiwanese egg pancakes are just out of this world.
The best thing is that if you're having a lazy day and want to just enjoy the hotel, the Éclat Lounge offers all-day dining, as well as lunch, afternoon tea, dinner and drinks. Another elegant dining spot is Bellini Caffe which serves exceptional Italian food like brick-oven roasted pizza, freshly made pasta and juicy prime steaks.  
Excellent service
One little thing that we found especially handy and thoughtful is a smartphone that you can take and use in the city absolutely free of charge! As a five-star luxury hotel, Éclat Hotel Taipei provides outstanding customer service. Friendly and knowledgable, their staff made sure our experience would be one to remember (in a good way) throughout our stay. All in all, this hotel would suit any type of traveler, business or leisure, single or other. Much like the beautiful city it is situated in, we will definitely come back to Hotel Éclat Taipei time and time again!
---
Éclat Hotel Taipei 370, Sec. 1, Dunhua S. Road, Da-an District, Taipei City, +886 2 2784 8888, www.eclathotels.com/taipei
Tags
Related Posts