Bali is the destination that just keeps giving – you can visit over and over again. It's filled with history, great food, charming local people and an incredible wilderness. It's always been and is still becoming increasingly popular to visit there, as there are plenty of new hotels opening up regularly, and some very stylish and unique properties such as The Viceroy Bali. This place is an oasis of luxury tucked away in Ubud. Take a closer look below.
Upon arrival one of the first things we noticed was their helipad. They are the only hotel in Ubud to have one so you can imagine their clientele and how the rest of the experience might be from this sign alone. For those of us not traveling by helicopter, the hotel is a 75 minute drive from the international airport. Traveling up to Ubud can be a tiring experience depending on the time of day or the weather. However once we entered into the entry gates of The Viceroy Bali, we were overtaken with a sense of calm and quietness – just what one would expect in the mountains of Ubud. We were made to feel right at home – we were warmly greeted by reception staff and whisked way to our rooms.
The Rooms
The first thing you notice as you walk into the rooms is the beautiful smell of frangipani flowers. The flowers not only adorn the room but make up the signature scent of their soap. Its not at all overpowering but it makes you feel as though you are on holiday almost straight away. There are only 25 one and two bedroom private pool villas, so you can expect an incredible room experience. We had a thatched roof Deluxe Terrace Villa and it was as spacious and luxurious as one would expect. With a comfortable bed, sofa and lounge area, double sinks, a huge rain shower, separate toilet, and a gigantic bathtub, this villa was just wonderful. Just to the side of our room was our private villa pool. It was heated and as you perched right on the side facing a green jungle, we felt truly alone and at peace. With a covered canopy bed and two deck chairs, we had to think hard about where to lay by the pool – decisions! The rooms are a very spacious at 150 m2 (1,615 ft2) and quiet. This area of Ubud in Bali is known as the "Valley of the Kings" and after checking into our room, we could see why.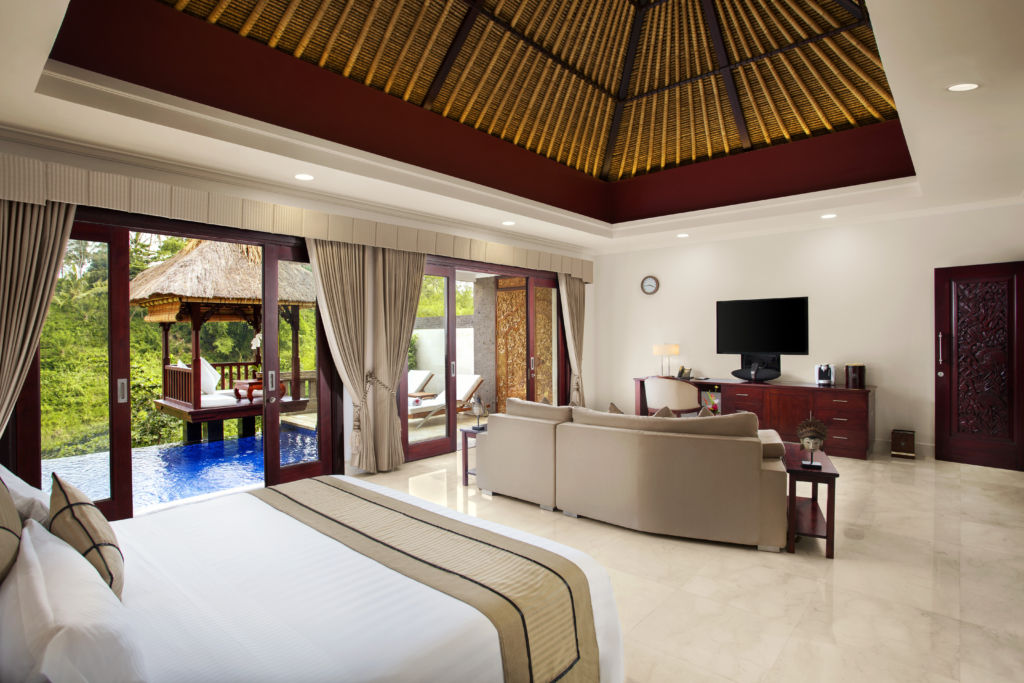 The Facilities
The hotel sits on a cliff edge, adding dramatic views as you walk around the property or enjoy a meal at CasCades. The star of the show on the property is the infinity pool overlooking Petanu River Gorge. You feel as though you are truly alone perched over this ledge. It was so serene and peaceful its impossible to put into words how relaxing it is. There is also a great swim up bar located in the infinity pool where you can have cocktails and food without leaving the pool. Even though the hotel was almost fully booked, we often had the infinity pool to ourselves. Wifi is strong throughout public areas and the villa. They also have a great gym and spa but make sure you book into the Lembah spa which has a variety of traditional Balinese and international treatments available. This family owned and operated property really does make you feel right at home, the hotel staff were all very friendly and attentive throughout the stay and there is also a free shuttle service for those who would like to go into Ubud town centre.
The Dining
CasCades is a fine restaurant that serves European and Indonesian cuisine and also where breakfast is served during the stay. Their all inclusive breakfast option is fantastic and the options are endless. Breakfast is served a la carte as opposed to an open buffet, and it's such a nice change as it keeps all dishes fresh and made to order.
Their newly opened restaurant Aperitif was also a wonderful experience. They have a fantastic bar with very knowledgeable bar staff who can whip up some very good cocktails and also put a spin on a few originals. The interiors has a colonial feel to them as to create an atmosphere of a time when having an Aperitif was truly enjoyed. Their 8-course degustation menu in the main restaurant has been so thoughtfully created to blend local balinese produce where possible and each dish presented a mix of flavors and textures one would come to expect from a fine dining restaurant. Even if you aren't staying on the property, I highly recommend a dinner at Aperitif and I suspect it won't be long before we see it appearing on Asia's 50 Best Restaurants list.
"A secluded haven for romantics, adventurers and the mindful" is how the website describes it as and I completely agree. It is without a doubt, A true Balinese gem and I can't wait to be back again soon.
---
The Viceroy Bali Ll, Anyahan, Br. Nagi, Ubud, Kabupaten Gianyar, Bali 80571, Indonesia, +62 361 971777, www.viceroybali.com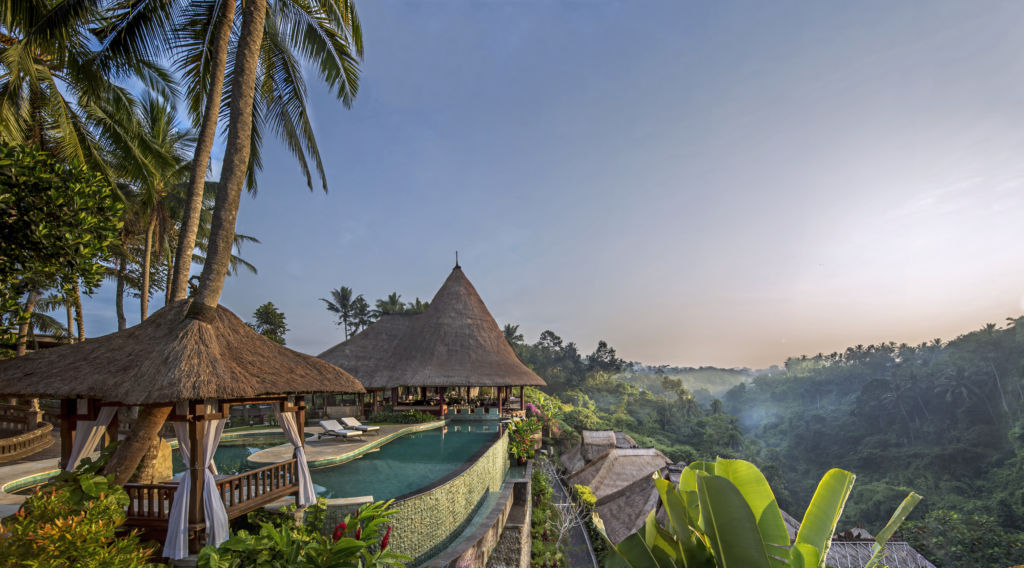 Tags
Related Posts