Keeping the kids busy through wintertime or during their summer break can be a real struggle. We're lucky that Macau is teeming with indoor playrooms to keep children of all ages entertained. From free-fall slides, bouncy castles and indoor racing tracks to air hockey and a chocolate-sprinkle-like sandpit, these playrooms will make the day for your little one! Our choice of indoor playrooms also hosts children's birthday parties, so if you're on the chase for a venue, consider one of these. Head to these fun and entertaining spots for a great family day filled with joy. Keep in mind that all of these Macau indoor playrooms require both parents and children to wear socks.
JW Kids Club 
JW Kids Club at JW Marriott Hotel Macau is a spacious and appealing playroom designed to provide fun times to toddlers, kids, and teens. The latter will especially enjoy the arcade gaming area. Younger kids can hop around cool amusements such as slides, climbing nets, and an awesome mirror room (see featured image above) they'll find mesmerizing. This magic mirror room is great to play hide and seek with mom and dad! Once they're done with all the energy-consuming activities they can have a sit and draw their imagination away. If by any chance your little one is in need of a haircut, consider stopping by JW Marriott's Kids' Salon, conveniently located right beside JW Kids Club, where kids get their hair cut while sitting in a cool car and watching their favorite cartoon on an iPad.
JW Kids Club Level 3, JW Marriott Hotel Macau, Galaxy Macau, Estrada da Baía de Nossa Senhora da Esperança, Cotai, +853 8886 6888, www.galaxymacau.com/en/hotels/jw-marriott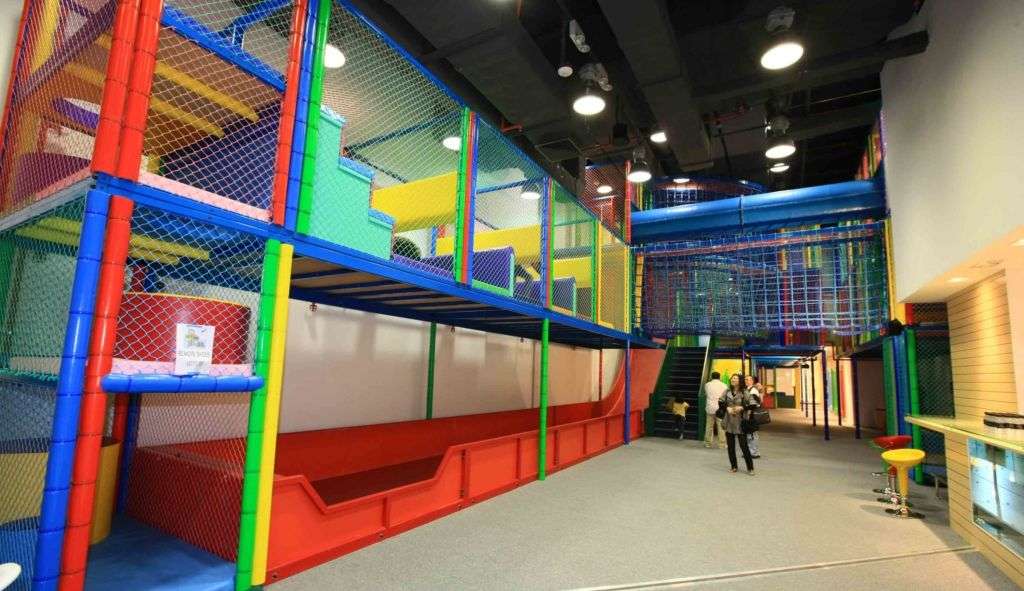 Qube
Qube at The Venetian Macao is one of the most popular indoor playrooms in the city. It can also be one of the busiest but that means more playmates for your kids! It is suitable for all ages, with a ball pit and soft blocks area for the younger children, as well as a six-meter high climbing park complete with a freefall slide. You will find teens in the arcade corner glued to various game consoles and computers with internet access.
Qube The Venetian Macao, Level 3, Grand Canal Shoppes (next to shop 957), Estrada da Baia de Nossa Senhora da Esperanca, Taipa, +853 8118 8890/+853 8118 8891, www.venetianmacao.com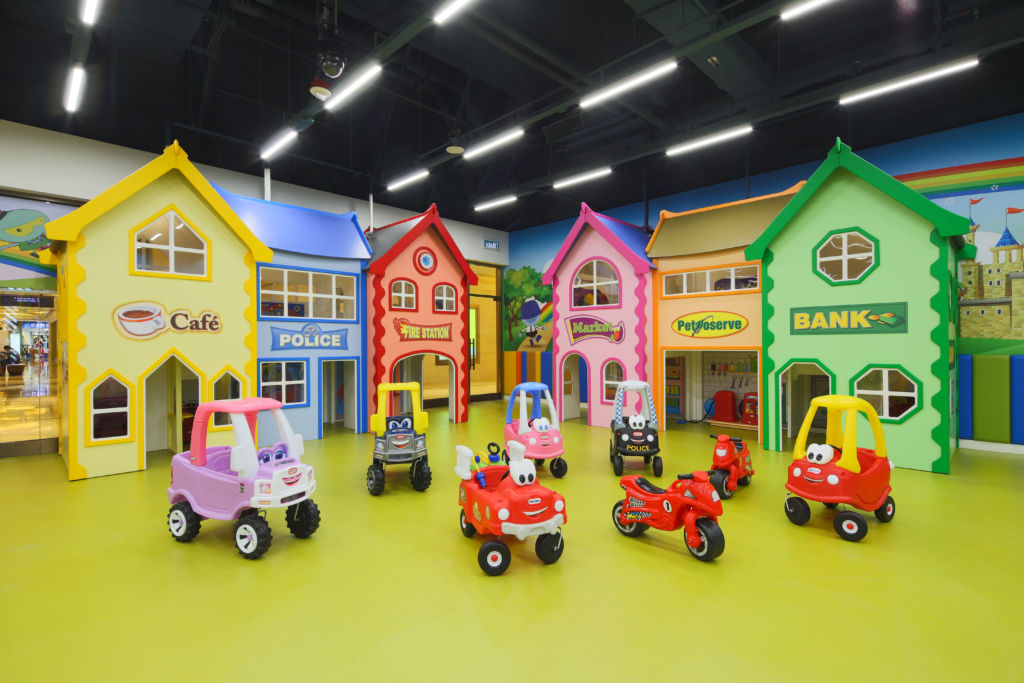 Qube 2
Qube 2 at Sands Cotai Central is a lot smaller than the one at The Venetian Macao and it's less crowded too. The room is designed to make it easy for parents to keep an eye on their children at all times. The room is filled with bouncy castles as well as a few game consoles and computers. Teens might not find it as entertaining, although there are air hockey and football tables. In addition, there is a small play area designated for toddlers with a ball pool and some soft blocks to pile up and climb over.
Qube 2 Sands Cotai Central, Shop 2201, Level 2, Shoppes Cotai Central, Estrada do Istmo. s/n, Cotai, +853 8113 8598, www.sandscotaicentral.com/qube2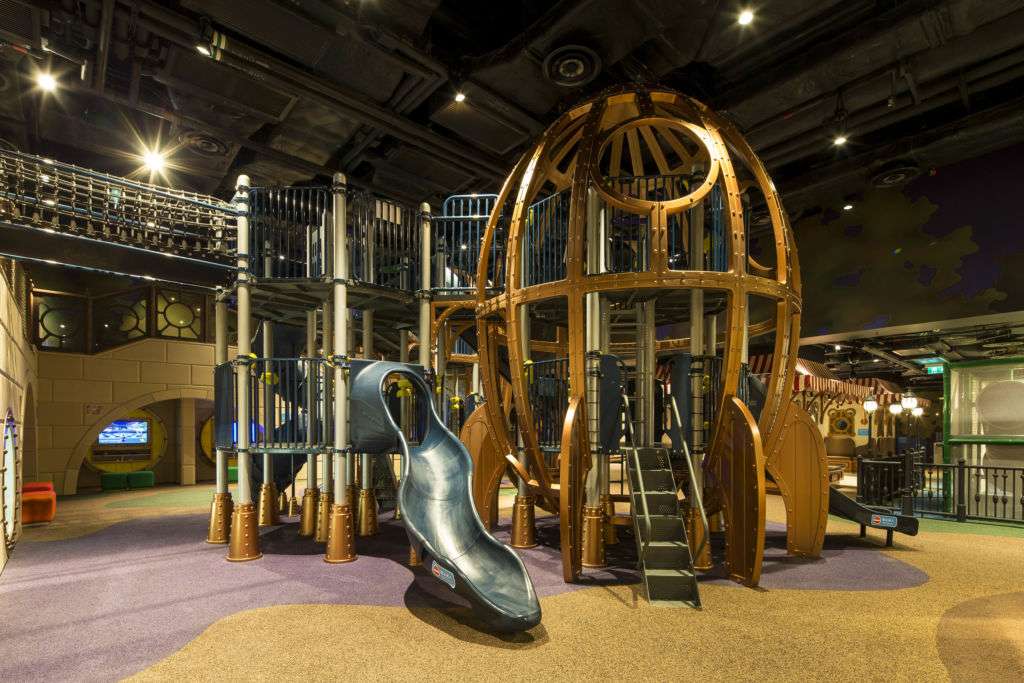 Qube Kingdom
Nestled at one of the most stunning hotel resorts in Macau, The Parisian Macao, Qube Kingdom covers over 20,000 square feet and features an indoor and outdoor area, making it suitable for all weather conditions. This playroom is perfect if you are looking for a more relaxed and less crowded space for the children to play. The room is equipped with climbing nets, slides, ball pool, and gaming consoles too. One of Qube Kingdom's jewel attraction is the carousel, straight out of Les Jardins de Luxembourg, located in the outdoor area and perfect for pictures!
Qube Kingdom Level 6, The Parisian Macao, Estrada do Istmo, Cotai, +853 2882 8833, www.parisianmacao.com/qube-kingdom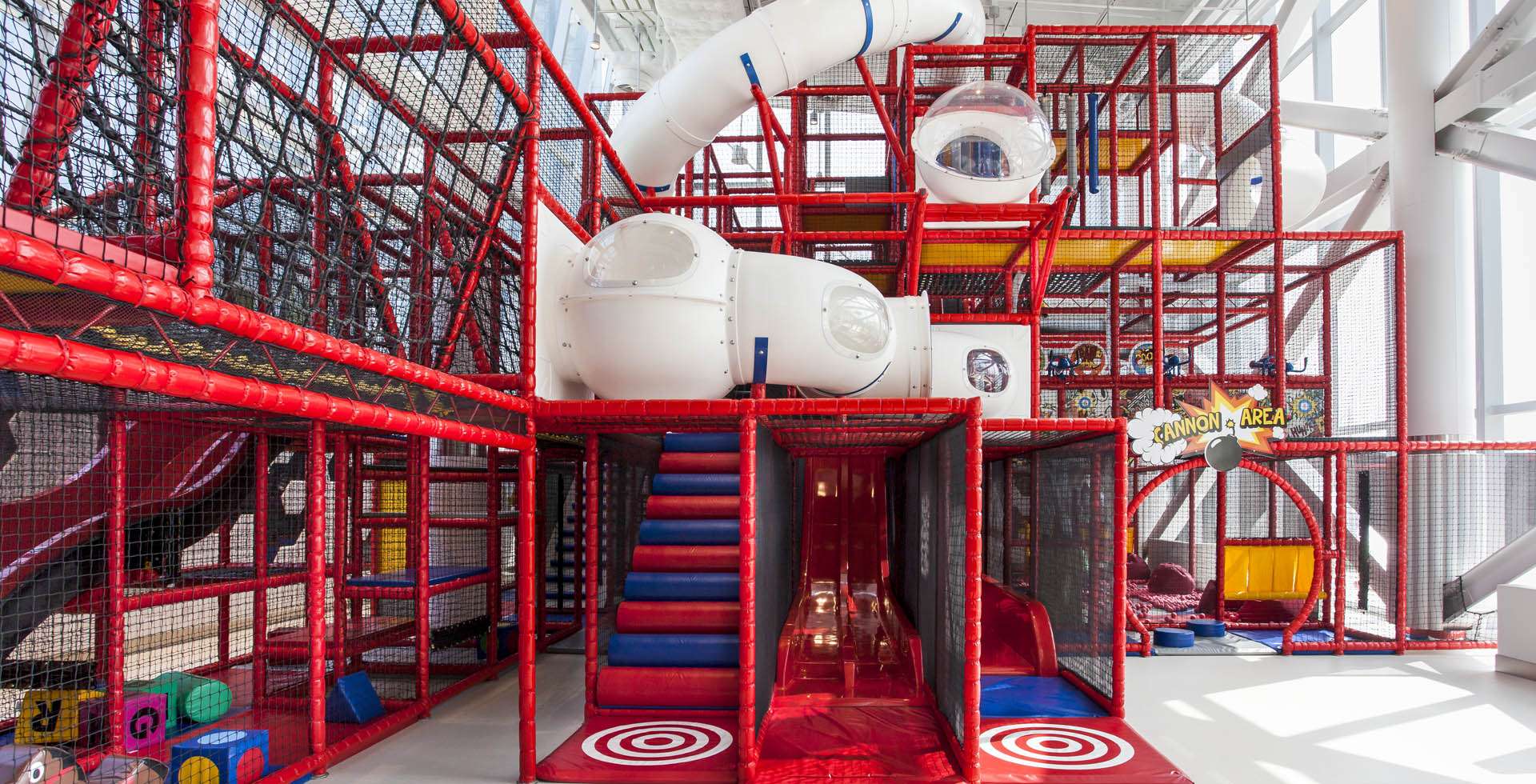 Kids' City 
Kids' City in City of Dreams is a firm favorite among parents, with high ceilings and natural light pouring in from the large glass walls. Focusing on providing entertainment for all ages, this spot will definitely not disappoint. It is complete with a very reasonable play area for toddlers, an art corner, a dressing-up room, kinetic sand tables, a bouncy space, an arcade area as well as an enormous multi-level play structure for the more adventurous children. Parents can control the arcade-spending budget with the barcode bracelet given at the entrance.
Kids' City Level 3, City of Dreams, Estrada do Istmo, Cotai, +853 8868 3000, www.cityofdreamsmacau.com/kids-city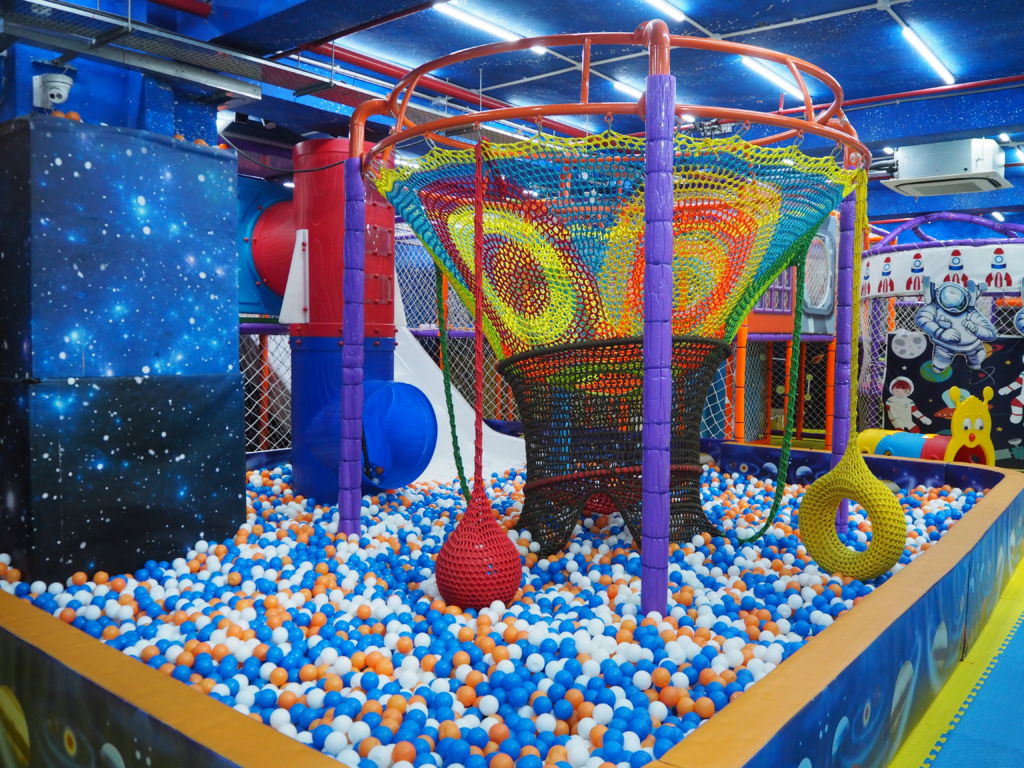 Castle BB 
The Macau Peninsula also has some awesome playrooms for the kiddos to have fun at too. Castle BB is conveniently located close to Dom Bosco school and sports a fun, colorful, spacey environment with plentiful amusements! Think of the joy of a train track, climbing nets, trampoline, ball pool, sandpit, pretend-play kitchen, market and workshop, and more combined in one place! Similar to most any other playrooms, at Castle BB everything is covered in padded material to make it safe for your little adventurer! You can also host your kid's birthday party at Castle BB, according to their preferred theme. There is a room designed for this purpose which you can book in advance.
Castle BB 1F-G, Kin Chit Building, Estrada de D. Maria II, Macau, +853 6881 2991, www.facebook.com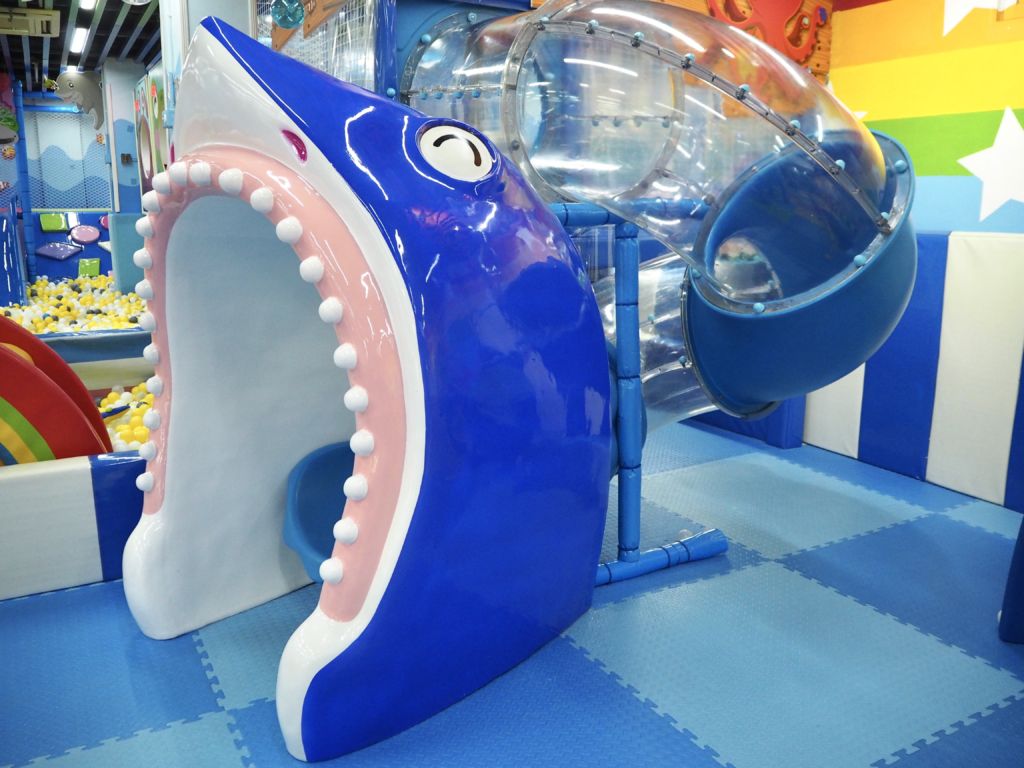 Just for Fun 
Just for Fun is a two-minute walk from Tap Seac Square. Why not turn a random weekday special by heading to this lovely playroom after school? Just for Fun's team is friendly and attentive and there are English speaking team members too dedicated to monitoring kids during playtime. The playroom boasts several cheerful attractions for babies from seven months old to toddlers and kids up to 13 years old, including a fully padded carousel. trampoline, slides and ball pool, a ballon house, a sandpit, a race track, table football, and many more! There's even a cosplay corner where little ones can dress up with some of the costumes made available and have their photo taken at a booth. It's any child's wonderland!
Just for Fun Room D, 16 Rua de Sacadura Cabral, Macau, +853 2856 5009, www.facebook.com/justforfunmacau
This article was originally written by Bárbara Barreto in April 2017 and updated by Sara Santos Silva in January 2020.
Tags
Related Posts