With the excitement surrounding the FIFA World Cup reaching fever pitch, we've braved a few matches to bring you up close and personal with some of the main players from S.L. Benfica de Macau. Carlos Leonel is one of the more interesting and humble ones, having only been in Macau for less than half a decade. Nevertheless, during this time he has achieved a lot and he has also met his wife here. He is a professional footballer through and through, and thinks Benfica de Macau is the best club Macau has ever seen. He has high hopes for the Macau football scene and local sports in general. He took a breather from his schedule to share his views on football, philosophy, and food.
Tell us about yourself and how you came to be playing football for S.L. Benfica de Macau?
I'm from Portugal, born and raised in Madeira Island. I've been a Football player since I was 6 years old but I also continued my studies from that time until now. I'm a graduate in Public and Private Administration at University of Coimbra, Portugal. Currently, I'm undertaking a second degree in Mandarin Language Education at IPM Macao. When you play football and maintain an academic career, it gives you the opportunity to make a lot of friends from all over the world. That's exactly why I came to Macau. I still remember 5 years ago I was in Brazil, Rio de Janeiro doing an exchange program when Carlos Vilar (a Portuguese friend from Coimbra) called me and invited me to visit him in Macao and play for 3 months on his football team. At that time, Casa de Portugal was in the Macau 2nd division. I accepted the invitation and enjoyed it a lot. I've made some great friends here in Macau and met my wife here. I'm proud to be playing for Benfica de Macau, the best club in Macao history!
What's your football training routine?
Well, I'm 100% a professional in football. I really care about nutrition, mental health, and physicality.  My routine is very easy and simple. During the weekdays I wake up early, around 8:00am, to start my morning routine and go straight to the gym. After the gym, I start mandarin lessons around 10:00am and sometimes go until 4:30pm. After this, I will return home to relax and spend time with my wife. At night I have training with Benfica, and after the training I return home to have dinner and prepare my next day and rest well.
How did you start your interest in football and sports in general?
There is no a specific moment when my interest started. My father loves football. He was a football coach when I was young. In Madeira Island, we love sports and nature. We play football in the streets, at the beach, in the schools – basically everywhere. I grew up on this fantastic island (Cristiano Ronaldo Island) and I feel so lucky and proud of my childhood moments when I always had a ball around me. So I think, growing up football was not a sport, it was a lifestyle for me.
Where were you playing before and how does it compare to playing in Macau? What are the biggest differences (from the perspective of a professional footballer)?
I played as a professional in Portugal. The biggest difference is in the way we feel about this sport. In Portugal, football is a passion – it's part of our history and identity. It's one of the most important parts of our cultural heritage. We did well in football in the past and we want to keep our ancestors proud. It's our legacy. We know that football is much more than a sport. It's part of our life.
Macau and China don't have the same football history, but I know they want to have this in the future. Honestly, I believe they will have one day, but I think they still have a long way to go. The biggest challenge is with the education system. We all know about the pressure the kids have in China to get the best grades at the school in order to enter at the best universities. The parents nowadays just want their kids to have the best grades. They think that a professional sports career doesn't have a bright and stable future. This young Macanese generation has talent and they do love football and sports. The problem is they don't have the support and encouragement to choose a professional career. They don't have any benefits and support from the government. I think a great solution would be to provide some benefits to all the players who represent Macau National Team. For example, give them priority to choose the best courses in the universities and full scholarships. After all, they are training hard to represent Macau. They deserve more. Only then, maybe the parents will let theirs kids spent more time practicing and playing their sports.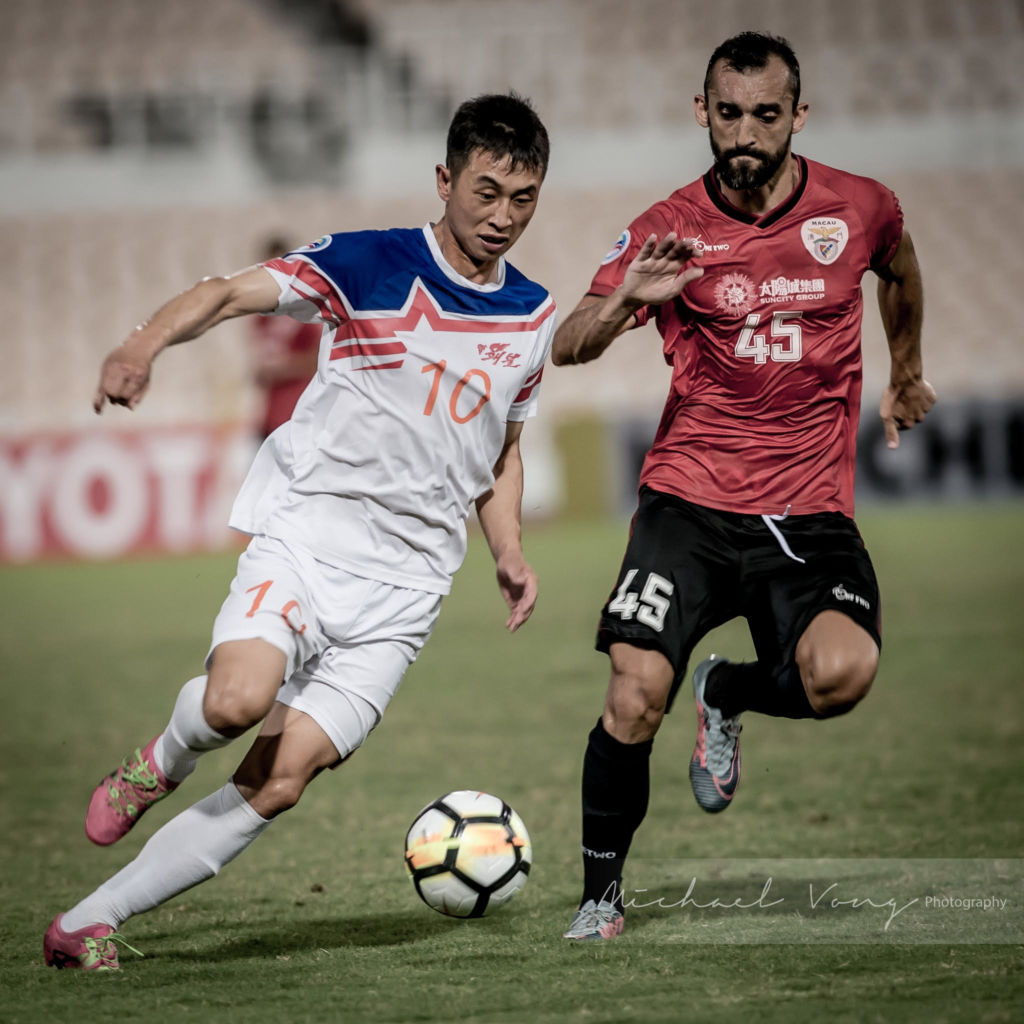 Why do you think it's important to encourage the younger generation to engage in sports?
If I need to pick one main reason, I would choose the benefits of sports psychology in your life. It helps to manage stress; increase confidence; improve self-esteem;  develop positive beliefs; teach resilience; improve focus; and more.
What's the most memorable Benfica de Macau tournament you've had? 
AFC Cup 2018. For the very first time, Macau had one team represented in the group stage of such a famous football event in Asia. We played 6 international games in total and we won 4 of them. We made Macau proud of us. Personally, I played better than I could expect. I scored 7 goals in 6 matches. Unbelievable. Like a dream come true.
How do you prepare for a big game?
"The wise win before the fight, while the ignorant fight to win." I love this sentence. You can't be prepared only on the day before. The preparation for a game is a long process where you work hard every day. So when the moment comes you have to have full confidence because you know you worked hard to be at your best. But of course, some meditation to calm your mind and improve your concentration is also very useful.
What should we look forward to with the team and with you this year?
We are Champions of Macau First League for the 5th time in a row. We still have the Macau Cup to play and of course, we want to win. After that, its time to rest and enjoy the holidays to plan and prepare the future.
When you're not playing football, how do you spend your time?
Gym, swimming, studying, watching football, spending time with my wife and friends, reading a lot!
Tell us a few of your favorite places in Macau. Where are your favorite restaurant, coffee shops or place to rest and relax?
To rest and relax I pass my time at St. Regis. They have a great swimming pool and gym facilities. It's not so crowded and a has nice atmosphere there. In terms of restaurants, it's hard to pick one as we have a lot of great restaurants in Macau. Normally I eat at home – its more healthy and my wife is one of the best cooks in the world.
What do you love most about Macau?
The big buildings, the lights. This city never sleeps. The safety and comfort. The mix of cultures we can find in Macau is unbelievable also. And of course, the Portuguese heritage we can feel all around Macau!
What's the most valuable advice you could give to an aspiring young football player? 
Keep on studying hard until you finish secondary school. After that, then you can take the risk. Stop studying for a while, but never stop learning. When 18 years old, you are young. You can then try to do it for 3 or 4 years to try and dig deep into a professional career. China is rising in football and if there is a Macanese player from China they will have a lot of opportunities to find great clubs to play with. China needs people like this. Believe in yourself and be curious. If things go wrong you are still young and you can start your academic career again. You can also study and play professional at the same time like me. But maybe it will be more challenging and tiring.
You can follow Carlos on his Facebook page here and stay updated on his football adventures.
Tags
Related Posts