At 29 years old, professional boxer  Ng Kuok Kun is not thinking about quitting and even trained alongside Manny Pacquiao. Also known as the "Macau Kid", the athlete started at 13 and thanks his boxing coach for it. Ng learned the ropes very young and started because of bad behaviour in school. He didn't think about going pro until he fell in love with how boxing challenged him, instilled discipline and also commitment in him.
You are Macau's most internationally known boxer. Can you tell us a bit about how everything started?
I started when I was 13 years old. I have always behaved badly at school, and it got worse as a teenager. In high school, I was enrolled on the running team, but I got kicked out because I had bad grades. That's when I started going to a gym and met my coach, Chan Yuk Seng, who has been with me since. He is a 83-year old Thai man, and was never a professional boxer. He had a difficult life, but was always very disciplined. That's why I like working with him. We then started going to competitions when I was 15.
How did you get to where you are now?
Macau was keen on Wushu and Sandan martial arts, which are similar to Chinese Kung Fu. At the time, I was just interested in training, it didn't matter what form or style. I fell in love with boxing after training with my coach, who, for two years, took me to Muay Thai competitions in Hong Kong. The first fight resulted in a draw, but it made me more excited and so, I kept training. I also competed in China! After representing Macau in the Muay Thai team, I participated in ITMA (International & Thai Martial Arts Games) a few times, and also represented our team in the Asia Games in Macau, in 2008.
How did boxing come into the equation?
I realized I preferred boxing to Muay Thai. My feet aren't good for Muay Thai. It's a martial art that needs a lot of feet strength and capacity, which I don't have. Muay Thai training is quite hard—they use hammers to ram their legs and feet so the muscles get hard. The practice is to train by kicking hard stuff, like trees. Personally, my legs aren't strong enough to do this. It was then that I realized I was much better with my arms and hands, which is what you use for boxing. I can handle that kind of pain and I can easily fight back.
You also took a graduate degree. Which did you take?
I enrolled in Physical Education at MPI (Macau Polytechnic Institute). That was a revealing time for me. There was a university boxing competition, but there could only be one athlete from my school. I didn't have the chance to participate because someone else was chosen. My coach was then, once again, very helpful. I trained a lot from then on and he found a professional competition for me to participate in. It was a great opportunity. My family got quite worried I would pursue this in a professional level, because they thought it was a dangerous practice.
Did your bachelor degree serve any good, in terms of your current profession? 
For sure. If I hadn't gone to those classes, I probably wouldn't have engaged in this sport as much as I do, or even teach, as I also do.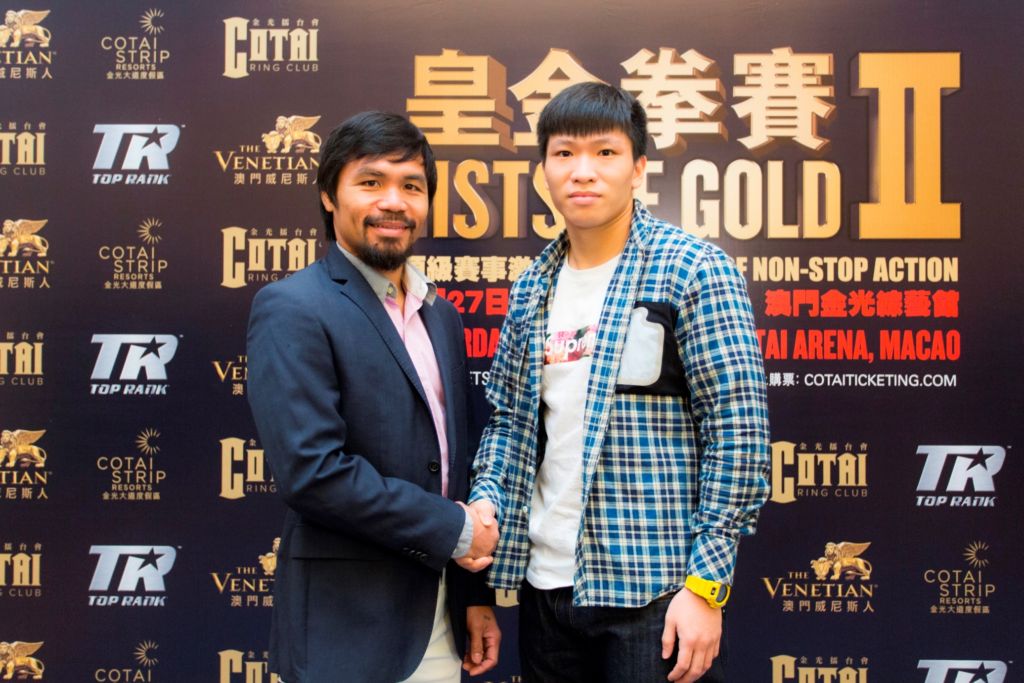 Who are your main inspirations?
My coach, with no doubt. He is always challenging me in a good way, and it's mainly because of him that I keep training. He is very disciplined, a true planner in terms of strategy, which motivates me a lot. Also Manny Pacquiao, who had a very difficult childhood, and literally fought to have money to eat. I first met him in 2014, when he came to a fight in Macau. Meeting this top boxer gave me hope and made me want to go further. I later went to the Phillipines to train with Pacquiao and his coach as well, in Gensan.
What's a normal day for you? 
In the morning, I work freelance for some boxing or fitness gyms as a personal trainer, or go running. In the afternoon, I usually go train with my coach, who gives me some advice and guidance. At 7:00pm, I go teach at the Macau Boxing Association and stay there until 9:00pm, from Monday to Saturday.
When did you start going international?
I suspended my graduate degree for two years to fully dedicate myself to this. It was quite upsetting at the time, because I knew my family wanted me to stay in school and that I had to pull up roots with this shift. We had to look for a company to sponsor me and we did so, in China. I won by KO in round 2 in the Zhonggeng Cup CBCU/IBO Boxing Championships held in China, in 2016.
You already had some fights outside and some in Macau with foreign boxers. Do you feel a big difference?
Every boxer has their own style, and you can also distinguish styles from country to country. For me, the most complex boxers are the Japanese. I find that Australians and New Zealanders are quite strong as well.
Everyone knows you as the "Macau Kid". How do you think this resonates outside?
I think it's good to be putting Macau out there; I am the only Macau fighter with a record number of wins. When I go to other countries to fight, luck is very important. One of the times I fought in Hong Kong, I almost lost. I'm glad I didn't because my opponent used his head to hit me several times and lost points for it. If he hadn't, I would have lost.
What do you believe you can teach kids at the Macau Boxing Association by giving them boxing classes?
Boxing is not just about fighting and knowing the techniques. There is a mindset and a power of mind you need to have and I also teach that. Not just physical, I believe that our emotions are vital. Some of the kids I coach don't even go in the ring. I teach them about the importance of boxing, techniques, and discipline. These tasks build character and are really useful as a first step.
What do you mean by "emotional"?
The emotional side of a training has everything to do with your mindset when fighting. You have to get to the ring with a clear mind. And I also teach that to the kids. To be calm. It is also very important for them to know sometimes you win, sometimes you lose. And you have to remain calm and accept it. I believe it's more important to raise awareness about boxing and its positive things, than to teach it without people having knowledge of it.
Many people believe boxing to be a violent and dangerous sports. What is your stance on this?
People say that because they don't know enough about it. It is as hazardous as many other sports, such as football or basketball. I have lots of friends practising football and some end up with worse injuries and scars than mine. China is starting to be more open minded regarding boxing, but Macau is still a bit behind. My parents' generation is quite cautious and sees few benefits in it.
What are you doing when you are not training or competing?
I go out with my girlfriend and friends, just relax. I also play football sometimes. Sometimes I go out to a bar to see fights and football matches. Usually to Roadhouse, where I saw the last World Cup.
Duffy's and The Roadhouse Macau now sponsor you. What do you feel they have done for you?
They support me in financial terms, which is crucial for me to participate as a professional boxer anywhere, be it Macau or abroad. They've been helping me a lot and I was lucky enough to find such a company. The Roadhouse Macau has a familiar feeling to it, they are not like some big companies with strict rules and only looking for fast results.
How do you keep yourself motivated?
Basically everything I know have came from boxing. I was only able to pay college with the money I won at competitions, as I am also doing now for the master's degree I am finishing. Boxing taught me a lot, including discipline, which in turn made me a better person. Thinking that I can keep improving as a person with boxing is what keeps me going.
---
To find out more you can follow KK on his Facebook Page.
Tags
Related Posts