For football players, it's not just about a solid physical plan that's essential to claim victory. S. L. Benfica de Macau's striker Nicholas Mario Torrão de Almeida believes it's all about working hard, never letting your confidence go down and most of all teamwork.
The 31-year-old South African born sportsman doesn't only play for S.L. Benfica de Macau but also for the Macau national football team. Fondly referred to as Niki by his friends and fans, he scored the winning goal for Macau in the 67th Interport Cup against Hong Kong under-21 national football team in 2011. He also marked another triumphant moment equalizing for Macau against India at Sree Kanteerava Stadium eight minutes before half-time in a 2019 AFC Asian Cup qualification third round match in 2017. It was Macau's first ever goal in the final round of the qualifiers. We caught up with the Niki for a quick chat amidst his busy schedule.
How you became the football striker for S.L. Benfica de Macau?
My first adventure in Benfica de Macau started way back in 2002. I started playing for the under 17 team. After that, I eventually moved to Portugal in 2004. I played, studied and worked there until 2011. Then, I came back to Macau in 2011 with my wife. It was in 2014 that I joined Benfica de Macau after being the top scorer of the 2013 league. It was a wonderful return indeed.
What's your routine like training for the Macanese Football Team?
The Macau National team has normally one to two practices a week. As I represent Benfica de Macau and we have practices every day, I only join the Macau National team training once a week before the national team match as per the stipulated FIFA regulations.
How did you get started in football and sports in general?
My dad was a roller hockey player for three decades. So, I think my interest in sports came from him. Now, in terms of sports I only play football, but back when I was 12 or 13 years old I used to play football and hockey. I remember leaving the football training at 8:00am and heading straight for hockey training at 9:00am.
Why do you think it's important to encourage the younger generation to engage in sports? 
I believe that any sport that you practice is an opportunity to develop your social skills and integration. It's where you learn to be competitive and have high goals in life. It's also where you learn that when you fail you need to get up and keep fighting, put your head up high and face the challenges with more strength than ever before.
Which is your most memorable Benfica de Macau tournament?
It is the one we are participating in now, the AFC Cup 2018. It is the second top club competition in Asia and being able to represent Benfica de Macau and the Macau football team in Asia gives me and all my teammates a lot of pride in what we do.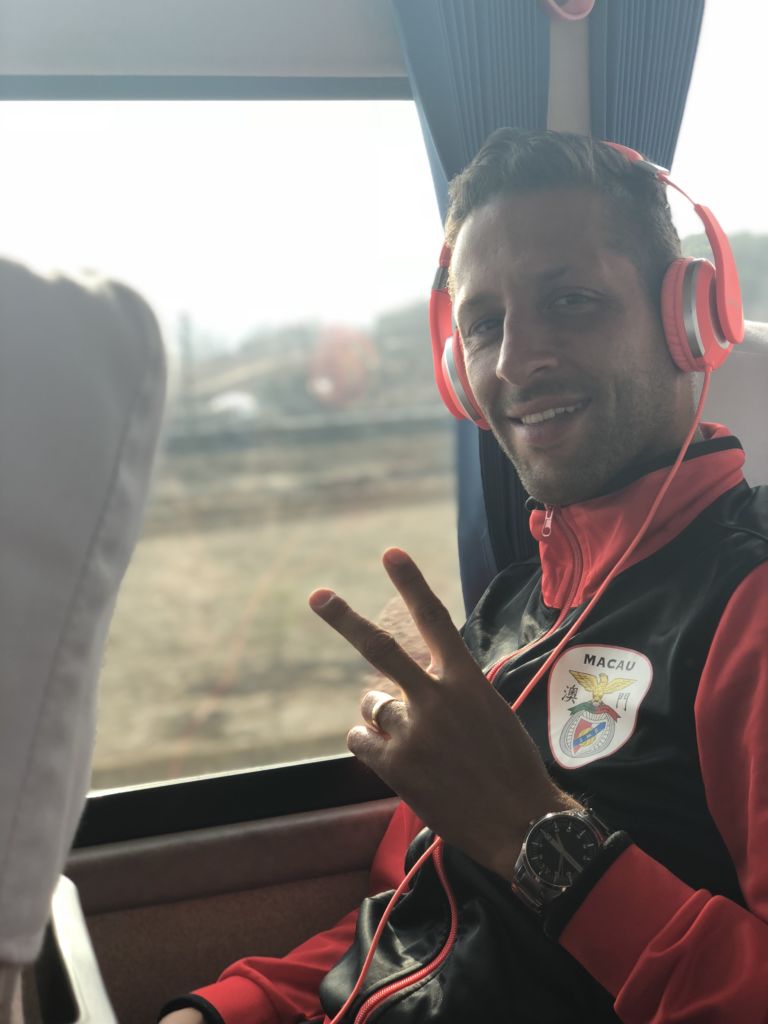 How do you prepare for a big game?
My preparation is always the same, I have many rituals before I step into every game, but above all, I try to keep calm and keep my head clear of everything outside the game.
What can we expect from the team and you this year?
Benfica de Macau is a team that looks only for victory game after game. This year is no different, we were champions in the last four seasons and we want to continue this year.
As for me personally, last year was one of my best seasons since I arrived in Benfica in 2014 with a total of 23 goals. This year my main goal is to win the league, the cup and go as far as possible in the AFC Cup. If we can do all this and I can help with goals, that's even better.
Tell us a few of your favorite places in Macau. Where is your favorite restaurant, coffee shops or place to rest and relax?
Some of my favorite places are COPA Steakhouse for a great dinner, Cafe Lisboa for a family style Portuguese dish for lunch on the weekend. And, Bottles Bar to have a drink with friends sitting outside al fresco style.
One of my top favorite places is my parent's house where we have amazing homemade food and spend quality family time.
What do you love most about Macau?
Being safe and having a good environment to allow my kids to grow here. Having the ability to conjugate work and sports is also one of the main positive aspects for me.
What's the most valuable advice you could give to an aspiring young football player?
Work hard, never let your confidence go down. But most importantly, keep studying and developing your knowledge because a life in sports or football is not easy and disappointments will appear. When they do, keep strong and keep fighting.
---
Follow Niki and his football stories @Nikitorrao
Tags
Related Posts