Victoria Man is a very busy woman who doesn't have much time in between work trips and business projects, and jokes that her dog is her fur baby. Having returned to Macau a few years ago, Victoria is on a mission to promote local businesses especially those with women in tech. We sat down with Victoria and spoke about her comeback to Macau and what her plans are for the Macau new media scene.
You look so exotic and racially ambiguous, would you mind sharing your heritage?
Both my parents are Chinese from Latin America, where my family has a history of over 100 years. Originally my family was from China but both my mother's and my father's great-grandfathers moved to Peru and decades later my mother and father met here in Macau. Coming from similar backgrounds, naturally they knew of each other and eventually got together. My father grew up in Panama so when I was a kid I was very much influenced by Latin American culture.
What a beautiful mix! Does Macau feel like home to you?
I studied and worked very hard here so actually, Macau is "home" for my career. I've live in many places over the years such as Portugal for 10 years and other European countries. I formed friendships in many parts of the world and we're connected via common interests such as movies and music. Portugal is also the place where I met my first boyfriend and I have plenty of fond memories of my time in Portugal, Europe and also Africa where I lived for a few years.
After spending time in Portugal and then in Angola, what was your calling to come back to Macau?
In the span of a week, an unfortunate event led to my return to Macau and also a serendipitious job offer.
It all started with being robbed in Angola and looking back, it was possibly a kidnapping attempt as well. A guy pointed his gun at my car window and ordered me to get out of the car. I had my backpack which I threw at him and thankfully, there was police nearby so he just ran away with my bag. Unfortunately, my passport was in the backpack and in Angola, not having your passport on your person when you're out and about could spell out trouble with the immigration police. So after losing my passport, since there isn't a Macau consulate in Angola, my family had to contact the Macau government. The Macau government then called up the Mainland Chinese government in Beijing to send me back to Macau. Luckily, the Mainland Chinese government helped me every step of the way in getting me back home.
At the same time, the former director of the Business Awards of Macau contacted me saying that they were looking for someone to replace him. They wanted someone who could communicate bilingually and have a strong connection within the Chinese community. This is because the Business Awards of Macau are awards for Macau businesses and majority of them are Chinese.
You've been the Director of Business Awards of Macau for a couple of years now, how do you see Macau's business landscape developing?
Macau's business landscape is developing at a very fast rate. Thanks to the Macau government's support and also globalization, Macau's entrepreneurs have learned to adapt quickly and they've also become more international. In terms of marketing. our local entrepreneurs are also becoming more open minded and creative.
I find that the 90s generation takes more risks when coming up with business ventures as compared to my generation. During the early days of the Business Awards project, we found that a lot of successful local business people were afraid to show their handiwork. However, with our project becoming more popular as the years go by, we are so glad that finally, the local business owners understand that personal image, corporate image and prestige is very important for branding. Additionally, branding is now much more highly valued compared to past years.
What kind of companies do you have your eye on in Macau and why are they inspiring?
I love technology and follow companies who are leading the sector. One of them is LT Game Limited–a major gaming technology company that's one of the major gaming and casino providers in Macau and in the Asia Pacific region. Actually the Chief Operating Officer, Betty Zhao, is also a woman which I think is amazing considering that this is a male dominated industry.
Do you think Macau is a good place to build your dream business?
Personally, I think if you only want your business to be based just in Macau, it might be difficult for a start-up. This is because the Macau market is too small and much like a small pond with too many fishes, many companies with the same idea may find it hard to thrive. There's limited space for creativity. However, if you're thinking of taking on the China market as your next step, Macau is a great place as a stepping stone. Do take note that there are no such thing as free lunches in this sector because if you want to enter the Chinese market, you need to be very tough, competitive yet remain flexible.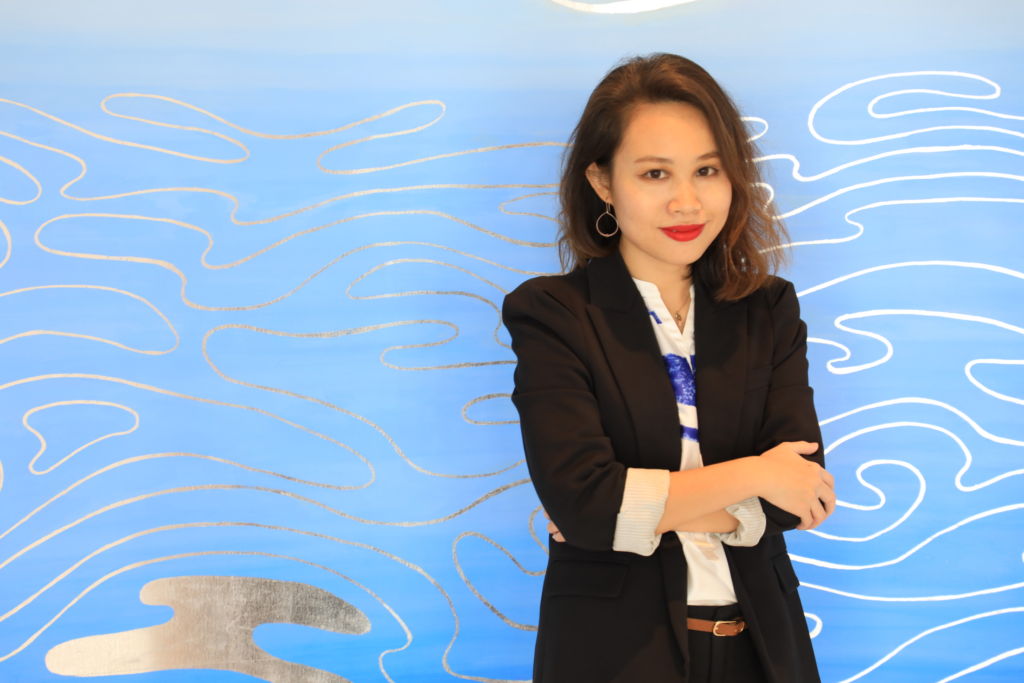 Photo credit: Jump-hr Magazine
As a woman in the business sector, how do you find the Macau work environment?
Since I have experienced working in Africa, through a mainland Chinese company, I think Macau has a better working environment for women. The opportunity for promotion of both men and women seems to be equal in Macau but there's definitely space to improve. Men and women in the same position should be treated the same.
What was something challenging you did that helped shaped you into the woman you are today?
Six years ago I participated in a movie project after returning to Macau post getting my master's degree in Portugal. I first started my career as a Portuguese, English and Chinese translator when Google Translate was still not so advanced. A local Russian director–Maxim Bessmertny–was searching for a translator to help him make a Cantonese art house short film. The film was called "Tricycle Thief" and that's how I got involved. I was responsible for all the film translations and communication between the director, actors and the crew. It was very tough actually, but I loved the passion of the whole crew. We were very focused during shooting, and the whole experience was very enjoyable. I found that this also improved my communication skills immensely during the shooting because of the different personalities on set.
What are your favorite places and things to do in Macau?
I really love the sea and have to be near it at least once a week! In Macau, I usually go for brunch–with my dog in tow–at the Italian restaurant, La Gondola, located right next to Cheoc Van Beach with a great view of the sea. I also enjoy passing time by reading at Coloane Library.
Are you working on anything new and exciting in 2019?
Currently, I have two creative projects on hand.
One is the marketing project for Macau Business media group. I'm very interested to talk about technology in media because this new media is the future and in Macau, it still isn't very trendy. We need to look to the future and in this marketing project, it's all about introducing new technology.
My other project is to support women in tech. When I was younger, it was implied that people working in the technology sector should be men however, that pattern is slowly changing. I have many friends who are women interested in technology and we would like to do projects together to support each other while exchanging ideas and information. This project is tied to my other project because since technology and new media are connected, I want to talk more about women in technology.
---
Follow Business Awards of Macau here and connect with Victoria via her LinkedIn page
*Featured photo credit: Jump-hr Magazine
Tags
Related Posts