If you haven't heard of Natasha Moor Cosmetics, your beauty radar is definitely not up-to-date. This beauty brand is the one to watch out for having found its way to Sephora (Southeast Asia) as an online-exclusive last December. Making waves regionally and as far as the Middle East and the US, we interviewed founder Natasha Moor on what it takes to create products that don't compromise on quality.
What does it really take to start a beauty brand? Natasha shares her story beginning with her honest journey of self-healing. She narrated how she embraced the transformative power of make-up not just in her life but in the lives of others. Working meticulously with experts to develop ground-breaking make-up products that visibly work, Natasha emphasizes the importance of real passion and commitment before embarking on a business venture. As a prominent make-up artist, she has the first-hand experience that sets her brand apart when it comes to actual results. Overcoming heavy hurdles on the way including her remarkable survival against Covid-19 recently, Natasha who was born and raised in Hong Kong takes pride in Natasha Moor Cosmetics. Her brand ethos stands out as a real breath of fresh air for women when it comes to beauty.
How did your interest in makeup begin?

This might sound cliche but I've always been interested in make-up since I was a little girl. I didn't initially want to turn it into a career so I started off working in PR and entertainment. On the side, I would always do make-up for models and it continued to be that path for me for a while. I had an "Aha moment" during a photo shoot. I tried special effects make-up for a product shoot and it turned out great. It made me realize that it was something I truly loved doing. My passion started to reflect and I started getting praise from clients, socialites, brides, and models. I was so passionate about it that I talked to my dad, I remember telling him that this is really what I wanted to do.
My desire came from my own personal journey. I've been bullied before as a child and I've had bad acne so you can imagine the insecurities that I've dealt with. I recall a client who was attending a prom night. Her fears resonated with my past and I felt she needed confidence and helping her that day, that's when it sank in that I wanted that feeling. Being able to help enhance the beauty of women began as my mission. After I finally finished a make-up course in New York, I started getting clients and got lucky. As a make-up artist, I tested tons of products for several years. I realized that there was a missing piece in the beauty world for me. There's a niche that needed to be tapped into. And so, I started developing the products, I created them for me and my clients. That's how I cultivated the brand.
Did you always want to create your own brand? There are so many different make-up products we can own, how did you decide what products to create, and why?
The products stemmed from my personal needs, as well as my needs as a makeup artist. Like for example with the concealer, I had breakouts and wanted to create a product suitable for ultra-sensitive skin. I also realized how much touch up was always needed especially during Indian weddings. So, kiss-proof and food-proof lipstick ideas originated from those experiences. The brand now has 52 items developed since its launch about two years ago.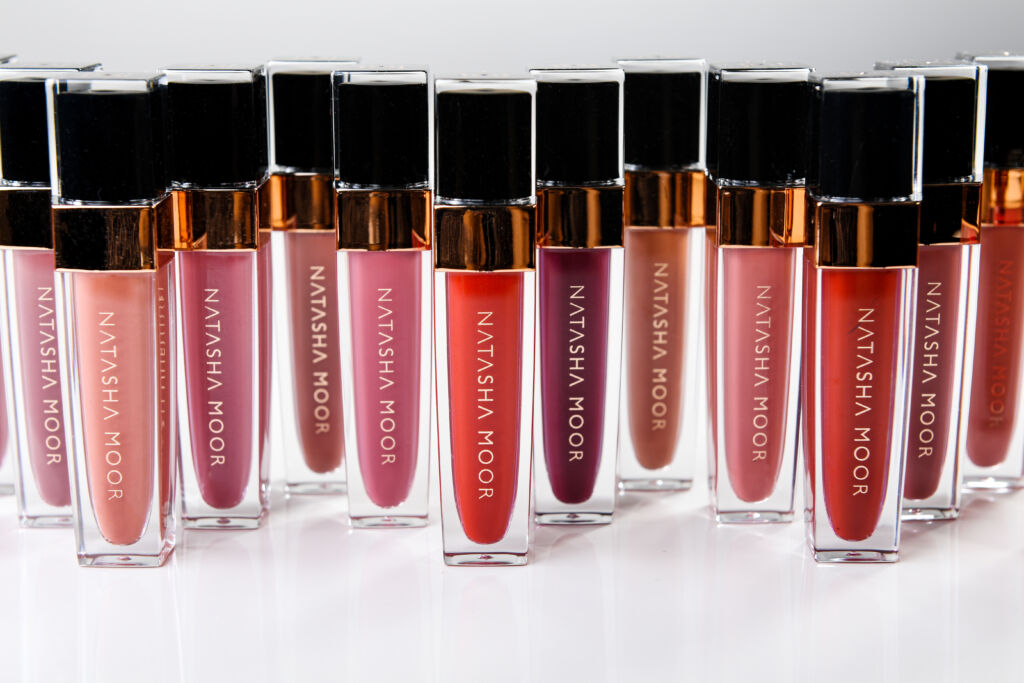 Your lipsticks have some very powerful names, is there a story behind them?
I was going through a personal struggle back then. It was an insecure phase in my life. I decided on a whim to visit women's shelters and drug rehab facilities when I was in LA, I initially went there to just to give the women a make-over but it opened my eyes to so much more though. Despite their harsh life, it was evident to me how that short span of time has made an impact on how they perceived themselves. It made such a huge difference to me, personally to be able to do this! It was like giving them back the power to transform themselves and that was a game-changer. And so I continue to be inspired by making women feel beautiful through the powerful names on our lipstick range.
What's the best beauty or makeup advice you ever received?
A photographer whom I've known for years told me recently that I looked better now. It's not because I lost weight or looked better but because I looked more confident. My advice would be to always work on self-love. I am actually still working on it myself and I can't lie about that.
As a make-up artist, it always enthralled me to see brides looking at their faces in the mirrors. It's just a breathtaking moment that I truly treasure. It's empowering for me. When it comes to beauty, it's all about being the best version of yourself and not trying to be someone else.
Do you have any tips for make-ups and use of mascara?
Always clean your beauty items. Don't keep them in hot places. For mascara, its life span is usually three to six months so make sure to smell it. Avoid leaving the products in bathrooms and anywhere extremely hot. I suggest keeping it in a cool room. If you have those ones of mini-fridges, that would be the best!
For readers not confident about using and buying make-up, what would you recommend for them to buy? 
The Liquid Magic concealer should be a must-have. Personally, I wear it on my face every day. I recommend a lip product and then mascara to enhance the eyes. One beauty advice would be also to always use a damp beauty blender because blending is important. I'm not a fan of foundations as I wanted a lighter and more consistent feel on my face. The Liquid Magic doesn't crack underneath that's why I formulated it to be lightweight with light coverage.
Which Natasha Moor products can't you live without?
I'm a "skin person" so I will always choose Liquid Magic. It's such a versatile product and should always be a beauty staple.
What do you love most about running your own business?
Getting responses from people like how Natasha Moor Cosmetics has changed them. I really reach out to people on Instagram and I interact with them. I like offering advice now and then. If I had any advice for anyone starting their own business, it would be to make sure they love what they do. Have full faith in yourself and you will succeed. It's difficult to start and you think it gets easier but it doesn't so just believe in yourself.
Are you still a makeup artist? 
I am, however last year, I took steps to cut back on travel. I was literally on a flight every three days and as hectic as it was, I did love it. I would land at a destination for a wedding with my 60 kilos of luggage full of makeup ready for the event. It wasn't as glamorous as it sounds though, I was on so many different timezones and my schedule was intense. But when I would arrive and do the makeup up set up for the brides, I love it so much that I didn't need sleep (laughs)! My days would start around 6:00am, gym, set up for the brides–weddings are usually three days by the way–so it was a lot of work and I'd usually finish around 11:00pm but then most times I'd also go to the event as a special guest, which means I also need to do my own makeup. So it was technically working until 3:00am. It was so hectic that my whole team in the end were like, "You need to slow down." My target now is to do makeup for one bride a month while focusing on building my products and brand.
Do you have any makeup idols?
I like Makeup by Mario, I think his style and his technique is very very nice. I look at his work and think, "Woah,  it's really like his makeup style–it's not too much and mostly enhances your features."
Beauty-wise, what do you think will be trending next year?
We're used to the quarantine by now. My guess is that it would be a chilled-out vibe or the total opposite of it. People might go all out when it comes to their look because it's been a while since they've gone out. It's also about being able to perfect techniques. With Zoom meetings in the picture, some are becoming their own version of artists making great efforts to look good despite the changes in lifestyle.
What inspires you as a makeup creator? What is your inspiration for your makeup range? 
It's always about the people who use the product. When someone sends me a selfie saying they love it, that's where I get my motivation and inspiration. I've had pop-ups in plenty of cities like Dubai and Jakarta, and every time I receive positive feedback, I feel like a total boss babe. It's such a great feeling to get these comments.
As a born and raised local, do you have any secret spots you love here in Hong Kong?
Honestly, I love running and one of my recent favorite routes is the Tsim Sha Tsui promenade along the water. It offers a beautiful view of the city and it's such a great running path. I also like going to The Peak where you can see a spectacular vantage point of Hong Kong.
Have you been to Macau before? What are your impressions of the city?
Macau is amazing. I've been there several times. My dad used to go there a lot for management training and I used to go to all the beautiful spas in Macau. I would certainly take a tourist friend to visit Macau. There are lots of great hotels. One of my favorite restaurants is the Ristorante Il Teatro at Wynn Macau. There are also lots of great authentic Portuguese restaurants to visit.
---
Natasha Moor products are available for purchase at Sephora Hong Kong. The Moor Power Extreme Volumizing Mascara is priced at HKD $205 at Sephora Hong Kong.
For more details, visit www.sephora.hk
Natasha Moor natashamoor.com
Tags