While origins of perfume have been cited in ancient texts of the earliest human civilizations, it wasn't really until the late 19th century that it was truly developed with the advent of commercial synthesis of aroma components. When modern perfumery started to flourish, Penhaligon's was perfectly positioned in the field not just adding a touch of glamor and drama to every bottle but weaving a story behind each scent that captivates its audience.
Born in the streets of London, William Henry Penhaligon who was noted for having a keen nose for business probably didn't realize that his brand would endure for more than 150 years since its launch. What sets Penhaligon's apart in the world of beauty is the prestige accorded by the Royal Family after appointing William Penhaligon as a Royal Barber and Perfumer to the Royal Court during Queen Victoria's reign. The relationship has endured through the years with Queen Alexandra bestowing Penhaligon's first Royal Warrant. The brand continued to prosper and still proudly holds two prestigious Warrants–from the Duke of Edinburgh granted in 1956 and The Prince of Wales given in 1988.
The adventures of William Penhaligon created unforgettable fragrances that were inspired by his real-life experiences. From the time he trimmed the Shah of Persia's beard to scandals that gripped London's upper echelon, every bottle contains a tale that depicts history. Imagine a single drop that takes you back to decades of dreams, magical places, and distinctive characters. It certainly is the world's most extraordinarily unique scent that one can possess. We've fallen in love with London during our previous visits but never have we been more captivated and in awe by the culture-filled country through Penhaligon's story steeped in majestic history, beauty, style, and art.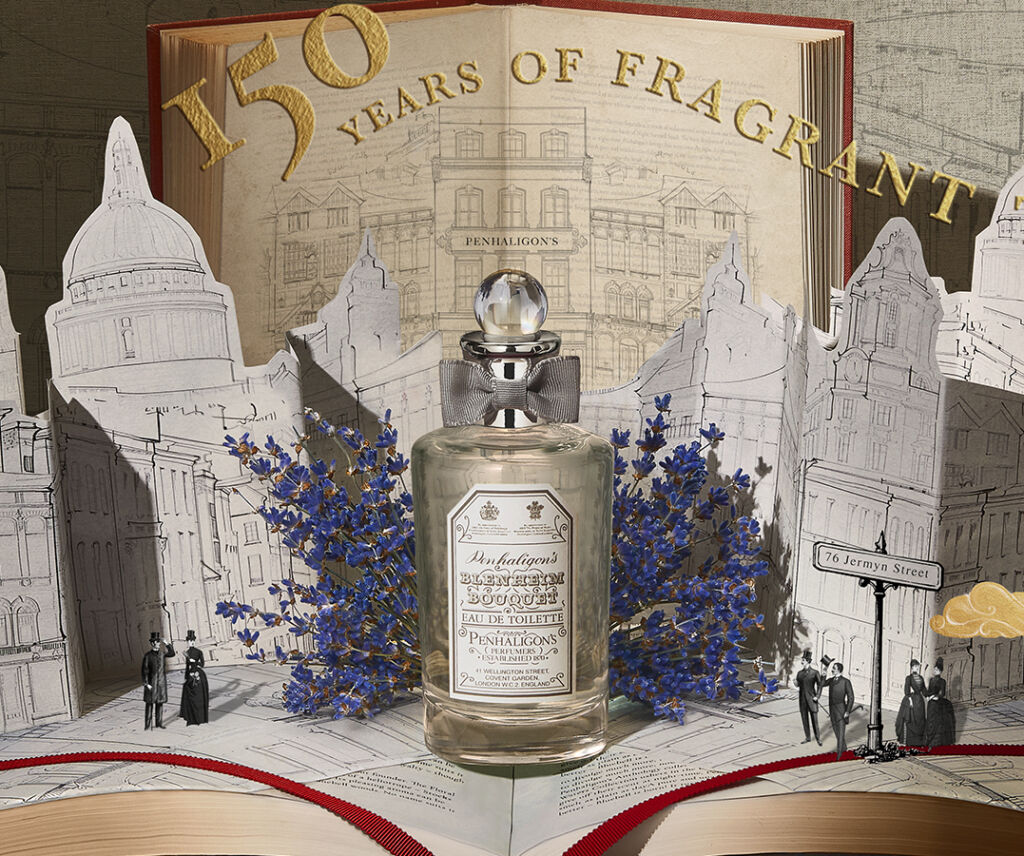 TIMELESS SCENTS THAT MESMERIZED THE WORLD
Blenheim
This extraordinary eau de toilette was first created for the Duke of Marlborough. The Blenheim Bouquet by Penhaligon's consists of citrus aromatic fragrance for men. Launched in 1902, you'll find Amalfi lemon, lime, and lavender as top notes while pine, black pepper, and musk compliments the blend of base notes. Often described as dry yet fresh, the scent is never outdated and actually progresses through time.
English Fern
English Fern is frequently characterized as cool and crisp. Debuting in 1911, this particular scent has actually remained a bestseller for decades. With top notes of geranium, clover and lavender blended with a base of patchouli and sandalwood, it gives a refreshing vibrance that you can wear all day long. The invigorating feeling can be compared to a fresh stance after a shower. It's natural and feminine but most of all, it's also available as a cologne for men.
Hammam Bouquet
Hammam Bouquet by Penhaligon's is an oriental woody fragrance for men. It hides stories told in the Turkish baths of Mayfair in 1872. It's the kind of luxurious smell that has surpassed time. With top notes of lavender, bergamot, and heart notes of rose otto, cedarwood, orris, jasmine, everything is intertwined with amber, musk, and sandalwood to complete the concoction.
Lily of The Valley
Lily of the Valley by Penhaligon's is straight-up a green, clean and wholesome scent. Drenched in notes of bergamot and sandalwood, it exudes the elegance of women captured by the middle notes of lily of the valley, ylang-ylang, jasmine, and rose and base notes of oakmoss and sandalwood. It's the perfect spritz for a dash of morning sunshine.
The Favourite
The poetic beauty of The Favourite is second to none. This particular fragrance is cloaked in a tale that revolves around flowers. Mimosa with its warm and powdery character yields its own soft power; freesia, violet, and mandarin that develops fast and bright confidence on the skin; and jasmine rises and sinks upon a sandalwood stage completing the majestic components of this special scent. It's a precious piece to have and a fantastic gift for a special occasion as with all of Penhaligon's precious bottles.
---
Penhaligon's FSK8, Level 2, Shoppes at Four Seasons, Cotai Strip, Macau, +85328999860, www.penhaligons.com
Penhaligon's International Finance Center, 3025A, ifc mall, 1 Harbour View St, +852 2359 3001, www.penhaligons.com
Tags
Related Posts