May is all about the French fervor in the air. With the various film screenings and events happening in Hong Kong and Macau, we decided to speak to a few French expats themselves on their life, work and views on Asia.
The French are known for their beauty secrets and brands. We chat with General Manager of Clarins, Federic Cohen and decode why this legend holds true even today. Find more about his views on Hong Kong and Macau and insider tips for skincare.
Where are you from originally and what brought you to Hong Kong? 
I was born in Paris and arrived in Hong Kong four years ago to work with Clarins. Before moving to Hong Kong, I lived for 12 years in US and three years in Switzerland.
Can you tell us about your background what you do?
My background is in business and I've been in the industry of beauty for more than 20 years. I'm the General Manager (GM) of Hong Kong and Macau for the Clarins Group.
What is your typical day like as the GM of Clarins Hong Kong and Macau? 
I don't really have a typical day! I know that sounds a bit funny to say that but I'm very lucky to have a job that covers various areas. So that I can spend some time with my finance team and then the next day be part of a big event or meet our customers or do some store visits with my team. It's really quite a varied job which makes it really quite interesting.
What do you love most about living and working in Hong Kong? 
I feel I'm quite privileged to be living in Hong Kong in the sense that the lifestyle is very safe and comfortable.  It's such a dynamic city with a lot of things to do. It's an interesting city that is also very culturally appealing. Its also right at the door to Great China which is a huge dynamic country. People in are nice and great to live and work with, so all in all its a great experience.
What are your impressions of Macau? 
I go to Macau at least once a month as its an important market for Clarins, they are a knowledgeable and sophisticated customer. I found Macau to be very unique to this region and I really notice the growth of the entertainment sector which I'm looking forward to seeing more of. I think there is an obvious effort being made to develop the industries outside of gaming and I think this is a smart move. Its great to hear about all the strong intentions of new shopping developments as well as of course we all know it as such a foodie destination. I even celebrated my 40th birthday there with my friends and family enjoying the hotels, fantastic Portuguese food at Antonio's, and just a great long weekend there. I enjoyed it so much, we are going back again this year!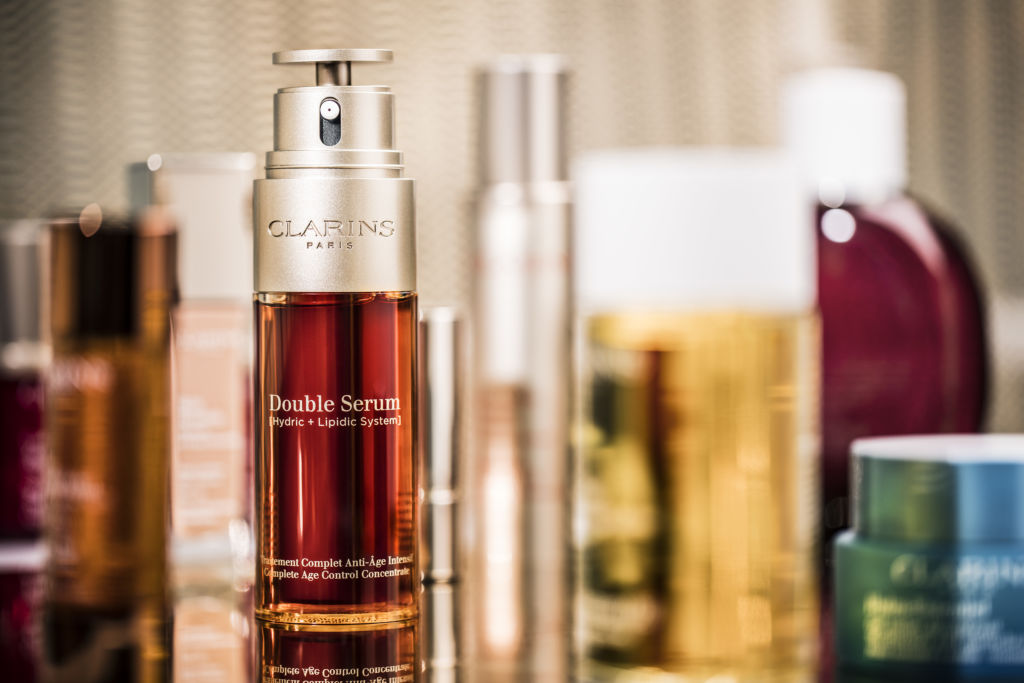 You have been with Clarins for a long time. Which is your favorite Clarins product and why? 
The double serum is my favorite product. Its one of our iconic products and I use it nearly every day. I like to say there is only one double serum in the world. Its a fantastic product with 21 natural ingredients in it. The story of these 21 ingredients that are so useful for our skin, unfortunately, cannot live in the same formula. So our founder and team understood that some of these very important natural ingredients and plant extracts can live in an aqua base and some in an oily base. The problem is you cannot mix oil and water as they remain separate. So the only way was to find a very innovative packaging capable of having two solutions living together next to each other and then in very specific proportions, mixing the two formulas together. So when you apply it your skin gets the benefits of all these ingredients. It's a fantastic product and by far one of our number one sellers that can be used both in the day and night. This product hydrates, regenerates and nourishes the skin with natural ingredients.
Why do you think French beauty products and brands have a high reputation? 
First of all its about know-how and many many years of expertise. If we look at international beauty groups like Clarins, we have more than 60 years of history or L'oreal, Estee Lauder etc., all these international brands from the West have many decades of experience. The similarities of all these groups are that since the beginning and until now, they invest heavily in research and development. In our case at Clarins Group, the quality of the ingredients we use has no limit in terms of price because we want our product to be as efficient as possible. We know that the customer will come for the brand, but they will come back because of the quality of the product.
What's is the one beauty item everyone should splurge on? 
Well, I have two answers for this. I think every good skin routine should start with a good cleanser. This is the basic, all of us should clean our skin on a regular basis. Most cleansers and toners are at an affordable price and if you start your day with this and you are already good to go. Then you need a day cream, which I believe is another basic because your skin needs hydration. If you are a bit older, you can replace the hydrating cream with an anti-aging moisturizer.
What do you think is a French stereotype that isn't true? And one that is? 
I think one that is true is that French people can sound a bit arrogant. Well mostly Parisian French and I myself are from Paris so I can say this! Unfortunately, I think this one tends to be true but I feel its changing, especially for the French people who move abroad and have different experiences. I think another stereotype that is true is that we have taste for high-quality things. Honestly, I feel we have an eye for design, fabrics, food. Of course, it's not only a French thing but we have this strong heritage from our culture.
Living abroad, when you miss France, what things do you do to help you stay French in Hong Kong?
We are lucky in 2018 to have the capacity to keep us connected to our family back home. I was on FaceTime with my parents for 45 mins and at the end of the day, the feeling of home is family and when you have this way of keeping in touch it's amazing. Another way to feel connected to France is, of course, to put on a great French film or popular French TV show.
Share
Tags
Related Posts