I've always been a fan of experimenting with skin routines and brands. Skin gets used to certain products and results and since I never tried anything from the Charlotte Tilbury (CT) skincare and makeup range before, so I was excited to see its magic.
Skincare range:
Brightening Youth Glow
(See featured image)
The new kid on the block from CT skincare range, CT Brightening Youth Glow is magic in a tube. Not only designed as an under makeup glow but also a skin lightener with proven results in just 4 weeks. Skin tone is lifted, brighter and has visibly reduced signs of aging. I think it's about time makeup actually started improving our skin and not just covering it. When it comes to highlighting you tend to fall into two categories, those who highlight under the makeup base and those who highlight after. Well, I'm usually someone who does both. But finding a light and effective glow enhancer and primer in one, under the makeup base is no easy feat. CT Brightening Youth Glow is really light and lovely to put on, not sticky or slippery and it really does give your skin a nice glowing base. Its a color-correcting, moisturizing primer with pearlescent pigments that even out your skin tone and blurs blemishes. It works nicely on normal skin and fingers crossed it survives Macau's humid summers too.
Clay mask
I really enjoyed using this product since it was easy to apply and remove. My skin felt fresh and slightly dewy after use. I also used it a few times before a night out and noticed makeup applied much more easily onto my skin. Now if a clay mask isn't your thing, CT also has "Instant Magic Facial Dry Sheet Mask" sold in a pack of 4 or individually. It's great as a gift and super easy to travel with.
The Magic Cream
CT also has a wide range of skincare products but the hero certainly is their magic cream. Whether you're stressed, dehydrated or just looking to take care of your skin for the future, a solid, effective and long-lasting cream is as important as a good diet and lots of water. A good cream often means a heavy investment so make sure you find one right for you is important. With CT magic cream my skin felt more plump and hydrated but not in an oily way. The cream is made up of Rosehip and camellia oils, wild pansy extracts, hyaluronic acid, and antioxidant-rich vitamin E. Charlotte recommends you really massage this in using sweeping up and out motions to get your circulation going for added glow, which I second. But like all good beauty products, you need patience and a good routine. So make sure you are getting the most out of your products by applying them properly and regularly.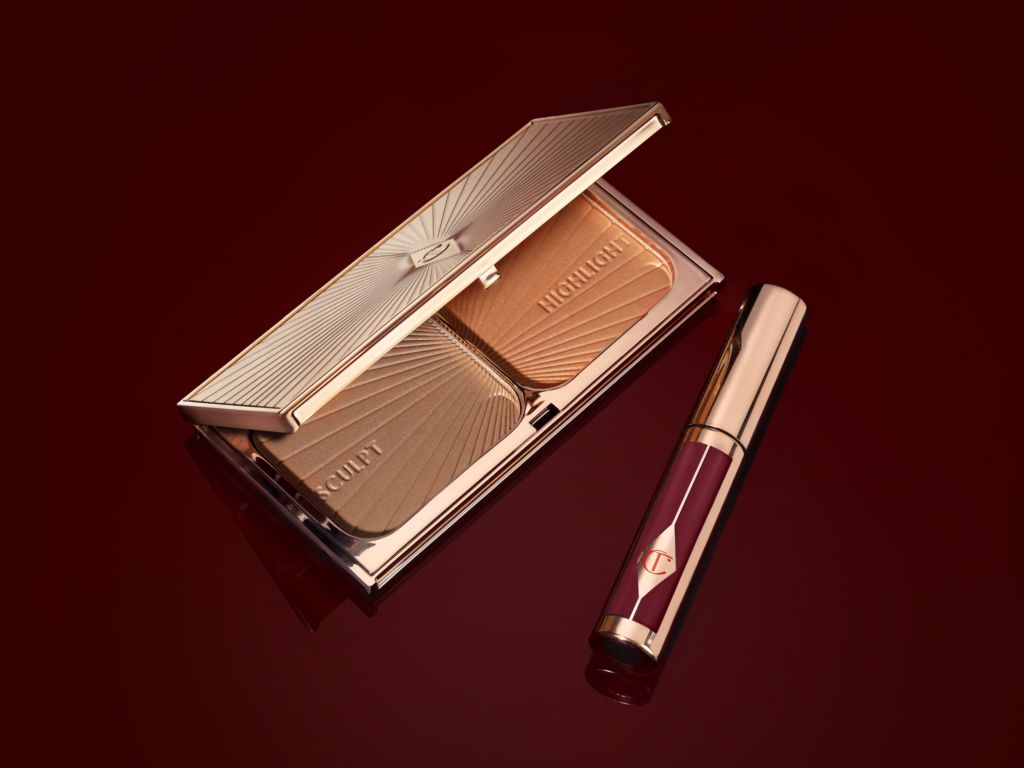 With a huge range of beautiful eye makeup such as eyeshadows palettes, eyeliners, cream shadows to lipsticks, lip glosses and much more, their makeup range is wide too.
Makeup range:
Filmstar Bronze Glow
(See image above)
The Filmstar Bronze & Blush Glow is one of the newest products from CT and the colors are as gorgeous as the rose gold compact. The compact combines the wonder sculpt shade with bronze tones with a perfectly pink blush for an incredible glow. The coverage is great on fair to medium skin tones and CT powders are fine thus blending seamlessly. Perfect for a sun-kissed color to your complexion.
For your Eyes Only
Charlotte Tilbury Luxury Palette The Vintage Vamp which is a set of four different shades designed to take you from "desk to disco". They blend in perfectly and a little really does go a long way. The packaging is beautiful and the perfect addition to your handbag makeup kit. The Classic Eyeliner goes on easily and you can build up for a smokier eye or keep it lighter for more of soft natural day look. Take a break from your normal heavy kohl (which I personally prefer for eyeliners) and instead try this great color. I've enjoyed playing around with it.
Lusty Lips
We all need a perfect pink-toned beige lipstick and Charlotte Tilbury K.I.S.S.I.N.G Nude Kate is an iconic beige hue that Charlotte originally mixed for Kate Moss. Well if its good enough Kate, its good enough for me! Super moisturizing lipstick without heavy pigmentation means it works on a range of skin tones. Along with a nude hue, one always needs a killer red and CT Hot Lips collection in collaboration with 12 incredible women has plenty to choose from. Carina's Love, named after screen siren Carina Lau, is a long-lasting, medium-dark red with subtle cool undertones and a soft matte finish. Not only does the shade symbolize good fortune and joy in Chinese culture but £ 1 for each lipstick sold will be donated to Women for Women International in the first two months of sales.  I really liked the color and the consistency was good as well. But if you aren't feeling so daring with color, their best seller, the Pillow Talk combo would be a great buy.
---
Charlotte Tilbury in Hong Kong will open at Lane Crawford Harbour City mall and Lane Crawford IFC mall on Saturday, 21st April  Sunday, 22nd April respectively.
Tags
Related Posts