Summer is officially in full swing! The season calls for lighter creams, hydrating serums, and refreshing products. Banish dry skin by moisturizing which also ensures that the skin will be suitably nourished. It's not just about beauty but overall wellness when we create a self-care routine. Best yet, we've rounded up the best beauty buys you need to grab this summer. Happy shopping!
Aesop Citrus Melange Body Cleanser
(Featured image above)
Brighten up your day with Aesop's citrus melange body cleanser. There are plenty of reasons why this product should be on your cart stat! We love the gentle gel that's suitable for all skin types. You can use it every day in the shower or bath, and even for cleaning your hands. The overall formula leaves the skin feeling soft, refreshed, and immaculately clean. It has a purifying blend of essential oils, including petitgrain, jasmine, lemon rind, and grapefruit rind.
The best way to utilize this beauty buy is to massage a generous amount onto damp skin from neck to toe; rinse thoroughly and follow with a liberal application of your preferred hydrating product. You can also use Aesop's Rind Concentrate Body Balm and Petitgrain Reviving Body Gel. This product was recently launched in all Aesop stores and is priced at HKD $325 for 500ml.
Aesop G049, The Promenade Shops, Galaxy Macau, Estrada da Baía de Nossa Senhora da Esperança, Cotai, www.galaxymacau.com, www.aesop.com/uk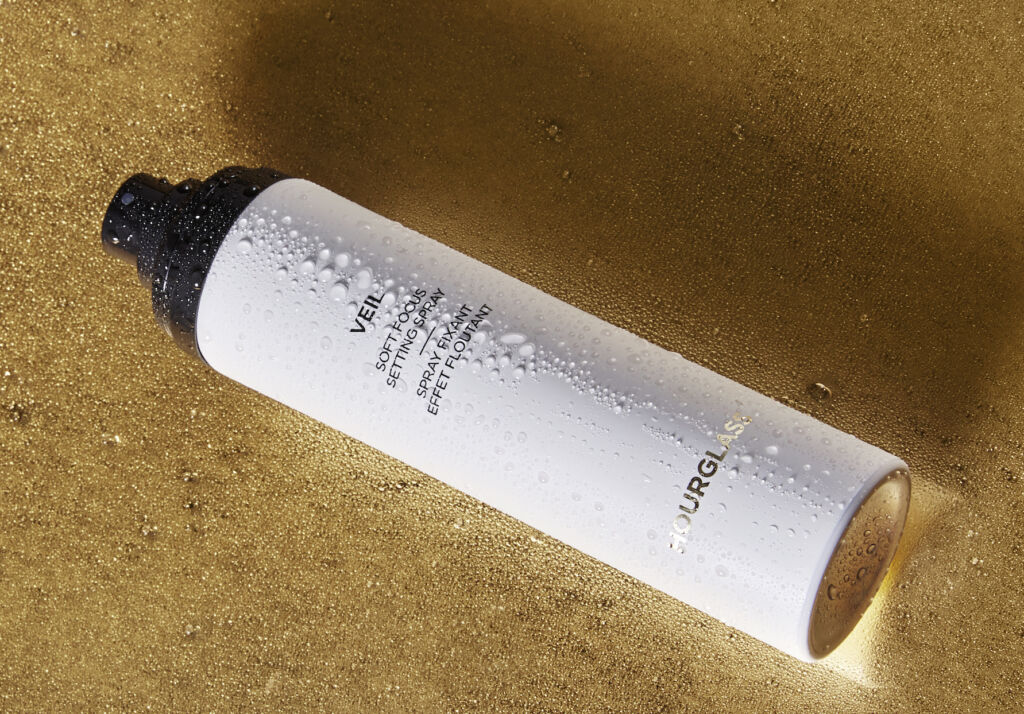 Hourglass Veil Soft Focus Setting Spray
We can't help but be amazed by this lightweight vegan mist from Hourglass. The veil soft focus setting spray is a product you can spray anytime throughout the day to rehydrate the skin. It ensures your makeup is set-up for up to 24 hours. We love how it provides a naturally radiant and smoother appearance to the complexion. Its water-resistant properties help to enhance foundation while imparting a radiant look. It doesn't make the skin feel dry or tight which is one of its best highlights. It's priced at HKD $420 and a great purchase all year round. You might think you don't need this as part of your routine but once you've actually tried it, you'll discover the difference and never feel the same way again!
Hourglass Cosmetics T Galleria by DFS, Macau, Shoppes at Four Seasons, Estrada Da Baía De N. Senhora Da Esperança, S/n, Cotai Strip, Macau, +853 2828 2833, www.dfs.com
Hourglass Cosmetics Lane Crawford, 3 Canton Road, Tsim Sha Tsui, Hong Kong, +852 2118 2288, www.lanecrawford.com.hk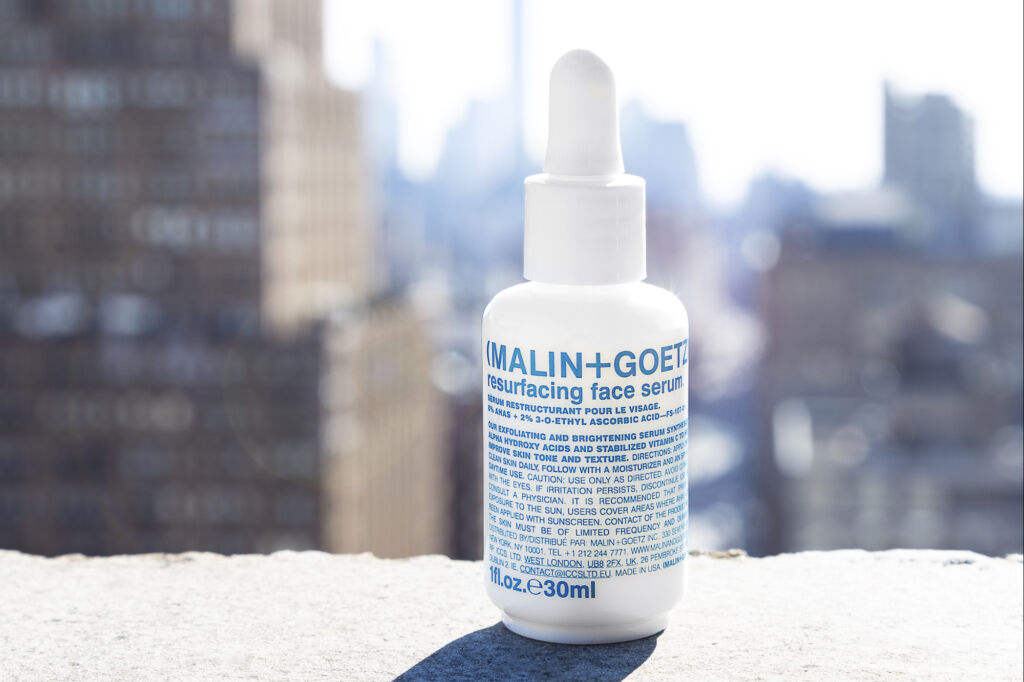 Malin+Goetz Resurfacing Face Serum
Stress is everywhere these days. In this city, air pollution is rampant and feels like a normal part of our lives already. This means we should be more proactive in caring for our faces. If you haven't discovered Malin+Goetz and their new resurfacing face cream, then it's time you check it out. This multitasking exfoliating and brightening serum is perfect for daily use.
This lightweight gel formula is synthesized with 8% alpha hydroxy acids and 2% vitamin C to help smooth, clarify, and brighten skin. You'll see the results in just 10 days and maybe you'll feel refreshed or even feel energized. It's probably because it is also scented with sweet mint and blood orange oils for a refreshing aromatic experience. This product is formulated to effectively deliver immediate and long-term results while being gentle enough for sensitive skin and daily use. It's priced at HKD $620 for 30ml.
Malin+Goetz Shop 1080, Podium Level 1, ifc Mall, Central, Hong Kong, +852 326 3678, www.malinandgoetz.com.hk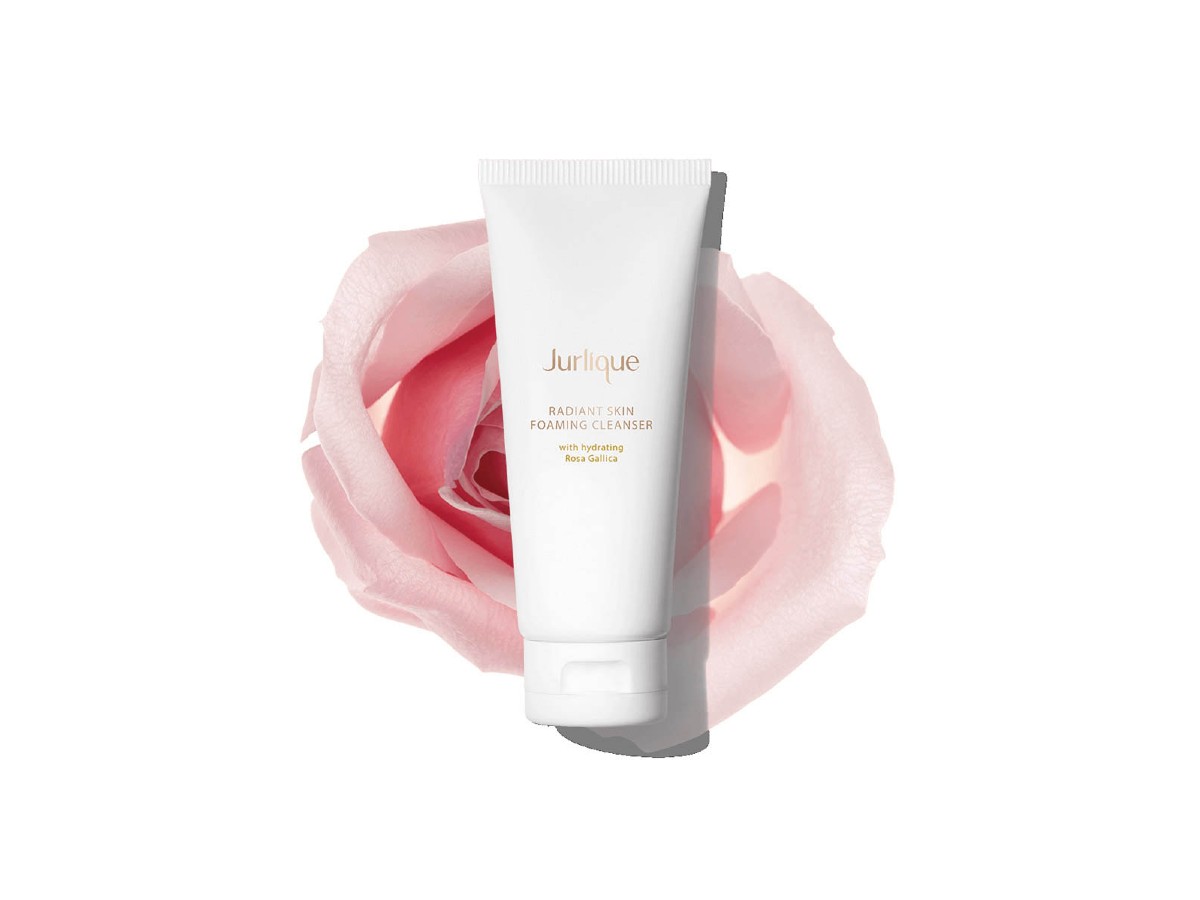 Jurlique's Botanical Cleansers
If ever there was a summer essential in our beauty cupboard, it would be Jurlique's radiant skin foaming cleanser. After a full day outside, apart from the dirt and make-up even our very own dead skin cells become skin stressors. We believe that cleansing is the first step to having radiant skin and this cleanser naturally removes the impurities that make the skin look dull and tired.
We love the unique blend of botanicals that are handpicked from Jurlique's organic farm. They all have strong antioxidant properties that help gently cleanse and protect the skin. They offer the ultimate solution in botanical cleansing and come in a range of luxurious textures: a lush foam, a silky oil, a rich lotion, and a gorgeously lightweight gel. Jurlique's radiant skin foaming cleanser is priced at HKD $220 for 80g.
For more details, visit www.jurlique.com
Jurlique Times Square Shop B229A Times Square, Causeway Bay, Hong Kong, +852 2506 3028, www.jurlique.com/hk
Jurlique Sogo Causeway Bay B1/F SOGO Department Store, Causeway Bay, Hong Kong, +852 2833 2474, www.jurlique.com/hk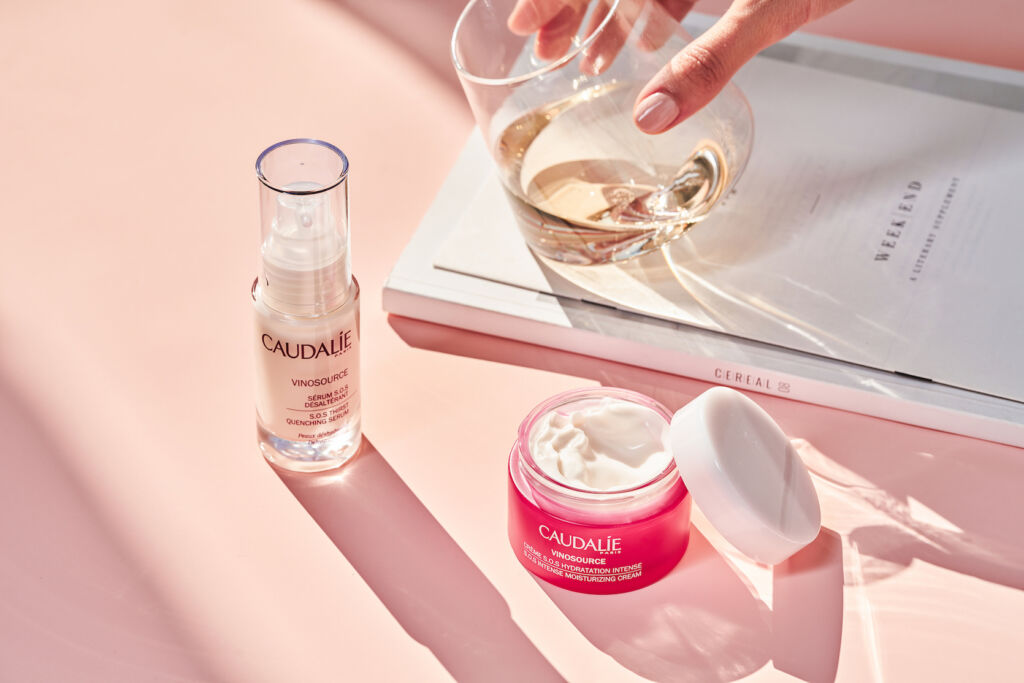 Caudalie Vinosource S.O.S Thirst Quenching Serum
If you're like us–totally dependent on dry air-conditioned air overnight–then we feel your woes. The battle is on against dry skin! That is why Caudalie's Vinosource S.O.S Thirst Quenching Serum and Vinosource S.O.S Intense Moisturizing Cream are ideal beauty investments this season. These products infuse the skin with a real source of pure soothing hydration all night long. It's also powered by 100% organic grape water, patented grape-seed polyphenols and vinolevure. And if you don't know what the purpose of these elements is, it's because they are referred to as dry skin saviors. They protect the skin with the most powerful anti-oxidating shield and reinforce the skin barrier to prevent dehydration.
Add this to your cart and you won't regret it. The Vinosource S.O.S Thirst Quenching Serum is priced at HKD $320 for 30ml and the Vinosource S.O.S Intense Moisturizing Cream is priced at HKD $300 for 50ml. The limited-edition organic grape water is priced at HKD $140 for 300ml and acts as the perfect hydration mist to save your skin from summer damage.
Caudalie is available at Caudalie Hong Kong boutiques and counters.
Caudalie Shop F42, 2/F, Ocean Terminal, Harbour City, 3-27 Canton Road, Tsim Sha Tsui, Hong Kong, hk-en.caudalie.com
Tags