A few years ago, back in 2013, Palawan was named "World's Best Island" for the first time by Travel+Leisure. It was all the rage. People were talking about it as if they had found paradise – the sort of well-kept secret they'd vigilantly pass on to friends, almost like DiCaprio on "The Beach". The tortuous way to get to El Nido – those six long hours of a dirt road in a van – were well worth it once you reached that nirvana of a place.
I never got to go to El Nido, and those couple of years passed by. And then, in 2016, there it was again – claiming World's #1 paradise title – and last year, again. The fact that – I was embarrassed to confess – in the ten years I've lived in Macau, somehow my trip to the Philippines had been postponed forever, together with all this buzz, it was time to give the Philippines a go.
The chosen destination was Coron: a way easier journey to a (still) less touristic area, but very similar to El Nido. The flight goes from Macau to Manila, where an overnight layover is unavoidable, and from there it's just a short one hour flight to the airport of Busuanga, which is a solo building surrounded by fields and hills. While there is no actual public transport there, it's advisable to ask the hotels to provide a shuttle van to get to the town of Coron, which is a half an hour away. The landscape here is quite rural. The town of Coron is also quite provincial with a main wet market, a tiny town plaza, a few restaurants here and there.

What to do
There are two main spots to cross off the list in Coron town: to climb Mount Tapyas and to bathe in the Maquinit hot springs. As the owner of our hotel said, "You haven't seen Coron if you haven't climbed the Tapyas." It's over 700 steps to the mount with the big cross that lights up at night to have a 360º view of the island – and worth every step. The view is breath-taking. On one side, it's islands as far as the eye can see; on the other side, it's a landscape of rolling hills, golden by the blazing sun. A lot of people gather late afternoon to watch the sunset.
Closing at 8:00pm, Maquinit is a saltwater hot spring that gets really, really hot but is perfect to relax aching muscles after the Tapyas quest. If you're based in Coron town as we were, there are essentially two ways to go: either take the tours to see the main attractions but limited to the group's schedule; or hire a personal boat and guide that takes you anywhere you want until sunset. If you're on a limited time or by yourself, option one might be the best. However, if you're traveling with friends or with time and money to spend, option two might be the most serene.
Our days spent in Coron had pretty much the same routine: it's a hard life of waking up early, eating breakfast, being picked up by a guide that took us to the market, get our food for the day and roam to the islands. Eat-sleep-snorkel-sunbathe-repeat. Note that at the entrance of all the attractions, an additional entrance fee may apply.

Best places to snorkel and dive
Siete Pecados is some twenty minutes away from Coron town, seven limestone rock formations surround the snorkeling site that has one of the most sought-after spots in Coron. It's like swimming in a giant aquarium and you don't need to be an expert. You can see the amazing fish diversity below even from the boat.
Another popular spot off the Coron Bay, Skeleton wreck is the remaining skeleton of a small 25meter long sunken Japanese ship. The waters here are very clear, making it for great visibility. As the top of the Skeleton is only 5mts deep, beginners can enjoy the spot too.
Coral Garden: Like the name indicates, this is a true multi-colored underwater reef. The shallow top is covered with beautiful corals and there are lots of small reef fish swimming around you, as well as sea stars and anemones with clownfish. If you're lucky, you can even spot some sea turtles. It's beautiful!
Barracuda Lake: In Barracuda Lake, you get layers of cold, warm, and hot water. The lake is composed of both salt and fresh water and it's quite deep. It was named after the discovery of a large barracuda fish skeleton in its waters. The setting around the lake is stunning and underwater it's even better and is often compared to the surface of the moon.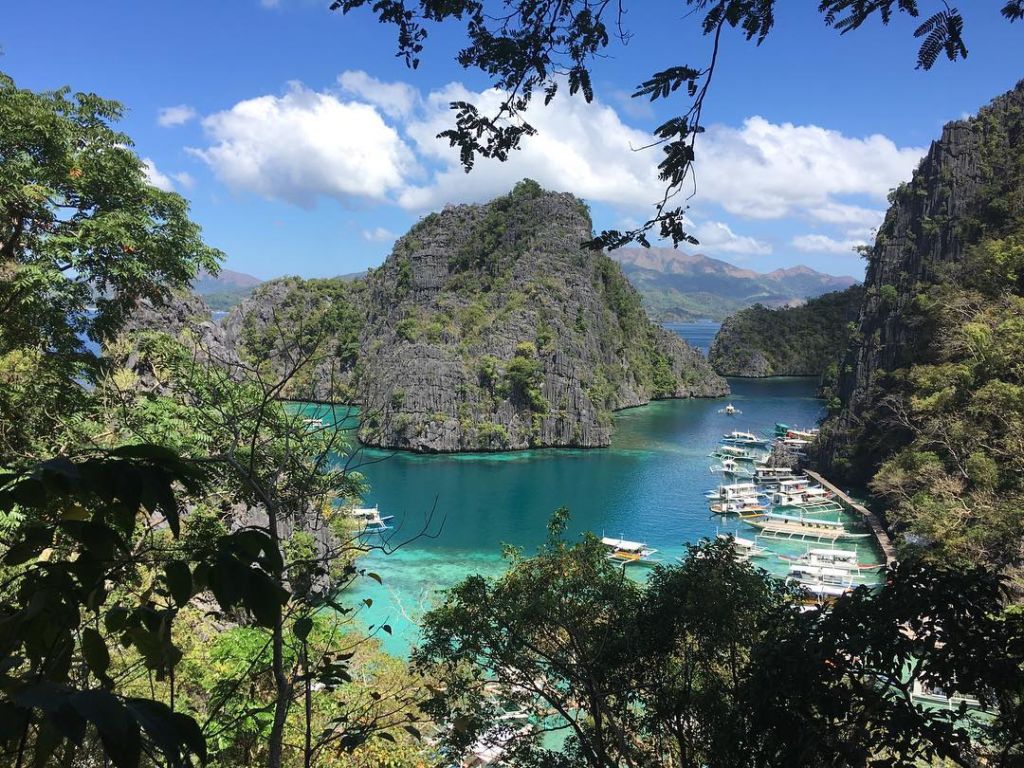 The poster image of Palawan, Kayangan is maintained by a local tribe and, unsurprisingly, it's often referred to as the cleanest lake in the Philippines. The way there is through a short trek and there's a nice view deck halfway through where the landscape is just incredible. The lake itself is surrounded by limestone cliffs and it's possible to snorkel there too.
Why get one paradise, when you can have two? Twin Lagoon is an experience on its own. Swim through a large lagoon to the end and there's a second stunning lagoon on the other side of the cliff. Depending on the tide, you can either swim through a tunnel underneath the rock or take the ladder over it. While you're swimming there, you'll also notice changes in temperature in the water, going from warm to cold, where the saltwater and the freshwater meet.
There are countless white sand beaches around Coron – and even more in Palawan. Ask your boatmen to take you to secluded pristine beaches away from the crowds. In the meantime, here's a selection of a few great spots around the Coron area to lay your beach towel:
Banul beach is normally included in the Coron Island Tour itinerary, usually as a stopover for lunch. There's also a coral garden nearby that's good for snorkeling. Likewise, in nearby Smith Point beach, we even found Nemo.
Bulog dos Bulog is a beautiful island, with a long thin sandbar that connects it to Malaroyroy Peninsula. From either side of the sandbar, it has crystal-clear aquamarine ankle-deep waters. Nearby, you also have the Banana island and Malcapuya island, with powdery white sand and beautiful clear waters.
Far away and secluded into the clear waters, Pass island has it all too. Palm and coconut trees, powdery white sand, crystal clear waters, and even a volleyball net. It's even possible to camp there and stay overnight in that dreamy landscape.
There are many luxury resorts based in some of the islands and to some, you can even get to by hydroplane. A stay in Coron town, however, brings you a more authentic insight and close contact to a population that, while accustomed to a simple life, welcome you with a big smile and are happy to help you in your adventures there.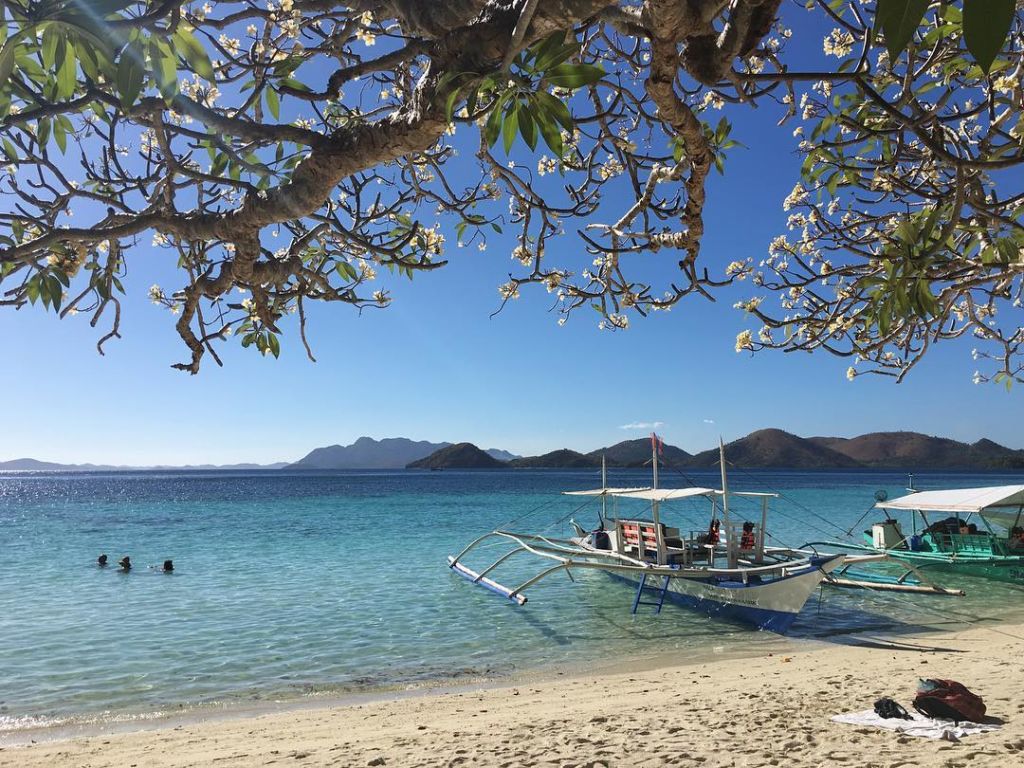 Where to stay
We stayed in the Acacia Garden Inn, a small eco-friendly hotel. All the furniture and part of the decoration of the hotel was made using the few hundred-year-old trees uprooted in the property by typhoon Yolanda back in 2013. The whole staff was very welcoming and helpful.
Besides our usual lunch on the beach, all dinners took place in Coron town. Apart from the yummy food served at Acacia Garden, here are the best places to eat:
Epic Cafe has probably the best coffee in Coron town

Buzz Express serves a lot of western food and make sure to try their Harvest Bowl.

Pedro's Gelato is a small joint with delicious fresh made gelato. We had one every day. Try the salted caramel.

Viewdeck is a great place to watch the sunset while sipping on a cocktail

Lolo Nonoy's is arguably the best place to taste authentic Filipino food in Coron
Coron is still somewhat of an undiscovered paradise but this might soon change. Hopefully, the development will be done sustainably, and the natural wonders, clear waters and lush green landscapes will remain intact.
Tags
Related Posts